This website uses cookies to ensure you get the best experience while browsing it. By clicking 'Got It' you're accepting these terms.


The best of EcoWatch, right in your inbox. Sign up for our email newsletter!
On Tuesday, a trial over Minnesota's $5 billion lawsuit against manufacturer 3M Company—the biggest environmental lawsuit in state history—was set to begin with jury selection.
But on that very same day, the Maplewood-based manufacturer agreed to an $850 million settlement, finally putting an end to eight years of litigation over the water pollution case.
Helmut Seisenberger / Thinkstock
By Robert Coleman
In 2016, an EWG report found that chromium-6—a cancer-causing compound made notorious by the film "Erin Brockovich"—contaminated the tap water supplies of 218 million Americans in all 50 states. But our just-released Tap Water Database shows the problem is even worse than that.
Based on test results obtained directly from almost 50,000 local water utilities, drinking water supplies for about 250 million Americans are contaminated with chromium-6. For about 231 million people, drinking water supplies have average levels of chromium-6 exceeding the one-in-a-million cancer risk level determined by California state scientists.
EcoWatch Daily Newsletter
A 5.8-magnitude earthquake that rattled Pawnee, Oklahoma in September 2016 was classified as largest in state history. USGS
Environmental activist Erin Brockovich is helping Oklahoma's Pawnee Nation take on several fracking companies in a lawsuit alleging that damages to its tribal buildings and reservation property was the result of man-made, or induced, earthquakes.
National Geographic reports that the Native American tribe has retained the law firm Weitz & Luxenberg, with the aid of Brockovich, to sue Eagle Road Oil LLC, Cummings Oil Company, and 25 other oil and gas companies.
A U.S. Steel plant in Portage, Indiana spilled nearly 300 pounds of a cancer-causing chemical into Burns Waterway last month, documents from the Indiana Department of Environmental Management (IDEM) revealed.
A U.S. Steel plant in Portage, Indiana has spilled wastewater containing a potentially cancer-causing chemical into Burns Waterway, a tributary about 100 yards from Lake Michigan.
As Pawnee, Oklahoma still picks up the pieces from September's record-breaking earthquake, environmental and consumer advocate Erin Brockovich and lawyers from Weitz & Luxenberg have traveled to the Sooner State to speak with residents about the alarming number of induced earthquakes affecting the area.
Meetings were held in Pawnee and Cushing on Thursday. The legal team also made plans to stop in Stillwater.

"The communities definitely [are] feeling frustrated and voiceless and helpless and not sure where to turn" Brockovich told KOCO 5 News at the Pawnee meeting.
For most, as News 9 pointed out, insurance companies are not covering repairs from the 5.8-magnitude earthquake in Pawnee.

The Midwestern state has seen a shocking increase in magnitude-3 or larger earthquakes in recent years. Scientists have linked the seismic activity to the injection of large volumes of wastewater from oil and natural gas production into underground disposal wells. Fracking itself can cause earthquakes, although they are usually smaller and less frequently felt than earthquakes produced from underground injection.
The phenomenon has been dubbed as "man-made" or induced earthquakes as they are triggered by human activities as opposed to "natural" seismicity.
In a Facebook post describing her visit to Oklahoma, Brockovich wrote:
"In 2009, Oklahoma recorded a maximum of 195 earthquakes in any given year, but by 2014, seismologists recorded over 5,000 earthquakes. The increase in earthquakes has been linked to the growing volume of wastewater injected deep into the ground by companies with fracking operations. The total volume of wastewater injected into ground wells has grown from 2 billion barrels in 2009 to over 12 billion barrels in 2014. This must stop!"
State regulators have implemented regulations to reduce the frequency of induced earthquakes, including the closing of wells and a disposal volume reduction plan.

This year, disposal well operators placed about 23 percent less wastewater into geological formations within the earthquake zone compared to the previous year, the Associated Press reported. In all, Oklahoma Geological Survey data determined there were 623 quakes of 3.0 or greater in 2016, a 31 percent reduction from 2015.
At Thursday's meeting in Cushing—the oil hub town that saw a 5.0 quake in November—Brockovich acknowledged that many Oklahomans rely on the oil and natural gas industry for jobs. At the same time, she believes that residents affected by the earthquakes need protection.
"We want you to have jobs. We understand that," Brockovich said, according to Tusla World. "But we also understand homes have been damaged. People are fearful. They don't know who to trust."

She added that the oil and gas industry should "do what's right by your health and safety."
"This isn't a (political) party issue," Brockovich said. "This is a right or wrong."
New York-based firm Weitz & Luxenberg recently filed two class-action suits against oil and gas companies in response to severe damage caused by the powerful earthquakes in Cushing and Pawnee.
"Oklahomans continue to be put at risk by human-induced earthquakes, with hundreds of tremors—including the biggest in state history—rattling the area since my first town hall here last year," Brockovich, a Weitz & Luxenberg consultant, said in a statement provided to EcoWatch. "This problem is clearly not going away, and it is critical that we show the businesses behind these quakes that we aren't going away either."
Chad Warmington, president of the Oklahoma Oil & Gas Association, responded to Brockovich's appearance in a statement to Tulsa World.
"I expect what Ms. Brockovich will find on her business trip from California is that over the past year seismic events in Oklahoma have declined by 31 percent and that Oklahoma's oil and natural gas industry has been quick to comply with state regulators' directives on disposal well operations," Warmington said. "Industry has also supplied its own data and millions of dollars in proprietary research to help all concerned parties better understand our state's geology and fault lines."
Nearly 20 percent of the water fountains in Chicago parks tested positive for excess levels of lead in the water and have been shut down by the Chicago Park District.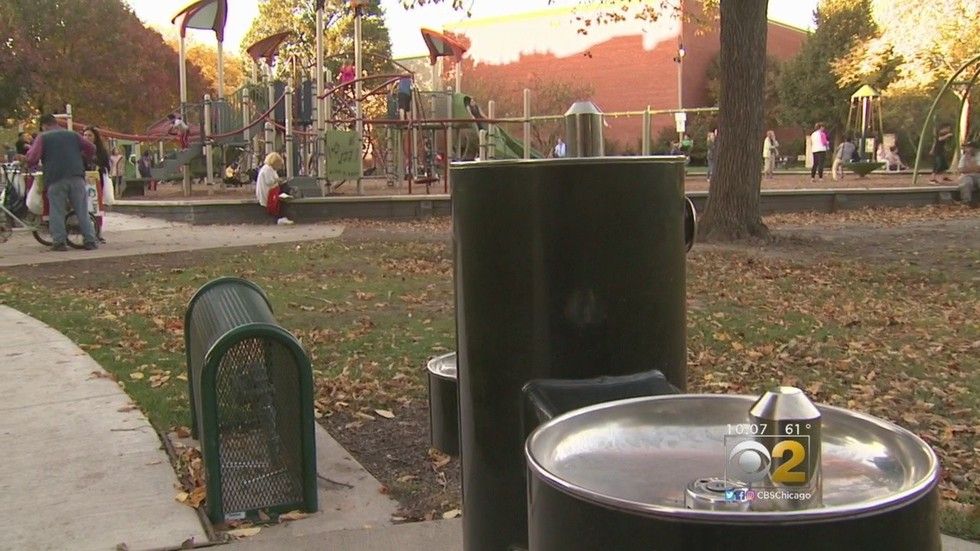 Hundreds of drinking fountains in Chicago parks have been shut off after testing revealed high levels of lead in the water.CBS Chicago
Of the 1,891 outdoor fountains in city parks, 445 exceeded the U.S. Environmental Protection Agency's (EPA) action level of 15 parts per billion. Another 14 of 544 indoor water fountains were contaminated as well. However, the EPA's Lead and Copper Rule refers primarily to municipal water systems, not single source supplies. The rule requires that action be taken if more than 10 percent of the taps tested exceed the 15 parts per billion standard.
Just weeks before the U.S. presidential election, filmmaker Anthony Baxter will release a sequel to his award-winning film, You've Been Trumped.
You've Been Trumped Too, shot in Scotland and the U.S., features the real-life stories of Molly and Michael Forbes, who became nationally-recognized Scottish folk heroes after opposing a controversial Trump golf development in their pristine coastal village.
In the new film, Baxter followes Michael Forbes—who Trump branded "a pig" and his farm "a slum"—to the Republican National Convention in Cleveland, Ohio, where Forbes attempts to find out why some Americans are backing the man he blames for his family's misfortune.
"I was amazed to observe the consequences of Donald Trump's actions in Scotland, at the very same time he was running for president," Baxter said, who was once jailed after investigating why the Trump organization had cut off water supplies to local residents.
"I felt it was a story American voters needed to hear before November 8th."
If you want to be one of the first to see the entire film, check out this Kickstarter page and be among the more than 580 people supporting this film.
The film will debut in New York City and London in late October before being distributed worldwide on other platforms.
In Monday's debate, Hillary Clinton pledged to spend $275 billion investing in America's infrastructure. Donald Trump doubled down, promises lots more. On Tuesday the Senate failed to pass a bill to keep the government open because Democrats insisted—and Republicans rejecting—inclusion of a modest $220 million to repair the toxic contamination in the Flint, Michigan public water system.
The 35W bridge in Minneapolis, Minnesota, which collapsed during rush hour on Aug. 1, 2007.
Where the disconnect? That's a small example of the big question at the heart of Upgrading America, today's DC summit on American infrastructure. Everyone agrees our infrastructure is a shambles—D+ according to the Academy of Engineering. Almost everyone agrees that a lot of this infrastructure is essential for a strong America, and requires a federal role. But, as we are reminded today, for the past 30-40 years, we have systematically starved the critical systems that make our country safe, liveable, competitive—and yes, Donald, great. (Trump is right about the third world condition of our airports etc. He is wrong in refusing to support anything that would plausibly pay for improving them.)
A few painful reminders of how bad we have allowed things to get:
We have stored 727 million barrels of oil in the Strategic Petroleum Reserve, our insurance policy in case, say, a Middle Eastern crisis shut down Persian Gulf oil. We couldn't get it out as fast as we might need it, Energy Secretary Moniz tells us, because we don't have enough loading docks.
We have 200,000 water mains break in the U.S. every year. The average water pipe in Washington DC is 79 years old, meaning half are past their useful life. Cities as diverse as Washington, DC, Philadelphia, Atlantic City and Cleveland have suffered lead poisoning from water just like Flint.
Enough natural gas leaks from our pipeline system every year to power 7 million homes. Every year we have a major natural gas explosion or leak that kills people or drives them from their homes.
Most of America's railway bridges cannot handle double stacked loads. But all our planning for handling the 45 percent increase we expect in goods movement requires such double stacking.
There are new challenges as well. Every year, there are now 150 cyber attacks on the U.S. energy system. The system is simply not hardened against such threats, much less against a massive electro-magnetic pulse that a single high altitude nuclear explosion might unleash.
And some economic realities, that should, but won't, sober up Trump:
The old way of doing things is getting steadily more expensive. A single new substation in New York City can cost a billion dollars, even thought it is needed only half the time.
Cities like Baltimore, after decades of not investing in their water systems, are now raising rates at 10 percent a year—their citizens will soon not be able to pay for water.
Even at our present replacement rate, ½ of 1 percent a year, it will cost us $650 billion every ten years to maintain our water and sewer systems. At the end of that time, the average water main will be 200 years old.
The wholesale price of electricity has fallen by 30 percent over the last eight years. But the cost of the wires and poles that distribute electricity has increased so fast that the retail price of electricity is up 20 percent.
Adding new highway improvements in Washington State at a cost of $2.5 billion are considered a "success" if they cut 90 seconds off the average commute time.
But we have some stunning opportunities if we start thinking systemically, rather than clinging to mid-twentieth century approaches and mind-sets. Efficiency, substituting data for raw materials, and renewables for fossils, are the keys.
If we replaced outmoded, leaky water mains, we would immediately recapture 1.7 trillion gallons of water, 25 percent of the treated water we feed into them, water which after collection and treatment at great expense now leaks into the ground.
That same $1 billion NY substation became completely unnecessary when ConEdison invested $200 million in modern load smoothing strategies like energy efficiency and demand management.
Utilities are currently rewarded for wastefully investing more capital in power plants, wires and poles. Yet we have huge surplus capacity in our system already—New York State uses its power plants only 54 percent of the time. Using new technology to shift demand by only a few hours using energy storage could postpone the need for new capital investment.
The cost of renewable power continues to plummet. Over the last eight years prices fell from 41 percent (wind) to 90 percent (LED bulbs). Unsubsidized solar power in the best locations now cost a trivial 2.4 cents a kwh.
New prototype Class 8 trucks can save 88 percent of the fuel used by today's models, meaning we won't need as many pipelines to deliver diesel.
And these solutions, thoughtfully designed, can have a phenomenally positive impact on our economy, inequality and our sense of national dignity and unity.
Accelerating the repairs on our natural gas pipeline system to eliminate leaks and explosions would generate 300,000 jobs.
Restoring high quality public water systems may cost more than we are used to paying—but it would cost perhaps 1/1000 of our current work-around, bottled water. And we would all be equally well served.
In California, which has put in place climate policies that generate revenues and discourage pollution, the clean energy sector is now the state's largest single employer, with 500,000 jobs. The sector is growing six times as fast as the state's overall economy, which in turn is growing faster than the U.S. economy.
Finally, replacing wasteful consumption of fossil fuels, leaky gas and water mains, and outmoded electrical infrastructure with knowledge driven, higher performance, low carbon infrastructure and technology is, quite simply, the single most powerful economic development strategy available to us. To cite one example, (probably the biggest, but only one), there was tremendous excitement last month at the news that the economic recovery was finally reaching the average American. Median family incomes increased by 5.2 percent. But it turns out that if energy prices in 2015 had tracked the rest of the consumer price index, instead of falling 17 percent, the household benefit would have been only 3.4 percent. And if the U.S. had not invested in more efficient cars and trucks beginning in 2007, if renewables and efficiency weren't displacing natural gas and coal, then that fall in energy prices would not have occurred—and household income would have grown far less rapidly.

Investing in innovative and less wasteful, less carbon and resource intensive infrastructure, does have an upfront cost: but it pays off in so many ways that voters ought to be doubling down on Donald Trump's bid. America ought to set a goal—improving our infrastructure from D- to B+ say—and make sure that politicians of both parties get it done.
Watch John Oliver as he discusses "America's crumbling infrastructure: It's not a sexy problem, but it is a scary one":
By Deirdre Fulton
Lawmakers have come up with a compromise to avoid a potential government shutdown and provide long-awaited aid for Flint, Michigan—though the band-aid measure will still keep that community, which has been grappling with a lead-contamination crisis for more than two years, waiting for funds at least until November.
According to news outlets, U.S. House leaders on Tuesday night struck a deal to allow a vote on an amendment adding $170 million in infrastructure funding under the Water Resources Development Act (WRDA), to help Flint and other cities with water emergencies.
The agreement followed days of tense talks, and came after Senate Democrats earlier on Tuesday blocked a vote to advance a stopgap spending bill to keep the government running after Friday, citing the GOP's refusal to include funding for Flint. The legislation does include emergency flood assistance for Louisiana, West Virginia and Maryland.
House Speaker Paul Ryan (R-Wis.) said the breakthrough on Flint "will help unlock" the short-term spending bill. Indeed, the Washington Post reported that while "Senate Democrats have not yet examined the House amendment ... a senior aide said leaders are 'optimistic' that the deal could offer a path to avert a shutdown."
And Rep. Dan Kildee (D-Mich.), who has been outspoken in his call for Flint funding (and about the cause of the crisis in the first place), said the deal "is a step forward to ensuring that Flint families get the resources they need to recover from this crisis."
"The people of my hometown have waited over two years for their government to help them in their time of need," Kildee said. "We will continue to fight until Flint aid reaches the president's desk."
That may not be until December, the Post reported, as the House and Senate versions of the WRDA must still be resolved, and Congress is about to depart on recess until after the Nov. 8 election.
And as Michigan Public Radio notes:
If [the WRDA] passes, it's unclear how long it will take for the money to reach the city of Flint.
As of Tuesday, the city had replaced 155 lead service lines. It's estimated there could be 10,000 pipes connecting Flint homes to city water mains that continue to leech lead into the city's drinking water.

"The people of Flint deserved assistance more than a year ago, and they require assistance now, without further delay," a coalition of 86 civil rights, public health, and environmental groups wrote in an open letter to Congress this week. "Therefore, it is critical that aid comes now so that other children and families will not suffer."
The full House is set to vote on the Flint amendment on Wednesday.
Reposted with permission from our media associate Common Dreams.
By Bill Walker

Drinking water supplies for two-thirds of Americans are contaminated with the carcinogenic chemical made notorious by the film, Erin Brockovich, which was based on the real-life poisoning of tap water in a California desert town. But there are no national regulations for the compound—and the chemical industry is trying to keep it that way.
The Environmental Working Group (EWG) released an analysis Tuesday of more than 60,000 tap water tests conducted nationwide, finding that chromium-6, or hexavalent chromium, is in the tap water of more than 218 million Americans. That's two-thirds of the U.S. being served water with chromium-6 at, or above, the level that California state scientists consider safe. The California public health goal allows a chromium-6 level expected to cause no more than one case of cancer in 1 million people who drink it for lifetime.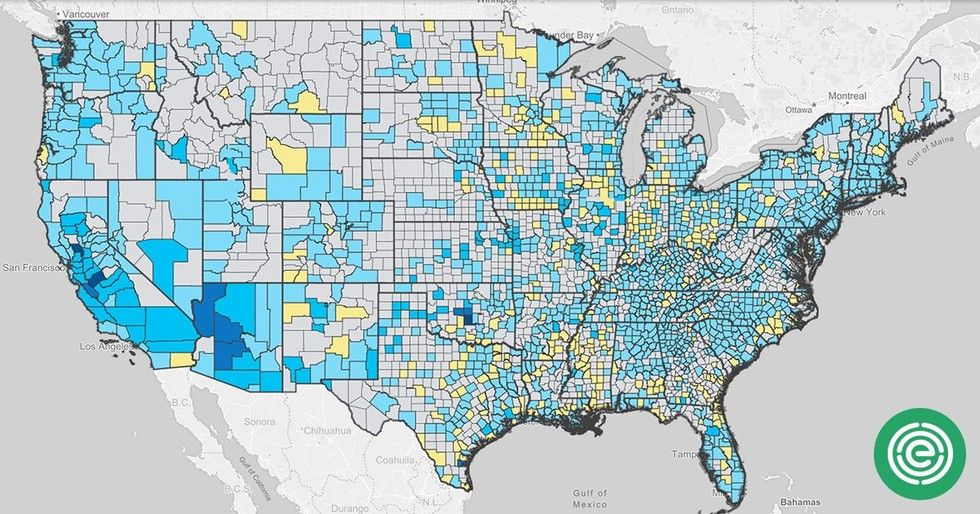 Interactive map of chromium-6 in U.S. drinking water shows an estimated 218 million Americans served unsafe levels of the chemical.Environmental Protection Agency, UCMR-3
Though far more permissive than its public health goal, California is the only state that has set an enforceable legal limit for chromium-6 in drinking water. Federal chromium regulations, set in 1991, do not specifically address chromium-6 and do not consider current science showing that drinking water contaminated with the chemical can cause cancer.

Chromium is a naturally occurring element but can also be manufactured. The two main types are chromium-3—an essential human nutrient considered to be mostly harmless—and chromium-6, which has long been known to cause lung cancer when airborne particles are inhaled. Recent science has also shown that, when ingested, it can cause stomach cancer. Chromium-6 is used in chrome plating, wood and leather treatments, dyes and pigments, and the water in cooling towers of electrical power plants.

A 2008 study by the National Toxicology Program found chromium-6 in drinking water caused cancer in rats and mice. California state scientists drew on that study to determine its public health goal, which is unenforceable, but guided state regulators in setting a legal limit. Although EWG believes the legal limit is far too high to protect public health, it is the only enforceable regulation on chromium-6 in the U.S.
The National Toxicology Program study was also used by the U.S. Environmental Protection Agency (EPA) to draft a health assessment for a safe exposure level. The draft was completed in 2011, but not formally released because the chemical and electric power industries pressured the EPA to wait for the results of other, industry-funded studies. Five years later, we're still waiting for the industry studies, which are expected to argue that the EPA doesn't need to set a national standard at all. They're also expected to fundamentally challenge the way the EPA calculates the risk of all carcinogenic chemicals.

Will the EPA stand up to industry pressure? The agency's record is not good. Since landmark amendments to the Safe Drinking Water Act in 1996, the EPA has not set any new drinking water regulations for previously unregulated contaminants. The EPA has ordered tests on 81 contaminants, but moved forward on setting regulations for just one—and those regulations are two years behind schedule.
California's public health goal is 0.02 parts per billion of chromium-6 in drinking water, yet the state's legal limit is 500 times higher. A home water filter can remove chromium-6 and most other chemicals of concern, but can be expensive. Ultimately, the better solution is for federal regulators to set drinking water standards that keep up with advances in science and prevent dangerous contaminants from getting into tap water in the first place.