On Tuesday, a trial over Minnesota's $5 billion lawsuit against manufacturer 3M Company—the biggest environmental lawsuit in state history—was set to begin with jury selection.
But on that very same day, the Maplewood-based manufacturer agreed to an $850 million settlement, finally putting an end to eight years of litigation over the water pollution case.
The lawsuit was originally filed by Minnesota Attorney General Lori Swanson back in 2010, claiming 3M contaminated the state's water supply from 1950 until the early 2000s by dumping millions of pounds of waste into the ground and the Mississippi River from the production of perfluorochemicals, or PFCs, that the company used in its lines of nonstick products such as Scotchgard.
The manufacturing conglomerate "knew or should have known" the toxic chemicals posed a risk to drinking water, harmed wildlife and human health long before stopping its production in 2002, officials said.
The Minnesota Department of Health says higher levels of PFCs in a person's body are associated with higher cholesterol, changes to liver function, reduced immune response, thyroid disease, and kidney and testicular cancer.
Under the settlement, 3M will provide an $850 million grant aimed at improving "water quality and sustainability."

The money will be paid for projects that safeguard drinking water in the East Metro.
"This money is dedicated to fixing the problem," Swanson said at a news conference in Minneapolis. "This was hard-fought litigation."
The company denies any wrong-doing and insists it disposed the chemicals legally at the time. The settlement does not require an admission of liability.
"We are proud of our record of environmental stewardship, and while we do not believe there is a PFC-related public health issue, 3M will work with the state on these important projects," John Banovetz, 3M's chief technology officer, said in a statement to the Wall Street Journal.
As Minnesota Public Radio reported, many Minnesotans and folks around the U.S. were eagerly awaiting the trial to begin, as it could have "set a precedent as 3M faces at least two dozen lawsuits related to PFCs around the country."

News of the agreement was celebrated by Erin Brockovich, famed environmental activist and fighter for clean water.
"This pathetic polluter knew the evidence against them was damning ... and they settled!" she wrote on Facebook. "There isn't enough money in the world to compensate for the lives they have damaged ... or the costs consumers face nationwide to clean up their pollution. 3M fought for almost a decade ... spending hundreds of millions on lawyers to dodge their way around the law ... but today became their day of reckoning!"
Lawsuit Filed Against 3M for Dumping Toxic Chemicals Into the Tennessee River https://t.co/o8yLHwjXLN @americanrivers @rivernetwork

— EcoWatch (@EcoWatch)1467078614.0
From Your Site Articles
Related Articles Around the Web
EcoWatch Daily Newsletter
Helmut Seisenberger / Thinkstock
By Robert Coleman
In 2016, an EWG report found that chromium-6—a cancer-causing compound made notorious by the film "Erin Brockovich"—contaminated the tap water supplies of 218 million Americans in all 50 states. But our just-released Tap Water Database shows the problem is even worse than that.
Based on test results obtained directly from almost 50,000 local water utilities, drinking water supplies for about 250 million Americans are contaminated with chromium-6. For about 231 million people, drinking water supplies have average levels of chromium-6 exceeding the one-in-a-million cancer risk level determined by California state scientists.
That may still underestimate the number of people exposed because water from most smaller utilities and private wells usually is not tested for chromium-6. Although it's been almost a decade since the National Toxicology Program found the compound caused cancer in rodents when ingested, there are no federal regulations on chromium-6 in drinking water and no federal requirements for regular monitoring of chromium-6 in tap water.
There are a couple of possible reasons for the new, higher numbers in the Tap Water Database.
The U.S. Environmental Protection Agency (EPA) classifies utilities that purchase finished water from other public utilities as consecutive systems, which are only required to test for disinfectant byproducts, lead and copper. The database suggests that many consecutive systems are buying finished water tainted with chromium-6 from other utilities. To see if your water supplier is a consecutive system and may be purchasing contaminated finished water, look up your supplier in the Tap Water Database.
California is the only state that set a public health goal and legal limit for chromium-6, and requires water utilities to test for the chemical. EWG's 2016 report was based on data from the EPA's Unregulated Contaminant Monitoring program. The EPA-mandated testing involves only a small number of water utilities that serve fewer than 10,000 people.
We urge the federal government to follow California's lead and set a nationwide legal limit on chromium-6 in drinking water, and require both large and small utilities to test for it. While the legal limit set by California in 2014 was too high to fully protect human health, it represented a step in the right direction. And until regular nationwide testing is required, we can't know the true extent of contamination in public water utilities.
waterlust.com / @tulasendlesssummer_sierra .
Each product featured here has been independently selected by the writer. If you make a purchase using the links included, we may earn commission.
The bright patterns and recognizable designs of Waterlust's activewear aren't just for show. In fact, they're meant to promote the conversation around sustainability and give back to the ocean science and conservation community.
Each design is paired with a research lab, nonprofit, or education organization that has high intellectual merit and the potential to move the needle in its respective field. For each product sold, Waterlust donates 10% of profits to these conservation partners.
Eye-Catching Designs Made from Recycled Plastic Bottles
waterlust.com / @abamabam
The company sells a range of eco-friendly items like leggings, rash guards, and board shorts that are made using recycled post-consumer plastic bottles. There are currently 16 causes represented by distinct marine-life patterns, from whale shark research and invasive lionfish removal to sockeye salmon monitoring and abalone restoration.

One such organization is Get Inspired, a nonprofit that specializes in ocean restoration and environmental education. Get Inspired founder, marine biologist Nancy Caruso, says supporting on-the-ground efforts is one thing that sets Waterlust apart, like their apparel line that supports Get Inspired abalone restoration programs.
"All of us [conservation partners] are doing something," Caruso said. "We're not putting up exhibits and talking about it — although that is important — we're in the field."
Waterlust not only helps its conservation partners financially so they can continue their important work. It also helps them get the word out about what they're doing, whether that's through social media spotlights, photo and video projects, or the informative note card that comes with each piece of apparel.
"They're doing their part for sure, pushing the information out across all of their channels, and I think that's what makes them so interesting," Caruso said.
And then there are the clothes, which speak for themselves.
Advocate Apparel to Start Conversations About Conservation
waterlust.com / @oceanraysphotography
Waterlust's concept of "advocate apparel" encourages people to see getting dressed every day as an opportunity to not only express their individuality and style, but also to advance the conversation around marine science. By infusing science into clothing, people can visually represent species and ecosystems in need of advocacy — something that, more often than not, leads to a teaching moment.

"When people wear Waterlust gear, it's just a matter of time before somebody asks them about the bright, funky designs," said Waterlust's CEO, Patrick Rynne. "That moment is incredibly special, because it creates an intimate opportunity for the wearer to share what they've learned with another."
The idea for the company came to Rynne when he was a Ph.D. student in marine science.
"I was surrounded by incredible people that were discovering fascinating things but noticed that often their work wasn't reaching the general public in creative and engaging ways," he said. "That seemed like a missed opportunity with big implications."
Waterlust initially focused on conventional media, like film and photography, to promote ocean science, but the team quickly realized engagement on social media didn't translate to action or even knowledge sharing offscreen.
Rynne also saw the "in one ear, out the other" issue in the classroom — if students didn't repeatedly engage with the topics they learned, they'd quickly forget them.
"We decided that if we truly wanted to achieve our goal of bringing science into people's lives and have it stick, it would need to be through a process that is frequently repeated, fun, and functional," Rynne said. "That's when we thought about clothing."
Support Marine Research and Sustainability in Style
To date, Waterlust has sold tens of thousands of pieces of apparel in over 100 countries, and the interactions its products have sparked have had clear implications for furthering science communication.
For Caruso alone, it's led to opportunities to share her abalone restoration methods with communities far and wide.
"It moves my small little world of what I'm doing here in Orange County, California, across the entire globe," she said. "That's one of the beautiful things about our partnership."
Check out all of the different eco-conscious apparel options available from Waterlust to help promote ocean conservation.
Melissa Smith is an avid writer, scuba diver, backpacker, and all-around outdoor enthusiast. She graduated from the University of Florida with degrees in journalism and sustainable studies. Before joining EcoWatch, Melissa worked as the managing editor of Scuba Diving magazine and the communications manager of The Ocean Agency, a non-profit that's featured in the Emmy award-winning documentary Chasing Coral.
A 5.8-magnitude earthquake that rattled Pawnee, Oklahoma in September 2016 was classified as largest in state history. USGS
Environmental activist Erin Brockovich is helping Oklahoma's Pawnee Nation take on several fracking companies in a lawsuit alleging that damages to its tribal buildings and reservation property was the result of man-made, or induced, earthquakes.
National Geographic reports that the Native American tribe has retained the law firm Weitz & Luxenberg, with the aid of Brockovich, to sue Eagle Road Oil LLC, Cummings Oil Company, and 25 other oil and gas companies.
In September 2016, a magnitude 5.8 earthquake—the state's largest ever recorded—struck near the town of Pawnee. The tribe alleges that wastewater injected into wells operated by the defendants caused the record-breaking quake and is seeking damages to real and personal property, market value losses, as well as punitive damages.
The lawsuit accuses the defendants of "knowingly causing" the tremors and that their actions "constitute wanton or reckless disregard for public or private safety."
The case will be heard in tribal court. "The Nation wanted this to be an assertion of their sovereignty," Curt Marshall, counsel for Weitz & Luxenberg representing the Pawnee, told National Geographic. "After all, they are a nation, a sovereign nation: they have jurisdiction, even over non-Indians, on their land."
A growing body of research has linked Oklahoma's alarming spate of earthquakes to wastewater disposal deep underground. These fluids can cause pressure changes to faults and make them more likely to move. Scientists have dubbed this phenomenon as "induced earthquakes" as they are triggered by human activities as opposed to "natural" seismicity.
The Midwestern state is not previously known for seismic activity. Before 2009, Oklahoma felt two earthquakes per year. But in 2014, the numbers jumped to about 2,500 in 2014, 4,000 in 2015 and 2,500 in 2016.
The U.S. Geological Survey said that the decline in 2016 quakes could be due to injection restrictions implemented by the state officials.
Although there were fewer tremors last year, Oklahoma felt more 4.0+ quakes in 2016 than in any other year. Another damaging quake struck the state in November—a 5.0 near Cushing, one of the largest oil hubs in the world.
Earlier this year, Brockovich and lawyers from Weitz & Luxenberg traveled to the state to speak with residents about the earthquake swarm.
"The communities definitely [are] feeling frustrated and voiceless and helpless and not sure where to turn" Brockovich said after a Pawnee meeting in January.
Brockovich, who currently lives in Los Angeles, recounted to National Geographic about her summers in Oklahoma as a child.
"The only thing I'd worry about growing up there was tornadoes," Brockovich said. "Now I'd be afraid not of a tornado, but an earthquake? That's just bizarre."
It's difficult, she added, "to go back to Oklahoma, to see how on edge [the Pawnee people] are. The question they keep asking is, 'When will it end?'"
A U.S. Steel plant in Portage, Indiana spilled nearly 300 pounds of a cancer-causing chemical into Burns Waterway last month, documents from the Indiana Department of Environmental Management (IDEM) revealed.
The release of hexavalent chromium was 584 times the daily maximum limit allowed under state law, the Times of Northwest Indiana reported, citing the documents. The plant is permitted to release only a maximum of 0.51 pounds daily.
The toxic industrial byproduct was made infamous by the environmental activist and 2000 movie of the same name, "Erin Brockovich."
The leak occurred between April 11 and April 12 and forced the closure of several Lake Michigan beaches and Indiana American Water's intake in Ogden Dunes. Burns Waterway is a tributary that flows into Lake Michigan, a drinking water source for nearby Lake, Porter and LaPorte counties.
Following the spill, U.S. Steel has committed to sampling and monitoring lake water on a weekly basis to ensure it is safe through the swimming season, a U.S. Environmental Protection Agency (EPA) spokesperson said. The discharge was reportedly caused by a pipe failure.

Sam Henderson, a staff attorney for the Hoosier Environmental Council, denounced the spill.

"If U.S. Steel had set up its system responsibly, it wouldn't have been possible for a single mechanical failure to dump nearly 300 pounds of hexavalent chrome into Lake Michigan," Henderson told the Times of Northwest Indiana.
"Spills like this show that U.S. Steel isn't taking that responsibility seriously. Industry needs to step up."
The chemical spill highlights concerns over the Trump's administration's proposed cuts to abolish the Integrated Risk Information System, the EPA office working on hexavalent chromium standards in drinking water. The cuts would also affect funding for scientific reviews of toxic chemicals and decrease the EPA's enforcement of environmental laws.

Henderson noted that IDEM's budget "has been slashed to the bone, and we see the consequences of that in accidents like these." IDEM is Indiana's agency charged with protecting the state's environment and human health.
"Now we face the risk that EPA will be severely cut back as well," Henderson said. "If those cuts go through, nobody will be minding the store. And if nobody's minding the store, it's inevitable that spills like this will become more common."

Cindy Skrukrud, clean water program director for Sierra Club Illinois, added that U.S. Steel's spill "illustrates the need we have for a robust EPA to prevent and respond to situations like this."
"We cannot bear cuts to the EPA staff and to its programs that protect the Great Lakes from pollution and cleanup legacy contamination sites. We are all depending on the EPA as we seek answers to the remaining questions about the impacts of the spill on the aquatic life in Burns Waterway," Skrukrud continued. "As potential penalties are considered, they should include funding for restoration projects in and near the impacted areal."
U.S. Steel said last month it takes all incidents "very seriously" and are "fully committed to researching and taking corrective actions to prevent a future occurrence."
The beaches and water intake reopened on April 17 after EPA water samples detected no levels of hexavalent chromium.
However, last month the National Park Service staff said they were concerned about the long-term potential impacts to beach users' health, wildlife and other park resources.
"Lake currents and waves have the ability to move this hazardous material onto park beaches at a later date," the park service said in a news release.
Officials said that periodic beach patrols will be looking for evidence of fish kills or other environmental damage.
A U.S. Steel plant in Portage, Indiana has spilled wastewater containing a potentially cancer-causing chemical into Burns Waterway, a tributary about 100 yards from Lake Michigan.
The leak prompted the closure of four beaches and a riverwalk at the Indiana Dunes National Lakeshore, and Indiana American Water in Ogden Dunes—the nearest municipal water source—to shut down its water intake and switch to a reserve water supply, the U.S. Environmental Protection Agency (EPA), which is overseeing the spill, announced.
U.S. Steel reported the leak on Tuesday morning. The company informed the EPA that its release has been stopped at the source. The amount of spilled wastewater is still unknown.
The wastewater discharge, apparently caused by a pipe failure, contains hexavalent chromium (chromium-6), which is used for industrial processes. The toxic chemical was made famous by the environmental activist and 2000 movie of the same name, "Erin Brockovich."
Incidentally, as Chicago Tribune pointed out, President Donald Trump's administration has proposed a budget that would quash efforts to crack down on the dangerous pollutant nationwide:

"Trump's proposed budget would abolish the Integrated Risk Information System, the EPA office working on hexavalent chromium standards in drinking water, as well as sharply reduce funding for scientific reviews of toxic chemicals and cut back on the agency's enforcement of environmental laws."

Low levels of the chemical were found in Lake Michigan near the mouth of Burns Waterway, Sam Borries, a branch chief for Region 5 of the EPA's emergency response program, told Chicago Tribune.

Borries said that it is unclear whether or how far the chemical has spread down the shoreline. He added that officials have taken 100 samples along the waterway east and west of its entry point to the lake and results are expected Thursday.
Wednesday morning footage from NBC Chicago's Sky5 shows a dark substance spreading into the Great Lake. The EPA says the substance is sediment, not chromium-6.
According to the Associated Press, a U.S. Steel preliminary investigation determined that an expansion joint failed Tuesday in a pipe at the Portage facility. This allowed wastewater from an electroplating treatment process containing chromium-6 to escape into the wrong wastewater treatment plant at the complex. That wastewater eventually flowed into the Burns Waterway.
Andy Maguire, the EPA's on-scene coordinator, told the AP that testing is continuing at the intake areas and other nearby points, but hexavalent chromium from the spill has so far not been found in Lake Michigan.
Chromium-6 is used in chrome plating, wood and leather treatments, dyes and pigments and the water in cooling towers of electrical power plants.
The chemical has long been known to cause lung cancer when airborne particles are inhaled. Recent science has also shown that, when ingested, it can cause stomach cancer. A 2008 study by the National Toxicology Program found chromium-6 in drinking water caused cancer in rats and mice.
The Environmental Working Group (EWG) released an analysis last year finding that hexavalent chromium is in the tap water of more than 218 million Americans.
California is the only state that has set an enforceable legal limit for chromium-6 in drinking water. The state's public health goal is 0.02 parts per billion of chromium-6 in drinking water, yet the state's legal limit is 500 times higher.
The current federal drinking water standard is 100 parts per billion for total chromium, a measurement that includes the toxic chromium-6 and chromium-3, which is an essential human dietary element.
Health groups are pushing for federal regulators to set national drinking water standards.
As Pawnee, Oklahoma still picks up the pieces from September's record-breaking earthquake, environmental and consumer advocate Erin Brockovich and lawyers from Weitz & Luxenberg have traveled to the Sooner State to speak with residents about the alarming number of induced earthquakes affecting the area.
Oklahoma Earthquake Officially Largest in State's History - EcoWatch https://t.co/PB9UCClxLP @Anti_Fracking @frackfree

— EcoWatch (@EcoWatch)1473195912.0
Meetings were held in Pawnee and Cushing on Thursday. The legal team also made plans to stop in Stillwater.

"The communities definitely [are] feeling frustrated and voiceless and helpless and not sure where to turn" Brockovich told KOCO 5 News at the Pawnee meeting.
For most, as News 9 pointed out, insurance companies are not covering repairs from the 5.8-magnitude earthquake in Pawnee.

The Midwestern state has seen a shocking increase in magnitude-3 or larger earthquakes in recent years. Scientists have linked the seismic activity to the injection of large volumes of wastewater from oil and natural gas production into underground disposal wells. Fracking itself can cause earthquakes, although they are usually smaller and less frequently felt than earthquakes produced from underground injection.
The phenomenon has been dubbed as "man-made" or induced earthquakes as they are triggered by human activities as opposed to "natural" seismicity.
In a Facebook post describing her visit to Oklahoma, Brockovich wrote:
"In 2009, Oklahoma recorded a maximum of 195 earthquakes in any given year, but by 2014, seismologists recorded over 5,000 earthquakes. The increase in earthquakes has been linked to the growing volume of wastewater injected deep into the ground by companies with fracking operations. The total volume of wastewater injected into ground wells has grown from 2 billion barrels in 2009 to over 12 billion barrels in 2014. This must stop!"
State regulators have implemented regulations to reduce the frequency of induced earthquakes, including the closing of wells and a disposal volume reduction plan.

This year, disposal well operators placed about 23 percent less wastewater into geological formations within the earthquake zone compared to the previous year, the Associated Press reported. In all, Oklahoma Geological Survey data determined there were 623 quakes of 3.0 or greater in 2016, a 31 percent reduction from 2015.
At Thursday's meeting in Cushing—the oil hub town that saw a 5.0 quake in November—Brockovich acknowledged that many Oklahomans rely on the oil and natural gas industry for jobs. At the same time, she believes that residents affected by the earthquakes need protection.
5.0 Earthquake Rattles Oklahoma Oil Town of Cushing https://t.co/5JtCD8cfTi @Peter_Seeger @FrackAction

— EcoWatch (@EcoWatch)1478556914.0
"We want you to have jobs. We understand that," Brockovich said, according to Tusla World. "But we also understand homes have been damaged. People are fearful. They don't know who to trust."

She added that the oil and gas industry should "do what's right by your health and safety."
"This isn't a (political) party issue," Brockovich said. "This is a right or wrong."
New York-based firm Weitz & Luxenberg recently filed two class-action suits against oil and gas companies in response to severe damage caused by the powerful earthquakes in Cushing and Pawnee.
"Oklahomans continue to be put at risk by human-induced earthquakes, with hundreds of tremors—including the biggest in state history—rattling the area since my first town hall here last year," Brockovich, a Weitz & Luxenberg consultant, said in a statement provided to EcoWatch. "This problem is clearly not going away, and it is critical that we show the businesses behind these quakes that we aren't going away either."
Erin Brockovich on Oklahoma Earthquakes: 'It's Fracking, Let's Just be Honest' https://t.co/YfzEZoZB3r @joshfoxfilm @Frack_Off

— EcoWatch (@EcoWatch)1456437924.0
Chad Warmington, president of the Oklahoma Oil & Gas Association, responded to Brockovich's appearance in a statement to Tulsa World.
"I expect what Ms. Brockovich will find on her business trip from California is that over the past year seismic events in Oklahoma have declined by 31 percent and that Oklahoma's oil and natural gas industry has been quick to comply with state regulators' directives on disposal well operations," Warmington said. "Industry has also supplied its own data and millions of dollars in proprietary research to help all concerned parties better understand our state's geology and fault lines."
Nearly 20 percent of the water fountains in Chicago parks tested positive for excess levels of lead in the water and have been shut down by the Chicago Park District.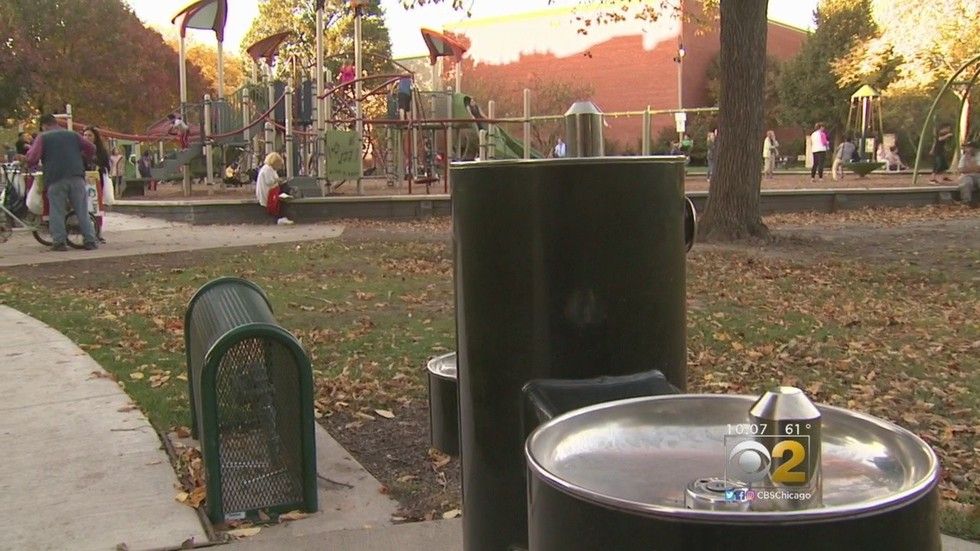 Hundreds of drinking fountains in Chicago parks have been shut off after testing revealed high levels of lead in the water.CBS Chicago
Of the 1,891 outdoor fountains in city parks, 445 exceeded the U.S. Environmental Protection Agency's (EPA) action level of 15 parts per billion. Another 14 of 544 indoor water fountains were contaminated as well. However, the EPA's Lead and Copper Rule refers primarily to municipal water systems, not single source supplies. The rule requires that action be taken if more than 10 percent of the taps tested exceed the 15 parts per billion standard.
The U.S. Food and Drug Administration (FDA) regulates bottled water, and has set a standard of 5 parts per billion. The difference is designed to account for the fact that bottled water does not flow through lead pipes. In cases where it is sourced from municipal water supplies, it must be run through one of several filtration processes in order to be labeled as "purified." If the Chicago Park District used the FDA standard, an additional 250 fountains would have to be shut down.
Exposure to high levels of lead for children can lead to reduced cognitive function, lower IQ scores, behavior, learning and hearing problems as well as anemia and slowed growth. Effects on pregnancy include premature birth and reduced growth of the fetus. Lead can be harmful to adults, including hypertension and reproductive issues. In Flint, Michigan, where the crisis of lead in water gained national attention, residents reported rashes and hair loss that may be linked to contaminated water.
#JohnOliver Blasts GOPs 4 Failure 2 Address America's #Lead Crisis https://t.co/wHFqxDb2fO @MMFlint @ErinBrockovich https://t.co/7MkMUi5Yrz

— EcoWatch (@EcoWatch)1460991163.0
On Tuesday, the American Civil Liberties Union (ACLU) of Michigan filed a class-action civil rights lawsuit against the Michigan Department of Education, Genesee County Intermediate School District and Flint Community Schools. The suit alleges ongoing violations of federal education laws and seeks screening and funding for special education services.
During the 2014-2015 school year, at the height of the water crisis, the suspension and expulsion rate for special education students in Flint Community Schools was more than five times higher than the rate for special education students in all Michigan school districts, according to a statement released by the ACLU of Michigan.

"All children can learn," said Kary Moss, executive director of ACLU of Michigan. "Universal, free public education is a cornerstone of our democracy and a basic civil right. But the rights of schoolchildren and their families are being violated every day in Flint. This lawsuit exposes what has gone wrong—including a dysfunctional funding structure—and demands clear and urgent remedies to make it right."

Last week, tests showed excessive levels of lead in 30 of 180 parochial schools in the Archdiocese of Chicago. Across the U.S., 18 million people drink water that violates the standards set forth in the Lead and Copper Rule. In Pennsylvania, 8.5 percent of children tested were found to have dangerously high levels of lead in their blood. Schools in Portland, Atlanta and Washington have been found with lead-contaminated water. In June, an investigation by The Guardian found 33 cities that had rigged their water tests.
America's Lead Poisoning Problem Is Everywhere https://t.co/naGb7EcB1R @ErinBrockovich @MMFlint @sierraclub @ewg https://t.co/AyWL71a7Ci

— EcoWatch (@EcoWatch)1454778490.0
Much of the problem can be traced to aging water pipes in cities and towns across the U.S. Some 6 to 7 million lead pipes bring water to schools, homes and hospitals in America. Replacing those lines carries a price tag of $30 billion.
But the cost of leaving those lead pipes in place is even higher, measured in the health of America's children and their families. In many of these tested locations, lead levels didn't just slightly exceed the standards: they exceeded them by multiples. In Chicago's parochial schools, some samples tested at 40 parts per billion. Flint schools measured as high as 2,800 parts per billion. In Avalon Park in Chicago, one fountain registered 1,800 parts per billion, while another measured 1,200.
As a Natural Resources Defense Council report put it, "No amount of exposure to lead is safe."
Just weeks before the U.S. presidential election, filmmaker Anthony Baxter will release a sequel to his award-winning film, You've Been Trumped.
You've Been Trumped Too, shot in Scotland and the U.S., features the real-life stories of Molly and Michael Forbes, who became nationally-recognized Scottish folk heroes after opposing a controversial Trump golf development in their pristine coastal village.
In the new film, Baxter followes Michael Forbes—who Trump branded "a pig" and his farm "a slum"—to the Republican National Convention in Cleveland, Ohio, where Forbes attempts to find out why some Americans are backing the man he blames for his family's misfortune.
"I was amazed to observe the consequences of Donald Trump's actions in Scotland, at the very same time he was running for president," Baxter said, who was once jailed after investigating why the Trump organization had cut off water supplies to local residents.
"I felt it was a story American voters needed to hear before November 8th."
If you want to be one of the first to see the entire film, check out this Kickstarter page and be among the more than 580 people supporting this film.
The film will debut in New York City and London in late October before being distributed worldwide on other platforms.
In Monday's debate, Hillary Clinton pledged to spend $275 billion investing in America's infrastructure. Donald Trump doubled down, promises lots more. On Tuesday the Senate failed to pass a bill to keep the government open because Democrats insisted—and Republicans rejecting—inclusion of a modest $220 million to repair the toxic contamination in the Flint, Michigan public water system.
The 35W bridge in Minneapolis, Minnesota, which collapsed during rush hour on Aug. 1, 2007.
Where the disconnect? That's a small example of the big question at the heart of Upgrading America, today's DC summit on American infrastructure. Everyone agrees our infrastructure is a shambles—D+ according to the Academy of Engineering. Almost everyone agrees that a lot of this infrastructure is essential for a strong America, and requires a federal role. But, as we are reminded today, for the past 30-40 years, we have systematically starved the critical systems that make our country safe, liveable, competitive—and yes, Donald, great. (Trump is right about the third world condition of our airports etc. He is wrong in refusing to support anything that would plausibly pay for improving them.)
A few painful reminders of how bad we have allowed things to get:
We have stored 727 million barrels of oil in the Strategic Petroleum Reserve, our insurance policy in case, say, a Middle Eastern crisis shut down Persian Gulf oil. We couldn't get it out as fast as we might need it, Energy Secretary Moniz tells us, because we don't have enough loading docks.
We have 200,000 water mains break in the U.S. every year. The average water pipe in Washington DC is 79 years old, meaning half are past their useful life. Cities as diverse as Washington, DC, Philadelphia, Atlantic City and Cleveland have suffered lead poisoning from water just like Flint.
Enough natural gas leaks from our pipeline system every year to power 7 million homes. Every year we have a major natural gas explosion or leak that kills people or drives them from their homes.
Most of America's railway bridges cannot handle double stacked loads. But all our planning for handling the 45 percent increase we expect in goods movement requires such double stacking.
There are new challenges as well. Every year, there are now 150 cyber attacks on the U.S. energy system. The system is simply not hardened against such threats, much less against a massive electro-magnetic pulse that a single high altitude nuclear explosion might unleash.
And some economic realities, that should, but won't, sober up Trump:
The old way of doing things is getting steadily more expensive. A single new substation in New York City can cost a billion dollars, even thought it is needed only half the time.
Cities like Baltimore, after decades of not investing in their water systems, are now raising rates at 10 percent a year—their citizens will soon not be able to pay for water.
Even at our present replacement rate, ½ of 1 percent a year, it will cost us $650 billion every ten years to maintain our water and sewer systems. At the end of that time, the average water main will be 200 years old.
The wholesale price of electricity has fallen by 30 percent over the last eight years. But the cost of the wires and poles that distribute electricity has increased so fast that the retail price of electricity is up 20 percent.
Adding new highway improvements in Washington State at a cost of $2.5 billion are considered a "success" if they cut 90 seconds off the average commute time.
But we have some stunning opportunities if we start thinking systemically, rather than clinging to mid-twentieth century approaches and mind-sets. Efficiency, substituting data for raw materials, and renewables for fossils, are the keys.
If we replaced outmoded, leaky water mains, we would immediately recapture 1.7 trillion gallons of water, 25 percent of the treated water we feed into them, water which after collection and treatment at great expense now leaks into the ground.
That same $1 billion NY substation became completely unnecessary when ConEdison invested $200 million in modern load smoothing strategies like energy efficiency and demand management.
Utilities are currently rewarded for wastefully investing more capital in power plants, wires and poles. Yet we have huge surplus capacity in our system already—New York State uses its power plants only 54 percent of the time. Using new technology to shift demand by only a few hours using energy storage could postpone the need for new capital investment.
The cost of renewable power continues to plummet. Over the last eight years prices fell from 41 percent (wind) to 90 percent (LED bulbs). Unsubsidized solar power in the best locations now cost a trivial 2.4 cents a kwh.
New prototype Class 8 trucks can save 88 percent of the fuel used by today's models, meaning we won't need as many pipelines to deliver diesel.
And these solutions, thoughtfully designed, can have a phenomenally positive impact on our economy, inequality and our sense of national dignity and unity.
Accelerating the repairs on our natural gas pipeline system to eliminate leaks and explosions would generate 300,000 jobs.
Restoring high quality public water systems may cost more than we are used to paying—but it would cost perhaps 1/1000 of our current work-around, bottled water. And we would all be equally well served.
In California, which has put in place climate policies that generate revenues and discourage pollution, the clean energy sector is now the state's largest single employer, with 500,000 jobs. The sector is growing six times as fast as the state's overall economy, which in turn is growing faster than the U.S. economy.
Finally, replacing wasteful consumption of fossil fuels, leaky gas and water mains, and outmoded electrical infrastructure with knowledge driven, higher performance, low carbon infrastructure and technology is, quite simply, the single most powerful economic development strategy available to us. To cite one example, (probably the biggest, but only one), there was tremendous excitement last month at the news that the economic recovery was finally reaching the average American. Median family incomes increased by 5.2 percent. But it turns out that if energy prices in 2015 had tracked the rest of the consumer price index, instead of falling 17 percent, the household benefit would have been only 3.4 percent. And if the U.S. had not invested in more efficient cars and trucks beginning in 2007, if renewables and efficiency weren't displacing natural gas and coal, then that fall in energy prices would not have occurred—and household income would have grown far less rapidly.

Investing in innovative and less wasteful, less carbon and resource intensive infrastructure, does have an upfront cost: but it pays off in so many ways that voters ought to be doubling down on Donald Trump's bid. America ought to set a goal—improving our infrastructure from D- to B+ say—and make sure that politicians of both parties get it done.
Watch John Oliver as he discusses "America's crumbling infrastructure: It's not a sexy problem, but it is a scary one":
By Deirdre Fulton
Lawmakers have come up with a compromise to avoid a potential government shutdown and provide long-awaited aid for Flint, Michigan—though the band-aid measure will still keep that community, which has been grappling with a lead-contamination crisis for more than two years, waiting for funds at least until November.
How did we have so much money available to go to war in Iraq, but somehow Republicans won't send money to Flint? https://t.co/H3oOqrCv0P

— Bernie Sanders (@Bernie Sanders)1475011343.0
According to news outlets, U.S. House leaders on Tuesday night struck a deal to allow a vote on an amendment adding $170 million in infrastructure funding under the Water Resources Development Act (WRDA), to help Flint and other cities with water emergencies.
The agreement followed days of tense talks, and came after Senate Democrats earlier on Tuesday blocked a vote to advance a stopgap spending bill to keep the government running after Friday, citing the GOP's refusal to include funding for Flint. The legislation does include emergency flood assistance for Louisiana, West Virginia and Maryland.
Flint families have had poison in their H2O for 2 years. Shame on GOP for refusing $ to help. #DontForgetFlint… https://t.co/pYDWeHEL1d

— Senator Jeff Merkley (@Senator Jeff Merkley)1474912398.0
And any politician who won't stand with Flint, MI - whose kids are choking on poisoned water - lacks the moral courage to serve in Congress.

— Elizabeth Warren (@Elizabeth Warren)1475017261.0
Helping poisoned children should not be a partisan issue. But #Flint water still unsafe to drink & GOP still holding up needed assistance.

— Senator Jack Reed (@Senator Jack Reed)1475010800.0
House Speaker Paul Ryan (R-Wis.) said the breakthrough on Flint "will help unlock" the short-term spending bill. Indeed, the Washington Post reported that while "Senate Democrats have not yet examined the House amendment ... a senior aide said leaders are 'optimistic' that the deal could offer a path to avert a shutdown."
And Rep. Dan Kildee (D-Mich.), who has been outspoken in his call for Flint funding (and about the cause of the crisis in the first place), said the deal "is a step forward to ensuring that Flint families get the resources they need to recover from this crisis."
"The people of my hometown have waited over two years for their government to help them in their time of need," Kildee said. "We will continue to fight until Flint aid reaches the president's desk."
That may not be until December, the Post reported, as the House and Senate versions of the WRDA must still be resolved, and Congress is about to depart on recess until after the Nov. 8 election.
And as Michigan Public Radio notes:
If [the WRDA] passes, it's unclear how long it will take for the money to reach the city of Flint.
As of Tuesday, the city had replaced 155 lead service lines. It's estimated there could be 10,000 pipes connecting Flint homes to city water mains that continue to leech lead into the city's drinking water.

"The people of Flint deserved assistance more than a year ago, and they require assistance now, without further delay," a coalition of 86 civil rights, public health, and environmental groups wrote in an open letter to Congress this week. "Therefore, it is critical that aid comes now so that other children and families will not suffer."
The full House is set to vote on the Flint amendment on Wednesday.
Michael Moore: 10 Things They Won't Tell You About the Flint Water Tragedy, But I Will https://t.co/a3lvwIwPi8 @CleanWaterMI @NRDCWater

— EcoWatch (@EcoWatch)1454198104.0
Reposted with permission from our media associate Common Dreams.
By Bill Walker

Drinking water supplies for two-thirds of Americans are contaminated with the carcinogenic chemical made notorious by the film, Erin Brockovich, which was based on the real-life poisoning of tap water in a California desert town. But there are no national regulations for the compound—and the chemical industry is trying to keep it that way.
The Environmental Working Group (EWG) released an analysis Tuesday of more than 60,000 tap water tests conducted nationwide, finding that chromium-6, or hexavalent chromium, is in the tap water of more than 218 million Americans. That's two-thirds of the U.S. being served water with chromium-6 at, or above, the level that California state scientists consider safe. The California public health goal allows a chromium-6 level expected to cause no more than one case of cancer in 1 million people who drink it for lifetime.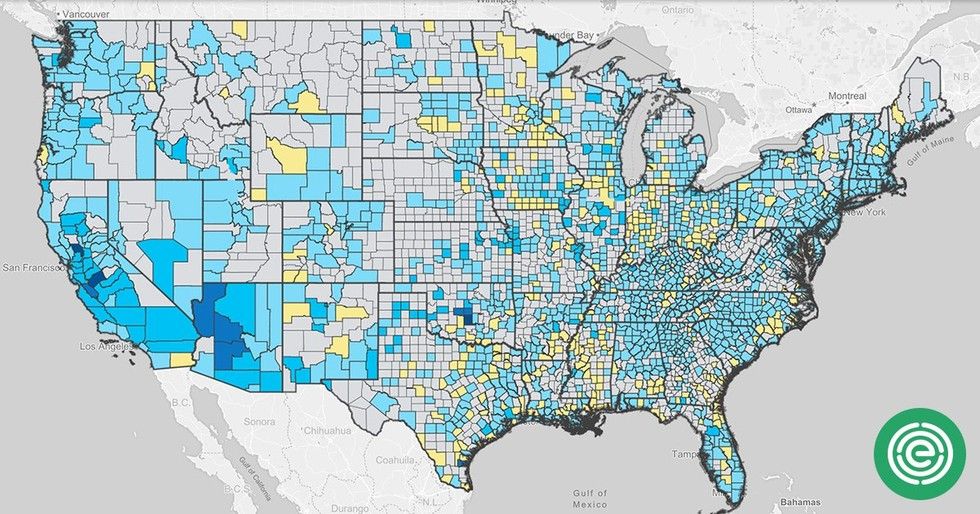 Interactive map of chromium-6 in U.S. drinking water shows an estimated 218 million Americans served unsafe levels of the chemical.Environmental Protection Agency, UCMR-3
Though far more permissive than its public health goal, California is the only state that has set an enforceable legal limit for chromium-6 in drinking water. Federal chromium regulations, set in 1991, do not specifically address chromium-6 and do not consider current science showing that drinking water contaminated with the chemical can cause cancer.

Chromium is a naturally occurring element but can also be manufactured. The two main types are chromium-3—an essential human nutrient considered to be mostly harmless—and chromium-6, which has long been known to cause lung cancer when airborne particles are inhaled. Recent science has also shown that, when ingested, it can cause stomach cancer. Chromium-6 is used in chrome plating, wood and leather treatments, dyes and pigments, and the water in cooling towers of electrical power plants.

A 2008 study by the National Toxicology Program found chromium-6 in drinking water caused cancer in rats and mice. California state scientists drew on that study to determine its public health goal, which is unenforceable, but guided state regulators in setting a legal limit. Although EWG believes the legal limit is far too high to protect public health, it is the only enforceable regulation on chromium-6 in the U.S.
The National Toxicology Program study was also used by the U.S. Environmental Protection Agency (EPA) to draft a health assessment for a safe exposure level. The draft was completed in 2011, but not formally released because the chemical and electric power industries pressured the EPA to wait for the results of other, industry-funded studies. Five years later, we're still waiting for the industry studies, which are expected to argue that the EPA doesn't need to set a national standard at all. They're also expected to fundamentally challenge the way the EPA calculates the risk of all carcinogenic chemicals.

Will the EPA stand up to industry pressure? The agency's record is not good. Since landmark amendments to the Safe Drinking Water Act in 1996, the EPA has not set any new drinking water regulations for previously unregulated contaminants. The EPA has ordered tests on 81 contaminants, but moved forward on setting regulations for just one—and those regulations are two years behind schedule.
Erin Brockovich Calls on EPA to Finally Set Standard for Carcinogen Found in Millions of Americans' Tap Water: https://t.co/TQwAgufr8q

— Link TV (@Link TV)1471385409.0
California's public health goal is 0.02 parts per billion of chromium-6 in drinking water, yet the state's legal limit is 500 times higher. A home water filter can remove chromium-6 and most other chemicals of concern, but can be expensive. Ultimately, the better solution is for federal regulators to set drinking water standards that keep up with advances in science and prevent dangerous contaminants from getting into tap water in the first place.

As news about North Carolina's governor and his administration downplaying the risks of drinking water contaminated with hexavalent chromium unfolds, two leading environmental health advocates are pushing the Obama administration to finally set a nationwide standard for the highly toxic chemical.
Erin Brockovich, a noted environmental health advocate and the Environmental Working Group (EWG) President Ken Cook called on the U.S. Environmental Protection Agency (EPA) to stop dragging its feet and move quickly to set a tough national standard, known as a Maximum Contaminant Level or MCL, for the ubiquitous carcinogen found in millions of Americans' tap water.

In a joint letter to EPA Administrator Gina McCarthy, Brockovich and Cook wrote:
We write with deep concern about this continued delay. It is clear that the delay is sowing confusion among state and local regulators, utilities and the public about how much hexavalent chromium is safe in drinking water. This confusion is resulting in many Americans' exposure to unregulated levels of hexavalent chromium that federal, state and independent scientists agree pose health hazards.
The request comes as a top state health official in North Carolina resigned in protest over meddling by Gov. Pat McCrory and his staff. McCrory sought to retract "do-not-drink" warnings directed at some residents whose tap water comes from wells likely tainted by hexavalent chromium from nearby Duke Energy coal-burning facilities.
The situation in North Carolina is, in part, a result of the absence of a stringent nationwide health-protective EPA standard, argued Brockovich and Cook:
States like North Carolina, where industrial byproducts like coal ash increase the risk of hexavalent chromium contamination, need a federal mandate to set strong, health-protective standards for levels of the contaminant in drinking water. Without it, states will continue to use inconsistent and potentially unsafe guidelines and leave citizens confused about whether their drinking water is safe.
A report issued by EWG back in December 2010 found hexavalent chromium in tap water from 31 of 35 American cities.
"It's high time EPA put in place a stringent national standard to protect Americans from drinking water contaminated with hexavalent chromium," Cook said in a separate statement.
"A lack of a federal standard and the ongoing delay in setting one, are confusing utilities, states and citizens about what level of hexavalent chromium in drinking water is safe. Until EPA acts, we will likely continue to see the situation happening in North Carolina unfold in other states."