Epic Drought and Food Crisis Prompts South Africa to Ease Restrictions on GMOs
Feb. 24, 2016 11:47AM EST
Climate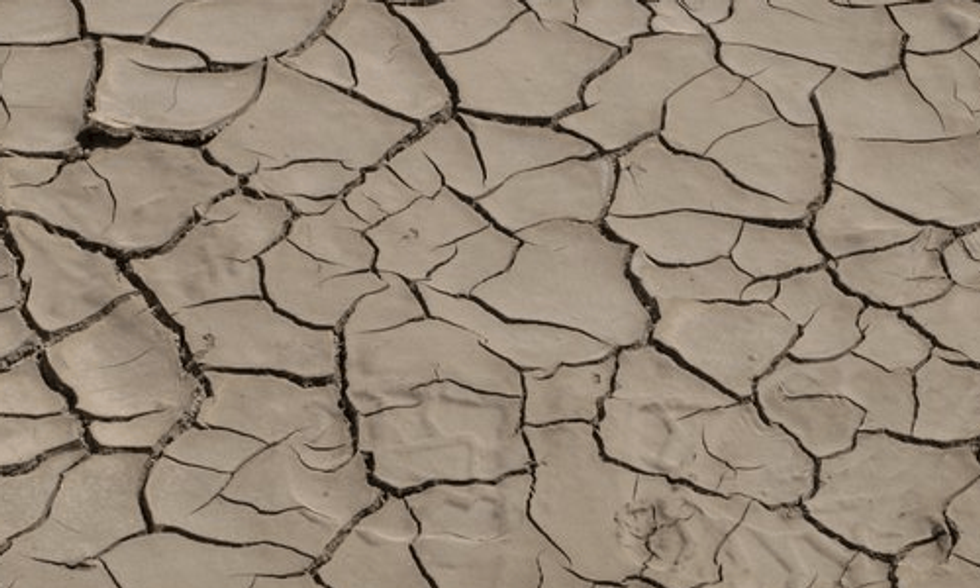 In the face of a food crisis and a devastating drought, South Africa is planning to relax its rigid laws over genetically modified (GMO) crops and boost imports of its staple food, maize, from the U.S. and Mexico, government officials told Reuters.
#Climate Change Hit South #Africa Hard In 2015 With Drought, Heatwaves And #Water Shortages https://t.co/3V68iy7Qa1 https://t.co/exz1mSzUIj

— Assaad Razzouk (@Assaad Razzouk)1450825751.0
Government officials said that South Africa needs to import about 1.2m tonnes of white maize and 2.6m tonnes of yellow maize from the U.S. and Mexico.
Despite being the world's eighth largest producer of GMO crops, South Africa has very strict regulations over GMOs. The nation requires that GMO food carry a label, strains entering the country must be government-approved and imported GMO crops are not allowed to be stored. Instead, the crops must be transported immediately from ports to mills.
Makenosi Maroo, spokeswoman at the Department of Agriculture, told Reuters that the country is planning to allow importers to temporarily store consignments of GMO maize at pre-designated facilities, to allow much bigger import volumes.
"In anticipation of the volumes expected to be imported into South Africa, the (GMO) Executive Council has approved the adjustment of a permit condition which relates to the handling requirement," Maroo told the news agency. "There is therefore no intention to relax safety assessment or risk management procedures prescribed."
South Africa to ease some GM crop rules to avert food crisis: CAPE TOWN (Reuters) - South Africa will relax so... https://t.co/f3zyxwdb1B

— The Disaster Center (@The Disaster Center)1456226150.0
Since U.S. crops contain a significantly higher amount of genetically modified strains, South African ports could reject suspect shipments even if the import is slightly contaminated.
The country has a "zero tolerance" policy for unapproved GMOs and only allows the cultivation of certain strains of white maize, yellow maize, soy and cotton. GMO fruit or vegetables are not allowed on the market.
However, Maroo said that the government is also considering applications to register additional GMO varieties to ramp up the maize trade between the U.S. and South Africa.
The South African National Seed Organization, which represents firms such as Monsanto and DuPont Pioneer, told Reuters that there are six such applications pending approval.
South Africa is facing its worst drought in three decades, potentially forcing small farmers out of business as food production and prices increase, the BBC reported. The situation is so catastrophic that South African President Jacob Zuma said last week that 2.7 million households would be affected by the drought.
2.7 million households hit by drought in South Africa: https://t.co/tV8r9Fwfv7 #ClimateChange https://t.co/n0edAfzGoD

— UN Environment (@UN Environment)1455825693.0
South Africa, Bukina Faso and Sudan are the only three African countries that allows the cultivation of GMO crops but a growing number of countries could join their ranks. For instance, despite its ban on cultivation and heavy resistance from anti-GMO camps, Kenya's National Biosafety Authority authorized national field cultivation trials for GMO maize earlier this month to meet demand for food.
Proponents of the technology say that GMOs are a shield against worsening weather conditions brought on by climate change. Bill Gates, for one, is known to be pro-GMO seed, especially for the crops' purported benefits to drought-prone African countries.
In February 2015, the business magnate and philanthropist told The Verge that "GMO-derived seeds will provide far better productivity, better drought tolerance, salinity tolerance, and if the safety is proven, then the African countries will be among the biggest beneficiaries."
Monsanto's 
Water Efficient Maize for Africa
—a five-year development project that receives funding from the Gates Foundation, United States Agency for International Development and Howard G. Buffett Foundation—aims to develop a variety of drought-tolerant maize seeds for South Africa, Kenya, Uganda, Tanzania and Mozambique.
Critics, however, say that GMOs are not the cure-all to climate change and global food insecurity and have raised questions over the efficacy of drought-tolerant seeds. As Douglas Gurian-Sherman of the Center for Food Safety wrote:
Monsanto's drought tolerant seeds provide only about 5 or 6 percent yield increase in the U.S., and only under moderate drought conditions. Comparisons are somewhat tricky, but there is little doubt that conventional breeding is outperforming [genetic engineering] for improving drought tolerance.
Additionally, reports have surfaced of increasing pest resistance and a misuse of the technology in South Africa, as The Epoch Times observed:
In an analysis of 77 studies conducted in eight countries, a team of U.S. and French scientists found that nearly half of major pest species had become resistant to Bt cotton or corn plants, including the one in South Africa.
"Despite two decades of industry propaganda that genetically engineered crops boost yields or enhance nutrition, the evidence from independent scientists is that they do not," Ronnie Cummins, international director of the Organic Consumers Association, told EcoWatch.
"On the contrary," he continued, "the FAO of the United Nations and other international organizations have pointed out that organic or agroecological practices on the small farms that produce 70 percent of the world's food result in much higher yields as well as more nutrient dense food. Not only can organic farms and ranches and home and urban gardens feed the world, they are the only way we will feed the world."
YOU MIGHT ALSO LIKE
10 Reasons to Oppose the Senate Version of the DARK Act
DARK Act Is Back With New Bill in the Senate
FDA to Start Testing Monsanto's Glyphosate in Food
India's Food Supply at Risk of GMO Contamination After Lifting 16-Year Corn Import Ban
EcoWatch Daily Newsletter