Elon Musk: Refugee Crisis Just a Glimpse of What's to Come If World Ignores Climate Change
Sep. 25, 2015 09:38AM EST
Climate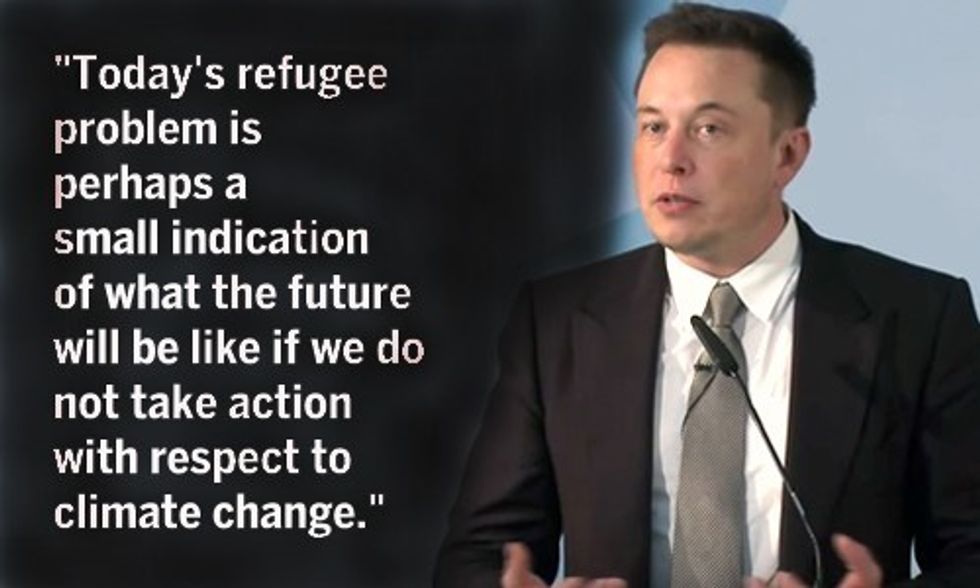 Tesla CEO Elon Musk warned in a speech in Berlin, Germany that the current refugee crisis could become a whole lot worse because of climate change.
"Today's refugee problem is perhaps a small indication of what the future will be like if we do not take action with respect to climate change," Musk told an audience at Germany's Federal Ministry for Economic Affairs and Energy. "Today, the challenge is in terms of millions of people, but in the future, based on what the scientific consensus is, the problem will be in the hundreds of millions and much more severe."
He admits Volkswagen's ongoing scandal is troubling, but he said it's a small issue compared to the overall problem of carbon dioxide emissions.
"If you go 20, 30, 50 years in the future, what do you say to your kids or your grandkids? It's almost, like, scientists have all said that these bad things are going to happen, it's, like 97 percent," Musk said. "So, to say to your kids or grandkids, like, 'Did nobody tell you?' No, everyone was telling us. 'So why didn't you do anything?' What's the answer? I think it's very important that we do something."
Watch the video here (Musk begins at 9:03):
YOU MIGHT ALSO LIKE
Watch Colbert Rip Into Republican Congressman for Boycotting Pope's Speech
Obama, Sanders, Kennedy Praise Pope's Call to Action on Climate Change
Leonardo DiCaprio Pledges to Divest From Fossil Fuels as Movement Grows 50-Fold in One Year
Jon Stewart: If Trump Becomes President, 'I Would Consider Getting in a Rocket and Going to Another Planet'
EcoWatch Daily Newsletter