This website uses cookies to ensure you get the best experience while browsing it. By clicking 'Got It' you're accepting these terms.
By Sarah McColl
Think of the environmental impacts of coffee and your mind likely goes to mountains of coffee cherries polluting waterways, piles of leftover grounds, nonrecyclable coffee pods or the paper waste from gazillions of grande to-go cups. Initially, you're probably not considering milk at all.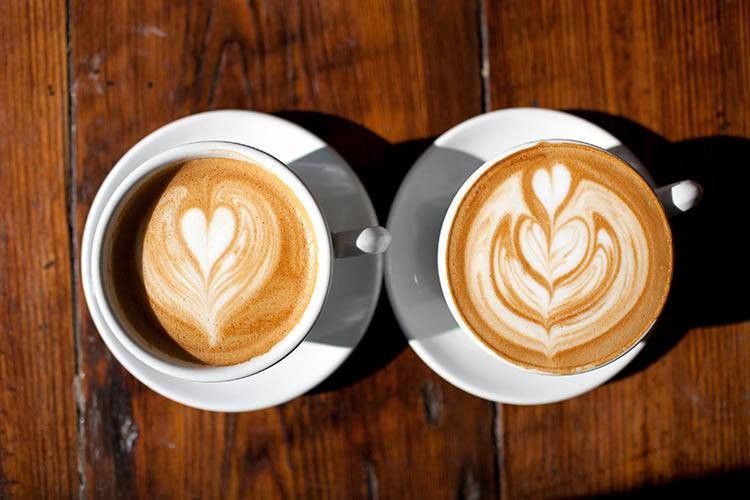 "You and me both," Robert Myers, cofounder of San Francisco's Paramo Coffee, said, whose focus, understandably, had been on the coffee aspects of his coffee business, from farming practices to roasting. But when your business partner is also involved in The Perennial, a restaurant out to fight climate change—as Paramo's Wes Wang is—you start getting articles sent to you. An article about the carbon footprint of heating water for coffee, articles about the emissions related to the aforementioned milk. "I was like, 'Oh great, now milk is a huge part of the problem,'" Myers said.
The milk math Paramo Coffee did was incriminating. Milk represents 60 to 70 percent of the carbon footprint of a cup of coffee with a few tablespoons of milk; for a latte, it's more like 80 or 90 percent. Per cup, black coffee produces 21 grams of CO2; each latte, 340 grams. "When you figure a coffee shop makes 300, 500, 700 drinks a day, this becomes significant," Myers told SFGate.
But rather than imagine a joyless life without lattes, Myers started to learn more about potential offset solutions, such as carbon farming. In this practice, land is covered in a layer of compost, then planted with perennial grasses. Compost seeds the soil with good microorganisms and carbon is captured and stored in the soil via the deep root system of perennial grasses.
"It's not just give up coffee, give up milk," he said. "Suddenly it seemed like, oh, there might be something we can do."
That something has taken the form of a new Paramo location next to The Perennial with a more energy-efficient roaster and a partnership with Marin County's Straus Family Creamery—which, among the nine dairy farms it works with, sources from one that has converted some of its grazing land to carbon farming. Since Paramo can't source milk solely from cows grazing on land that has been converted to carbon farming, it donates 5 cents from every drink to Marin Carbon Project to offset the cost of converting additional dairy rangeland.
Scientists think inexpensive, low-technology practices like carbon farming can turn back the carbon clock. The world's cultivated soils have lost between 50 and 70 percent of their original carbon stock, but carbon farming can reduce atmospheric CO2 while also increasing the health and productivity of the soil. Research from the University of California at Berkeley found that if compost were applied to 5 percent of the state's grazing land, it could store a year's worth of emissions from conventional farms and forestry operations. Boost that number to 25 percent of grazing land and the soil would absorb 75 percent of California's total annual emissions.
"That's a huge impact," Myers said. "It feels like we could really change things in a big way and within the context of something I'm already doing, which is selling coffee with milk. It's not an additional thing I have to do—it's just being more mindful and being a steward of my piece of it."
"If we can say, 'I can sell this milk, there's a lot of demand for it' and if we just keep asking for it, I'm hoping that will get more farmers to say, 'Well, maybe we should try this,'" he added
In a story about The Perennial, Chris Ying, cofounder of both the restaurant and ZeroFoodprint, told TakePart, "Eating, it turns out, is the most significant interaction most of us have with the environment." But the coffeeshop relationship is a unique one. For many coffee drinkers, the morning ministrations of our local barista may be meaningful enough to encourage us to consider the environmental impacts of the ritual.
"You enter into a type of intimacy that's very genuine," Myers said. "I think that's an opportunity to get into people's heart space—gradually, in small ways. But that's where I think the battle of environmental issues wins, when you can get into that space."
This article was reposted with permission from our media associate TakePart.

YOU MIGHT ALSO LIKE
Brazilian State Suspends Larvicide Used to Combat Zika, Monsanto Slams 'Rumors' Regarding Virus
NASA: 4 Billion People at Risk as 'Water Table Dropping All Over the World'
Soda Companies Turn Attention to Developing Countries as Sales Fall Flat in the West
Organic Farmer Dealt Final Blow in Landmark Lawsuit Over Monsanto's GMO Contamination
EcoWatch Daily Newsletter
People carry children on a flooded street in Almoradi, Spain on Sept. 13. JOSE JORDAN / AFP / Getty Images
Large food companies are following in the footsteps of fast-food restaurants such as Burger King and KFC by offering meat alternatives. Getty Images
By Elizabeth Pratt
Hormel, Kellogg's, and Kroger are among the large companies now planning to offer "fake meat" products at grocery stores.
Experts say the trend toward plant-based meats coincides with consumers' desires to eat less meat.
However, experts urge consumers to closely check package labels as a product isn't necessarily healthy just because it's described as plant-based.
In grocery stores and fast-food outlets around the U.S., a revolution is taking place.
Colombia rainforest. Marcel Oosterwijk / CC BY-SA 2.0
Many of us think of the Amazon as an untouched wilderness, but people have been thriving in these diverse environments for millennia. Due to this long history, the knowledge that Indigenous and forest communities pass between generations about plants, animals and forest ecology is incredibly rich and detailed and easily dwarfs that of any expert.
picture-alliance / Newscom / R. Ben Ari
By Wesley Rahn
Plastic byproducts were found in 97 percent of blood and urine samples from 2,500 children tested between 2014 and 2017, according to a study by the German Environment Ministry and the Robert Koch Institute.

Pexels
Medically reviewed by Daniel Bubnis, MS, NASM-CPT, NASE Level II-CSS
Hot yoga has become a popular exercise in recent years. It offers many of the same benefits as traditional yoga, such as stress reduction, improved strength, and flexibility.
Lara Hata / iStock / Getty Images
By SaVanna Shoemaker, MS, RDN, LD
Rice is a staple in many people's diets. It's filling, inexpensive, and a great mild-tasting addition to flavorful dishes.
An image of the trans-alaskan oil pipeline that carries oil from the northern part of Alaska all the way to valdez. This shot is right near the arctic national wildlife refuge. kyletperry / iStock / Getty Images Plus
The Trump administration has initialized the final steps to open up nearly 1.6 million acres of the protected Alaskan National Wildlife Refuge to allow oil and gas drilling.