Coffee's Invisible Carbon Footprint
By Sarah McColl
Think of the environmental impacts of coffee and your mind likely goes to mountains of coffee cherries polluting waterways, piles of leftover grounds, nonrecyclable coffee pods or the paper waste from gazillions of grande to-go cups. Initially, you're probably not considering milk at all.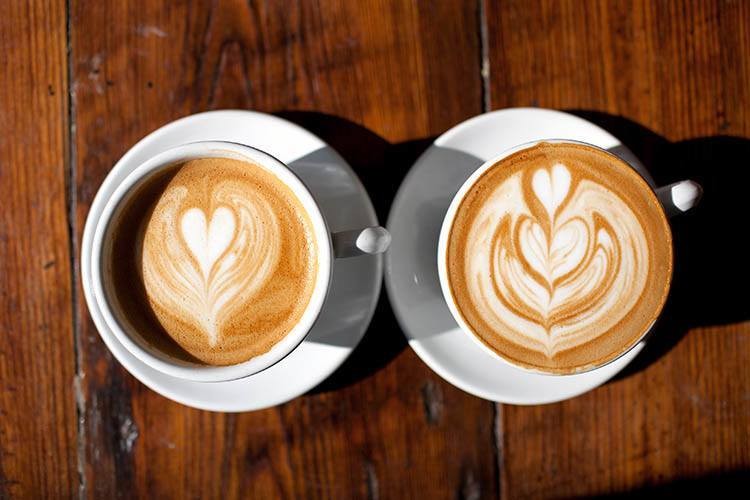 "You and me both," Robert Myers, cofounder of San Francisco's Paramo Coffee, said, whose focus, understandably, had been on the coffee aspects of his coffee business, from farming practices to roasting. But when your business partner is also involved in The Perennial, a restaurant out to fight climate change—as Paramo's Wes Wang is—you start getting articles sent to you. An article about the carbon footprint of heating water for coffee, articles about the emissions related to the aforementioned milk. "I was like, 'Oh great, now milk is a huge part of the problem,'" Myers said.
The milk math Paramo Coffee did was incriminating. Milk represents 60 to 70 percent of the carbon footprint of a cup of coffee with a few tablespoons of milk; for a latte, it's more like 80 or 90 percent. Per cup, black coffee produces 21 grams of CO2; each latte, 340 grams. "When you figure a coffee shop makes 300, 500, 700 drinks a day, this becomes significant," Myers told SFGate.
But rather than imagine a joyless life without lattes, Myers started to learn more about potential offset solutions, such as carbon farming. In this practice, land is covered in a layer of compost, then planted with perennial grasses. Compost seeds the soil with good microorganisms and carbon is captured and stored in the soil via the deep root system of perennial grasses.
"It's not just give up coffee, give up milk," he said. "Suddenly it seemed like, oh, there might be something we can do."
That something has taken the form of a new Paramo location next to The Perennial with a more energy-efficient roaster and a partnership with Marin County's Straus Family Creamery—which, among the nine dairy farms it works with, sources from one that has converted some of its grazing land to carbon farming. Since Paramo can't source milk solely from cows grazing on land that has been converted to carbon farming, it donates 5 cents from every drink to Marin Carbon Project to offset the cost of converting additional dairy rangeland.
Scientists think inexpensive, low-technology practices like carbon farming can turn back the carbon clock. The world's cultivated soils have lost between 50 and 70 percent of their original carbon stock, but carbon farming can reduce atmospheric CO2 while also increasing the health and productivity of the soil. Research from the University of California at Berkeley found that if compost were applied to 5 percent of the state's grazing land, it could store a year's worth of emissions from conventional farms and forestry operations. Boost that number to 25 percent of grazing land and the soil would absorb 75 percent of California's total annual emissions.
"That's a huge impact," Myers said. "It feels like we could really change things in a big way and within the context of something I'm already doing, which is selling coffee with milk. It's not an additional thing I have to do—it's just being more mindful and being a steward of my piece of it."
"If we can say, 'I can sell this milk, there's a lot of demand for it' and if we just keep asking for it, I'm hoping that will get more farmers to say, 'Well, maybe we should try this,'" he added
In a story about The Perennial, Chris Ying, cofounder of both the restaurant and ZeroFoodprint, told TakePart, "Eating, it turns out, is the most significant interaction most of us have with the environment." But the coffeeshop relationship is a unique one. For many coffee drinkers, the morning ministrations of our local barista may be meaningful enough to encourage us to consider the environmental impacts of the ritual.
"You enter into a type of intimacy that's very genuine," Myers said. "I think that's an opportunity to get into people's heart space—gradually, in small ways. But that's where I think the battle of environmental issues wins, when you can get into that space."
This article was reposted with permission from our media associate TakePart.

YOU MIGHT ALSO LIKE
Brazilian State Suspends Larvicide Used to Combat Zika, Monsanto Slams 'Rumors' Regarding Virus
NASA: 4 Billion People at Risk as 'Water Table Dropping All Over the World'
Soda Companies Turn Attention to Developing Countries as Sales Fall Flat in the West
Organic Farmer Dealt Final Blow in Landmark Lawsuit Over Monsanto's GMO Contamination
Bill Maher is sick of billionaires' obsession with Mars, more like "Mars-a-Lago," he said.
In a new animation produced by ATTN:, the popular talk show host of Real Time, discusses the perils of our planet, including how "climate change is killing us."
Keep reading...
Show less
Dr. Benjamin D. Santer, research scientist
A group of prominent climate scientists have written a study explicitly refuting statements made by the U.S. Environmental Protection Agency Administrator Scott Pruitt on climate data. During his Senate confirmation hearing, Pruitt claimed in a written response that satellite data shows a "leveling off" of warming over the past two decades.
Keep reading...
Show less
By David Pomerantz
The Nevada Assembly passed a bill Wednesday that would dramatically increase the growth of renewable energy in the state, but Sheldon Adelson, the casino magnate and major donor to Donald Trump, is attempting to prevent the bill from becoming law.
Keep reading...
Show less
Matt Crossick
By Yosola Olorunshola
Whether it's through fashion or protest, Vivienne Westwood is not a woman afraid of making a statement.
On May 23, she rocked up to the residence of the Archbishop of Canterbury in London with a special guest—the Grim Reaper—to issue a strong statement on the Church of England's position on fracking.
Keep reading...
Show less
By Paul Brown
The food industry and big agricultural concerns are driving climate change and at the same time threatening to undermine efforts to feed the world's growing population, according to GRAIN, an organization that supports small farmers.
Particularly singled out for criticism are the large chemical fertilizer producers that have gained access to the United Nations talks on climate change. GRAIN accuses them of behaving like the fossil fuel companies did in the 1990s, pushing false information in the hope of delaying real action on climate change.
Keep reading...
Show less
May. 24, 2017 06:55PM EST
By Sydney Robinson
President Trump has no doubt been given a long list of extravagant, elaborate gifts in his lifetime, but the gift given to him today by Pope Francis may not make it on his most favorite list.
Keep reading...
Show less
May. 24, 2017 07:17PM EST
By John Rogers
Maybe it's because I first started working on clean energy while serving in the Peace Corps he founded, or maybe it's my years of working on these issues from his home state. But I can't help thinking about the 100th anniversary of John F. Kennedy's birth, and connecting his stirring rhetoric to the energy challenges of our times.
Here's what our 35th president might have said about the challenges of energy transition and the opportunities in clean energy:
"Change is the law of life. And those who look only to the past or present are certain to miss the future."
Keep reading...
Show less
May. 24, 2017 01:47PM EST
Keep reading...
Show less


Get EcoWatch in your inbox