This website uses cookies to ensure you get the best experience while browsing it. By clicking 'Got It' you're accepting these terms.
Coal Mining Industry Influences EPA's Selenium Pollution Standards
Jul. 26, 2013 08:48AM EST
Energy
By Erin Savage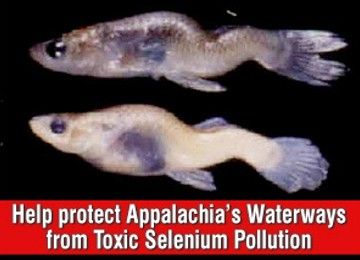 In February, Appalachian Voices wrote about the new selenium water quality standards being proposed by the Kentucky Division of Water and urged concerned citizens to express their concern to the state.
Now, Kentucky has gone ahead with its proposal, submitting the new standards to the U.S. Environmental Protection Agency (EPA) for review. While the EPA may deny Kentucky's proposed standards, concerns are growing that the EPA, influenced by states beholden to their mining industries, may release its own inadequate standard. 
Selenium is of particular concern in Kentucky and other Central Appalachian states because it is often released into streams through mountaintop removal coal mining and is toxic to aquatic life at very low levels. Even though many high-selenium coal seams are mined in Kentucky, companies typically claim there will be no selenium discharge when first applying for a permit, so that the pollutant is not included on the permit.
Selenium has rarely been included on mining permits in Central Appalachia, effectively allowing companies to avoid monitoring or treating it, unless citizens force them to with lawsuits. A recent victory in a lawsuit over illegal selenium discharges from a Virginia surface mining operation indicates that selenium pollution is a widespread problem at mountaintop removal mines across Central Appalachia.
Kentucky has faced increased pressure from citizens and the EPA to include selenium standards on pollution discharge permits, so that water quality is adequately protected. Unfortunately for the coal companies, selenium is expensive to treat and difficult to keep out of streams impacted by surface mining in high-selenium coal seams. Adding selenium to permits would mean that many coal companies have to start paying for a much larger portion of the damage they create.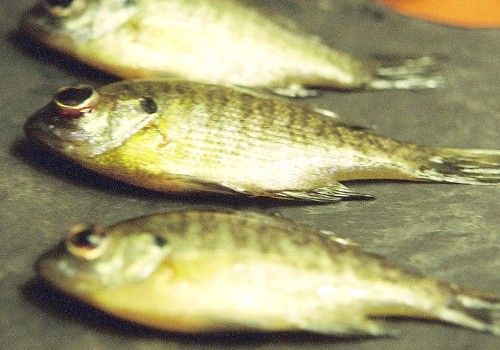 It appears that the state is helping coal companies find a way to avoid responsibility for selenium discharges. By increasing the legal limit of selenium allowed in streams and including fish tissue-based standards that are difficult, if not impossible to enforce, the state will allow many companies to continue to skirt their responsibility to the land and the people of Kentucky.
The Kentucky Division of Water has proposed to increase the acute selenium standard from 20 parts per billion (ppb) in water to 258 ppb in water, and the chronic standard from 5 ppb in water to 8.6 parts per million (ppm) in fish tissue. Not only is the state increasing the legal level of selenium in streams, but they are also moving to a fish tissue standard that may be unenforceable.
Selenium bioaccumulates in aquatic life, meaning that even at low water concentrations, it builds up in fish, leading to deformities and reproductive failures. Companies will not be required to monitor fish tissue on a regular basis, unless selenium reaches a certain threshold in the stream—by then, fish may have already been killed off by selenium, or by a host of other pollutants common below mines.
If there are no fish to test, the chronic standard can't be violated, right? Even if some fish are still available for testing, if they already have a high level of selenium, it may be too late to reverse the damage, especially in sensitive species such as blue gill and catfish.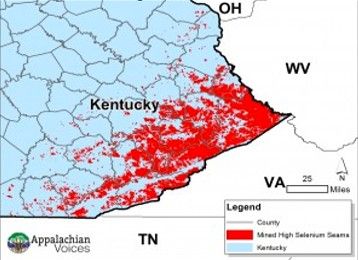 The EPA has been moving slowly toward publishing selenium standards of its own, since it withdrew its 2004-2005 standards after misinterpreting key scientific research. Because of the delay, the EPA informed states that they may create their own standards, if supported by science. Other states are taking Kentucky's lead on selenium pollution—West Virginia has recently moved to change its selenium standards as well. The same issues with selenium have been occurring with mining in western states.
Selenium is becoming a pollutant of national concern. Many are worried that even if the EPA denies Kentucky's proposed selenium standards, they may cave to pressure from the mining industry and release another set of inadequate standards, which would apply to the entire country.
If the EPA raises the allowable level of selenium in streams, it will effectively give mining companies free license to discharge excessive amounts of selenium into our waterways, and take away citizens' ability to challenge these discharges.
As coal reserves in Central Appalachia continue to be used up and other energy sources continue to out-compete coal, it is imperative to do everything possible to prevent further damage to the land and the wildlife in Central Appalachia. Only with healthy ecosystems and healthy communities, can Kentucky hope to emerge from the changing economic landscape with a stronger and more just economy.
Tell the EPA to require strong, enforceable selenium standards in every state.
Visit EcoWatch's COAL and BIODIVERSITY pages for more related news on this topic.
——–

EcoWatch Daily Newsletter

georgeclerk / E+ / Getty Images
By Jennifer Molidor
One million species are at risk of extinction from human activity, warns a recent study by scientists with the United Nations. We need to cut greenhouse gas pollution across all sectors to avoid catastrophic climate change — and we need to do it fast, said the Intergovernmental Panel on Climate Change.
This research should serve as a rallying cry for polluting industries to make major changes now. Yet the agriculture industry continues to lag behind.
Edwin Remsburg / VW Pics / Getty Images
Botswana, home to one third of Africa's elephants, announced Wednesday that it was lifting its ban on the hunting of the large mammals.
"The Ministry of Environment, Natural Resources Conservation and Tourism wishes to inform the public that following extensive consultations with all stakeholders, the Government of Botswana has taken a decision to lift the hunting suspension," the government announced in a press release shared on social media.
Pxhere
By Richard Denison
Readers of this blog know how concerned EDF is over the Trump EPA's approval of many dozens of new chemicals based on its mere "expectation" that workers across supply chains will always employ personal protective equipment (PPE) just because it is recommended in the manufacturer's non-binding safety data sheet (SDS).
By Grant Smith
From 2009 to 2012, Gregory Jaczko was chairman of the Nuclear Regulatory Commission, which approves nuclear power plant designs and sets safety standards for plants. But he now says that nuclear power is too dangerous and expensive — and not part of the answer to the climate crisis.
A lake in Rocky Mountain National Park. Brett Walton / Circle of Blue
By Brett Walton
When Greg Wetherbee sat in front of the microscope recently, he was looking for fragments of metals or coal, particles that might indicate the source of airborne nitrogen pollution in Rocky Mountain National Park. What caught his eye, though, were the plastics.
Gabriele Holtermann Gorden / Pacific Press / LightRocket / Getty Images
In a big victory for animals, Prada has announced that it's ending its use of fur! It joins Coach, Jean Paul Gaultier, Giorgio Armani, Versace, Ralph Lauren, Vivienne Westwood, Michael Kors, Donna Karan and many others PETA has pushed toward a ban.
This is a victory more than a decade in the making. PETA and our international affiliates have crashed Prada's catwalks with anti-fur signs, held eye-catching demonstrations all around the world, and sent the company loads of information about the fur industry. In 2018, actor and animal rights advocate Pamela Anderson sent a letter on PETA's behalf urging Miuccia Prada to commit to leaving fur out of all future collections, and the iconic designer has finally listened.
Amer Ghazzal / Barcroft Media / Getty Images
If people in three European countries want to fight the climate crisis, they need to chill out more.
That's the conclusion of a new study from think tank Autonomy, which found that Germany, the UK and Sweden all needed to drastically reduce their workweeks to fight climate change.
Amazon Employees for Climate Justice held a press conference after the annual shareholder meeting on May 22. Amazon Employees for Climate Justice