Climate Change Could Ruin Your Sex Life, Economists Warn
Nov. 04, 2015 11:40AM EST
Climate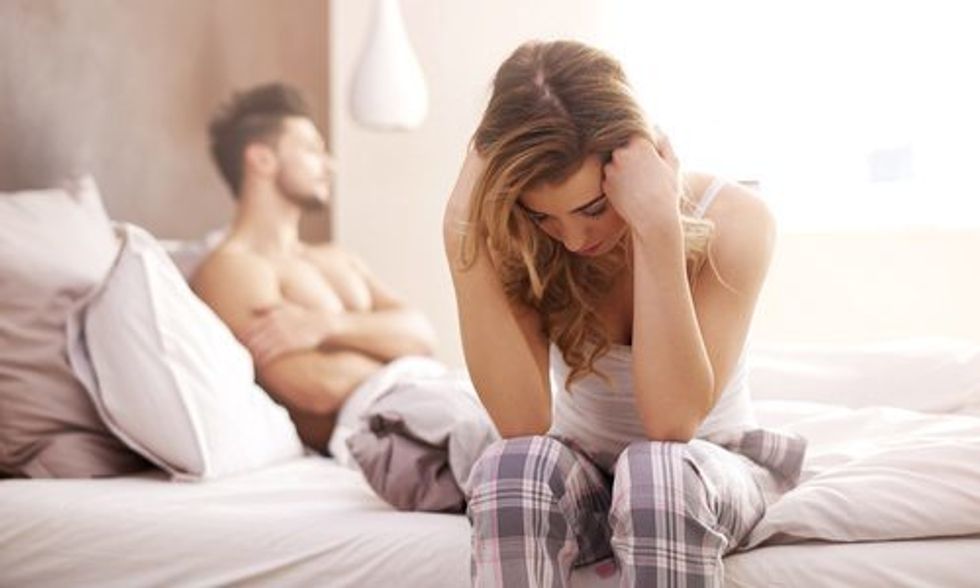 Climate change threatens so many things Americans love: maple syrup, avocados and lately even pumpkins. Now, climate change is even threatening our ability to reproduce. According to a new working paper from the National Bureau of Economic Research, warmer weather means less "coital frequency."
As the planet gets warmer, things get harder to enjoy – climb, surf, fly fish, ski...and sex. @eroston explains: https://t.co/5wOvDC018B

— Patagonia (@Patagonia)1446573185.0
"Extreme heat leads to a sizable fall in births," the study says. "Temperature extremes could affect coital frequency. It could affect hormone levels and sex drives. Alternatively, high temperatures may adversely affect reproductive health or semen quality on the male side or ovulation on the female side," say the three economists from Tulane University, University of California and University of Central Florida who wrote the paper.
In the paper, Maybe Next Month? Temperature Shocks, Climate Change and Dynamic Adjustments in Birth Rates, the researchers predict that "increased temperatures due to climate change may reduce population growth rates in the coming century." Looking at 80 years of U.S. fertility and temperature data, they found that "additional days above 80 degrees Fahrenheit cause a large decline in birth rates approximately eight to 10 months later." And these would-be parents often do not "make up for lost time in subsequent, cooler months," reports Bloomberg.
Maybe @SenSanders is right about climate change being the greatest national security threat... https://t.co/pWJ4VNGoWp

— Yonah Diamond (@Yonah Diamond)1446646067.0
Though many may welcome decreasing birth rates in an overcrowded planet, the researchers say it will create problems in countries with already low birth rates. "The decline in birth rates is a very serious issue for countries, like the U.S. and the UK, which have below-replacement birth rates," said Alan Barreca, an associate professor at Tulane University and one of the authors. "This will put a lot of strain on social insurance programs, like Social Security, because it will create large imbalances in the make-up of the population."
Researchers say that policymakers should pay attention to three main takeaways from their findings (via Bloomberg):
1. Birth rates do not bounce back completely after heat waves.
That's a problem. As summers heat up, developed countries may see already low birth rates sink even lower. Plunging birth rates can wreak havoc on an economy. China's leaders recently acknowledged this by ditching the longtime one-child policy and doubling the number of children couples are allowed to have. A sub-replacement U.S. birthrate means fewer workers to pay Social Security benefits for retirees, among other consequences.
2. More autumn conceptions means more deliveries in summer.
Infants experience a higher rate of poor health with summer births, "though the reasons for worse health in the summer are not well-established," the authors write. One possibility may be "third-trimester exposure to high temperatures."
3. Air conditioning might prove to be an aphrodisiac.
Control over the climate at home might make a difference. The researchers suggest that the rise of air conditioning may have helped offset some heat-related fertility losses in the U.S. since the 1970s.
GUYS. If this doesn't make #COP21 a success I don't know what will. Climate Change = Less Sex https://t.co/VDBSHY1i6R

— Alexandra White (@Alexandra White)1446545854.0
YOU MIGHT ALSO LIKE
Elon Musk's Brother Wants to Revolutionize Our Food System
CBS Reporter Ben Swann Tells the Truth About CDC Vaccine Cover-Up
Plastic Bags and Fishing Nets Found in Stomach of Dead Whale
Morocco to Build World's Largest Concentrated Solar Power Plant
EcoWatch Daily Newsletter