This website uses cookies to ensure you get the best experience while browsing it. By clicking 'Got It' you're accepting these terms.
California Drought Cuts Hydroelectric Generation in Half
Oct. 07, 2014 09:34AM EST
The prolonged drought in California, now entering its fourth year, has altered the state's mix of energy generation sources, according to the U.S. Energy Information Administration (EIA). That's mixed news for those pushing for more reliance on renewables and less on fossil fuels.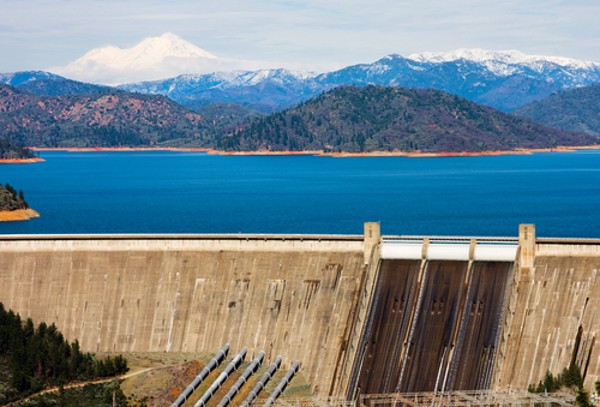 Photo credit: Shutterstock
The EIA issued a report yesterday that showed that, with the state's reservoirs currently at 42 percent of their normal levels for this time of year, the ability of hydroelectric dams to produce power has been cut in half. The dams, which normally produce about 20 percent of the state's power, are now producing only 10 percent.
With hydro power production at a ten-year low, reliance on natural gas hit a ten-year high. That's not good news, since fracking for natural gas requires copious amounts of water and has stirred up opposition in the state. (While most fracking in California is for oil, it also sits on large natural gas reserves).
According to the EIA, "In California, natural gas-fired capacity is often used to help offset lower levels of generation from hydropower facilities. The chart below shows how this inverse relationship can work: when monthly hydropower generation dips under 10-year average levels, monthly natural gas generation often rises above its 10-year average in response. From January through June of 2014, natural gas generation in California was percent higher compared to the same period in 2013 and 16 percent higher compared to the January-June average from the previous 10 years."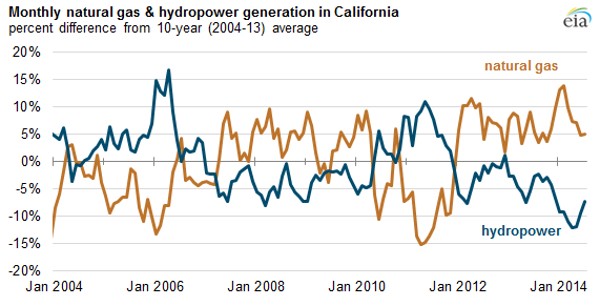 But on the positive side, the EIA says, "Wind and solar generation are also playing an increasingly significant role in California's generation mix.
Wind-generated energy exceeded hydropower for the first time in February and March, producing 30 percent of the state's power.
While hydropower is often thought of as clean and renewable, the hydroelectric dams have been controversial among environmentalists and tribal groups for the way they impact the land and the distribution of water resources. For instance, the Shasta Dam, one of the country's largest, has stirred anger for the way it has changed the region's ecological footprint and buried tribal lands in order to provide hydroelectricity and water for agriculture in the Central Valley.
"As drought and climate change intensify, we need to focus on the best and highest use of our rivers," said Gary Wockner of the Save the Colorado River and Poudre Waterkeeper. "Wind and solar are the best ways to generate electricity, whereas hydro-electric dams destroy rivers and cause methane emissions that accelerate climate change. Our rivers and water should flow as fast and freely as possible and be used to sustainably quench the thirst of people, fish and wildlife so that all three can continue to thrive."
Currently almost 6o percent of California in under severe or extreme drought, according to the latest U.S. Drought Monitor. Governor Jerry Brown declared a drought emergency in January.
YOU MIGHT ALSO LIKE
Fracking Makes California's Drought Worse
California Experiencing Most Severe Drought Ever Recorded
The California Drought: Who Gets Water and Who's Hung Out to Dry?
Southwest Greenland had the most consistent ice loss from 2003 to 2012. Eqalugaarsuit, Ostgronland, Greenland on Aug. 1, 2018.
Rob Oo / CC BY 2.0
Climate change has been called the biggest challenge of our time. Last year, scientists with the United Nations said we basically have 12 years to limit global warming to 1.5ºC to avoid planetary catastrophe.
Amid a backdrop of rising global carbon emissions, there's a real case for pessimism. However, many scientists are hopeful of a way out.
Martin Luther King Jr. at steps of the Lincoln Memorial where he delivered his famous, "I Have a Dream" speech in 1963.
"Injustice anywhere is a threat to justice everywhere." Dr. Martin Luther King Jr.'s words and actions continue to resonate on the 90th anniversary of his birth.
As the country honors the life and legacy of the iconic civil rights leader today, we are reminded that the social justice and the climate movements are deeply connected.
A Massachusetts road coated with snow and ice following the winter storm which prompted Trump to mock climate change. Scott Eisen / Getty Images
President Donald Trump has once again contradicted the findings of the U.S. government when it comes to the threat posed by climate change. Days after a Department of Defense report outlined how climate-related events like wildfires and flooding put U.S. military installations at risk, Trump took to Twitter to mock the idea that the world could be getting warmer, Time reported.
Trump's tweet came in response to a massive winter storm that blanketed the Midwest and Northeast this weekend.
The fire that erupted after a pipeline explosion in Mexico Friday. FRANCISCO VILLEDA / AFP / Getty Images
A dramatic pipeline explosion in central Mexico Friday has killed at least 85 people, Mexican Health Minister Jorge Alcocer Valera said Sunday night, The Associated Press reported.

The explosion occurred in a field in the municipality of Tlahuelilpan as people rushed to gather fuel from the pipeline, which had been ruptured by suspected thieves. Many were covered in oil before a fireball shot into the air.
Mead is a fermented beverage traditionally made from honey, water and a yeast or bacterial culture.
U.S. Army member helps clear debris from Tyndall Air Force Base following Hurricane Michael.
U.S. Army
The Pentagon released a Congressionally mandated report (pdf) that warns flooding, drought and wildfires and other effects of climate change puts U.S. military bases at risk.
The 22-page analysis states plainly: "The effects of a changing climate are a national security issue with potential impacts to Department of Defense (DoD or the Department) missions, operational plans, and installations."
Power plants across Texas are leaching toxins into groundwater, according to new research. A report released this week from the Environmental Integrity Project found that all of the state's 16 coal-fired power plants are leaching contaminants from coal ash into the ground, and almost none of the plants are properly lining their pits to prevent leakage.