Bernie Sanders: 'Climate Change Is Directly Related to the Growth of Terrorism'
Nov. 15, 2015 10:50AM EST
Climate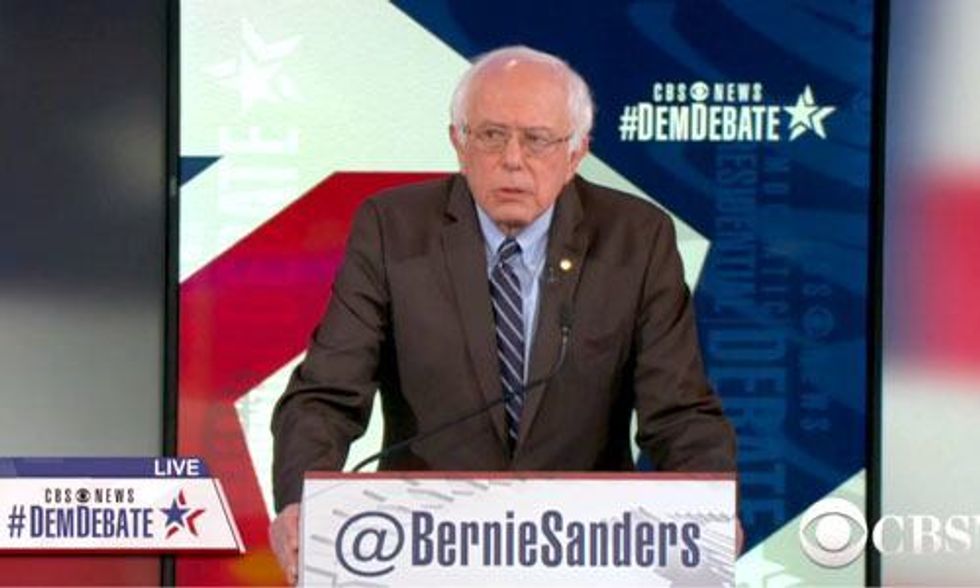 In last night's Democratic presidential debate, a day after the horrific terrorist attacks in Paris, Bernie Sanders stood by his claim that climate change is the greatest threat to national security.
CBS's John Dickerson, last night's moderator, asked Sanders : "You said you want to rid the planet of ISIS. In the previous debate you said the greatest threat to national security is climate change. Do you still believe that?"
"Absolutely," Sen. Sanders replied. "Climate change is directly related to the growth of terrorism and if we do not get our act together and listen to what the scientists say, you're going to see countries all over the world, this is what the CIA says, they're going to be struggling over limited amounts of water, limited amounts of land to grow their crops and you're going to see all kinds of international conflict. But, of course international terrorism is major issue that we have to address today."
Watch here:
Climate change will take center stage in Paris at the COP21 climate talks from Nov. 30 - Dec. 11. A senior French diplomatic source told Reuters Saturday—after the deadly attacks in Paris—that the "French government plans to go ahead with a climate change summit." French Foreign Minister Laurent Fabius said the climate conference would go ahead as planned. "COP21 must be held," he said.
A U.S. official announced Saturday that the Paris terrorist attacks will not stop President Obama from attending the climate talks. "President Barack Obama still plans to participate in a UN climate conference near Paris in two weeks, despite attacks that killed 128 people in the French capital," the official said.
World leaders, from more than 190 nations, will gather in Paris for COP21 to discuss a possible new global agreement on climate change that would reduce greenhouse gas emissions to avoid the catastrophic consequences of global warming.
YOU MIGHT ALSO LIKE
Paris Climate Talks Will Not Be Canceled, Obama Will Attend
Bill Nye + Arnold Schwarzenegger Confront Climate Denial Head On
3 Reasons Why Rand Paul Is Dead Wrong on Climate Change
Bill McKibben: We Must Keep Brewing Gale-Force Winds to Shift Political Landscape
EcoWatch Daily Newsletter
Related Articles from EcoWatch