This website uses cookies to ensure you get the best experience while browsing it. By clicking 'Got It' you're accepting these terms.
Avoid Buying Toxic Jewelry for Kids This Holiday Season
Nov. 20, 2013 05:08PM EST
If you're buying jewelry for a little girl this holiday season, take steps to make sure you're not giving gifts that contain hazardous substances. 
One step might be to look at where you buy the jewelry. A recent report by the Washington Toxics Coalition (WTC) shows that Walmart is selling jewelry with alarmingly high levels of lead.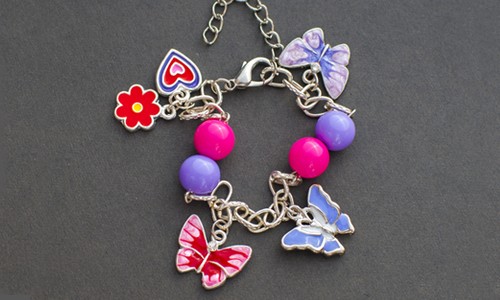 Photo credit: Shutterstock
Lead is highly toxic to the developing brain and there is no safe level of exposure, says the U.S. Centers for Disease Control. Adverse effects can include decreased IQ levels, increased ADHD and increased hearing impairment as blood lead levels increase. 
WTC purchased a variety of jewelry such as earrings, necklaces and bracelets labeled "Distributed by Wal-mart Stores, Inc." in August. Many of the jewelry purchased has sparkly, brightly colored designs that appeal to young girls.
WTC found that eight out of 34 (almost 25 percent) of Walmart jewelry tested contained levels of lead ranging from 7,748 ppm (parts per million) to 357,790 ppm—which made the pieces more than one-third lead. That is 300 times the federal limit of 100 ppm for children's products.
MomsRising, during its #EcoTipTue tweet chat this week, gathered tips from WTC and Non-Toxic Kids about how to avoid toxins in jewelry and take action to spread the word and protect others.
Here are the eight top tips from the chat:
Speak up to retailers. Ask if their jewelry is lead-free and demand safer products.
Buy jewelry only from reputable companies that you trust. One tip is to buy nothing under $10—but even then we can't be sure.
Look for (or make your own) jewelry from silver, gold, beads, or cloth.
Avoid jewelry labeled "Not for children," which could be hiding lead or other heavy metals.
Spread the word: tell neighbors, grandparents or anyone who will listen that trinkets from coin machines, Walmart, or Claire's may be harmful.
Call on Walmart to protect child health and only sell safe, lead-free jewelry. Until they do—don't buy it.
Encourage kids to wash hands frequently and keep jewelry out of their mouths.
Purge your child's costume jewelry every so often and keep the safer choices.
Teach 'tweens and teens about this issue—and how it can affect them. Instead of simply telling them they can't have the jewelry, engage with youth on the issue. Join with them to encourage better choices.
Consider a safer, high-quality piece of jewelry when buying gifts for family and friends.
WTC is calling on Walmart to act to protect public health, especially children, through these actions:
Immediately remove these lead-containing jewelry products from its stores.
Commit to a timeline for phasing out Mind the Store's list of Hazardous Hundred chemicals, which includes lead, from all of its products.
In addition, WTC is calling on the Consumer Product Safety Commission to investigate these products for compliance in accordance with the Consumer Product Safety Improvement Act and to take appropriate enforcement action.
"With everything we know about the devastating, costly effects of exposure to lead, it is unconscionable that such high levels were found in the products they sell," said Erika Schreder, WTC science director.

Plus, learn if there's one that's best for your health.
Catherine Falls Commercial / Moment / Getty Images
An invasive Amynthas worm, also known as a crazy snake worm, Asian jumping worm and Alabama jumper Tom Potterfield / Flickr
By Jason Bittel
My wife and I built a house two years ago on a few acres of woodland outside of Pittsburgh. The backyard is full of maples, poplars, briars and common spicebush. Two-lined salamanders and grumpy-looking crayfish wade among the rocks in the small stream that runs down the edge of the property. Deer, raccoon and opossum tracks appear regularly in the snow and mud. Sometimes, my trail-cam even catches a pair of gray foxes as they slink through the night.
AleksandarNakic / Getty Images
By Kate Murphy
No matter the time of year, there's always a point in each season when my skin decides to cause me issues. While these skin issues can vary, I find the most common issues to be dryness, acne and redness.

David Woodfall / The Image Bank / Getty Images
By Sam Nickerson
The U.S. Environmental Protection Agency (EPA) in April 2018 proposed relaxing standards related to how it assesses the effects of exposure to low levels of toxic chemicals on public health.
Now, correspondence obtained by the LA Times revealed just how deeply involved industry lobbyists and a controversial, industry-funded toxicologist were in drafting the federal agency's proposal to scrap its current, protective approach to regulating toxin exposure.
Steve Irwin poses with a three foot long alligator at the San Francisco Zoo on June 26, 2002. Justin Sullivan / Getty Images
February 22 is the birthday of conservationist and beloved TV personality "Crocodile Hunter" Steve Irwin, who would have been 57 years old today.
Irwin's life was tragically cut short when the barb from a stingray went through his chest while he was filming in 2006, but his legacy of loving and protecting wildlife lives on, most recently in a Google Doodle today honoring his birthday.