This website uses cookies to ensure you get the best experience while browsing it. By clicking 'Got It' you're accepting these terms.
Antartica's Penguins Need Your Help, Become a Citizen Scientist Today
Apr. 15, 2016 09:39AM EST
Science
In case anyone needed a reason to spend hours on end looking at pictures of adorable penguins, we now have a valid excuse: scientists need us to.
Researchers from the University of Oxford studying penguins in Antarctica are conducting the largest ever census of penguins and have launched the latest version of their project, PenguinWatch 2.0, to learn more about how they're doing. They're recruiting citizen scientists to help them.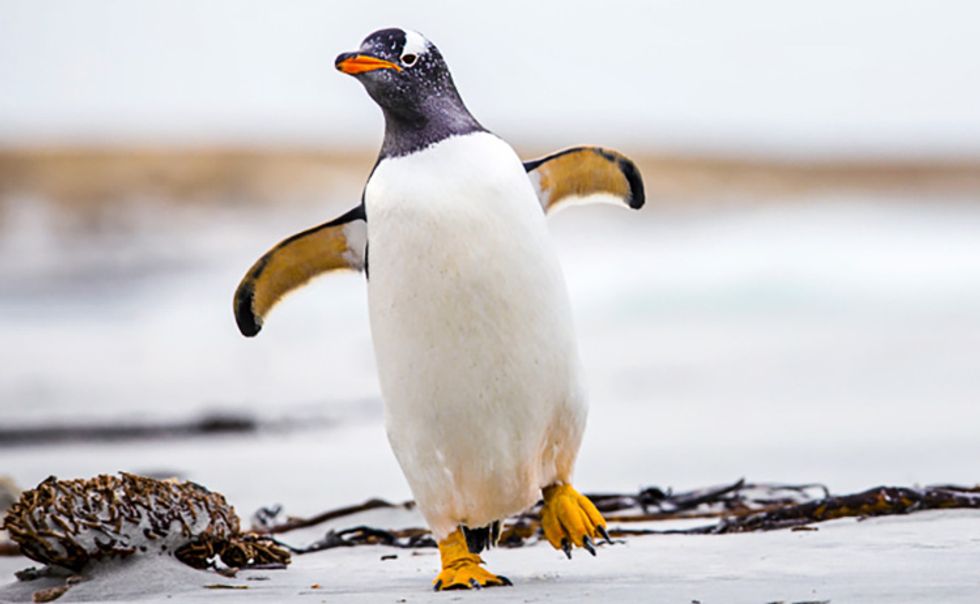 For the project, researchers have set up dozens of remote cameras throughout the Southern Ocean and the Antarctic Peninsula that are capturing images of colonies of Gentoo, Chinstrap, Adélie, King and Rockhopper penguins.
Researchers are hoping to use the data they're collecting to learn more about and how penguins are being impacted by various factors, including climate change, pollution, commercial fishing and tourism.
While the cameras provide a great non-invasive way to study penguins, they're taking between 8 to 96 images every day throughout the entire year, which has left researchers with hundreds of thousands of images to sort through and not enough time to do it.
That's where the public comes in. With the project's new website, people can tag images of penguins, chicks and eggs and can now also discuss their findings with other volunteers and ask researchers questions about what they're seeing. Our efforts are also helping their computer learn to recognize penguins, which researchers hope can speed up their analysis in the future.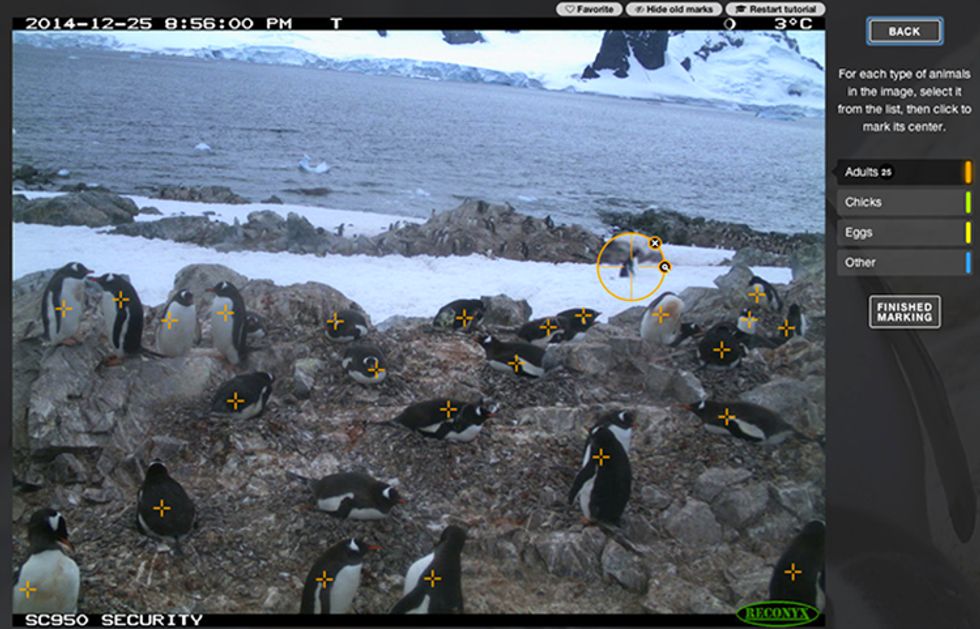 While penguins are cute and fun to watch, they're also really important for other reasons. As PenguinWatch explains:
As top predators, penguins are considered sentinels of changes within their ecosystem. Because penguins spend the majority of their life in water and fall at the top of the food chain, any variations in their populations may represent larger changes to the dynamic Antarctic ecosystem. We hope to measure these changes year-round at a large geographical range of study sites in order to better understand how threats to the ecosystem disrupt the dynamics of resident wildlife.
Researchers hope to use they're findings to determine important habitats for penguins and what's threatening them, which could potentially impact activities in the region and hopefully lead to the creation of protected areas that will keep penguins and other wildlife safe.
"We can't do this work on our own and every penguin that people click on and count on the website—that's all information that tells us what's happening at each nest and what's happening over time," lead researcher, Dr. Tom Hart, told the BBC.
YOU MIGHT ALSO LIKE
WWF and Leonardo DiCaprio: Wild Tiger Populations Increase for First Time in 100 Years
Photo Ark: One Man's Journey to Save the World's Most Endangered Species
Love Wildlife? Check Out These 11 Stunning Photos From Yellowstone National Park
Penguin Swims 5,000 Miles Each Year to Visit the Man Who Rescued Him
EcoWatch Daily Newsletter
The buildings of downtown Los Angeles are partially obscured in the late afternoon on Nov. 5, 2019, as seen from Pasadena, California, a day when air quality for Los Angeles was predicted to be "unhealthy for sensitive groups." Mario Tama / Getty Images
The evidence continues to build that breathing dirty air is bad for your brain.
Wave power in Portugal. The oceans' energy potential is immense. Luis Ascenso, via Wikimedia Commons
By Paul Brown
The amount of energy generated by tides and waves in the last decade has increased tenfold. Now governments around the world are planning to scale up these ventures to tap into the oceans' vast store of blue energy.
Yellowstone National Park closed to visitors on March 24, 2020 because of the Covid-19 virus threat. William Campbell-Corbis via Getty Images
When the novel coronavirus started to sweep across the country, the National Park Service started to waive entrance fees. The idea was that as we started to practice social distancing, Americans should have unfettered access to the outdoors. Then the parking lots and the visitor centers started to fill up, worrying park employees.
Mike Pence and Donald Trump hold a press conference about the coronavirus outbreak in the press briefing room at the White House on March 23, 2020 in Washington, DC. Drew Angerer / Getty Images
By John R. Platt
Both eyes open. Look for potential threats coming from all sides. Be prepared to change course at a moment's notice.