This website uses cookies to ensure you get the best experience while browsing it. By clicking 'Got It' you're accepting these terms.
Antartica's Penguins Need Your Help, Become a Citizen Scientist Today
Apr. 15, 2016 08:39AM EST
Science
In case anyone needed a reason to spend hours on end looking at pictures of adorable penguins, we now have a valid excuse: scientists need us to.
Researchers from the University of Oxford studying penguins in Antarctica are conducting the largest ever census of penguins and have launched the latest version of their project, PenguinWatch 2.0, to learn more about how they're doing. They're recruiting citizen scientists to help them.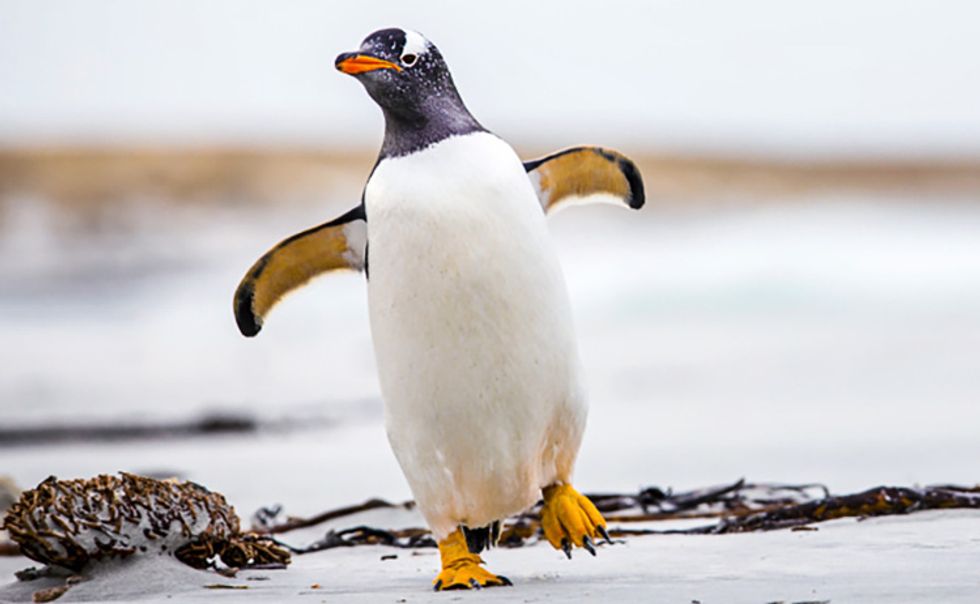 For the project, researchers have set up dozens of remote cameras throughout the Southern Ocean and the Antarctic Peninsula that are capturing images of colonies of Gentoo, Chinstrap, Adélie, King and Rockhopper penguins.
Researchers are hoping to use the data they're collecting to learn more about and how penguins are being impacted by various factors, including climate change, pollution, commercial fishing and tourism.
While the cameras provide a great non-invasive way to study penguins, they're taking between 8 to 96 images every day throughout the entire year, which has left researchers with hundreds of thousands of images to sort through and not enough time to do it.
That's where the public comes in. With the project's new website, people can tag images of penguins, chicks and eggs and can now also discuss their findings with other volunteers and ask researchers questions about what they're seeing. Our efforts are also helping their computer learn to recognize penguins, which researchers hope can speed up their analysis in the future.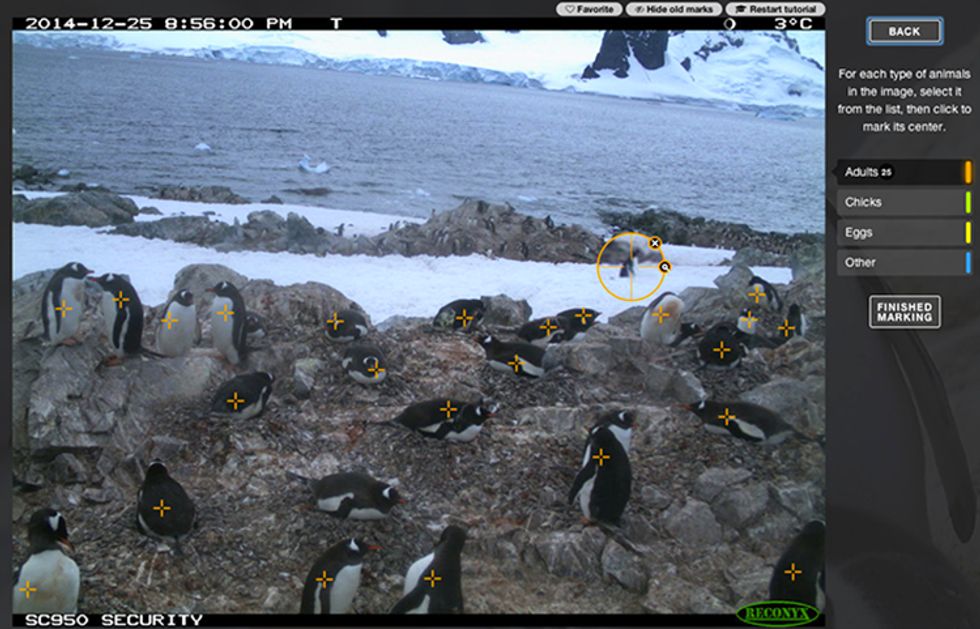 While penguins are cute and fun to watch, they're also really important for other reasons. As PenguinWatch explains:
As top predators, penguins are considered sentinels of changes within their ecosystem. Because penguins spend the majority of their life in water and fall at the top of the food chain, any variations in their populations may represent larger changes to the dynamic Antarctic ecosystem. We hope to measure these changes year-round at a large geographical range of study sites in order to better understand how threats to the ecosystem disrupt the dynamics of resident wildlife.
Researchers hope to use they're findings to determine important habitats for penguins and what's threatening them, which could potentially impact activities in the region and hopefully lead to the creation of protected areas that will keep penguins and other wildlife safe.
"We can't do this work on our own and every penguin that people click on and count on the website—that's all information that tells us what's happening at each nest and what's happening over time," lead researcher, Dr. Tom Hart, told the BBC.
YOU MIGHT ALSO LIKE
WWF and Leonardo DiCaprio: Wild Tiger Populations Increase for First Time in 100 Years
Photo Ark: One Man's Journey to Save the World's Most Endangered Species
Love Wildlife? Check Out These 11 Stunning Photos From Yellowstone National Park
Penguin Swims 5,000 Miles Each Year to Visit the Man Who Rescued Him
EcoWatch Daily Newsletter
Aerial view of Ruropolis, Para state, northen Brazil, on Sept. 6, 2019. Tthe world's biggest rainforest is under threat from wildfires and rampant deforestation. JOHANNES MYBURGH / AFP via Getty Images
By Kate Martyr
Deforestation in Brazil's Amazon rainforest last month jumped to the highest level since records began in 2015, according to government data.
A total of 563 square kilometers (217.38 square miles) of the world's largest rainforest was destroyed in November, 103% more than in the same month last year, according to Brazil's space research agency.
From January to November this year an area almost the size of the Caribbean island of Puerto Rico was destroyed — an 83% overall increase in destruction when compared with the same period last year.
The figures were released on Friday by the National Institute for Space Research (INPE), and collected through the DETER database, which uses satellite images to monitor forest fires, forest destruction and other developments affecting the rainforest.
What's Behind the Rise?
Overall, deforestation in 2019 has jumped 30% compared to last year — 9,762 square kilometers (approximately 3769 square miles) have been destroyed, despite deforestation usually slowing during November and December.
Environmental groups, researchers and activists blamed the policies of Brazil's president Jair Bolsonaro for the increase.
They say that Bolosonaro's calls for the Amazon to be developed and his weakening support for Ibama, the government's environmental agency, have led to loggers and ranchers feeling safer and braver in destroying the expansive rainforest.
His government hit back at these claims, pointing out that previous governments also cut budgets to environment agencies such as Ibama.
The report comes as Brazil came to loggerheads with the Association of Small Island States (AOSIS) over climate goals during the UN climate conference in Madrid.
AOSIS blasted Brazil, among other nations, for "a lack of ambition that also undermines ours."
Last month, a group of Brazilian lawyers called for Bolsonaro to be investigated by the International Criminal Court over his environmental policies.
Reposted with permission from DW.
The Carolina parakeet went extinct in 1918. James St. John /
CC BY 2.0
The Carolina parakeet, the only parrot species native to the U.S., went extinct in 1918 when the last bird died at the Cincinnati Zoo. Now, a little more than 100 years later, researchers have determined that humans were entirely to blame.
Pexels
Vitamin C is a very important nutrient that's abundant in many fruits and vegetables.
BLM drill seeders work to restore native grasses after wildfire on the Bowden Hills Wilderness Study Area in southeast Oregon, Dec. 14, 2018. Marcus Johnson / BLM / CC BY 2.0
By Tara Lohan
In 2017 the Thomas fire raged through 281,893 acres in Ventura and Santa Barbara counties, California, leaving in its wake a blackened expanse of land, burned vegetation, and more than 1,000 destroyed buildings.