This website uses cookies to ensure you get the best experience while browsing it. By clicking 'Got It' you're accepting these terms.
Antartica's Penguins Need Your Help, Become a Citizen Scientist Today
Apr. 15, 2016 08:39AM EST
Animals
In case anyone needed a reason to spend hours on end looking at pictures of adorable penguins, we now have a valid excuse: scientists need us to.
Researchers from the University of Oxford studying penguins in Antarctica are conducting the largest ever census of penguins and have launched the latest version of their project, PenguinWatch 2.0, to learn more about how they're doing. They're recruiting citizen scientists to help them.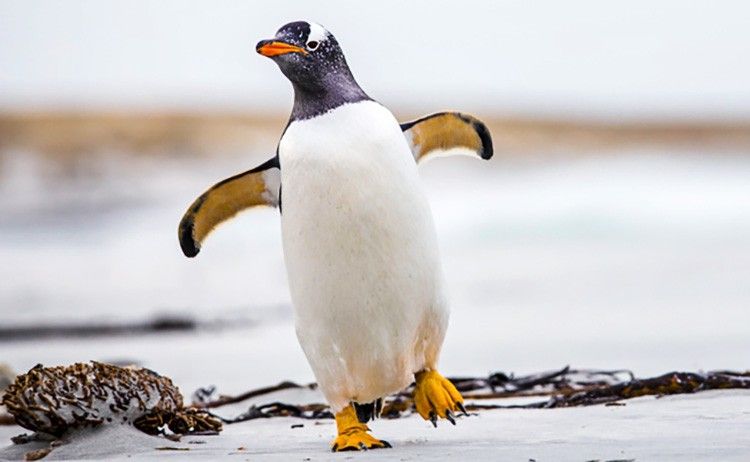 For the project, researchers have set up dozens of remote cameras throughout the Southern Ocean and the Antarctic Peninsula that are capturing images of colonies of Gentoo, Chinstrap, Adélie, King and Rockhopper penguins.
Researchers are hoping to use the data they're collecting to learn more about and how penguins are being impacted by various factors, including climate change, pollution, commercial fishing and tourism.
While the cameras provide a great non-invasive way to study penguins, they're taking between 8 to 96 images every day throughout the entire year, which has left researchers with hundreds of thousands of images to sort through and not enough time to do it.
That's where the public comes in. With the project's new website, people can tag images of penguins, chicks and eggs and can now also discuss their findings with other volunteers and ask researchers questions about what they're seeing. Our efforts are also helping their computer learn to recognize penguins, which researchers hope can speed up their analysis in the future.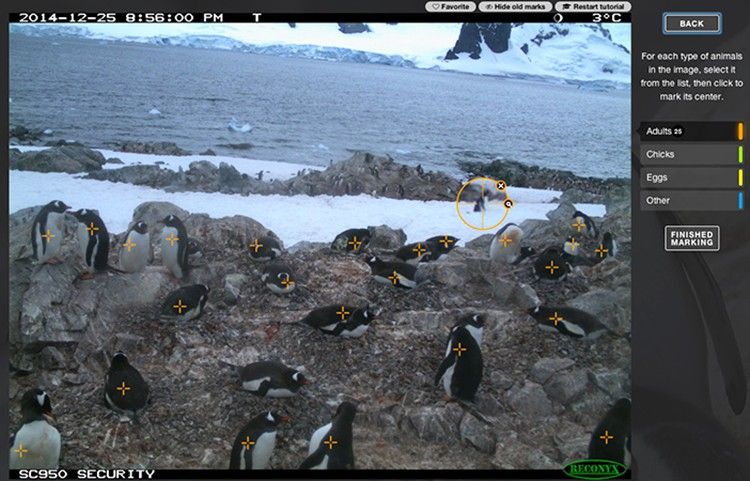 While penguins are cute and fun to watch, they're also really important for other reasons. As PenguinWatch explains:
As top predators, penguins are considered sentinels of changes within their ecosystem. Because penguins spend the majority of their life in water and fall at the top of the food chain, any variations in their populations may represent larger changes to the dynamic Antarctic ecosystem. We hope to measure these changes year-round at a large geographical range of study sites in order to better understand how threats to the ecosystem disrupt the dynamics of resident wildlife.
Researchers hope to use they're findings to determine important habitats for penguins and what's threatening them, which could potentially impact activities in the region and hopefully lead to the creation of protected areas that will keep penguins and other wildlife safe.
"We can't do this work on our own and every penguin that people click on and count on the website—that's all information that tells us what's happening at each nest and what's happening over time," lead researcher, Dr. Tom Hart, told the BBC.
YOU MIGHT ALSO LIKE
WWF and Leonardo DiCaprio: Wild Tiger Populations Increase for First Time in 100 Years
Photo Ark: One Man's Journey to Save the World's Most Endangered Species
Love Wildlife? Check Out These 11 Stunning Photos From Yellowstone National Park
Penguin Swims 5,000 Miles Each Year to Visit the Man Who Rescued Him
EcoWatch Daily Newsletter
Artist's conception of solar islands in the open ocean. PNAS
Millions of solar panels clustered together to form an island could convert carbon dioxide in seawater into methanol, which can fuel airplanes and trucks, according to new research from Norway and Switzerland and published in the Proceedings of the National Academy of Sciences journal, PNAS, as NBC News reported. The floating islands could drastically reduce greenhouse gas emissions and dependence on fossil fuels.
Marcos Alves / Moment Open / Getty Images
More than 40 percent of insects could go extinct globally in the next few decades. So why did the U.S. Environmental Protection Agency (EPA) last week OK the 'emergency' use of the bee-killing pesticide sulfoxaflor on 13.9 million acres?
EcoWatch teamed up with Center for Biological Diversity via EcoWatch Live on Facebook to find out why. Environmental Health Director and Senior Attorney Lori Ann Burd explained how there is a loophole in the The Federal Insecticide, Fungicide, and Rodenticide Act under section 18, "that allows for entities and states to request emergency exemptions to spraying pesticides where they otherwise wouldn't be allowed to spray."
Simple swaps that cut down on kitchen trash.
Sponsored
By Kayla Robbins
Along with the bathroom, the kitchen is one of the most daunting areas to try and make zero waste.
View of downtown Miami, Florida from Hobie Island on Feb. 2, 2019.
Michael Muraz / Flickr
The Democratic candidates for president descended upon Miami for a two-night debate on Wednesday and Thursday. Any candidate hoping to carry the state will have to make the climate crisis central to their campaign, as The New York Times reported.
By Sharon Kelly
On Monday, the Wall Street Journal featured a profile of Scott Sheffield, CEO of Pioneer Natural Resources, whose company is known among investors for its emphasis on drawing oil and gas from the Permian basin in Texas using horizontal drilling and hydraulic fracturing, or fracking.
Pexels
By Craig K. Chandler
The federal government has available to it, should it choose to use them, a wide range of potential climate change management tools, going well beyond the traditional pollution control regulatory options. And, in some cases (not all), without new legislative authorization.
Denis Poroy / Getty Images
By Dan Gray
Processed foods, in their many delicious forms, are an American favorite.
But new research shows that despite increasing evidence on just how unhealthy processed foods are, Americans have continued to eat the products at the same rate.
By Sarah Steffen
With a profound understanding of their environmental surroundings, indigenous communities around the world are often cited as being pivotal to tackling climate change.