This website uses cookies to ensure you get the best experience while browsing it. By clicking 'Got It' you're accepting these terms.
Algal Blooms Linked to Largest Die-Off of Great Whales Ever Recorded
Oct. 29, 2015 01:37PM EST
Animals
In Argentina baby whales have been dying off the coast in increasingly high numbers for the past decade and no one has known exactly why. "The average number of right whale deaths per year at Peninsula Valdes jumped more than 10-fold, from fewer than six per year before 2005 to 65 per year from 2005 to 2014," reports National Oceanic and Atmospheric Administration (NOAA) Fisheries West Coast Region. "Even more striking," they say, "90 percent of the deaths from 2005 to 2014 were very young calves fewer than three months old. The mystery killer appeared to be targeting the nearly newborn, sometimes more than 100 calves of the endangered species each year."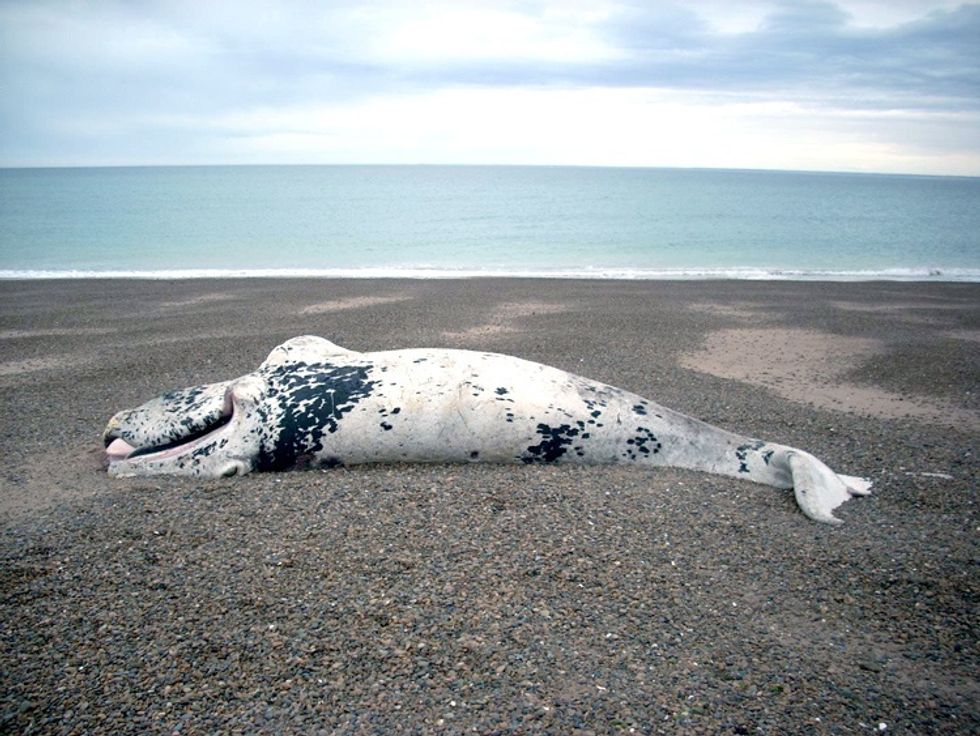 This will have a long-lasting effect on the southern right whale population, explains Dr. Mariano Sironi, scientific director of the Institute de Whale Conservation in Argentina.
"In 2012 we lost nearly one third of all calves born at the Peninsula. Southern right whales have their first calf when they are nine years old on average," he says. "This means that it won't be until a decade from now that we will see a significant reduction in the number of calves born, as all of the female calves that died will not be contributing any new offspring to the population."
Now, thanks to a report published in Marine Mammal Science, NOAA Fisheries and NOAA Ocean Service scientists and others from the U.S. and Argentina believe they have found the culprit: toxic algal blooms. These blooms have been found to pose a significant threat to fisheries and other wildlife, so it's no surprise that the blooms are wreaking havoc on whale populations, as well.
NOAA states:
[The study] found that the number of whale deaths at Peninsula Valdes closely track the concentrations of the toxic algae Pseudo-nitzschia. The higher the density of Pseudo-nitzschia, some species of which can produce a potent neurotoxin called domoic acid, the more young whales that died. When the density of algae dropped, so did the number of deaths.
The correlation is not definitive proof that the algae caused the deaths, but is strongly suggestive.
"The numbers [of algae and whale deaths] hinge at the same point and have the same pattern," said Cara Wilson, who led the study. "What's unusual about this is how long these bloom events continued to reoccur. You don't usually have deaths every year but the calves died in high numbers every year from 2007 to 2013."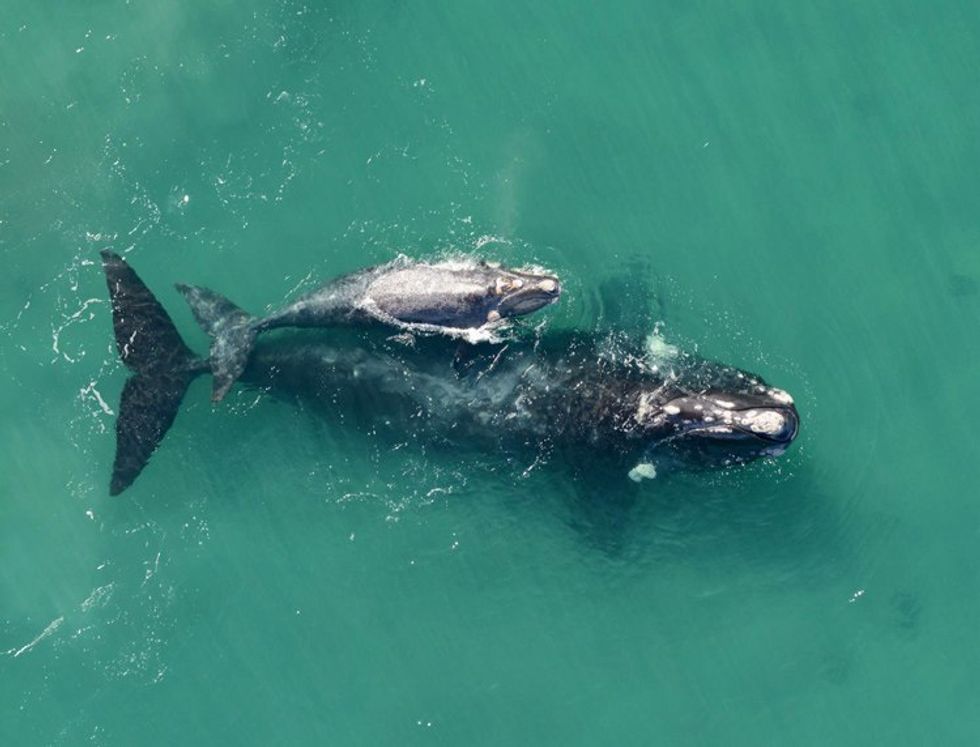 The findings have implications beyond Argentina and whales. Algal blooms are expected to increase worldwide due to climate change. And if one of the largest species in the ocean is susceptible to these toxic blooms, it's just further evidence that no species is safe. NOAA scientists are currently investigating mysterious whale strandings off the coast of Alaska. Between May and August of this year, at least 30 large whales in the western Gulf of Alaska washed ashore.
"Given the lack of solid evidence the new study does not definitively prove that the toxic algae caused the spike in deaths of whale calves. But it does offer strong circumstantial evidence, and that puts researchers in a better position to understand the possible impacts of future algal blooms," said Gregory Doucette, coauthor of the paper.
"For us, the more opportunities we have to try to examine that relationship, to link up these mortality events to potentially toxic blooms, the better we can assess the possible effects," he added.
YOU MIGHT ALSO LIKE
Plastic Bags and Fishing Nets Found in Stomach of Dead Whale
These 5 Countries Account for 60% of Plastic Pollution in Oceans
Illegal Hunter Mauled to Death by African Lion
85% of Tampons Contain Monsanto's 'Cancer Causing' Glyphosate
EcoWatch Daily Newsletter
A harbour seal on an ice floe in Glacier Bay, Alaska. A new study shows that the climate crisis has warmed waters, changing ecosystems and crippling sea ice growth. Janette Hill / robertharding / Getty Images Plus
Doctors report that only 1 in 4 children are getting the recommended 60 minutes of physical activity per day. Ronnie Kaufman / DigitalVision / Getty Images
By Dan Gray
Pediatricians are being urged to start writing "exercise prescriptions" for the children they see in their office.
A First Nations protester walks in front of a train blockade in Tyendinaga, near Belleville, Ontario, Canada on Feb. 21, 2020. LARS HAGBERG / AFP via Getty Images
An indigenous rail blockade that snarled train travel in Canada for more than two weeks came to an end Monday when police moved in to clear protesters acting in solidarity with another indigenous community in British Columbia (B.C.), which is fighting to keep a natural gas pipeline off its land.
A rainbow snake, a rare reptile spotted in a Florida county for the first time in more than 50 years, seen here on July 5, 2013.
Kevin Enge / FWC Fish and Wildlife Research Institute / Flickr
A Florida hiker recently stumbled across a slithering surprise — a rare snake that hadn't been spotted in the area for more than 50 years.
We need our government to do everything it can to stop PFAS contamination and exposure from wreaking havoc in communities across the country. LuAnn Hun /
Unsplash
By Genna Reed
The EPA announced last week that it is issuing a preliminary regulatory determination for public comment to set an enforceable drinking water standard to two of the most common and well-studied PFAS, PFOA and PFOS.
This decision is based on three criteria:
PFOA and PFOS have an adverse effect on public health
PFOA and PFOS occur in drinking water often enough and at levels of public health concern;
regulation of PFOA and PFOS is a meaningful opportunity for reducing the health risk to those served by public water systems.