This website uses cookies to ensure you get the best experience while browsing it. By clicking 'Got It' you're accepting these terms.
African Catholic Groups Call on Pope Francis to Support Divestment From Fossil Fuels Movement
Dec. 13, 2015 09:26AM EST
Climate
In the struggle for climate justice, it is seldom that we have an opportunity to present the issues we are working on to progressive global leaders. Pope Francis' critical views on social justice and the need to protect the environment are in part the reason why we see him as an ally in the fight for climate justice. So the 350 Africa teams in Kenya, Uganda and the Central African Republic (CAR) folded their sleeves to see how we could present some of our concerns during his recent visit.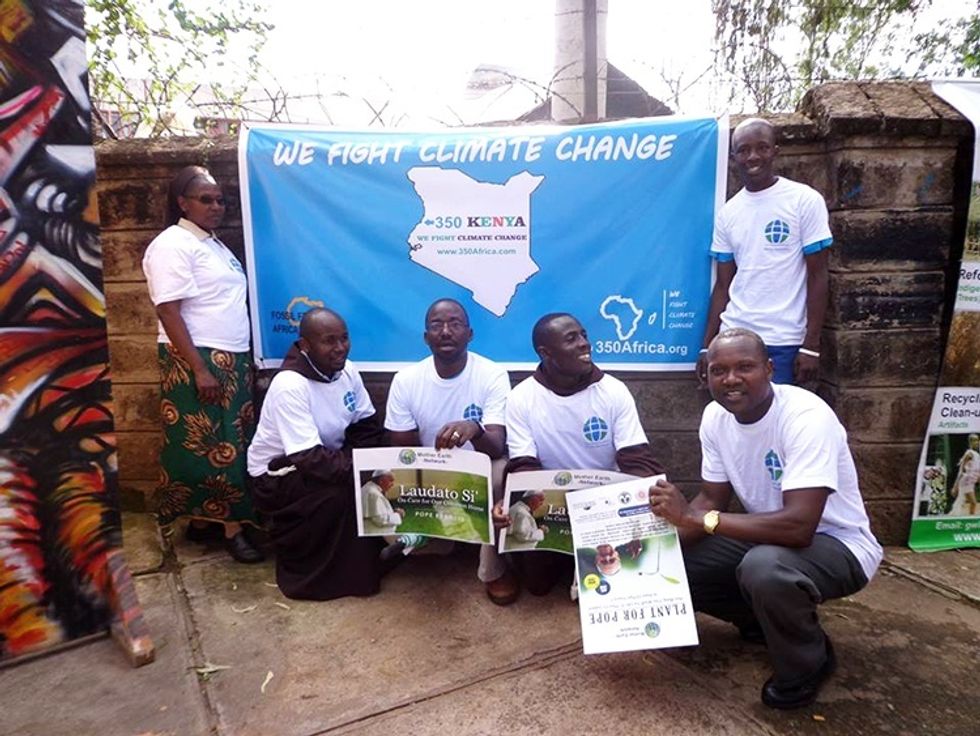 We decided to write a letter to the Pope. It was humbling to not only have the letter welcomed by the Kenyan Nunciature, but to also see our concerns expressed in the Pope's speech to the United Nations Environmental Program in Nairobi, where he stated that "COP21 represents an important stage in the process of developing a new energy system which depends on a minimal use of fossil fuels, aims at energy efficiency and makes use of energy sources with little or no carbon content."
This is one of the closest to a clear call for divestment from fossil fuels that we have heard from the Pope. A fundamental issue in the call for divestment is that the fossil fuels industry has for a long time enjoyed the space to pollute and degrade the environments in which people around the globe rely. Countless communities have to deal with unrehabilitated mine dumps, poor air quality, water pollution and the subsequent diseases that the communities that drink from such water have to bear with.
In our letter to the Pope we asked: "Because of the grave threat of climate change and the fossil fuel sector's unyielding refusal to change, it is no longer right for religious groups to profit from investments in such companies. We appeal for your support for the global divestment movement from the fossil fuel industry and to call for a just transition towards a world powered by 100 percent renewable energy."
Before President Uhuru Kenyata and other political leaders, Pope Francis acknowledged that "the grave environmental crisis facing our world demands an ever greater sensitivity to the relationship between human beings and nature."
The present climate crisis is not an obscure phenomenon but a gradual and cumulative anthropogenic process that is now yielding results and at the heart of injustice in many parts of the world. Poverty, environmental degradation and climate change are not random but direct results of a global economic model centered on perpetual growth, consumption and individualism, powered by the extractive industries.
As this is being written the Save Lamu campaign is waging a struggle to save a World Heritage site with more than 700 years of culture and history from the imminent construction of a multipurpose port and coal-fired power station, "despite the community lacking awareness and failing to be consulted," as the Save Lamu site reads. Not even the strides made in Rwanda and recently in Morocco with large scale solar plants being put in place were considered. Our letter to Pope Francis also called for his solidarity with this campaign and the people of Lamu county.
We need to change the idea that the climate change crisis is to only be tackled by environmental organizations. The recent resolution of the Anglican Church of Southern Africa to explore withdrawing their investments from companies that exploit fossil fuels, is an example of how faith groups can do their part in the climate movement through divestment.
We can't put all our eggs in the COP21 basket; achieving a minimal or no-carbon energy system will require all of us across sectors to pull together in holding governments and corporations accountable. After all, they're the ones who benefit from the fossil fuel industry and the ones who allow it to operate the way it does.
We are convinced that support from leaders like Pope Francis—who has more than a billion followers around the world, would go a long way in taking away the social license from the fossil fuels sector, opening the way for renewable energy as part of a development path that sees communities and the world in a better place beyond short term access to energy and employment.
YOU MIGHT ALSO LIKE
World Leaders Agree to Historic Global Climate Agreement
10,000+ Took to the Streets in Paris Pledging Escalated Actions in the Fight for Climate Justice
3 Reasons for Dramatic Shift at Paris Climate Summit
Why Climate Leadership Means Keeping Fossil Fuels in the Ground
EcoWatch Daily Newsletter
Germany reached an agreement Thursday that will allow it to stop burning coal by 2038.
This photograph shows green photosynthetic cyanobacteria growing and mineralizing in the sand-hydrogel framework. The living material has similar strength to cement-base mortar. College of Engineering and Applied Science at Colorado University Boulder /
EurekAlert!
Cement is a remarkable building material; it's cheap, durable and readily available. However, its production is a leading source of carbon dioxide emissions, coughing up 2.8 gigatons of emissions every year, as Advanced Science News reported.
Internal documents from the Department of Homeland Security reveal that non-violent demonstrators targeting the oil industry were classified as "extremists," with some organization members listed alongside known white supremacists, as The Guardian reported.
An additional 2,100 deaths from fatal injuries may occur in the U.S. every year from a 2 C rise in temperatures, which could have grave implications for global changes associated with the climate crisis.