7 Ways to Reduce Toxic Soil Substances in Urban Gardens
In cities around the globe, an urban gardening revival is under way, with gardeners and farmers digging into backyards and vacant lots, replacing blighted eyesores with lush, productive vegetation.
But as an article in this month's Environmental Health Perspectives from the National Institute of Environmental Health Sciences points out, urban soils are often heavily contaminated with metals, polycyclic aromatic hydrocarbons and other contaminants, prompting questions about the health consequences of urban gardening and providing some new solutions.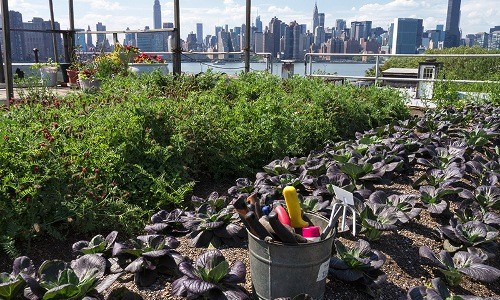 Exposure to pollutants while gardening comes mainly from accidentally ingesting soil or inhaling contaminated dust, either while gardening or after tracking it home on clothing, shoes and tools, according to interim guidelines for safe urban gardening from the U.S. Environmental Protection Agency (EPA). The risk is greatest for small children, who not only are most vulnerable to toxicants but also gleefully put dirty fingers directly into their mouths.
Produce itself tends to be relatively safe, provided it wasn't grown in heavily contaminated soil and is washed before eating. Most food crops tend not to absorb contaminants and what little they do absorb generally stays in the roots. One notable exception is rice, which absorbs arsenic unusually well.
The article outlines the problem facing urban gardeners. No regulations in the U.S. specifically govern contaminants in soils used for food production and testing for them can be prohibitively expensive. Experts disagree on the severity of the problem, jurisdictional standards conflict and advice about how to remedy or work around urban soils has been fragmented and confusing.
And while alternative growing methods such as rooftop gardens and hydroponics avoid soil contamination issues, they tend to be more expensive and are unlikely to replace gardening in the ground any time soon.
Here are seven ways that urban gardeners can reduce the amount of contaminants in their soil, courtesy of the U.S. EPA:
Build your garden away from existing roads and railways, or build a hedge or fence to reduce windblown contamination from mobile sources and busy streets.
Cover existing soil and walkways with mulch, landscape fabric, stones or bricks.
Use mulch in your garden beds to reduce dust and soil splash, reduce weed establishment, regulate soil temperature and moisture and add organic matter.
Use soil amendments to maintain neutral pH, add organic matter and improve soil structure.
Add topsoil or clean fill from certified soil sources. Your state or local environmental program, extension service or nursery may be able to recommended safe sources for soil and fill.
Build raised beds or container gardens. Raised beds can be made by simply mounding soil into windrows or by building containers. Sided beds can be made from wood, synthetic wood, stone, concrete block, brick or naturally rot-resistant woods such as cedar and redwood.
Your state or local city agency may recommend using a water-permeable fabric cover or geotextile as the bottom layer of your raised beds to further reduce exposure to soils of concern.
The article also advises practicing good gardening habits:
Wear gloves and wash hands after gardening and before eating.
Take care not to track dirt from the garden into the house.
Wash produce before storing or eating and teach kids to do so, too.
Peel root crops and remove outer leaves of leafy vegetables.

A coalition of conservation groups and others announced Thursday that a historic number of comments and petitions of support have been submitted to the U.S. Department of the Interior in support of Bears Ears National Monument. Despite the entirely inadequate 15-day comment period ending on May 26, more than 685,000 comments in support of Bears Ears National Monument have been collected.
Keep reading...
Show less
Rink Glacier in western Greenland, with a meltwater lake visible center. NASA/OIB
Scientists have had their eyes on Greenland as its iconic glaciers have begun disappearing due to a warming climate. But, what they didn't expect to see was a whole new type of melting.
Keep reading...
Show less
Mountain View Fire
By Lena Moffitt
An oil tanker in Mead, Colorado exploded, killing one and injuring three on Thursday. Authorities are continuing to investigate the cause of the explosion.
Keep reading...
Show less
Banner created by Alliance for Climate Education
Keep reading...
Show less
Twenty-two GOP senators sent a letter Thursday urging Donald Trump to pull out of the Paris agreement. They argued remaining in the deal could "upend" the administration's ability "to fulfill its goal of rescinding the Clean Power Plan."
Keep reading...
Show less
By Cheryl Johncox
The Federal Energy Regulatory Commission (FERC) rejected on Thursday Energy Transfer Partners' request to resume horizontal directional drilling at two sites for its Rover fracked gas pipeline. This rejection comes after numerous leaks into Ohio's wetlands, and Clean Air and Clean Water act violations. FERC has halted the process at only eight locations of the 32 where drilling is taking place under Ohio's wetlands and streams.
Keep reading...
Show less
By Nadia Prupis
A majority of people in eight countries say they are ready to change their lifestyles if it would prevent climate catastrophe, a survey on global threats released Wednesday found.
Keep reading...
Show less
May. 25, 2017 01:55PM EST
Bill Maher is sick of billionaires' obsession with Mars, more like "Mars-a-Lago," he said.
In a new animation produced by ATTN:, the popular talk show host of Real Time, discusses the perils of our planet, including how "climate change is killing us."
Keep reading...
Show less