This website uses cookies to ensure you get the best experience while browsing it. By clicking 'Got It' you're accepting these terms.
30 Whales Have Died Off the Coast of Alaska and No One Knows Why
Aug. 21, 2015 12:48PM EST
Animals
Whales are dying off the coast of Alaska and no one knows why. Yesterday, the National Oceanic and Atmospheric Administration (NOAA) officially declared the recent deaths of 30 large whales in the western Gulf of Alaska an "unusual mortality event," triggering an investigation into the cause of the mass die off. NOAA defines an unusual mortality event as "a stranding event that is unexpected, involves a significant die-off of a marine mammal population, and demands immediate response."
What's killing Alaska's whales? http://t.co/ePAibXagtG pic.twitter.com/yZfa2Htxg2

— CBC British Columbia (@cbcnewsbc) August 20, 2015
Since May, 11 fin whales, 14 humpback whales, one gray whale and four unidentified cetaceans have stranded around the islands of the western Gulf of Alaska and the southern shoreline of the Alaska Peninsula. The uptick is nearly three times the average for the area. Last year, there were only five whale strandings for the entire year. There were also six dead stranded whales reported along British Columbia's north coast in the last few months, which is a significant increase above annual seasonal numbers for that area as well.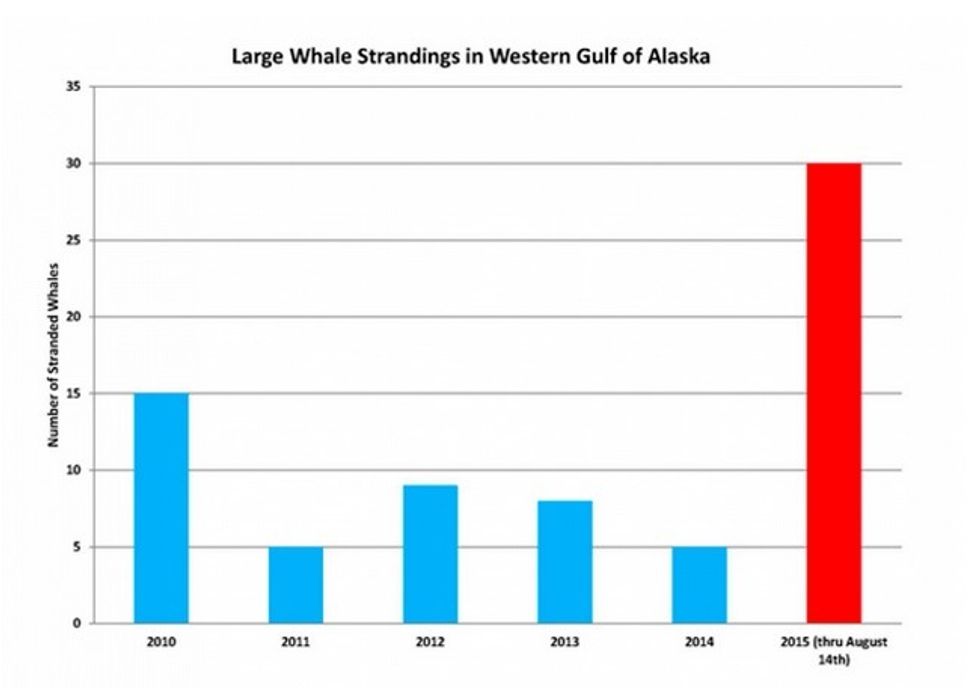 "NOAA Fisheries scientists and partners are very concerned about the large number of whales stranding in the western Gulf of Alaska in recent months," said Dr. Teri Rowles, NOAA Fisheries' marine mammal health and stranding response coordinator. "While we do not yet know the cause of these strandings, our investigations will give us important information on the health of whales and the ecosystems where they live."
NOAA is encouraging the public to help out by immediately reporting any sightings of dead whales or distressed live animals they discover, but warns people not to get close or touch the animals.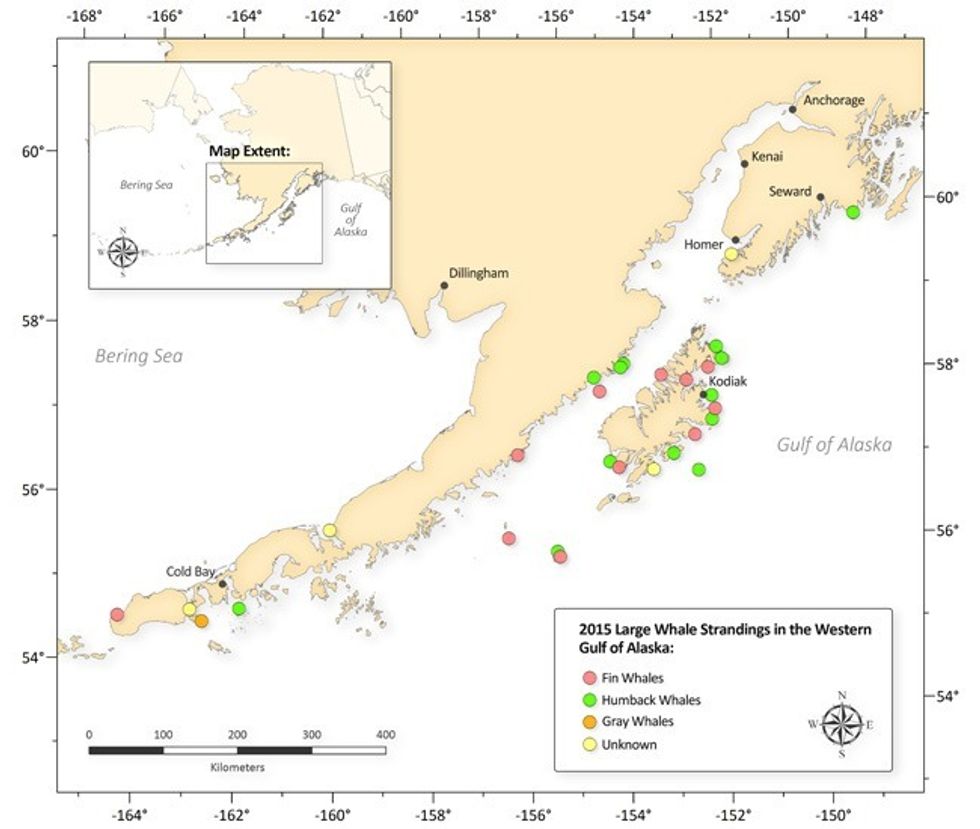 "The prevailing theory is that a large toxic algae bloom off the West Coast might be to blame," reports CBC News. "However, scientists have been unable to make a concrete connection."
The West Coast has experienced the largest toxic algae bloom in a decade, forcing the closure of fisheries from California to Washington. This isn't the first time scientists have linked algae blooms and whale die offs. A toxic algae bloom this spring off the coast of Chile is the suspected cause of death for 20-30 sei whales.
"When algae that produces toxins overtakes a body of water, those toxins make it into the food chain by way of the tiny creatures that feed on it," reports the Washington Post. "In the case of these sei whales, the scientists studying them hypothesize, sardines poisoned by the algae could have given the whales deadly food poisoning."
NOAA cautions that these investigations often take months, even years, of data collection and analysis to reach a conclusive answer. So far, scientists working in Alaska have only been able to take the tissue sample of one of the carcasses, which NOAA described as a "less than ideal" sample. That sample tested negative for a type of toxin produced by algae, but the carcass was so decomposed that it may not be reliable, The Alaska Dispatch News reported. The scientists did not find a clear cause of death from that sample and many of the other carcasses have been unretrievable, or too badly decomposed to study.
"Alaska has an awful lot of coastline and much of it is difficult to reach," NOAA adviser Dr. Bree Witteveen told CBC News. "We can't get to those carcasses more often than not." They also have to deal with "predator competition" for sample sizes from the likes of bears and other animals.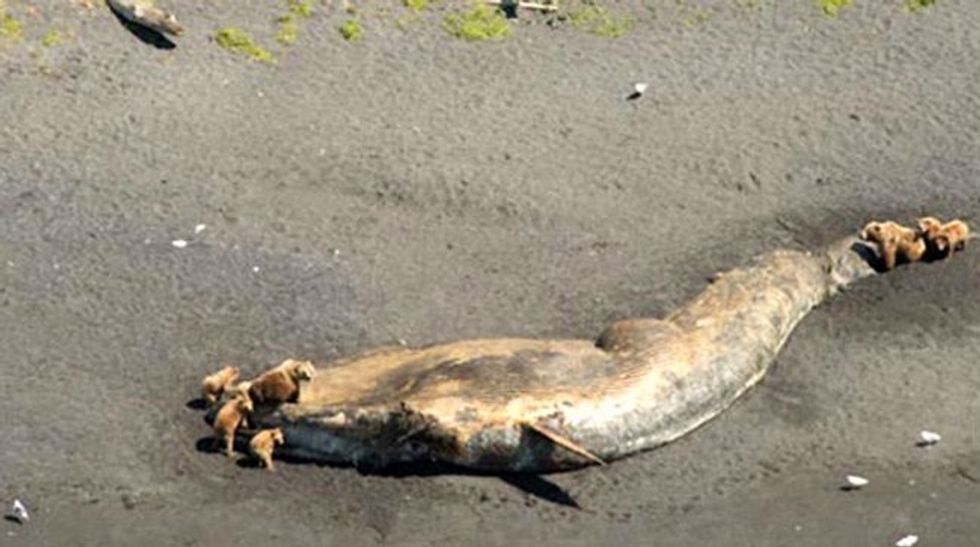 NOAA said in an online FAQ that it's "highly unlikely" that radiation from Fukushima is playing a role, but "further testing is under way." Some have speculated that warmer temperatures may be to blame. The Alaska Dispatch News reported in June that surface temperatures in the Gulf of Alaska were running 0.9 to 3.6 degrees above average. There is no doubt that Alaska is rapidly warming due to climate change. Alaska's glaciers are melting even faster than most places along with the rest of the Arctic, which is warming at twice the rate of other regions.
YOU MIGHT ALSO LIKE
NOAA: July Was Hottest Month Ever Worldwide
One of World's Fastest Melting Glaciers May Have Lost Largest Chunk of Ice in Recorded History
Earth Is Facing Most Severe Extinction Crisis in 65 Million Years
EcoWatch Daily Newsletter
Aerial view of Ruropolis, Para state, northen Brazil, on Sept. 6, 2019. Tthe world's biggest rainforest is under threat from wildfires and rampant deforestation. JOHANNES MYBURGH / AFP via Getty Images
By Kate Martyr
Deforestation in Brazil's Amazon rainforest last month jumped to the highest level since records began in 2015, according to government data.
A total of 563 square kilometers (217.38 square miles) of the world's largest rainforest was destroyed in November, 103% more than in the same month last year, according to Brazil's space research agency.
From January to November this year an area almost the size of the Caribbean island of Puerto Rico was destroyed — an 83% overall increase in destruction when compared with the same period last year.
The figures were released on Friday by the National Institute for Space Research (INPE), and collected through the DETER database, which uses satellite images to monitor forest fires, forest destruction and other developments affecting the rainforest.
What's Behind the Rise?
Overall, deforestation in 2019 has jumped 30% compared to last year — 9,762 square kilometers (approximately 3769 square miles) have been destroyed, despite deforestation usually slowing during November and December.
Environmental groups, researchers and activists blamed the policies of Brazil's president Jair Bolsonaro for the increase.
They say that Bolosonaro's calls for the Amazon to be developed and his weakening support for Ibama, the government's environmental agency, have led to loggers and ranchers feeling safer and braver in destroying the expansive rainforest.
His government hit back at these claims, pointing out that previous governments also cut budgets to environment agencies such as Ibama.
The report comes as Brazil came to loggerheads with the Association of Small Island States (AOSIS) over climate goals during the UN climate conference in Madrid.
AOSIS blasted Brazil, among other nations, for "a lack of ambition that also undermines ours."
Last month, a group of Brazilian lawyers called for Bolsonaro to be investigated by the International Criminal Court over his environmental policies.
Reposted with permission from DW.
The Carolina parakeet went extinct in 1918. James St. John /
CC BY 2.0
The Carolina parakeet, the only parrot species native to the U.S., went extinct in 1918 when the last bird died at the Cincinnati Zoo. Now, a little more than 100 years later, researchers have determined that humans were entirely to blame.
Pexels
Vitamin C is a very important nutrient that's abundant in many fruits and vegetables.
BLM drill seeders work to restore native grasses after wildfire on the Bowden Hills Wilderness Study Area in southeast Oregon, Dec. 14, 2018. Marcus Johnson / BLM / CC BY 2.0
By Tara Lohan
In 2017 the Thomas fire raged through 281,893 acres in Ventura and Santa Barbara counties, California, leaving in its wake a blackened expanse of land, burned vegetation, and more than 1,000 destroyed buildings.