This website uses cookies to ensure you get the best experience while browsing it. By clicking 'Got It' you're accepting these terms.
30 Whales Have Died Off the Coast of Alaska and No One Knows Why
Aug. 21, 2015 12:48PM EST
Animals
Whales are dying off the coast of Alaska and no one knows why. Yesterday, the National Oceanic and Atmospheric Administration (NOAA) officially declared the recent deaths of 30 large whales in the western Gulf of Alaska an "unusual mortality event," triggering an investigation into the cause of the mass die off. NOAA defines an unusual mortality event as "a stranding event that is unexpected, involves a significant die-off of a marine mammal population, and demands immediate response."
What's killing Alaska's whales? http://t.co/ePAibXagtG pic.twitter.com/yZfa2Htxg2

— CBC British Columbia (@cbcnewsbc) August 20, 2015
Since May, 11 fin whales, 14 humpback whales, one gray whale and four unidentified cetaceans have stranded around the islands of the western Gulf of Alaska and the southern shoreline of the Alaska Peninsula. The uptick is nearly three times the average for the area. Last year, there were only five whale strandings for the entire year. There were also six dead stranded whales reported along British Columbia's north coast in the last few months, which is a significant increase above annual seasonal numbers for that area as well.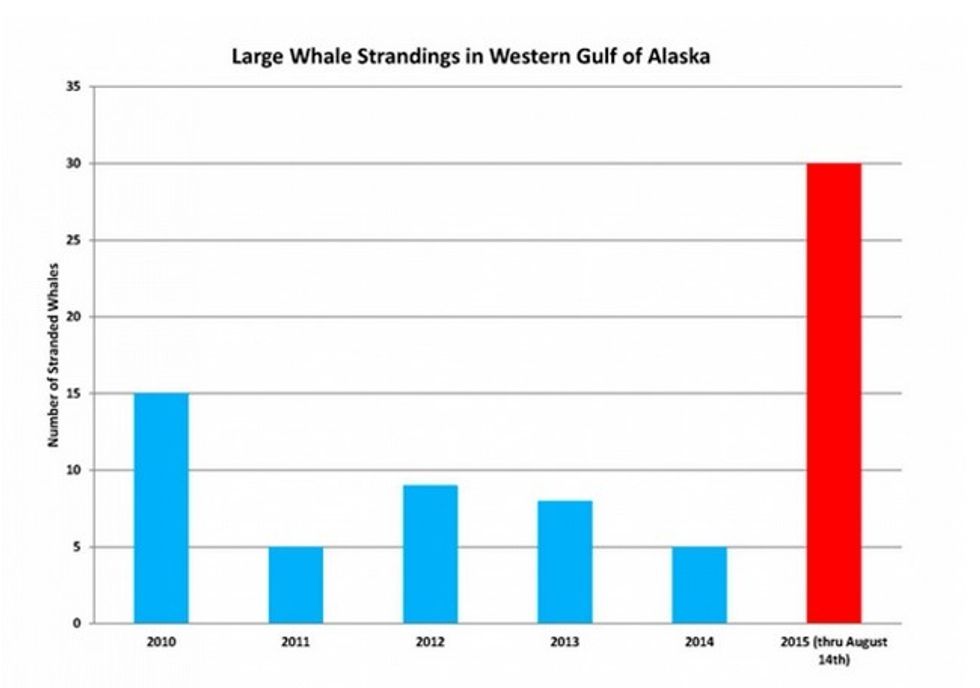 "NOAA Fisheries scientists and partners are very concerned about the large number of whales stranding in the western Gulf of Alaska in recent months," said Dr. Teri Rowles, NOAA Fisheries' marine mammal health and stranding response coordinator. "While we do not yet know the cause of these strandings, our investigations will give us important information on the health of whales and the ecosystems where they live."
NOAA is encouraging the public to help out by immediately reporting any sightings of dead whales or distressed live animals they discover, but warns people not to get close or touch the animals.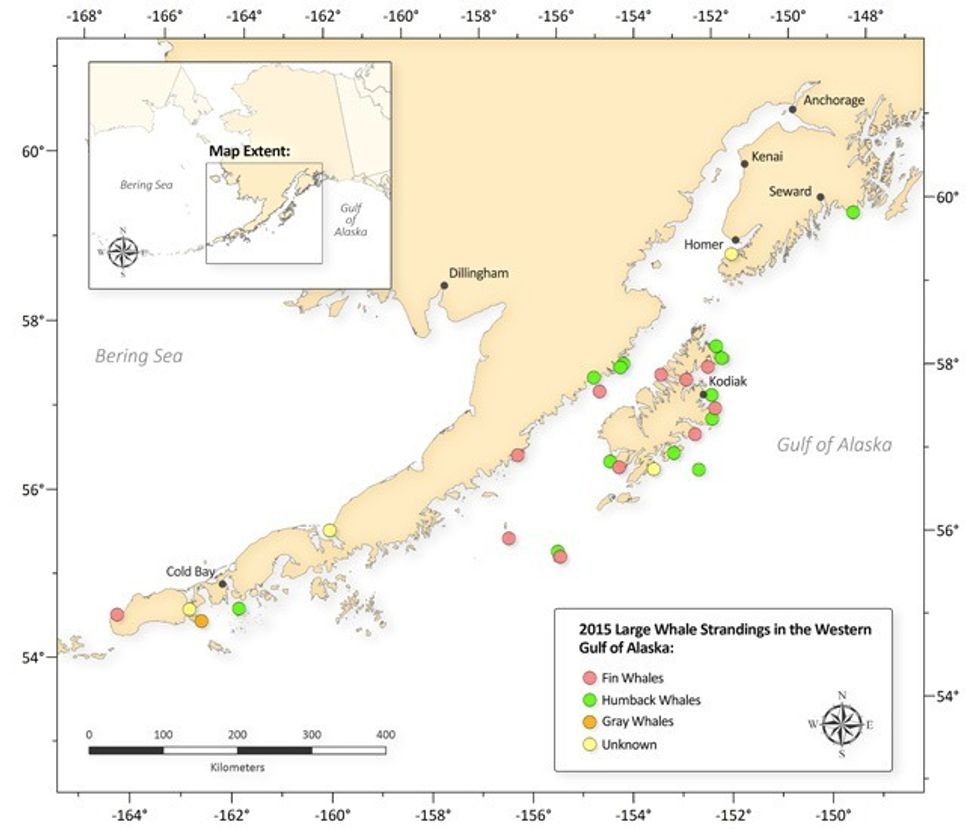 "The prevailing theory is that a large toxic algae bloom off the West Coast might be to blame," reports CBC News. "However, scientists have been unable to make a concrete connection."
The West Coast has experienced the largest toxic algae bloom in a decade, forcing the closure of fisheries from California to Washington. This isn't the first time scientists have linked algae blooms and whale die offs. A toxic algae bloom this spring off the coast of Chile is the suspected cause of death for 20-30 sei whales.
"When algae that produces toxins overtakes a body of water, those toxins make it into the food chain by way of the tiny creatures that feed on it," reports the Washington Post. "In the case of these sei whales, the scientists studying them hypothesize, sardines poisoned by the algae could have given the whales deadly food poisoning."
NOAA cautions that these investigations often take months, even years, of data collection and analysis to reach a conclusive answer. So far, scientists working in Alaska have only been able to take the tissue sample of one of the carcasses, which NOAA described as a "less than ideal" sample. That sample tested negative for a type of toxin produced by algae, but the carcass was so decomposed that it may not be reliable, The Alaska Dispatch News reported. The scientists did not find a clear cause of death from that sample and many of the other carcasses have been unretrievable, or too badly decomposed to study.
"Alaska has an awful lot of coastline and much of it is difficult to reach," NOAA adviser Dr. Bree Witteveen told CBC News. "We can't get to those carcasses more often than not." They also have to deal with "predator competition" for sample sizes from the likes of bears and other animals.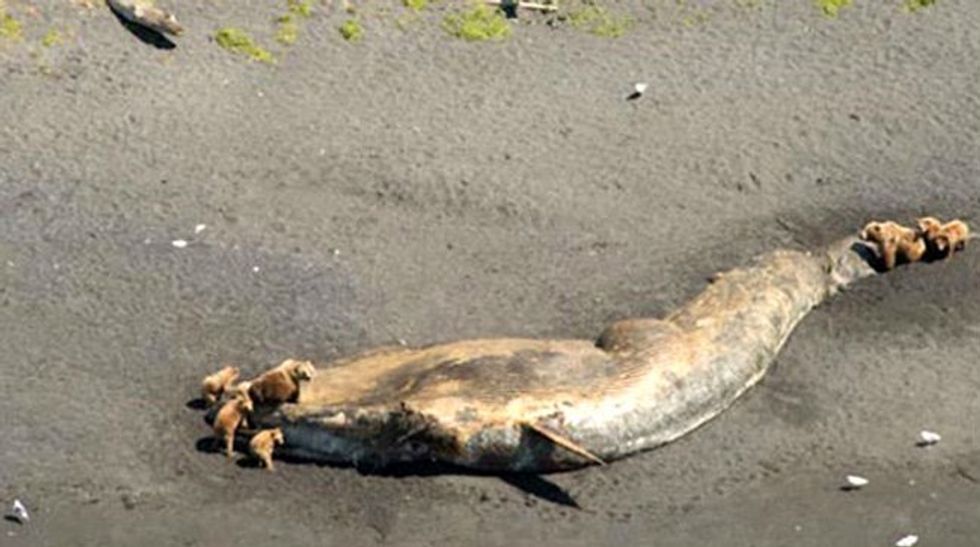 NOAA said in an online FAQ that it's "highly unlikely" that radiation from Fukushima is playing a role, but "further testing is under way." Some have speculated that warmer temperatures may be to blame. The Alaska Dispatch News reported in June that surface temperatures in the Gulf of Alaska were running 0.9 to 3.6 degrees above average. There is no doubt that Alaska is rapidly warming due to climate change. Alaska's glaciers are melting even faster than most places along with the rest of the Arctic, which is warming at twice the rate of other regions.
YOU MIGHT ALSO LIKE
NOAA: July Was Hottest Month Ever Worldwide
One of World's Fastest Melting Glaciers May Have Lost Largest Chunk of Ice in Recorded History
Earth Is Facing Most Severe Extinction Crisis in 65 Million Years
EcoWatch Daily Newsletter
Get ready for double the cuteness! Red pandas, the crimson-colored, bushy-tailed forest dwellers who gave Firefox its name, actually consist of two different species.
A view of a washed out road near Utuado, Puerto Rico, after a Coast Guard Air Station Borinquen MH-65 Dolphin helicopter crew dropped relief supplies to residents Tuesday, Oct. 3, 2017. The locals were stranded after Hurricane Maria by washed out roads and mudslides. U.S. Coast Guard photo by Petty Officer 3rd Class Eric D. Woodall /
CC BY-NC-ND 2.0
By Coral Natalie Negrón Almodóvar
The Earth began to shake as Tamar Hernández drove to visit her mother in Yauco, Puerto Rico, on Dec. 28, 2019. She did not feel that first tremor — she felt only the ensuing aftershocks — but she worried because her mother had an ankle injury and could not walk. Then Hernández thought, "What if something worse is coming our way?"
Flooded battery park tunnel is seen after Hurricane Sandy in 2012.
CC BY 2.0
President Trump has long touted the efficacy of walls, funneling billions of Defense Department dollars to build a wall on the southern border. However, when the U.S. Army Corps of Engineers (USACE) released a study that included plans for a sea wall to protect New Yorkers from sea-level rise and catastrophic storms like Hurricane Sandy, Trump mocked it as ineffective and unsightly.
A general view of fire damaged country in the The Greater Blue Mountains World Heritage Area near the town of Blackheath on Feb. 21, 2020 in Blackheath, Australia. Brook Mitchell / Getty Images
In a post-mortem of the Australian bushfires, which raged for five months, scientists have concluded that their intensity and duration far surpassed what climate models had predicted, according to a study published yesterday in Nature Climate Change.