This website uses cookies to ensure you get the best experience while browsing it. By clicking 'Got It' you're accepting these terms.
3 'Knitting Nannas' Arrested Protesting 850 Proposed Gas Wells
Jan. 18, 2016 10:14AM EST
Energy
Three women from Knitting Nannas Against Gas, an anti-coal seam gas group, have been arrested after locking themselves by their necks to the gates of a wastewater treatment plant in New South Wales, Australia.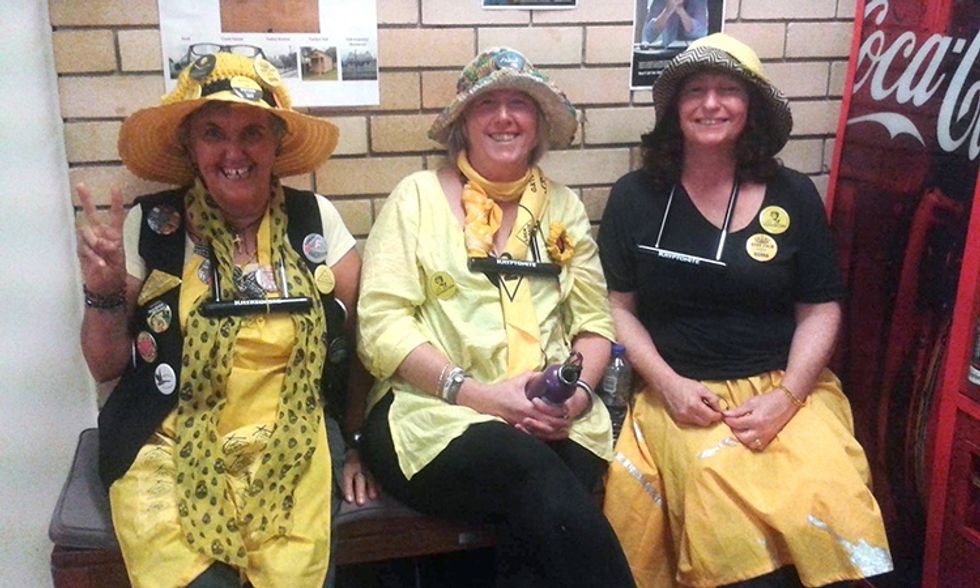 The women—Angela Dalu, 70, Dominique Jacobs, 51, Theresa Mason, 48—chained themselves this morning to the gates of the Santos Leewood Water treatment plant south of Narrabri. The plant is the proposed site of 850 coal seam gas wells.
"The action today has seen three ladies from the Knitting Nannas Against Gas lock themselves to the Santos gates to prevent workers gaining access to the controversial Leewood evaporative ponds," the group posted to its Facebook page. "This is where almost 600 million liters of toxic CSG [coal seam gas] waste is stored. Santos are trying to build a reverse osmosis plant on this site to concentrate the waste and use treated water for neighboring crops."
The Knitting Nannas, who were joined by some 60 other anti-coal seam gas activists, were charged with obstructing traffic and failure to comply with police direction, The Guardian reported. They did not resist arrest, local police said.
The group was formed in June 2012 "in response to a growing awareness of the exploration for unconventionally mined gas in our prime agricultural land," and they "peacefully and productively protest" against unconventional gas and other non-renewable energy projects, the group's website says. The act of knitting is intended to show the group's sense of maternal nurturing, though they said you don't have to be a nanna or knit to join the group.
"I've never been involved in protests in my life before the coal seam gas threat came to my home town of Gloucester," Jacobs, a mother of seven, told The Guardian. "As a mother I cannot stand back and let this destructive industry roll out across our state."
The group's spokeswoman Letitia Kemister said they would protest "every single day" until the project is stopped. "If we put 850 gas wells into the region, we're going to have a methane mess," Kemister said.
Santos's Energy New South Wales manager Peter Mitchley told ABC News the company had "all approvals in place to conduct its work safely and without harm to the environment."
He said the facility has strong support from the people of Narrabri. "More than 85 percent of the landholders within our project are supportive of our work and local community groups including the Narrabri Chamber of Commerce and Yes2Gas have also voiced their support publicly," Mitchley said.
ABC News reported the proposed project has been controversial:
More than 10,000 liters of untreated wastewater leaked from a storage pond built by previous owner Eastern Star Gas in 2011, and exploration by the same owner contaminated an aquifer with uranium.
When Santos took over, it built new storage ponds and has proposed a high-tech reverse osmosis treatment plant at Leewood.
At capacity, the Leewood facility is expected to produce 500 megaliters of concentrated toxic waste liquid but only has storage for 300 megaliters.
The Environmental Protection Authority warned the ponds would be full in three years.
YOU MIGHT ALSO LIKE
Hillary Clinton Demands Action on Flint Water Crisis at #DemDebate
EcoWatch Daily Newsletter
A new study shows that half of all Arctic warming and corresponding sea-loss during the late 20th century was caused by ozone-depleting substances. Here, icebergs discharged from Greenland's Jakobshavn Glacier. Kevin Krajick / Earth Institute /
EurekAlert!
The world awakened to the hole in the ozone layer in 1985, which scientists attributed it to ozone depleting substances. Two years later, in Montreal, the world agreed to ban the halogen compounds causing the massive hole over Antarctica. Research now shows that those chemicals didn't just cut a hole in the ozone layer, they also warmed up the Arctic.
Diane Wilson holds up a bag full of nurdles she collected from one of Formosa's outfall areas on Jan. 15. Julie Dermansky / DeSmogBlog
On the afternoon of Jan. 15, activist Diane Wilson kicked off a San Antonio Estuary Waterkeeper meeting on the side of the road across from a Formosa plastics manufacturing plant in Point Comfort, Texas.
After Wilson and the waterkeeper successfully sued Formosa, the company agreed to no longer release even one of the tiny plastic pellets known as nurdles into the region's waterways. The group of volunteers had assembled that day to check whether the plant was still discharging these raw materials of plastics manufacturing.
Malaysian Environment Minister Yeo Bee Yin (front 2nd L) and officials inspect a container containing plastic waste shipment on Jan. 20, 2020 before sending back to the countries of origin. AFP via Getty Images
The Southeast Asian country Malaysia has sent 150 shipping containers packed with plastic waste back to 13 wealthy countries, putting the world on notice that it will not be the world's garbage dump, as CNN reported. The countries receiving their trash back include the United States, the United Kingdom, France and Canada.
Trump leaves after delivering a speech at the Congress Centre during the World Economic Forum annual meeting in Davos on Jan. 21, 2020. JIM WATSON / AFP via Getty Images