This website uses cookies to ensure you get the best experience while browsing it. By clicking 'Got It' you're accepting these terms.
$3.4 Trillion: Fossil Fuel Divestment Commitments Break New Record
Dec. 02, 2015 07:47AM EST
Climate
The fossil fuel divestment campaign has broken a new record at COP21: More than 500 institutions representing more than $3.4 trillion in assets have made some form of divestment commitment according to 350.org and Divest Invest, two organizations coordinating the growing movement.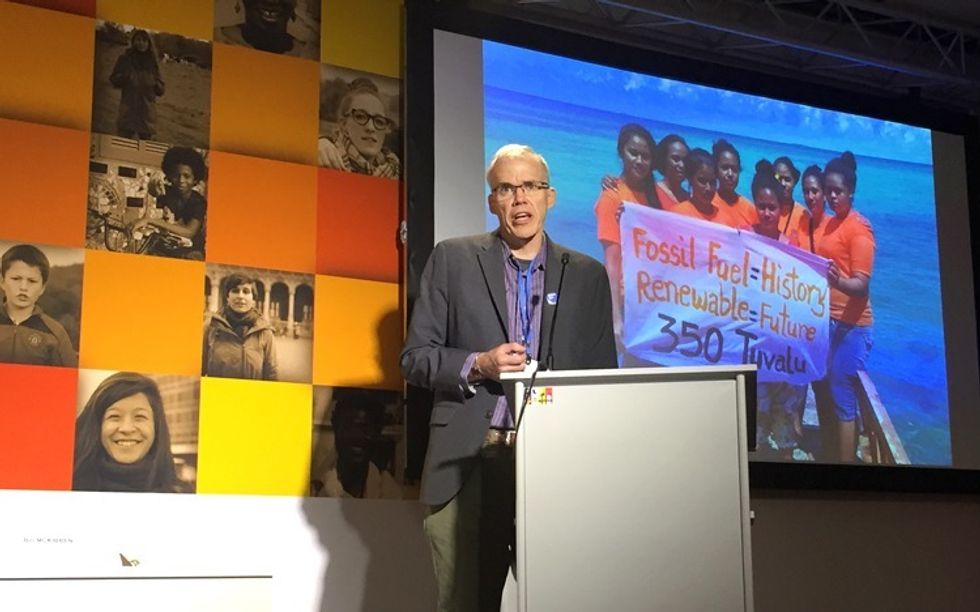 The new numbers are another impressive leap for the divestment effort, although campaigners are quick to point out that some of the commitments are only partial divestments and the $3.4 trillion represents the total amount of assets represented by institutions, not the amount of money divested, which is difficult to track due to varying degrees of disclosure.
Today's announcement is another sign in the early days of the Paris climate summit that investors are reading the writing on the wall and dramatically shifting capital away from fossil fuels and towards clean, renewable energy.
On Monday, Bill Gates and a group of investors announced the launch of a multi-billion dollar private sector coalition, Breakthrough Energy Coalition, to accelerate clean energy innovation. Other voices, including many of the world's most vulnerable countries, are demanding that the Paris agreement send a clear signal that the age of fossil fuels has come to an end and the dawn of renewables is irreversible.
The institutions that have joined the fossil fuel divestment campaign hope that their actions can push governments to follow suit by shifting public finance from fossil fuels to climate solutions. Many are calling on governments to specifically make good on their promises to end fossil fuel subsidies and fulfill their climate finance commitments.
In September 2014, 181 institutions representing $50 billion in assets had made a divestment commitment. On Sept. 21, during Climate Week in New York City, 350.org and Divest-Invest announced the number had jumped to 400 institutions representing $2.6 trillion under management and launched a "Divest for Paris" initiative to garner new commitments ahead of COP21. In the intervening 10 weeks between then and today, more than 100 institutions made new divestment commitments.
Organizers will announce a series of new divestment announcements and endorsements Today, including:
19 French Cities have endorsed divestment ahead of COP21:

350.org

will announce for the first time that they have secured commitments from 19 French cities, including Lille, Bordeaux, Dijon, Saint-Denis, Rannes, Ile-de-France and others.
The French parliament has endorsed divestment: On Nov. 25, the French National Assembly adopted a resolution encouraging public investors, companies (especially those in which the states owns shares) and local authorities not to invest in fossil fuels anymore. The resolution is the first step to formalizing the policy as law.
The French Ensemble Foundation will join European Divest-Invest: Jacqueline Délia Brémond, Co-founder and Co-Chair will announce that the foundation will join the European Divest-Invest initiative and divest their holdings from fossil fuels. Since 2004, the foundation has given over $28 million to environmental causes around the world.
Some of the most notable new announcements since Sept. 21 include:
Uppsala became the largest city in Sweden to endorse fossil fuel divestment.
Münster became the first city in Germany to divest completely from fossil fuels.
Melbourne, the capital of Australia, committed to go fossil free ahead of COP21. In fact, Australia has seen a seven-fold growth in the divestment movement, from two councils divesting in 2014, to 14 divesting as of now. Together, these funds represent AUD $5.5 billion in assets under management.
Oslo, the capital of Norway, announced that it will divest its $9 billion pension fund (€8 billion) from coal, oil and gas companies, becoming the first capital city in the world to ban investments in fossil fuels.
Dutch pension fund PFZW announced it will divest from coal companies and reduce its investments in other fossil fuel companies. The fund has €161 billion of assets under management.
London School of Economics, one of the preeminent economics schools in the world, dropped all its direct and indirect holdings of coal and tar sands and all direct holdings of fossil fuel companies.
Allianz, Europe's largest insurance company, divested €630 million of their own capital investment portfolio from coal and are reinvesting over €4 billion into wind energy over the next six months. This is one of the largest funds to make a commitment to divest from fossil fuels. Allianz tied their announcement to COP21, making the moral and economic case for investing in cleaner technologies.
APRA AMCOS, the biggest music industry organisation in the southern hemisphere announced that it is beginning the process of divesting from all fossil fuels. APRA AMCOS distributed over $250 million in royalties to its 87,000 songwriter and composer members last year, making it a large cultural force for divestment.
London Science Museum announced plans to dump Shell Oil as a sponsor, amidst controversy and public pressure.
In addition to the London School of Economics 5 Universities from the UK took action: Oxford Brookes University, University of the Arts London, University of Surrey and University of Sheffield divested from all fossil fuel companies; Wolfson College (Oxford university) divested from coal and tar sands. Fund manager CCLA, which manages investments for Birmingham City University, Cranfiled University, Heriot-Watt University, University of Hertfordshire, University of Portsmouth, University of Westminster excluded coal and tar sands from its investments.
The first church in Germany, the Protestant Church in Hesse and Nassau, managing €1.8 billion, committed to drop investments in coal, oil and gas too.
Two weeks ago, renowned economists Thomas Piketty and Tim Jackson

wrote a letter

in The Guardian, calling on investors to divest from fossil fuel ahead for the COP21.
The commitments vary in their exact language and some are only partial divestment commitments or just apply to a particular fossil fuel, such as coal or tar sands. At many institutions on the list, activists are still pushing for more action. The top line number refers to the number of assets under management by the institutions that have made a commitment, not the amount of money directly removed from fossil fuels. The goal is to demonstrate that a growing number of significant institutions are either reducing their carbon risk, taking a moral stance on fossil fuels, increasing investments in climate solutions or all of the above.
The announcement event today at COP21 included the following speakers: May Boeve, executive director of 350.org; Bill McKibben, co-Founder of 350.org; Pascal Canfin, senior advisor for International Climate Affairs at the World Resources Institute; Jeremy Leggett, from Carbon Tracker Initiative; Stephen Heintz, president of the Rockefeller Brothers foundation; Jacqueline Délia Brémond, co-founder and co-chair of the Ensemble foundation; Clara Vondrich, Global director of Divest / Invest philanthropy; Kevin De León, president pro tempore of the California State Senate; Jesse Bragg, media director at Corporate Accountability International; Noelie Audi-Dor, president of LSE Divest; Jess Worth, from "BP or Not BP?"; and Kathy Jetnil- Kijiner, Poet and a Pacific Climate Warrior from the Marshall Islands.
YOU MIGHT ALSO LIKE
5 Things You Should Know About the Kick Off of Paris Climate Talks
Obama: We Must Create a 'World That is Worthy of Our Children'
Business Takes Leadership Role at COP21 Calling for Ambitious Climate Agreement
EcoWatch Daily Newsletter
In this view from an airplane rivers of meltwater carve into the Greenland ice sheet near Sermeq Avangnardleq glacier on Aug. 4 near Ilulissat, Greenland. Climate change is having a profound effect in Greenland, where over the last several decades summers have become longer and the rate that glaciers and the Greenland ice cap are retreating has accelerated. Sean Gallup / Getty Images
The rate that Greenland's ice sheet is melting surpassed scientists' expectations and has raised concerns that their worst-case scenario predictions are coming true, Business Insider reported.
An Alagoas curassow in captivity. Luís Fábio Silveira / Agência Alagoas / Mongabay
By Pedro Biondi
Extinct in its habitat for at least three decades, the Alagoas curassow (Pauxi mitu) is now back in the jungle and facing a test of survival, thanks to the joint efforts of more than a dozen institutions to pull this pheasant-like bird back from the brink.

Elizabeth Warren's Blue New Deal aims to expand offshore renewable energy projects, like the Block Island Wind Farm in Rhode Island.
Luke H. Gordon / Flickr
By Julia Conley
Sen. Elizabeth Warren expanded her vision for combating the climate crisis on Tuesday with the release of her Blue New Deal — a new component of the Green New Deal focusing on protecting and restoring the world's oceans after decades of pollution and industry-caused warming.
Former U.S. Secretary of State Rex Tillerson leaves the courthouse after testifying in the Exxon Mobil trial on Oct. 30, 2019 in New York. DON EMMERT / AFP via Getty Images
A judge in New York's Supreme Court sided with Exxon in a case that accused the fossil fuel giant of lying to investors about the true cost of the climate crisis. The judge did not absolve Exxon from its contribution to the climate crisis, but insisted that New York State failed to prove that the company intentionally defrauded investors, as NPR reported.
By Sharon Elber
You may have heard that giving a pet for Christmas is just a bad idea. Although many people believe this myth, according to the ASPCA, 86 percent of adopted pets given as gifts stay in their new homes. These success rates are actually slightly higher than average adoption/rehoming rates. So, if done well, giving an adopted pet as a Christmas gift can work out.