$3.4 Trillion: Fossil Fuel Divestment Commitments Break New Record
The fossil fuel divestment campaign has broken a new record at COP21: More than 500 institutions representing more than $3.4 trillion in assets have made some form of divestment commitment according to 350.org and Divest Invest, two organizations coordinating the growing movement.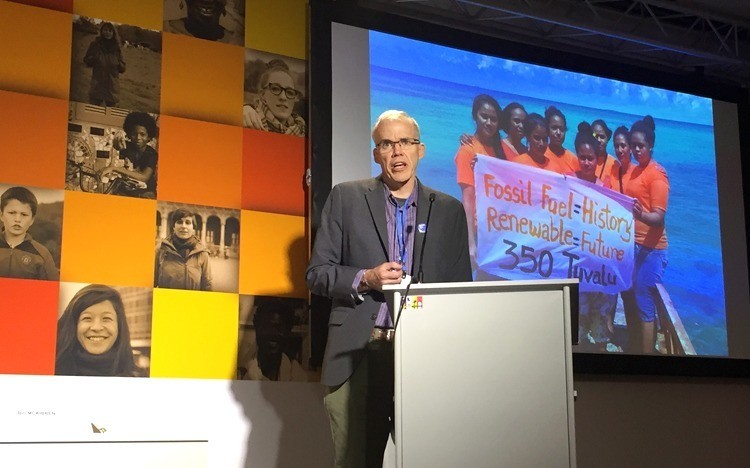 The new numbers are another impressive leap for the divestment effort, although campaigners are quick to point out that some of the commitments are only partial divestments and the $3.4 trillion represents the total amount of assets represented by institutions, not the amount of money divested, which is difficult to track due to varying degrees of disclosure.
Today's announcement is another sign in the early days of the Paris climate summit that investors are reading the writing on the wall and dramatically shifting capital away from fossil fuels and towards clean, renewable energy.
On Monday, Bill Gates and a group of investors announced the launch of a multi-billion dollar private sector coalition, Breakthrough Energy Coalition, to accelerate clean energy innovation. Other voices, including many of the world's most vulnerable countries, are demanding that the Paris agreement send a clear signal that the age of fossil fuels has come to an end and the dawn of renewables is irreversible.
The institutions that have joined the fossil fuel divestment campaign hope that their actions can push governments to follow suit by shifting public finance from fossil fuels to climate solutions. Many are calling on governments to specifically make good on their promises to end fossil fuel subsidies and fulfill their climate finance commitments.
In September 2014, 181 institutions representing $50 billion in assets had made a divestment commitment. On Sept. 21, during Climate Week in New York City, 350.org and Divest-Invest announced the number had jumped to 400 institutions representing $2.6 trillion under management and launched a "Divest for Paris" initiative to garner new commitments ahead of COP21. In the intervening 10 weeks between then and today, more than 100 institutions made new divestment commitments.
Organizers will announce a series of new divestment announcements and endorsements Today, including:
19 French Cities have endorsed divestment ahead of COP21:

350.org

will announce for the first time that they have secured commitments from 19 French cities, including Lille, Bordeaux, Dijon, Saint-Denis, Rannes, Ile-de-France and others.
The French parliament has endorsed divestment: On Nov. 25, the French National Assembly adopted a resolution encouraging public investors, companies (especially those in which the states owns shares) and local authorities not to invest in fossil fuels anymore. The resolution is the first step to formalizing the policy as law.
The French Ensemble Foundation will join European Divest-Invest: Jacqueline Délia Brémond, Co-founder and Co-Chair will announce that the foundation will join the European Divest-Invest initiative and divest their holdings from fossil fuels. Since 2004, the foundation has given over $28 million to environmental causes around the world.
Some of the most notable new announcements since Sept. 21 include:
Uppsala became the largest city in Sweden to endorse fossil fuel divestment.
Münster became the first city in Germany to divest completely from fossil fuels.
Melbourne, the capital of Australia, committed to go fossil free ahead of COP21. In fact, Australia has seen a seven-fold growth in the divestment movement, from two councils divesting in 2014, to 14 divesting as of now. Together, these funds represent AUD $5.5 billion in assets under management.
Oslo, the capital of Norway, announced that it will divest its $9 billion pension fund (€8 billion) from coal, oil and gas companies, becoming the first capital city in the world to ban investments in fossil fuels.
Dutch pension fund PFZW announced it will divest from coal companies and reduce its investments in other fossil fuel companies. The fund has €161 billion of assets under management.
London School of Economics, one of the preeminent economics schools in the world, dropped all its direct and indirect holdings of coal and tar sands and all direct holdings of fossil fuel companies.
Allianz, Europe's largest insurance company, divested €630 million of their own capital investment portfolio from coal and are reinvesting over €4 billion into wind energy over the next six months. This is one of the largest funds to make a commitment to divest from fossil fuels. Allianz tied their announcement to COP21, making the moral and economic case for investing in cleaner technologies.
APRA AMCOS, the biggest music industry organisation in the southern hemisphere announced that it is beginning the process of divesting from all fossil fuels. APRA AMCOS distributed over $250 million in royalties to its 87,000 songwriter and composer members last year, making it a large cultural force for divestment.
London Science Museum announced plans to dump Shell Oil as a sponsor, amidst controversy and public pressure.
In addition to the London School of Economics 5 Universities from the UK took action: Oxford Brookes University, University of the Arts London, University of Surrey and University of Sheffield divested from all fossil fuel companies; Wolfson College (Oxford university) divested from coal and tar sands. Fund manager CCLA, which manages investments for Birmingham City University, Cranfiled University, Heriot-Watt University, University of Hertfordshire, University of Portsmouth, University of Westminster excluded coal and tar sands from its investments.
The first church in Germany, the Protestant Church in Hesse and Nassau, managing €1.8 billion, committed to drop investments in coal, oil and gas too.
Two weeks ago, renowned economists Thomas Piketty and Tim Jackson

wrote a letter

in The Guardian, calling on investors to divest from fossil fuel ahead for the COP21.
The commitments vary in their exact language and some are only partial divestment commitments or just apply to a particular fossil fuel, such as coal or tar sands. At many institutions on the list, activists are still pushing for more action. The top line number refers to the number of assets under management by the institutions that have made a commitment, not the amount of money directly removed from fossil fuels. The goal is to demonstrate that a growing number of significant institutions are either reducing their carbon risk, taking a moral stance on fossil fuels, increasing investments in climate solutions or all of the above.
The announcement event today at COP21 included the following speakers: May Boeve, executive director of 350.org; Bill McKibben, co-Founder of 350.org; Pascal Canfin, senior advisor for International Climate Affairs at the World Resources Institute; Jeremy Leggett, from Carbon Tracker Initiative; Stephen Heintz, president of the Rockefeller Brothers foundation; Jacqueline Délia Brémond, co-founder and co-chair of the Ensemble foundation; Clara Vondrich, Global director of Divest / Invest philanthropy; Kevin De León, president pro tempore of the California State Senate; Jesse Bragg, media director at Corporate Accountability International; Noelie Audi-Dor, president of LSE Divest; Jess Worth, from "BP or Not BP?"; and Kathy Jetnil- Kijiner, Poet and a Pacific Climate Warrior from the Marshall Islands.
YOU MIGHT ALSO LIKE
5 Things You Should Know About the Kick Off of Paris Climate Talks
Obama: We Must Create a 'World That is Worthy of Our Children'
Business Takes Leadership Role at COP21 Calling for Ambitious Climate Agreement
Dow CEO Andrew Liveris and President Donald Trump in February.
U.S. Environmental Protection Agency (EPA) administrator Scott Pruitt met with Dow Chemical CEO Andrew Liveris before deciding to reverse an earlier EPA decision to ban the company's toxic and widely used pesticide, chlorpyrifos.
According to records obtained by the Associated Press, the EPA boss met with Liveris for about 30 minutes at a Houston hotel on March 9. Later that month, Pruitt announced that he would no longer pursue a ban on chlorpyrifos from being used on food, ignoring his agency's own review that even small amounts of the pesticide could impact fetus and infant brain development.
Keep reading...
Show less
www.facebook.com
Native communities and environmental justice advocates in Louisiana opened a new resistance camp Saturday to oppose the proposed Bayou Bridge Pipeline project. Called L'eau Est La Vie, or Water is Life, the camp will consist of floating indigenous art structures on rafts and constant prayer ceremonies during its first two weeks.
Keep reading...
Show less
Continuing its march toward elimination of key Clean Water Act protections, the U.S. Environmental Protection Agency (EPA) on Tuesday issued a formal notice of withdrawal of the Obama administration's rule defining which waters can be protected against pollution and destruction under federal law.
Keep reading...
Show less
The U.S. Environmental Protection Agency (EPA) is not doing enough to prevent weed resistance to the herbicide glyphosate (Roundup) says a new report from the EPA's Inspector General's Office, which draws in part on a report from the agbiotech company, Pioneer: Weed Management in the Era of Glyphosate Resistance.
Keep reading...
Show less
SUMR
When it comes to the latest wind turbine technologies, size matters. A group of six institutions and universities is designing an offshore wind turbine that will stand 500 meters in height. That's taller than the Eiffel Tower and the Empire State Building.
The research team, led by researchers at the University of Virginia, believes that its wind turbine concept will produce 50 megawatts of peak power, or about 10 times more powerful than conventional wind turbines.
Keep reading...
Show less
www.facebook.com
Natural gas is often considered the cleanest fossil fuel, but could it actually be dirtier than coal?
Watch as New York Times reporter Mark Bittman, in the above Year's of Living Dangerously video, investigates how much methane is leaking at fracking wells. Find out how the natural gas industry's claims compare to what scientists are reporting.
See what happens when Gaby Petron, an atmospheric scientist with NOAA, converts her van into a mobile methane detector and sets out across northeastern Colorado for two years, taking thousands of readings to uncover the truth.
www.youtube.com
Adrian Grenier was named UN Goodwill Ambassador earlier this month. The Hollywood actor, best known for his iconic role of A-list movie star Vincent Chase in the HBO smash hit and film Entourage, will advocate for drastically reducing single-use plastic and protection of marine species, and encourage his followers to make conscious consumer choices to reduce their environmental footprint, according to the UN Environment announcement.
"Together we must usher in a new era of compassion and carefulness through forward thinking environmental programs to drive measurable change," Grenier said. "I am personally committed to creating ways in which the global community can come together to help solve our most critical climate crises through routine, collective action.
"The more we connect to nature in our daily lives, the more dedicated we will become to our individual commitments. Together, I believe we can go further, faster in our race to achieve the UN Sustainable Development Goals by 2030."
Watch the video above to learn more.
The last week has seen a flood of stories on clean energy's prospects—stories that make your head spin with their conflicting tales of renewable energy's prospects of ending our dangerous addiction to fossil fuel power from coal and gas.
Keep reading...
Show less