10 Healing Herbs and Spices for Optimum Health
Spices are widely used for increased health and well-being. Young adults, the elderly and anyone who is looking to find a healthier way of living can benefit from using spices when they cook meals. Just adding a few tasty spices to a meal is all that it takes. For those who are not likely to cook, or even learn, this information can be shared with others in the home who are more likely to cook.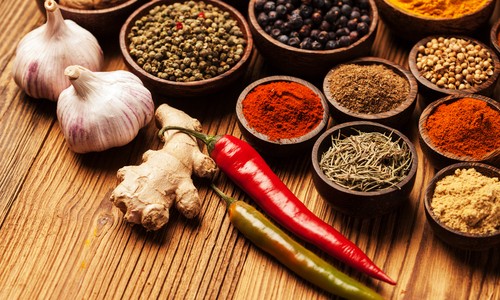 Spices are widely used for increased health and well-being. Photo courtesy of Shutterstock
Environmental harm
For anyone who needs a liver, colon, kidney or lymph detoxification for their body, spices are the way to go. The world around us is filled with toxins, pollution and bacteria that are harmful. Everyone needs help in battling the environmental issues which are constantly harming us, especially those who are more sensitive, have illnesses or are aging. And so many people take man-made medications on a daily basis. Why not attempt to balance the unnatural and the natural to obtain optimum health and well-being?
Examples of herbs and spices and what they can do for the body:
Turmeric - A powerful antioxidant that should be combined with pepper in order to be most effective. Antioxidants help the body regenerate itself after a toxic overload.
Nutmeg - This widely used spice comes from the evergreen tree and is used to make eggnog during the holiday season. It can help increase circulation as well as get rid of unhealthy, toxic cells in the body.
Peppercorn - Anything spicy helps increase the body's metabolism and circulation, including peppercorn. It's also used as a disinfecting agent for minor scrapes and cuts.
Ginger - Ginger is great for pain as well as digestive problems such as nausea. Nutrients from food are more easily absorbed when ginger is added to the recipe.
Red clover - Used for PMS, menopausal problems and cleansing the blood. It has been said to create a feeling of relaxation to promote good sleep.
Garlic - Garlic is widely used to prevent colds, flu and pneumonia during the winter months, as it's an immune-stimulating agent. Garlic can lower cholesterol, blood pressure and blood sugar. It can be used for much more, so do thorough research if you've been diagnosed with a disease or other illness.
Rosemary - This spice helps get the blood flowing and stimulates and cleanses the nervous system, which is comprised of the brain and spinal cord and is the most important system in the body.
Parsley - Parsley assists the body in its natural cleansing process because of its high levels of chlorophyll. Parsley may help with arthritis pain and cardiovascular disease because it contains alpha-linolenic acid, an omega-3 fatty acid.
Thyme - Thyme is a mint that contains calcium, iron and manganese, which work as antiseptic and antibacterial agents. It helps relieve respiratory troubles.
Cloves - If you have a toothache, be sure to add cloves to your food. This spice can also help with digestion and other pain in the body.
Unexpected results
Many people are striving to reach purity in body, mind and soul and are going to great lengths to get it. Men, women, young adults and the elderly, along with those who are focusing more on natural health, can obtain this purity and strength by adding something as simple as a spice to their recipes.
Creative minds have no problem with bending the rules in order to change a recipe—you never know what you might come up with in the end!
A coalition of conservation groups and others announced Thursday that a historic number of comments and petitions of support have been submitted to the U.S. Department of the Interior in support of Bears Ears National Monument. Despite the entirely inadequate 15-day comment period ending on May 26, more than 685,000 comments in support of Bears Ears National Monument have been collected.
Keep reading...
Show less
Rink Glacier in western Greenland, with a meltwater lake visible center. NASA/OIB
Scientists have had their eyes on Greenland as its iconic glaciers have begun disappearing due to a warming climate. But, what they didn't expect to see was a whole new type of melting.
Keep reading...
Show less
Mountain View Fire
By Lena Moffitt
An oil tanker in Mead, Colorado exploded, killing one and injuring three on Thursday. Authorities are continuing to investigate the cause of the explosion.
Keep reading...
Show less
Banner created by Alliance for Climate Education
Keep reading...
Show less
Twenty-two GOP senators sent a letter Thursday urging Donald Trump to pull out of the Paris agreement. They argued remaining in the deal could "upend" the administration's ability "to fulfill its goal of rescinding the Clean Power Plan."
Keep reading...
Show less
By Cheryl Johncox
The Federal Energy Regulatory Commission (FERC) rejected on Thursday Energy Transfer Partners' request to resume horizontal directional drilling at two sites for its Rover fracked gas pipeline. This rejection comes after numerous leaks into Ohio's wetlands, and Clean Air and Clean Water act violations. FERC has halted the process at only eight locations of the 32 where drilling is taking place under Ohio's wetlands and streams.
Keep reading...
Show less
By Nadia Prupis
A majority of people in eight countries say they are ready to change their lifestyles if it would prevent climate catastrophe, a survey on global threats released Wednesday found.
Keep reading...
Show less
May. 25, 2017 01:55PM EST
Bill Maher is sick of billionaires' obsession with Mars, more like "Mars-a-Lago," he said.
In a new animation produced by ATTN:, the popular talk show host of Real Time, discusses the perils of our planet, including how "climate change is killing us."
Keep reading...
Show less