10 Coastal Destinations Most at Risk From Sea Level Rise
Jun. 29, 2015 09:34AM EST
Climate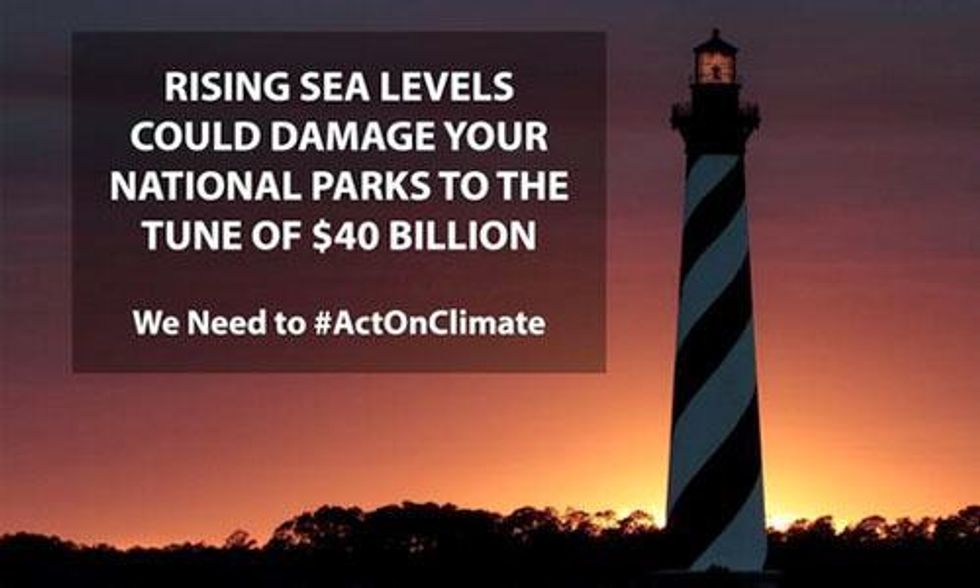 Many of the U.S.'s loveliest national parks—favorites for tourists, families and recreational athletes—lie along its shores. They attract millions of visitors a year and they are under threat from rising sea levels caused by climate change.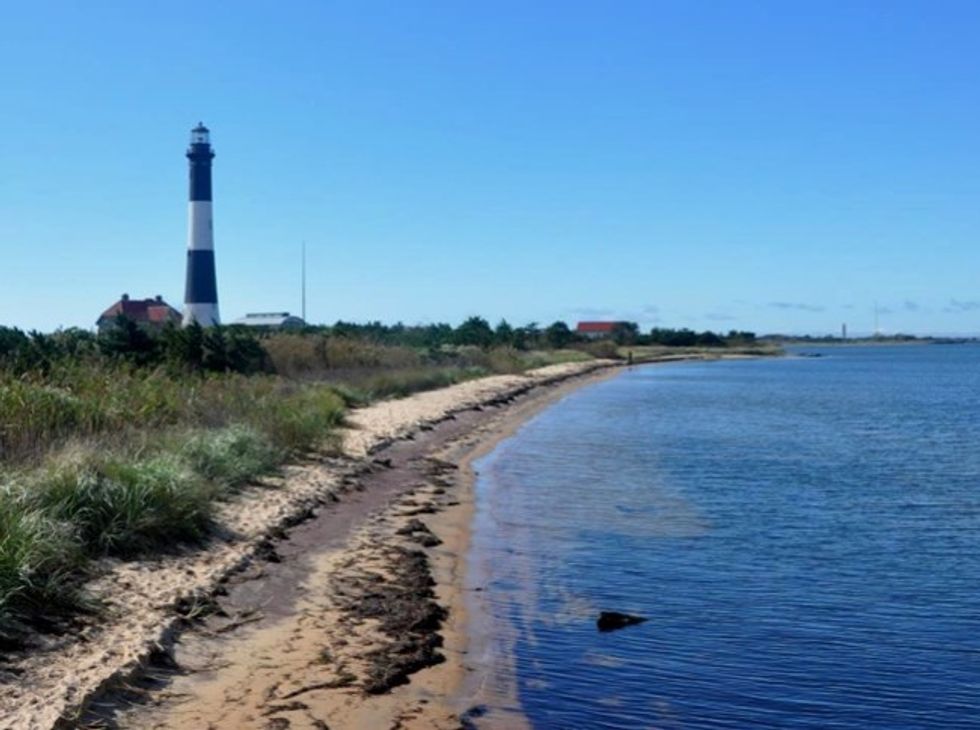 Just ahead of the two-year anniversary of the announcement of President Obama's Climate Action Plan, as well as the heavy summer tourist season, U.S. Secretary of the Interior Sally Jewell released a study, Adapting to Climate Change in Coastal Parks: Estimating the Exposure of Park Assets to 1 m of Sea-Level Rise, compiled by the National Park Service and Western Carolina University's Program for the Study of Developed Shorelines. It looked at 40 parks in the contiguous 48 states considered most threatened and found that more than $40 billion in park infrastructure and historic and cultural assets is at risk of being damaged by rising sea levels. And those comprise only a third of those considered at risk—the study is ongoing and an analysis of an additional 30 parks will be released later this summer.
"National Park Service (NPS) coastal units contain the last remaining large stretches of relatively undeveloped shorelines in the nation," says the study. "These parks contain a wide range of natural resources, cultural resources and recreational facilities. The parks also contain infrastructure providing access to each unit. Over the next century (and beyond), more NPS resources will be exposed to and threatened by rising ocean waters. Numerous coastal units, particularly low-lying barrier parks, are already dealing with sea-level rise (SLR) threats to resources and assets."
New reports finds climate change could cause $40B in damage at national parks http://t.co/TEbFE55FbE #ActOnClimate pic.twitter.com/iKjSJRgkXP

— US Dept of Interior (@Interior) June 23, 2015
Most endangered are the low-lying barrier parks on the country's southeastern Atlantic seacoast. The cost of rebuilding or replacing historic structures such as lighthouses and tourist centers at North Carolina's Cape Hatteras National Seashore in North Carolina alone is estimated at nearly $1.2 billion—without even factoring in loss of lands and tourist income.
Ten NPS national seashores listed most at risk are popular destinations for millions of Americans including some of its most visited and beloved beach areas.
They include:
1. Assateague (Maryland/Virginia)
2. Cape Cod (Massachusetts)
3. Fire Island (New York)
4. Cape Hatteras (North Carolina)
5. Cape Lookout (North Carolina)
6. Canaveral (Florida)
7. Cumberland Island (Georgia)
8. Gulf Islands (Florida/Mississippi)
9. Point Reyes (California)
10. Padre Island (Texas)
Other popular parks under threat include Redwood National Park in California, Florida's Everglades National Park and Maine's Acadia National Park, as well as heavily visited urban parks such as Gateway National Recreation Area and the Statue of Liberty National Monument in New York City and Golden Gate National Recreation Area in San Francisco.
"Many coastal parks already deal with threats from sea-level rise and from storms that damage roads, bridges, docks, water systems and parking lots," said National Park Service Director Jonathan B. Jarvis. "This infrastructure is essential to day-to-day park operations, but the historical and cultural resources such as lighthouses, fortifications and archaeological sites that visitors come to see are also at risk of damage or loss."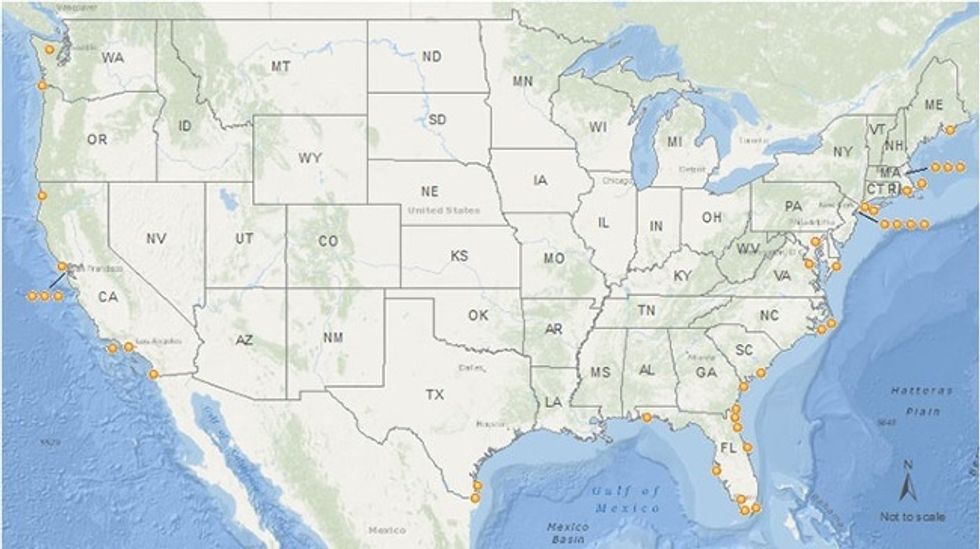 And rising sea levels aren't the only threat to these parks. As Hurricane Sandy showed, the bigger and more destructive storms connected to climate change can wreak havoc on the coastal parks as well. That storm closed the State of Liberty for eight months.
"When we look back at Hurricane Sandy, a quick reassessment of the methodology in this report suggests that we were conservative in labeling an asset as 'high exposure'," said NPS lead scientist on coastal geology Rebecca Beavers. "Although reality may deal even more harsh circumstances as Sandy illustrated, information from this report provides a useful way to help determine priorities for planning within coastal parks."
"Coupled with sea level rise, big storms have that extra volume of water that can damage or destroy roads, bridges and buildings, and we saw what that looks like—again—with Hurricane Sandy in 2012," added Jarvis.
The study concludes with a call to action, saying that it hopes to "bring attention to the serious need for broader guidance related to climate change adaptation."
"Climate change is visible at national parks across the country, but this report underscores the economic importance of cutting carbon pollution and making public lands more resilient to its dangerous impacts," said Jewell. "Through sound science and collaboration, we will use this research to help protect some of America's most iconic places—from the Statue of Liberty to Golden Gate and from the Redwoods to Cape Hatteras—that are at risk from climate change."
YOU MIGHT ALSO LIKE
Which Country Will Be First to Go Completely Underwater Due to Climate Change?
10 Stunning Photos of America's National Parks
HBO's Award-Winning VICE Exposes Climate Deniers and the Dire Consequences of Sea Level Rise
EcoWatch Daily Newsletter