Why Are Flint Residents Being Forced to Pay for Their Toxic Water?
National advocacy group Food & Water Watch today joined local Flint, Michigan residents calling for a moratorium on water service bills until the water flowing from taps is free of lead and other contaminants. The move is an effort to raise awareness about the alarming shutoff notices Flint residents are facing for non-payment, even as people are not able to drink their tap water or cook with it.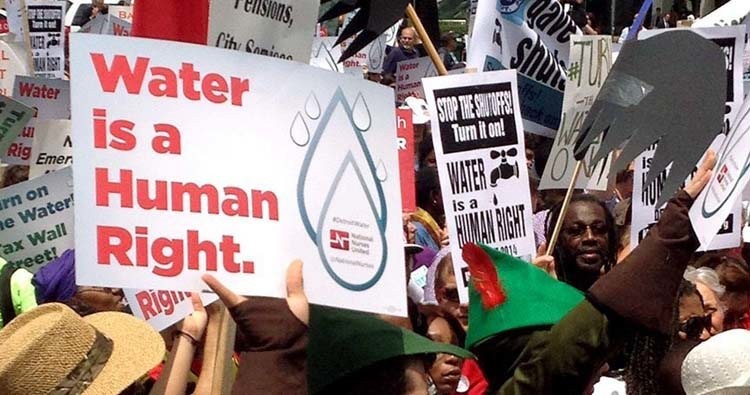 "In 2016, it's shocking that an entire U.S. city cannot drink its tap water. Now they are shutting off residents for overdue bills. But no one should have to pay for poisoned tap water," Wenonah Hauter, executive director of Food & Water Watch, said. "Today we're calling on Mayor Karen Weaver, City Administrator Natasha Henderson and Flint's Chief Financial Officer Jody Lundquist to stop the water shut offs in Flint; restore service where it has been disconnected, which is necessary for basic sanitation and hygiene; and to cease billing Flint residents for water until this tragic situation has been corrected."
"Skin rashes, hair loss and long-term health consequences that result from copper and lead poisoning are just some of the impacts that Flint residents like me and my family have been dealing with for over a year," Melissa Mays, Flint resident and founder of Water You Fighting For?, said. "To be told our water was safe to drink when it wasn't is criminal and to continue to have to pay for it is unconscionable."
In 2014, Flint's emergency manager Darnell Earley disconnected the city from the Detroit Water and Sewerage Department and started providing residents with water from the Flint River in order to cut costs. Almost immediately after the switch, residents noticed changes in the smell, color and taste of the water coming out of their taps. Tests showed high levels of bacteria that forced the city to issue boil advisories. The city then upped the amount of chlorine it used to treat the polluted river water to kill pathogens, resulting in high levels of potentially carcinogenic disinfectant byproducts. The city failed to put in place proper corrosion controls based on direction from the Michigan Department of Environmental Quality, so lead and other heavy metals leached into Flint's drinking water, poisoning residents for over a year.
Despite the fact that it knew about the problems with Flint's water, Governor Rick Snyder's administration and the Department of Environmental Quality told Flint residents that their water was safe to drink.
"Flint is not the first city to fall victim to the shortsighted quick fixes of emergency management, particularly in Michigan," Hauter added. "Conservative-led austerity measures have stripped communities like Flint, Detroit and Highland Park of democracy, taking control of vital resources like water away from the people and placing them in the hands of incompetent emergency dictators who then cut corners, shut off water service and pave the way for corporate control. We must reverse the austerity measures that have brought Flint to this dire place and commit federal funding to upgrade our water infrastructure so no community suffers without access to safe, clean, affordable water."
YOU MIGHT ALSO LIKE
5 Disturbing Things Porter Ranch Methane Leak and Flint Water Crisis Have in Common
California to Investigate Exxon on Climate Cover-Up
Michael Moore: 10 People in Flint Have Now Been Killed by These Premeditated Actions of the Governor of Michigan
Katahdin Woods and Waters. National Parks Conservation Association.
Looks like you'll have to trust your map if you want to find the newly designated Katahdin Woods and Waters National Monument in Maine.
Gov. Paul LePage has refused to put up any official signs along the four main roads to the 87,500-acre preserve, which is on the list of 27 national monuments under Interior Sec. Ryan Zinke's review.
Keep reading...
Show less
Keep reading...
Show less
More than 58 percent of Swiss voters supported a measure to phase out nuclear power in favor of renewable energy.
The plan provides billions in subsidies for renewable energy, bans the construction of new nuclear plants and decommissions Switzerland's five aging reactors. There is no clear date when the plants will close.

Keep reading...
Show less
iStock
By Alex Kirby
An ambitious scientific expedition is due to start work on May 22 on Bolivia's second-highest mountain, Illimani. The researchers plan to drill three ice cores from the Illimani glacier, and to store two of them in Antarctica as the start of the world's first ice archive.
Keep reading...
Show less
CC-BY-SA-2.5 and GNU FDL
Although not on most people's radar here, New York is one step closer to becoming the first state to have genetically modified, non-sterile insects released outside without cages.

Keep reading...
Show less
Photo credit: Michael Fujiwara/YouTube
The viral video of a young girl snatched off a Richmond, British Columbia dock by a sea lion is another reminder that people shouldn't get too close to wild animals.
Port officials in Canada have sharply criticized the family for putting themselves at risk for feeding the large animal, especially since there are several signs in the area warning people not to do so.
Keep reading...
Show less
Bears Ears National Monument. Tim Peterson
An anti-public lands official in Utah said Interior Sec. Ryan Zinke has already made up his mind to repeal Bears Ears National Monument, a move experts say could be against the law.
Keep reading...
Show less
The Crop Trust
Flooding breached a supposedly impregnable Arctic "doomsday" vault containing a collection of seeds stored for an apocalypse scenario last week, after warmer-than-average temperatures caused a layer of permafrost to thaw.
Keep reading...
Show less