Revolutionary Family Shows True Meaning of Self-Reliance
Think you can't grow much food in an urban area? Think again. One family's 4,000 square foot farm in Pasadena, California "not only feeds a family but revolutionizes the idea of what can be done in a very unlikely place—the middle of a city." KCET reporter Val Zavala gives us a glimpse into the Dervaes family's Path to Freedom Urban Homestead. "I brought the country to the city rather than having to go out to the country," said Jules Dervaes, who created the farm with his three adult children, Justin, Anais and Jordanne.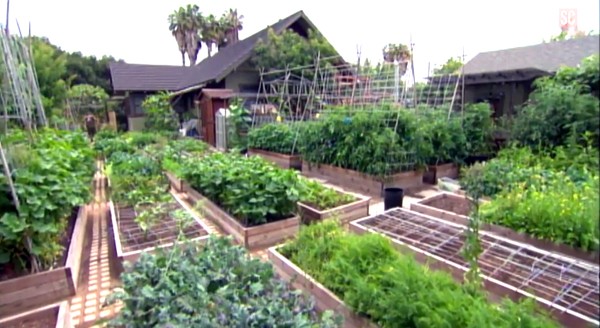 They grow almost all of the food they need. Ninety percent of their all-organic, vegetarian diet comes from their garden. The operation involves 400 varieties of vegetables, fruits and edible flowers, which is 6,000 pounds of food a year. They raise eight chickens, four ducks and two goats, which provide them with eggs and milk. Chefs from high-end restaurants come directly to their house to buy their excess.
When asked if he had any doubts in the beginning, Jules admits he did. "I kept thinking this place was too small. There's no way that we are going to be able to feed ourselves, plus I never thought we'd be able to grow the vegetables for the market," he said. Dervaes decided to embark on this endeavor because he was concerned about what was in his and his children's food. He wanted them to eat organic, GMO-free food, and he knew the best way to ensure that was to grow it himself.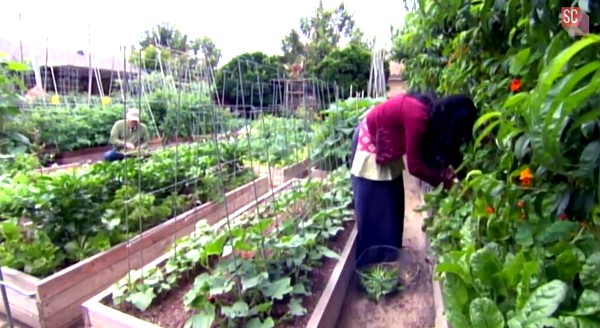 The family has a solar panel on the roof that provides all of their electricity. Not that they use much. Most of their "gizmos," says Anais, "are hand-powered" like their hand-crank smoothie maker. That puts their electricity bill at about $12 per month. Their car runs on biodiesel, which they make from vegetable waste that restaurants drop off at their house for free. These people have all the hook ups.
But it's not all sunshine and flowers (though they have plenty of both). The Dervaes' work very hard, make roughly $20,000 a year and have to deal with weather-related disasters, pests, disease and now climate change. Justin said, "we've been gardening so long that you can sense things are off. We have this little bug, the Junebug, that comes out in June, but now it doesn't come out until July, August and September—so something is off." Water is also a serious issue. With the drought in California, Jules has relied on clay pot irrigation, an ancient form of irrigation, to conserve water.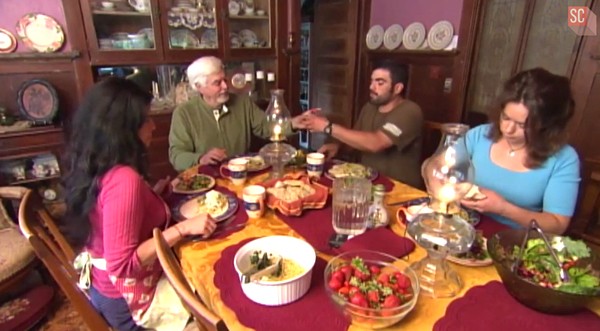 By growing all of their food themselves, except staples such as wheat, rice and oats, they are able to eat fresh and delicious, organic food for $2 a day per person. They have attracted a lot of attention since they began homesteading in the mid 1980s. Many homesteaders have emulated their model. They offer workshops and events on their farm, and they even have a blog. They are proof of the bounty you can grow on one-tenth of an acre.
Watch here as KCET's Zavala reports on this revolutionary family:
YOU MIGHT ALSO LIKE
Grow Food Year Round With Radically Sustainable Passive Solar Greenhouse
10 Most Important Things We Can Do to Change the Food System
Finding Solutions That Nourish Ourselves and Protect the Planet
Katahdin Woods and Waters. National Parks Conservation Association.
Looks like you'll have to trust your map if you want to find the newly designated Katahdin Woods and Waters National Monument in Maine.
Gov. Paul LePage has refused to put up any official signs along the four main roads to the 87,500-acre preserve, which is on the list of 27 national monuments under Interior Sec. Ryan Zinke's review.
Keep reading...
Show less
Keep reading...
Show less
More than 58 percent of Swiss voters supported a measure to phase out nuclear power in favor of renewable energy.
The plan provides billions in subsidies for renewable energy, bans the construction of new nuclear plants and decommissions Switzerland's five aging reactors. There is no clear date when the plants will close.

Keep reading...
Show less
iStock
By Alex Kirby
An ambitious scientific expedition is due to start work on May 22 on Bolivia's second-highest mountain, Illimani. The researchers plan to drill three ice cores from the Illimani glacier, and to store two of them in Antarctica as the start of the world's first ice archive.
Keep reading...
Show less
CC-BY-SA-2.5 and GNU FDL
Although not on most people's radar here, New York is one step closer to becoming the first state to have genetically modified, non-sterile insects released outside without cages.

Keep reading...
Show less
Photo credit: Michael Fujiwara/YouTube
The viral video of a young girl snatched off a Richmond, British Columbia dock by a sea lion is another reminder that people shouldn't get too close to wild animals.
Port officials in Canada have sharply criticized the family for putting themselves at risk for feeding the large animal, especially since there are several signs in the area warning people not to do so.
Keep reading...
Show less
Bears Ears National Monument. Tim Peterson
An anti-public lands official in Utah said Interior Sec. Ryan Zinke has already made up his mind to repeal Bears Ears National Monument, a move experts say could be against the law.
Keep reading...
Show less
The Crop Trust
Flooding breached a supposedly impregnable Arctic "doomsday" vault containing a collection of seeds stored for an apocalypse scenario last week, after warmer-than-average temperatures caused a layer of permafrost to thaw.
Keep reading...
Show less