David Suzuki: We Must Save the Honeybees and Here's How You Can Help

Many environmental campaigns over the past 50 years have aimed at getting people to care for imperiled species in wild, far-off places. The focus in Canada has often been on large, photogenic, culturally important animals, with bonus points for campaigns that include alliteration, bumper sticker-friendly slogans and plush toys. This has been a sensible and often successful strategy.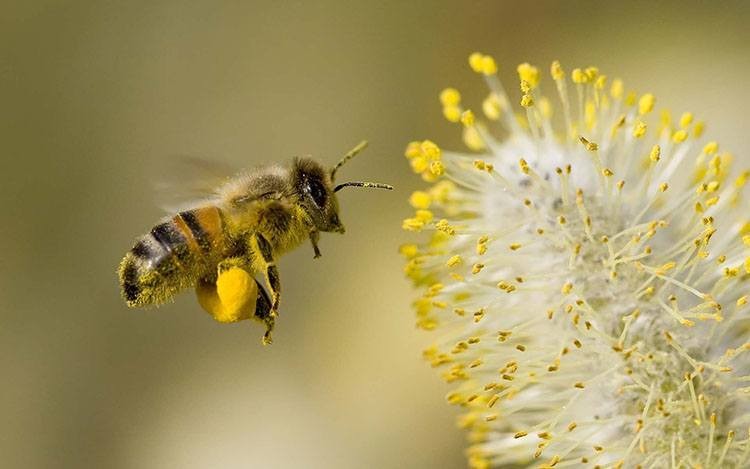 Over the past few years smaller, charismatic critters closer to home have buzzed into the spotlight: bees. About a decade ago, beekeepers in Europe and North America started noticing serious declines in honeybee populations. Bees have lost much of their natural habitat to urbanization and industrial agriculture and face increased stress from climate change-related drought and severe winters. These threats, coupled with the global spread of diseases and pests and a dramatic increase in the use of agricultural pesticides like neonicotinoids, have resulted in unprecedented losses for beekeepers. (Because bees and other insects provide ecological services like pollination, it makes no sense to declare war against all just to eliminate or control the few nuisances).
The honeybee decline has been big news partly because they make delicious honey, but more importantly because they're pollinators. About three-quarters of flowering plants and more than a third of food crops worldwide depend on pollinators—from bees and butterflies to hummingbirds and bats. As a result, governments across the globe are developing strategies to protect them, including Ontario with its recently proposed Pollinator Health Action Plan.
Public attention in Canada has largely focused on domesticated European honeybees, but research indicates the honeybee crisis is part of a wider problem affecting hundreds of lesser-known but crucially important wild bee species.
Of about 800 wild bee species in Canada, more than 90 percent have a "solitary" lifestyle rather than living in large, social colonies. Two-thirds of these are ground-nesters, including bumblebees, mining and digger bees that make nests in soil and under leaves and rocks. The rest are cavity-nesters like mason and carpenter bees that burrow in hollow stems, twigs and logs.
Although honeybees get the headlines and most of the credit for pollinating flowers and crops, studies show that wild bees can be two or three times better at pollination and some, like mason bees, can be up to 80 times more effective.
The good news is that the honeybee crisis has galvanized interest in all pollinators, inspiring thousands of groups and citizens worldwide to establish new spaces for them, from wild bee hotels and rooftop honeybee hives to pollinator gardens in parks and schoolyards.
As our communities grow, pollinator habitat is fragmented into increasingly disconnected patches that disrupt natural pathways, making the potential of connected networks of habitat within cities especially fascinating. Oslo's Bumblebee Highway, Seattle's Pollinator Pathway and Hamilton's Pollinator Paradise are all great local initiatives.
Establishing an urban pollinator corridor is also at the heart of the David Suzuki Foundation's Homegrown National Park Project, which since 2013 has created more than 50 pollinator-friendly patches along the path of a creek now buried beneath Toronto—from small guerrilla plantings to a network of flower-filled canoe planters in schools, cafés, churches, parks and yards.
This spring, the foundation will launch the Great Canadian Butterflyway Project, to inspire bee-friendly urban innovations and neighborhood-scale pollinator corridors across the country. Through videos, tips and other resources, the project will profile projects nationwide that are bringing nature home, one pollinator-friendly planting at a time.
You can become part of the growing movement to protect pollinators. Head to the library (or check out this link) to research the amazing diversity of wild bees and other pollinators in your community. While you're there, learn what flowers and shrubs best support those species and what might work in your yard or on your balcony. Then check out what local groups are up to.
Want to show wild bees some love? Create a sanctuary in your yard or garden by leaving a sunny patch of bare soil for ground-nesters. Add some pithy stems, sticks and wood debris for cavity-nesters. And be sure not to disturb the nests over winter.
Will the buzz generated by media stories and pun-filled campaigns save the bees? Only time will tell. In the meantime, we can all help by making bees welcome in our yards and neighbourhoods.
YOU MIGHT ALSO LIKE
Humpback Whale Entangled in Illegal Gillnet Saved by Sea Shepherd Crew
Horrible! This Guy Drags Shark From Sea Just to Pose for Photos
Farmers Key to Bringing Monarch Butterflies Back From the Brink of Extinction
Katahdin Woods and Waters. National Parks Conservation Association.
Looks like you'll have to trust your map if you want to find the newly designated Katahdin Woods and Waters National Monument in Maine.
Gov. Paul LePage has refused to put up any official signs along the four main roads to the 87,500-acre preserve, which is on the list of 27 national monuments under Interior Sec. Ryan Zinke's review.
Keep reading...
Show less
Keep reading...
Show less
More than 58 percent of Swiss voters supported a measure to phase out nuclear power in favor of renewable energy.
The plan provides billions in subsidies for renewable energy, bans the construction of new nuclear plants and decommissions Switzerland's five aging reactors. There is no clear date when the plants will close.

Keep reading...
Show less
iStock
By Alex Kirby
An ambitious scientific expedition is due to start work on May 22 on Bolivia's second-highest mountain, Illimani. The researchers plan to drill three ice cores from the Illimani glacier, and to store two of them in Antarctica as the start of the world's first ice archive.
Keep reading...
Show less
CC-BY-SA-2.5 and GNU FDL
Although not on most people's radar here, New York is one step closer to becoming the first state to have genetically modified, non-sterile insects released outside without cages.

Keep reading...
Show less
Photo credit: Michael Fujiwara/YouTube
The viral video of a young girl snatched off a Richmond, British Columbia dock by a sea lion is another reminder that people shouldn't get too close to wild animals.
Port officials in Canada have sharply criticized the family for putting themselves at risk for feeding the large animal, especially since there are several signs in the area warning people not to do so.
Keep reading...
Show less
Bears Ears National Monument. Tim Peterson
An anti-public lands official in Utah said Interior Sec. Ryan Zinke has already made up his mind to repeal Bears Ears National Monument, a move experts say could be against the law.
Keep reading...
Show less
The Crop Trust
Flooding breached a supposedly impregnable Arctic "doomsday" vault containing a collection of seeds stored for an apocalypse scenario last week, after warmer-than-average temperatures caused a layer of permafrost to thaw.
Keep reading...
Show less