Climate Change Linked to Spread of Lyme Disease
As if we needed another reason to deplore the impacts of climate change, its warming effects are encouraging the northward spread of Lyme disease, carried by the black-legged tick which rides on deer, rodents and dogs, the Daily Climate reports. While common in the U.S., it was rare in Canada until recently. Because of that, Canadians eventually diagnosed with the disease were delayed in getting appropriate treatment.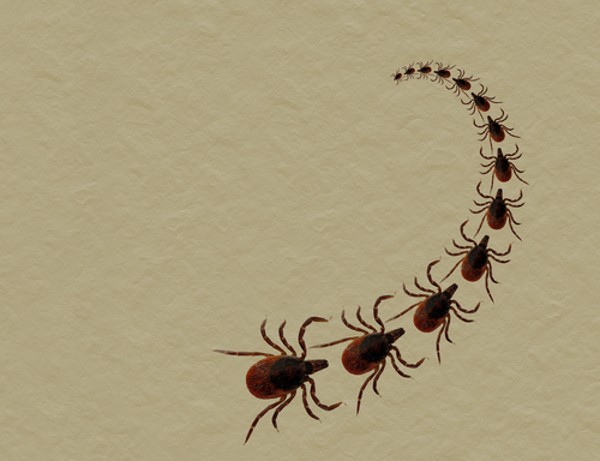 Photo credit: Shutterstock
But with more attention comes more action. This summer legislation to promote Lyme prevention and timely diagnosis and treatment passed the House of Commons by unanimous consent.
"So many members of Parliament have been hearing these stories that are heartbreaking," said Green Party sponsor Elizabeth May.
The number of cases reported in the U.S. has nearly tripled from 1991 to 2013. The range of the disease, initially identified in Connecticut in 1977, is found primarily in a cluster of northern states. The U.S. Environmental Protection Association added it to its list of climate change indicators this year.
And back in 2005, Canadian researcher Nicholas Ogden published a report, "Climate change and the potential for range expansion of the Lyme disease vector Ixodes scapularis [the tick associated with Lyme disease] in Canada." It mapped potential tick habitat growth in the 2020s, 2050s and 2080s under two greenhouse gas emissions scenarios.
"The projected degrees of theoretical range expansion and increased tick survival by the 2020s suggest that actual range expansion of I. scapularis may be detectable within the next two decades," he concluded. "Seasonal tick activity under climate change scenarios was consistent with maintenance of endemic cycles of the Lyme disease agent in newly established tick populations. The geographic range of I. scapularis-borne zoonoses may, therefore, expand significantly northwards as a consequence of climate change this century."
Last year, 500 cases of Lyme disease were reported across Canada, but Canada's Public Health Agency (PHA) predicts 10,000 cases annually by the 2020s thanks to warmer temperatures that increase the size of the favorable habitat for the tick. Warming also speeds up the tick's life cycle meaning that more ticks survive to reproduce.
"The spread of Lyme disease is driven, in part, by climate change, as the tick vector spreads northwards from endemic areas of the United States," said Steven Sternthal, acting director of the PHA's infectious diseases prevention and control branch.
YOU MIGHT ALSO LIKE
How Climate Change Exacerbates the Spread of Disease, Including Ebola
Evidence Shows Warming Climate Will Worsen Malaria Epidemic
The U.S. Environmental Protection Agency (EPA) budget will still be slashed by nearly a third, from $8.2 billion to $5.65 billion, under President Trump's fiscal 2018 budget proposal released Tuesday.
The EPA, which has long been targeted by the Trump administration, is the hardest hit federal agency under the new plan. Opponents say it "endangers Americans" and cripples an institution charged with protecting their health and safety.
Keep reading...
Show less
Frustrated by non-experts taking to the internet to dispute the science behind human-made climate change, North Carolina meteorologist Greg Fishel issued a challenge to climate deniers, urging them to "put up or shut up" and "submit your work the way real scientists do, and see where it takes you."
Keep reading...
Show less
The Dakota Access Pipeline under construction. Photo credit: Flickr
The Dakota Access Pipeline (DAPL) system leaked more than 100 gallons of oil in two separate incidents in North Dakota in March.
This is the $3.8 billion project's third known leak. The controversial pipeline, which is not yet finished and not yet operational, also spilled 84 gallons of oil in South Dakota on April 4.
Keep reading...
Show less
The Center for Biological Diversity sued the Trump administration Tuesday to uncover public records showing that federal employees have been censored from using words or phrases related to climate change in formal agency communications.
Keep reading...
Show less
Keep reading...
Show less
On the eve of World Turtle Day, the world's largest travel website—TripAdvisor—removed the sale of tickets to the Cayman Turtle Centre, where more than 5,000 endangered sea turtles live in horrific conditions.
Keep reading...
Show less
Robin Loznak
After numerous legal efforts trying to get a federal district court in Oregon to throw out a climate lawsuit brought by 21 young people, a defeated National Association of Manufacturers (NAM) filed a motion Monday requesting the court's permission to withdraw from the litigation.
Keep reading...
Show less
Greenland ice sheet melt in action. Sara Penrhyn-Jones
The Department of Interior edited a news release on a study coauthored by government scientists to remove a mention of climate change, the Washington Post reported.
Keep reading...
Show less


Get EcoWatch in your inbox