World's Largest Wildlife Corridor to Be Built in California
Sep. 27, 2015 12:16PM EST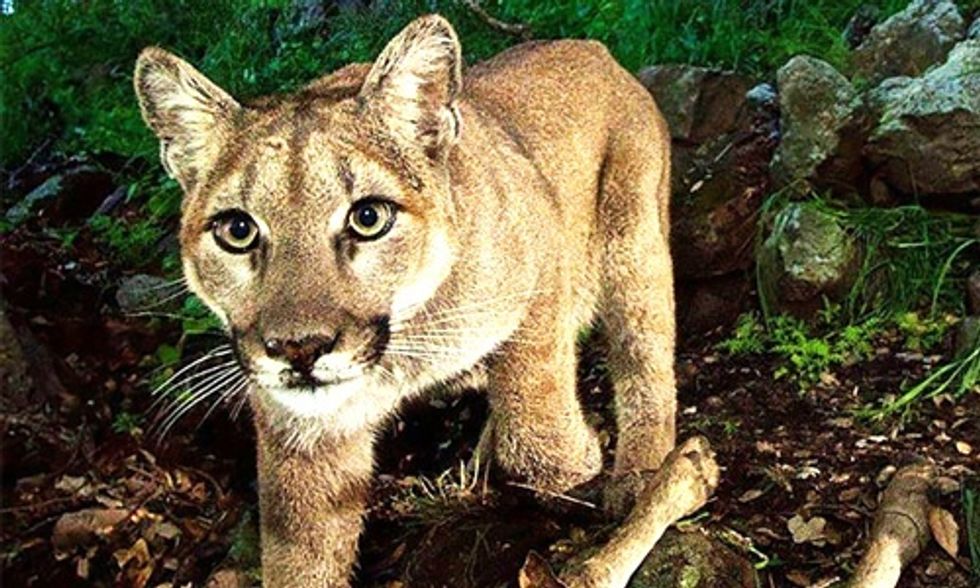 Earlier this month an obscure Los Angeles area regional public lands agency—the Mountains Recreation and Conservation Authority—announced the first stages of a five-year plan to build one of the largest wildlife corridors in the world. The goal is to create a natural looking bridge that will allow a small cougar population in the Santa Monica Mountain National Recreation Area the chance to escape north into much larger public lands, while at the same time allowing northern mountain lions the chance to move south and help out the badly inbred and lethally infighting Santa Monica cougars.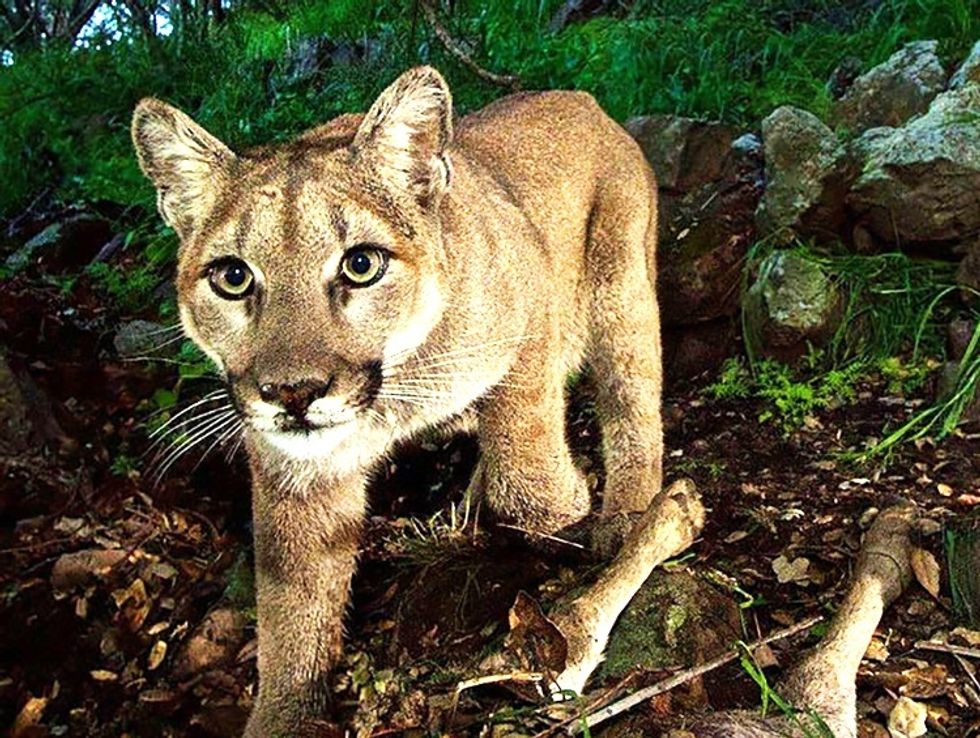 Although a young female from the Santa Monica Mountains, P33, did successfully cross Highway 101 in March this year, her escape north is a rare event. Photo credit: Santa Monica Mountains National Recreation Area
The proposed bridge will leap over Highway 101, an eight-lane, east-west freeway in LA's northern suburbs that sees 175,000 car trips a day. The bridge will be built at Liberty Canyon in the suburb of Agoura and when completed will be 200 feet-long and 165 feet-wide. It will be landscaped to blend in with the brushy hills and sound walls along the edge of the bridge will "mitigate traffic noise and block light in order to make the crossing more conducive to wildlife," says the project study report. The bridge will extend beyond the 101, reaching over an access road south of the highway, necessitating the construction of a tunnel. Estimated cost of the entire project: about $57 million.
Despite the report's dull bureaucratic language—mountain lion sex is blandly described as "the exchange of genetic material"—at its heart the proposed Liberty Canyon wildlife corridor represents an astonishing effort to reverse decades of suburban sprawl and fragmentation of the region's surviving open spaces.
The campaign's iconic poster boy is the famous "Hollywood lion," also known by its wildlife ID number, "P22." In 2012, P22 crossed two major freeways and migrated roughly 40 miles from the Santa Monica Mountains along the coast to Los Angeles's 4300-acre Griffith Park on the city's eastside. There he took up residence, feeding on the park's mule deer and soon became a national celebrity of sorts.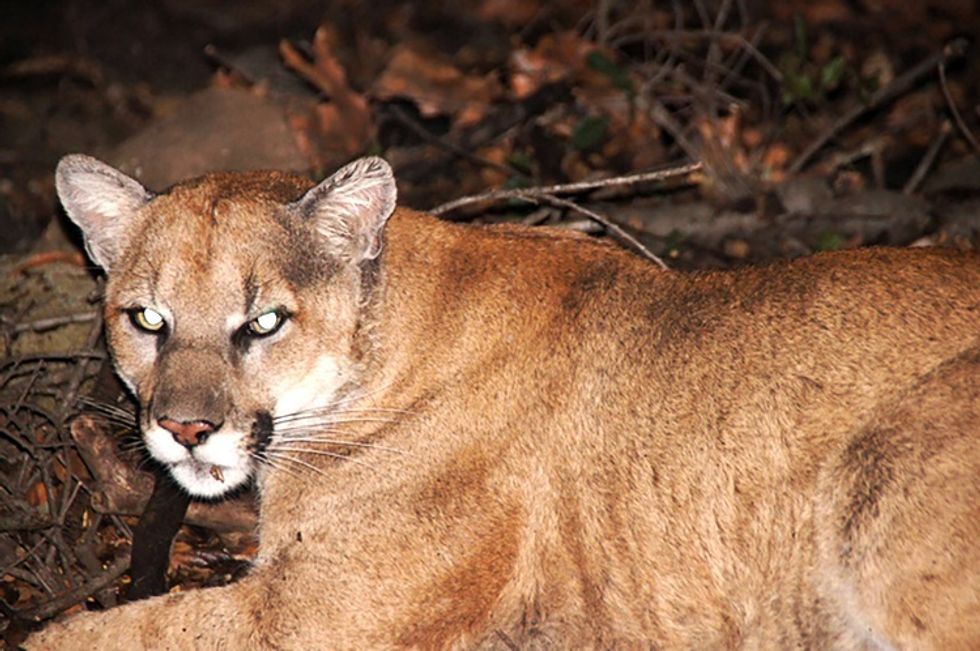 P22, the only young male from the Santa Mountain Mountains to escape death, is not considered an example of successful dispersal because he will never breed. Photo credit: Crystal / Flickr
Beth Pratt was one of P22's earliest and most ardent fans. Pratt, the California executive director of the National Wildlife Federation, was fascinated by the lion's story and contacted wildlife biologists studying the Santa Monica Mountains cougars. One of those biologists was Dr. Seth Riley, who from 2002 to 2012 led a National Park Service team that trapped some 42 cougars: 26 from the Santa Monica Mountains, five from the Santa Susana Mountains north of 101 and the rest from throughout the region. All of the cougars were fitted with GPS transmitting collars. The cougars trapped north of 101 mostly survived. But the 12 young males from the Santa Monica Mountains did not make it. They tried to disperse, going right up to the edges of the region's freeways. Four who tried to cross died in the effort. Five who turned back were attacked and killed by older male lions. One was shot by police; one died from unknown causes.
The only young male from the Santa Mountain Mountains to escape death was P22—and he is not considered an example of successful dispersal because he will never breed. "The [Santa Monica Mountains] are a population sink," the park service's Riley concludes. "The Santa Monica Mountain cougar population is not going to survive in the long run. For mountain lions, there is only room for ten-ish adults. That's not enough genetically or even demographically. One male hit by a car and one killed by rodenticide and poof, you're done."
Beth Pratt became taken with P22 as an icon for all the trapped lions. "I'm a shameless marketer," she admits. "I saw how P22 could be the absolute poster child. People just love him. Once people get focused on his specific story—the lonely bachelor—you can talk about mountain lions in general."
For Save LA Cougars' campaign image, Pratt chose a photo of P22 taken by Steve Winter that appeared in the December 2013 issue of National Geographic. Winter used trail cams equipped with infrared and motion detectors to photograph P22 at night as he hunted in the Hollywood Hills. Pratt picked a photo of P22 facing the camera and appearing relaxed, not at all like a powerful predator. This facial portrait became the model for a tattoo on her left shoulder.
The full body shot of P22 was then adapted for the campaign as a cardboard cut-out. Comedian Rainn Wilson of Soul Pancake fame introduces a YouTube video by saying, "My good friend and homeboy P22 is stuck in Griffith Park!" A montage of clips shows P22 in a convertible, standing on a swimming pool float, riding a kayak down the LA River and taking the merry-go-round in Griffith Park. He's even become a cartoon character. "You have to anthropomorphize ," Pratt argues. "It's not a bad thing. You want people to relate, to have day-to-day relationships with animals. Otherwise, we won't save them." At the same time, she worries about her portrayal. "The cat is thinking, 'What is Pratt up to now?' He'll eat me someday."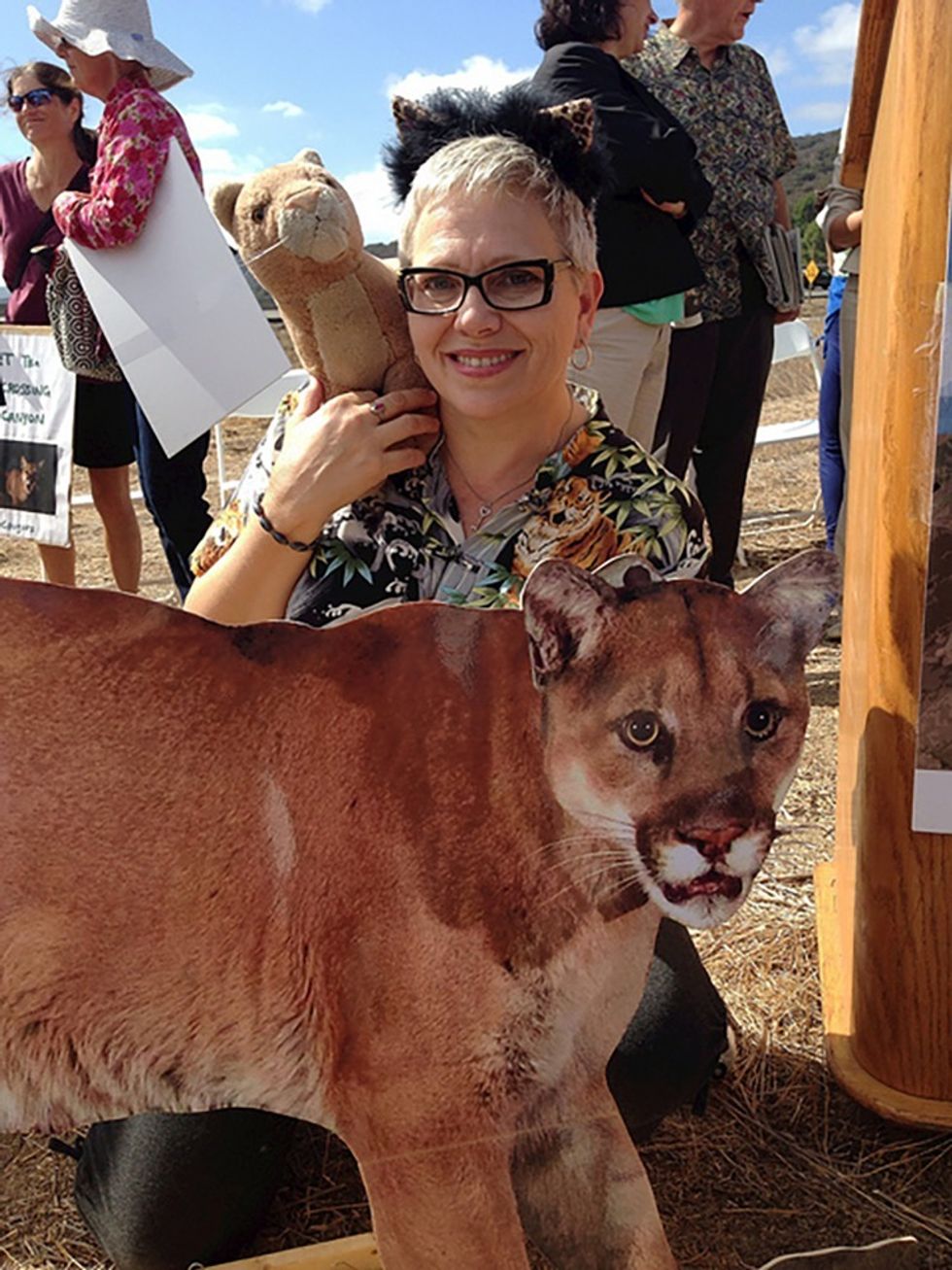 A full body shot of P22 has been adapted for the Liberty Canyon wildlife corridor campaign
as a cardboard cut-out. Photo credit: Elizabeth Rose-Marini
Save LA Cougars has already raised $1 million and needs to raise and additional $3 million by April 2018 to pay for a detailed project design and environmental reviews of the proposed bridge for wildlife. Once these documents are completed, the project is considered to be "shovel ready" and eligible for federal funding. A major lobbying effort by the region's political leaders to help fund the project is anticipated.
P22's celebrity stature makes the proposed Liberty Canyon Wildlife Crossing a perfect LA story. But this isn't just about the glamour of charismatic megafauna. Wildlife advocates say the campaign to fund and build the wildlife corridor is essential to bring attention to a second and less famous, trapped cougar population in the Santa Ana Mountains in Orange and San Diego counties, to the south.
Chris Basilevac , director of the Nature Conservancy's land protection program in Southern California, explains: "That [proposed] crossing has lands already protected on both sides of the 101 freeway. If they can pave the way there with Caltrans [the California highway agency] and other sources, that helps our chances a lot to make it happen down here." Basilevac has worked for 11 years buying land along a major north-south corridor, Interstate 15, in the hope of creating a regional network of crossings for mountain lions and other animals.
"It's an emotional roller coaster," Basilevac says of his efforts to purchase lands. In Orange and San Diego counties, he says, "only a small percentage of the sellers are conservation-minded." Basilevac deals mainly with investors who bought parcels (about 15 to 100-acres in size) as investment properties and are looking for profits. If they bought at the height of the last real estate boom, their property is often appraised at less now. According to its bylaws, the Nature Conservancy cannot pay more than appraised value. "It's really a matter of trying to make them an attractive offer. Sometimes we ask them to sell at less than appraised value and try to find a way to make it up, say by making a charitable contribution as a tax write-off."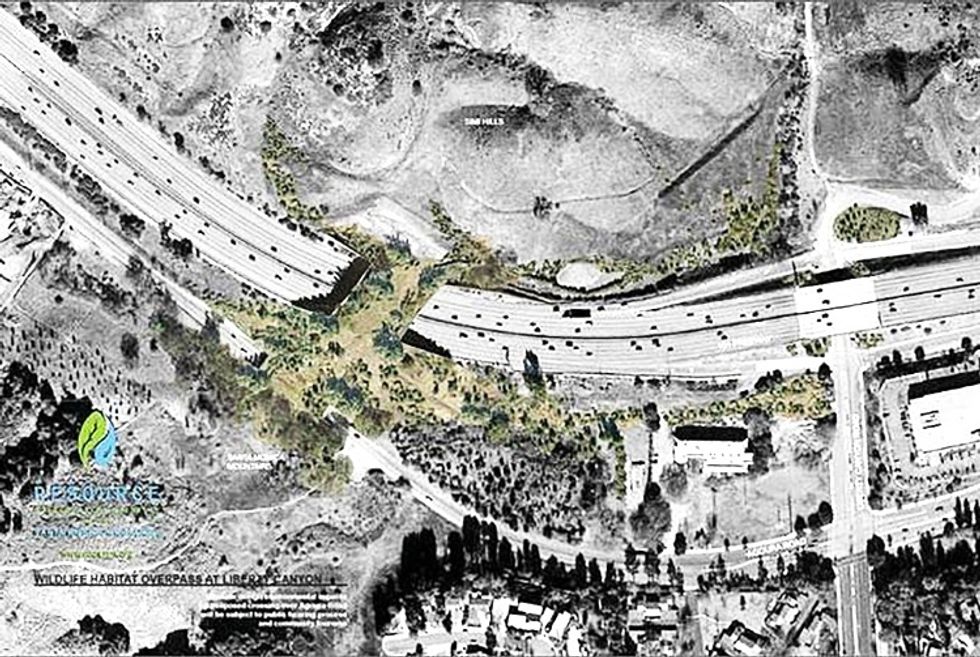 A concept design of the proposed wildlife overpass above the 101 Freeway near Liberty Canyon Road in Agoura Hills, Los Angeles. Photo credit: Santa Monica Mountains National Recreation Area
Exactly which lands Basilevac and the Nature Conservancy target for buying is informed by the research of wildlife veterinarian Winston Vickers. Vickers works as a UC-Davis based researcher under contract for the Nature Conservancy and several Orange, San Diego and Riverside county transportation and public lands agencies. Vickers and his associates track mountain lions in the Santa Ana Mountains (which run north-south) and the eastern Peninsular Ranges (which run east-west) and intersect the Santa Ana's near Temecula, in south Orange County. From early 2001 through Dec. 2013 Vickers's team captured and radio collared 43 lions in the eastern Peninsular Ranges east of I-15 and 31 in the Santa Ana Mountains west of I-15.
Not a single cougar of the 43 collared in the eastern Peninsular Range successfully crossed I-15 to the west into the Santa Ana Mountains during the entire 13-year study. Among the 31 lions tracked in the Santa Ana Mountains, only one, M86, was found to have genes that originated among the eastern cougars. Although three of his descendants are still alive, that's not enough to overcome the Santa Ana cougars' genetic bottleneck and isolation. Thus the small population of lions in the Santa Ana's—no more than 17 to 27 animals at any given time—suffers from the same crisis as do the Santa Monica Mountain cougars. The annual survival rate for that population is even less—56.5 percent. Unless the I-15 can be fitted with underpasses or bridges of some kind, then the Santa Ana Mountains population is "at risk for demographic collapse," says Vickers.
While Basilevac negotiates with landowners along I-15 to buy land for wildlife corridors, Vickers and his team try to keep the Santa Ana mountain population alive by reducing the high number of animals killed each year crossing the 241 toll way along a stretch of public lands in Orange County. They are building a 11-13-foot-high, 7-mile-long fence to keep cougars and their prey, mule deer, from crossing the toll way and instead channel them into a few underpasses.
When I met Vickers and his assistant, Jamie Bourdon in August, they were fitting Bushnell Trail cameras to the telephone poles at what are called "jump-out" ramps—places where animals who somehow get onto the toll way can jump back into the hills. Jamie wore a White Panther Party t-shirt complete with a pouncing panther logo, a design from the late 1960s. At the time, the White Panther Party was founded as a far-left, culturally revolutionary companion to the Black Panther Party. In 2015, Bourdon's t-shirt serves the same function as Pratt's tattoo—a statement of totemic kinship.
While Bourdon stood on a ladder and began to focus the infrared and motion-detector triggered cameras, Vickers bent over at the waist, dangled his arms and shuffled up and down the earthen ramps, performing what was in essence a ritual "deer dance." No doubt both men saw the dance in the service of science, necessary to aim the trail cams and accurately record which animals used a ramp to escape. But no one from a hunting-gathering society would be confused: Vickers's deer dance honored the mule deer and their cougar predator.
The intense scientific monitoring and the sophisticated engineering behind the fences, underpasses and bridges is but the physical embodiment of an important cultural change. In Southern California, wild dreams are being acted out in the effort to boost the cougar's chances of survival. The conservation efforts symbolize that if we let the mountain lions die on the freeways and in their confined territories, then we will also lose part of ourselves.
YOU MIGHT ALSO LIKE
#BearSelfies Force Colorado Park to Close
Beloved Elephant Yongki Killed by Ivory Poachers, Sparks Outrage
More People Have Died This Year from Selfies Than Sharks
Marine Species on 'Brink of Collapse,' Says WWF Report
EcoWatch Daily Newsletter
Related Articles from EcoWatch