Why Cuba-U.S. Collaboration Is More Important Than Ever
For more than half a century, the Straits of Florida, the thin band of blue water that courses northeastward between the U.S. and Cuba, have been invoked in political discourse to underscore the seemly insurmountable divide between our countries. But dunk your head underwater and you'll see that, in fact, these warm, rich waters inextricably unite us.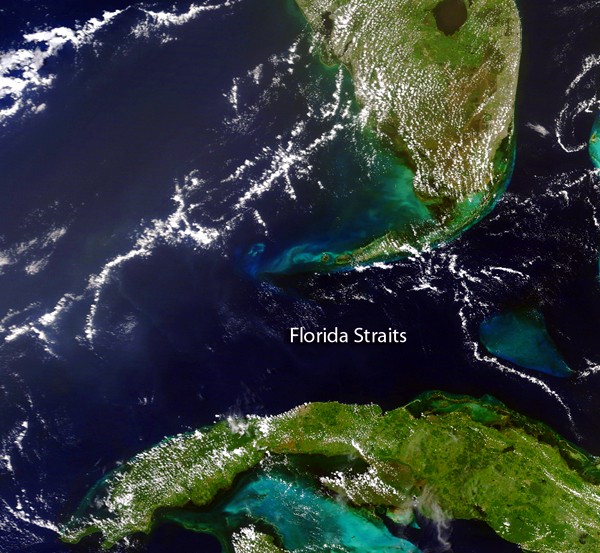 Many of the beloved sea turtles that nest on U.S. beaches forage in Cuban waters and vice versa. Sharks, whales and other migratory species regularly cross our respective borders. And Cuban fish grow up to become American fish. Studies show that larvae from grouper and snapper in Cuba hitch a ride in the swiftly moving currents into Florida's waters where they become adults.
The simple fact is that the U.S. and Cuba share a rich marine ecosystem that both nations depend upon. If we are to understand and protect this shared ecosystem, we must work together. Sometimes neighbors don't get along, but when something goes wrong in the neighborhood, they must rise above their differences and find a way to work together.
Unfortunately, something has gone very wrong in our neighborhood. A major report released in 2014 from the International Union for the Conservation of Nature (IUCN) reveals an average decline of coral cover in the Caribbean of more than 50 percent since 1970. Corals are dying from a deadly combination of factors. Nutrient pollution, carrying fertilizers from farms and back yards, is fueling the growth of coral-smothering algae. Overfishing is removing parrotfish and other fish that graze on algae, keeping it in check. Thanks to a warming climate, corals are being pushed to the brink of their thermal limits.
The reefs I delighted in as a teenager in the Florida Keys are unrecognizable today. The Caribbean's most iconic coral species, elkhorn coral, is now estimated to be 95 percent extinct from Caribbean waters. The IUCN report, the most comprehensive to date, offers the somber prognosis that without swift and meaningful action, "Caribbean coral reefs and their associated resources will virtually disappear within just a few decades…"
Many in the conservation community abandoned hope for the Caribbean. I had nearly lost hope myself. But several years ago, I started seeing something strange in Cuban waters: Cuban coral reefs were healthy -- strikingly so. In Cuba's Gardens of the Queen National Park, an archipelago 50 miles off Cuba's southern coast, I beheld magnificent stands of healthy elkhorn coral, teeming with colorful grunts, snappers and angelfish, a stand that I later learned was part of a barrier reef system that extends for more than 30 miles. I came face-to-face with Goliath groupers, a critically-endangered species, more than triple my weight. I found myself surrounded by dozens of healthy Caribbean reef sharks, silky sharks, tarpon and myriads of other vibrant fish and corals. And just as Cuba is often described as frozen in time, I felt I was immersed in a living time machine evidencing none of the decay and disease the rest of the Caribbean had suffered over the past half century.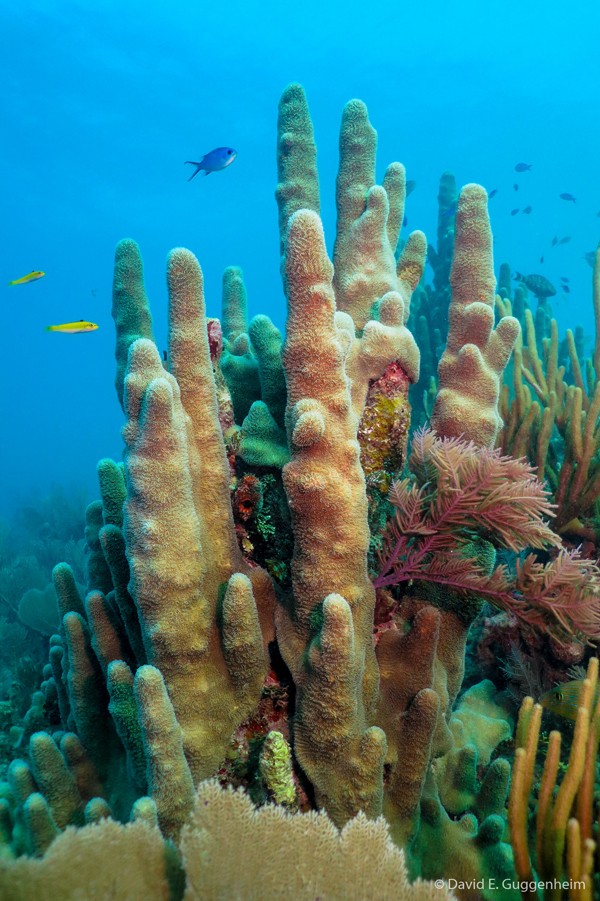 Cuba's reefs are likely so healthy in part because the island has developed so differently from the rest of the Caribbean. But it's also because Cuba has taken meaningful actions to protect its reefs. Cuba's Gardens of the Queen is the country's first marine protected area (MPA) established in 1996. At nearly 1,000 square kilometers, it is the largest fully-protected MPA in the Caribbean. Cuba has made a national commitment to protecting 25 percent of its marine waters, a world-leading figure compared to the worldwide average of 1 percent.
Thanks to Cuba, many of us are now filled with hope for the Caribbean. If we can study this living laboratory to fully understand what is keeping the coral reef ecosystems so healthy and resilient, we can gain insights that can guide coral reef restoration efforts throughout the Caribbean. Working with our Cuban colleagues, we are preparing an international scientific workshop with this very purpose, to learn from one of the last living coral reef laboratories, to understand what a healthy coral reef ecosystem is supposed to look like and how we can best protect it.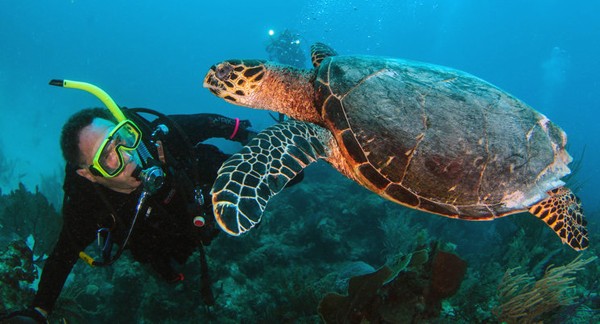 As an American, working in Cuba has been exceedingly difficult. Restoring diplomatic relations represents an important step forward and may finally allow government-to-government collaboration in marine science and conservation, something we have been trying to encourage for years. Removing Cuba from the "State Sponsors of Terrorism" list (and ultimately, lifting the trade embargo) will make it possible for us to export equipment critical for our work, currently prohibited or restricted by regulations.
Long before the 1959 revolution and the subsequent severing of diplomatic relations, the U.S. and Cuba shared a fruitful history of scientific collaboration stretching from the mid-19th century. Today, more than ever, our futures, and perhaps that of the Caribbean, depend upon such collaboration, to study, manage and protect our common resources, to learn from one another, and to teach the next generation about the wonders of its natural heritage. We have a beautiful neighborhood to care for. And neither of us can do it alone.
YOU MIGHT ALSO LIKE
What Becomes of Cuba After the Embargo Is Lifted?
500 Years After Columbus, Cuba's Gardens of the Queen Still Pristine
By Itai Vardi
A recent intensification in protests against Williams Partners' planned Atlantic Sunrise pipeline in Pennsylvania prompted a state senator to propose legislation aimed at limiting demonstrations.
Last month, Pennsylvania Sen. Scott Martin (R-Norman) announced his intention to introduce legislation that would pass the costs of law enforcement responding to protests onto the demonstrators. Martin also helped introduce a different bill that would criminalize protests at natural gas facilities.
Keep reading...
Show less
Black Shogun / iStock
The Federal Energy Regulatory Commission (FERC) released its Final Environmental Impact Statement Friday for the Mountain Valley Pipeline, a controversial 303-mile pipeline that would carry two billion cubic feet of fracked gas per day from West Virginia through Virginia.
Keep reading...
Show less
Falcon PEV
The so-called "first and last mile" problem is one of the biggest hurdles with public transportation. How do you encourage more people to take Earth-friendlier commutes when their homes are miles away from the train or bus station?
One solution, as this Estonian electric scooter company proposes, is to simply take your commute with you—literally. Tallinn-based Stigo has developed a compact e-scooter that folds to the size of a rolling suitcase in about two seconds.
Keep reading...
Show less
Connect4Climate
[Editor's note: I'm still in shock after hearing the news that Lucia Grenna passed away in her sleep last week. When we first met in April of 2014 at a Copenhagen hotel, I was immediately taken by here powerful presence. We spent the next couple days participating in a Sustainia climate change event where Lucia presented her audacious plans to connect people to the climate issue. I had the chance to partner with Lucia on several other projects throughout the years and work with her incredible Connect4Climate team. I was always in awe of her ability to "make the impossible possible." Her spirit will live on forever. — Stefanie Spear]
It is with a heavy heart that Connect4Climate announces the passing of its founder and leading light, Lucia Grenna. Lucia passed peacefully in her sleep on June 15, well before her time. We remember her for her leadership and extraordinary ability to motivate people to take on some of the greatest challenges of our time, not least climate change.
Keep reading...
Show less
Jun. 23, 2017 07:29PM EST
Wikimedia Commons
By Stacy Malkan
Neil deGrasse Tyson has inspired millions of people to care about science and imagine themselves as participants in the scientific process. What a hopeful sign it is to see young girls wearing t-shirts emblazoned with the words, "Forget princess, I want to be an astrophysicist."
Keep reading...
Show less
Jun. 23, 2017 01:57PM EST
www.youtube.com
By Andy Rowell
Any day now we will truly witness climate change in action. Within days at worst, maybe weeks at best, scientists predict that a huge section of the Larsen C ice shelf in Antarctica will break off into the ocean, in what is called a major "carving" event.
Keep reading...
Show less
Jun. 23, 2017 02:27PM EST
www.youtube.com
President Trump visited Cedar Rapids, Iowa on June 21 to speak to a large crowd in the U.S. Cellular Center at a political rally organized by his campaign.
As Trevor Noah noted during The Daily Show episode last night (starts at 2:25), the real reason Trump has these rallies is to "get back in front of his loyal crowds and feed of their energy." Noah believes that "Trump supporters are so on board with their dude he can say anything and they'll come along for the ride."
Keep reading...
Show less
Jun. 23, 2017 07:50PM EST
The Kamuthi solar plant in the southern Indian state of Tamil Nadu.
The rapid growth in renewable energy continues to put a dent in the demand for coal.
Coal India, the world's biggest coal mining company and producer of 82 percent of the country's coal, announced the closure of 37 mines that are financially "unviable."
Keep reading...
Show less
Jun. 23, 2017 06:42PM EST
www.youtube.com
By Katie O'Reilly
Two years ago—long before coal became one of the most dominant and controversial symbols of the 2016 presidential election—Bloomberg Philanthropies approached production company RadicalMedia with the idea of creating a documentary exploring the U.S. coal mining industry. Last spring, they brought on Emmy-nominated director Michael Bonfiglio, tasked with forging a compelling story out of the multitudes of facts, statistics and narratives underlying the declining industry.
Keep reading...
Show less


Get EcoWatch in your inbox