This website uses cookies to ensure you get the best experience while browsing it. By clicking 'Got It' you're accepting these terms.
WARNING ... This Video Will Break Your Heart: 150 Wild Buffalo Captured at Yellowstone
Mar. 17, 2016 07:56AM EST
By Stephany Seay
Last week's report and photos about what we, and the buffalo, experienced during the two-day media tour of Yellowstone's bison trap could barely scratch the surface of the horrible things we witnessed. This video footage will bring you much closer.
On March 8 and March 9, Yellowstone National Park organized a media tour of their Stephens Creek bison trap, where 150 wild buffalo were being held captive for slaughter and potentially quarantine. All of what you see taking place here is paid for with your federal tax dollars. Some of the footage was shot by Buffalo Field Campaign's Mike Mease and some was captured by the park service's GoPro cameras.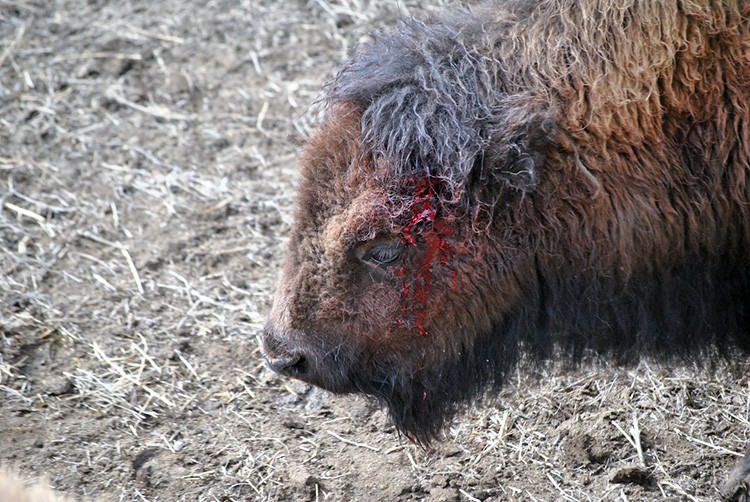 One hundred fifty of America's last wild buffalo were run through the gauntlet of Yellowstone's Stephens Creek capture facility; 93 buffalo were shipped to slaughter by the InterTribal Buffalo Council and the Confederated Salish & Kootenai Tribes, both of which are signatories to the Interagency Bison Management Plan. Another 57 buffalo—all orphaned calves and yearlings—are still being held in the trap.
Every person working at the trap is employed by Yellowstone National Park. The Montana Department of Livestock has Yellowstone trained so well, that the department isn't even present except when escorting buffalo to the slaughterhouses. These acts by Yellowstone National Park are horrific and criminal. There should not even be such a facility inside the world's first national park, much less anywhere else. There is no justification for the park service to commit these atrocities.
Yellowstone justifies its actions under the banner of the Interagency Bison Management Plan, which it could pull out of anytime. They may face a lawsuit by livestock interests if they did so, but, so what? So much new information has come to light, so much change has come to the landscape and such a groundswell of public support has emerged for wild, migratory buffalo, that a lawsuit might be hugely beneficial. The callous behavior of Yellowstone park rangers and biologists who are harming the buffalo reveals the gross disconnect that these people have from the sacred beings whom they are charged with protecting, and how wantonly they are willing to betray, not only their mission, but the sacred buffalo that the whole world expects them to protect.
WARNING: This video will break your heart. After watching it, you'll want to do something. Here are a few suggestions: Share this video with everyone you know, send it to your local and regional media, and share it with the White House and your members of Congress. Tell them to visit Buffalo Field Campaign to learn more.
Many thanks to the Animal Legal Defense Fund and the rest of our stellar legal team who made this media tour possible by representing journalist Christopher Ketcham and me in a lawsuit to gain full access to the trap. Showing the world even this brief glimpse of what Yellowstone is doing to the beloved buffalo—in service of Montana cattle ranchers—will bring us that much closer to putting an end to this madness, and bringing this trap down.
YOU MIGHT ALSO LIKE
Rescued Chimp Who Lived Alone for 18 Years Won't Stop Holding Hands With New Friend
Want to Swim With Dolphins? Read This First
Love Wildlife? Check Out These 11 Stunning Photos From Yellowstone National Park
KarinaKnyspel / iStock / Getty Images
2018 saw a number of studies pointing to the outsized climate impact of meat consumption. Beef has long been singled out as particularly unsustainable: Cows both release the greenhouse gas methane into the atmosphere because of their digestive processes and require a lot of land area to raise. But for those unwilling to give up the taste and texture of a steak or burger, could lab-grown meat be a climate-friendly alternative? In a first-of-its-kind study, researchers from the Oxford Martin School set out to answer that question.
Three scissor-tailed flycatcher fledglings in a mesquite tree in Texas. Texas Eagle / CC BY-NC 2.0
By Gary Paul Nabhan
President Trump has declared a national emergency to fund a wall along our nation's southern border. The border wall issue has bitterly divided people across the U.S., becoming a vivid symbol of political deadlock.
PeopleImages / E+ / Getty Images
By Daniel Ross
Hurricane Florence, which battered the U.S. East Coast last September, left a trail of ruin and destruction estimated to cost between $17 billion and $22 billion. Some of the damage was all too visible—smashed homes and livelihoods. But other damage was less so, like the long-term environmental impacts in North Carolina from hog waste that spilled out over large open-air lagoons saturated in the rains.
Hog waste can contain potentially dangerous pathogens, pharmaceuticals and chemicals. According to the state's Department of Environmental Quality, as of early October nearly 100 such lagoons were damaged, breached or were very close to being so, the effluent from which can seep into waterways and drinking water supplies.
This picture taken on May 21, 2018 shows discarded climbing equipment and rubbish scattered around Camp 4 of Mount Everest. Decades of commercial mountaineering have turned Mount Everest into the world's highest rubbish dump as an increasing number of big-spending climbers pay little attention to the ugly footprint they leave behind. DOMA SHERPA / AFP / Getty Images
China has closed its Everest base camp to tourists because of a buildup of trash on the world's tallest mountain.