Viral Video: Fisherman Saves Turtle Entangled in Plastic Bag
A video of a Pakistan fisherman is going viral after saving a sea turtle entangled in a plastic bag in the Arabian Sea.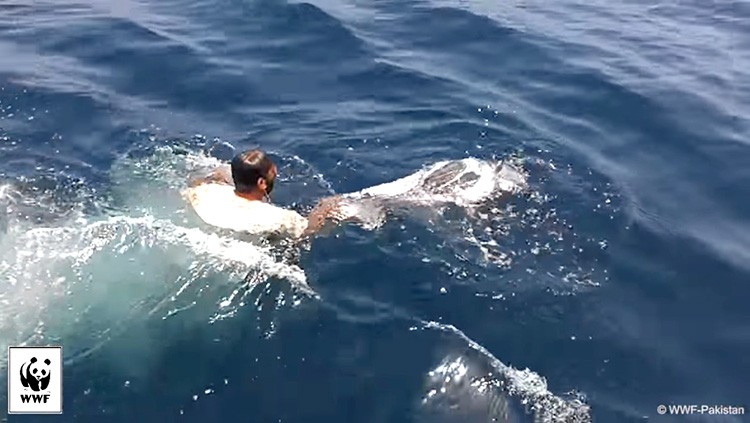 Rahim jumps into the water to help the struggling turtle. Photo credit: WWF, Facebook
Amir Rahim was on a tuna fishing boat about 180 nautical miles off the coast of Karachi, Pakistan, when he saw an olive ridley sea turtle trapped in a polypropylene woven bag, the Huffington Post reported. The turtle was struggling to swim with the bag dragging behind it.
Rahim jumped into the water fully clothed to help the turtle. He wasn't able to free the turtle while in the water so his crew mates helped him bring the turtle on board. They cut the bag off of the turtle and released it back into the water.
Rahim is a trained observer for the World Wide Fund for Nature—Pakistan. The Huffington Post reported he had "seen plenty of turtles entangle in floating fishing nets," but had never seen one trapped in a floating bag.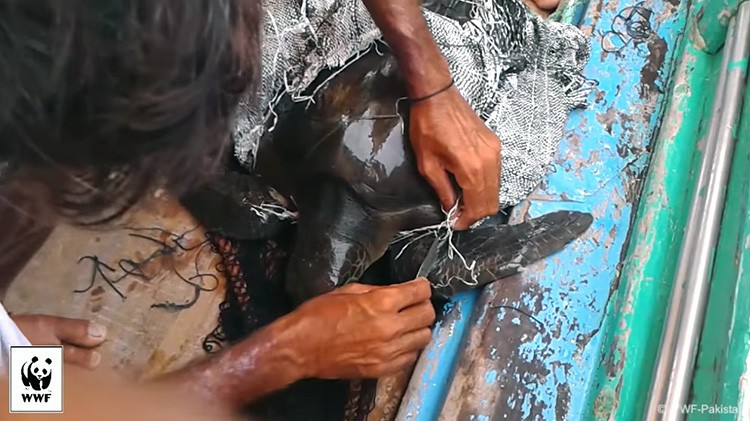 Rahim cuts the plastic bag off of the turtle. Photo credit: WWF, Facebook
"Fishermen and other seafarers need to be educated about the hazards of throwing plastic stuff into the sea as it may kill a marine animal," he told DAWN.com.
Every year, 8 million metric tons of plastic end up in the oceans, according to Coastal Care. Eighty percent of those plastics come from land-based sources. Sea turtles are highly vulnerable to pollution and plastics. They can die from getting entangled in plastic materials or even ingesting them.
Watch the rescue video here:
YOU MIGHT ALSO LIKE:
9 Super Cool Facts About Sea Turtles
Nepal's Extinct Bird Spotted After Disappearing for 178 Years
First Mammal Goes Extinct Due to Human-Caused Climate Change
Glyphosate, the main ingredient in Monsanto's widely used herbicide Roundup, will be added July 7 to California's list of chemicals known to the state to cause cancer, according to a Reuters report Tuesday. This news comes after the company's unsuccessful attempt to block the listing in trial court and requests for stay were denied by a state appellate court and California's Supreme Court.
California's Office of Environmental Health Hazard Assessment (OEHHA) announced the designation on Monday under the Safe Drinking Water and Toxic Enforcement Act of 1986, or Proposition 65.
Keep reading...
Show less
www.facebook.com
Keep reading...
Show less
Researchers from the Marine Animal Response Society examine one of the dead right whales. Marine Animal Response Society
Canadian government officials and marine biologists are investigating the mysterious deaths of six North American right whales. The endangered animals all turned up dead between June 6 and June 23 in the Gulf of St. Lawrence, off Canada's southeastern coast.
North Atlantic right whales are the rarest of all large whale species and among the rarest of all marine mammal species, with only about 450 right whales in the North Atlantic.
Keep reading...
Show less
Scott Pruitt testifies during his Senate confirmation hearing for EPA administrator, January 2017.
The U.S. Environmental Protection Agency's (EPA) chief of staff pressured the leader of its Board of Scientific Counselors to change her congressional testimony to downplay the impact of the agency's mass dismissal of scientists from the board, the New York Times reports.
Keep reading...
Show less
By Jason Mark
Sequoiadendron giganteum. That's the scientific name for the giant sequoia: the mammoth trees found in California's Sierra Nevada that are the largest organisms on Earth, and among the longest-lived. Biologists estimate that about half of all sequoias live in Giant Sequoia National Monument, a 328,000-acre preserve in the Southern Sierra Nevada established by President Clinton in 2000.
Now that national monument is in jeopardy.
Keep reading...
Show less
By Andy Rowell
Donald Trump this week is launching an "energy week," pushing the argument that the U.S. will become a net exporter of oil and gas.
The president and his cronies are talking about a new era of "U.S. energy dominance," which could stretch for decades to come. However, no one believes the president anymore.
Keep reading...
Show less
UN
By Colleen Curry
The United Nations has designated 23 new sites around the world to its World Network of Biosphere reserves—stunning natural landscapes that balance environmental and human concerns and strive for sustainability.
The forests, beaches and waterways were added to the list this year at the International Coordinating Council of the Man and the Biosphere Programme meeting in Paris earlier this month.
Keep reading...
Show less
Jun. 26, 2017 01:48PM EST
www.elysee.fr
By Andy Rowell
There is a growing feeling within European capitals that a quiet, but deeply positive, revolution is happening under Emmanuel Macron in France.
Macron's opinion poll rating is high, especially boosted in how the young French president has reacted to Donald Trump on the international stage.
Keep reading...
Show less
Jun. 26, 2017 12:32PM EST
www.facebook.com
Keep reading...
Show less