This website uses cookies to ensure you get the best experience while browsing it. By clicking 'Got It' you're accepting these terms.
Trump Cannot Derail Paris Climate Deal
May. 21, 2016 10:13AM EST
Climate
Donald Trump's statement that he would want to renegotiate the Paris agreement on climate change if he is elected U.S. president is "meaningless" one seasoned British climate expert said.
"Donald Trump doesn't appear to know much about anything except headlines," Tom Burke told the Climate News Network. "He knows less than most of the political leaders I've dealt with in the last 40 years. This is meaningless posturing."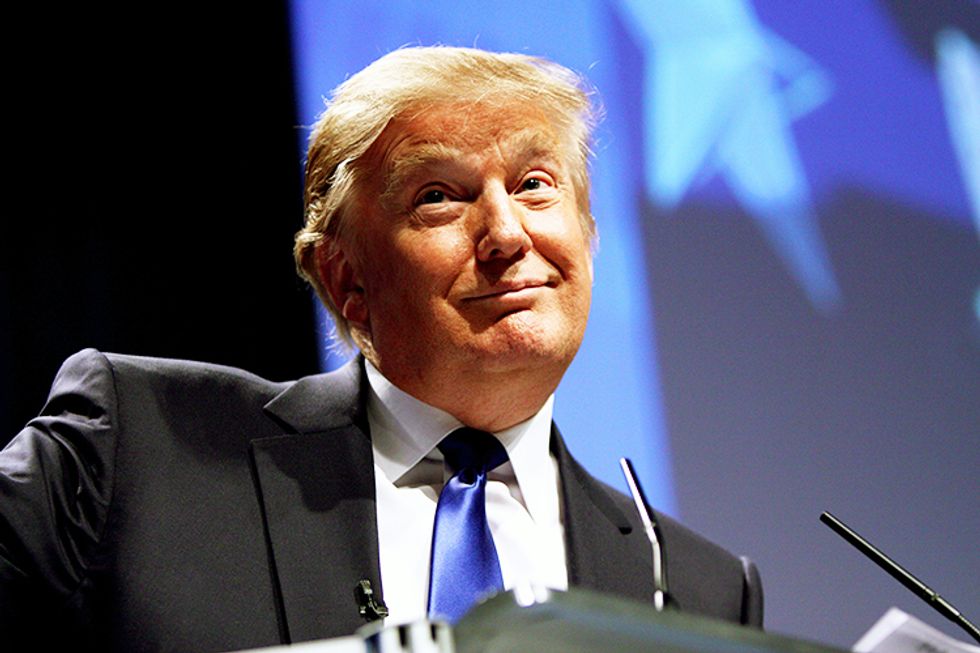 Burke, a former head of Friends of the Earth UK, is chairman of E3G, a group which works to accelerate the transition to a low-carbon economy.
In an interview with Reuters news agency Trump said he was "not a big fan" of the Paris climate accord, which provides for reductions in carbon emissions by more than 170 countries. He said he would want to renegotiate the deal because, in his view, it treats the U.S. unfairly and gives favorable treatment to countries like China.
"I will be looking at that very, very seriously and at a minimum I will be renegotiating those agreements, at a minimum. And at a maximum I may do something else," the Republican frontrunner told Reuters.
Vacuous
There are concerns that any such renegotiation of the deal would be a significant setback for the first truly global climate accord, which commits both rich and poor nations to tackling the rise in the greenhouse gas emissions that are warming the planet.
France's former foreign minister, Laurent Fabius, one of the chief architects of the Paris agreement, said recently: "Think about the impact of the coming U.S. presidential elections. If a climate change denier was to be elected, it would threaten dramatically global action against climate disruption."
But Burke scorns the idea that Trump—if he means what he says about renegotiation and if he wins the presidency—could do serious damage to the agreement.
"This is a vacuous piece of posturing, a message to his potential supporters on the political right," he said. "If the media interrogated Trump rigorously, people would recognise him as a soap bubble."
"Who would he renegotiate the agreement with? He can't renegotiate on his own and the rest of the world is moving on," Burke added.
"Trump can do what George W Bush did when he was president: he can withdraw the U.S. from its obligations, as Bush did with the Kyoto Protocol. But it made no difference," he explained.
"Trump can repudiate the agreement, but it won't make a scrap of difference to the rest of the world. The drive towards a low-carbon economy is being propelled, not by law, not by constraints, but by opportunity. China and the U.S. reached a deal in Paris because it was in their interests to do so. What Trump cannot do is renegotiate the agreement," Burke said.
What Trump's own supporters will think of his statement is anyone's guess. A recent survey found that more than half of them believe global warming is happening. Although almost all those surveyed blamed natural causes, nearly half thought the U.S. should reduce its own greenhouse gas emissions, regardless of what other countries did.
Burke thinks many people have not yet recognized how little Trump really knows. "All this sends a very negative signal to the rest of the world, that he'd be a very ignorant president," he said.
"And of course it sends a clear signal to people who have property in Florida: sell now while sea levels still leave you something to sell," he added.
YOU MIGHT ALSO LIKE
13 House Reps Sent Letters to 17 Attorneys General and 8 NGOs Defending Exxon
Al Gore's Groundbreaking Film … 10 Years Later
If President, Trump Would 'Renegotiate' Climate Deal
Historic Victory: 4 Teenagers Win in Massachusetts Climate Change Lawsuit
EcoWatch Daily Newsletter
With well over a billion cars worldwide, electric vehicles are still only a small percentage. An economist from the University of Michigan Energy Institute says that is likely to change. Maskot / Getty Images
In 2018, there were about 5 million electric cars on the road globally. It sounds like a large number, but with well over a billion cars worldwide, electric vehicles are still only a small percentage.
Nestlé is accelerating its efforts to bring functional, safe and environmentally friendly packaging solutions to the market and to address the global challenge of plastic packaging waste.
Nestlé
/ Flickr /
CC BY-NC-ND 2.0
Nestlé, the world's largest food company, said it will invest up to $2 billion to address the plastic waste crisis that it is largely responsible for.
Determining the effects of media on people's lives requires knowledge of what people are actually seeing and doing on those screens. Vertigo3d / iStock / Getty Images Plus
Indigenous people of various ethnic groups protest calling for demarcation of lands during the closing of the 'Red January - Indigenous Blood', in Paulista Avenue, in São Paulo, Brazil, Jan. 31, 2019. Cris Faga / NurPhoto / Getty Images
By Raphael Tsavkko Garcia
Rarely has something so precious fallen into such unsafe hands. Since Jair Bolsonaro took the Brazilian presidency in 2019, the Amazon, which makes up 10 percent of our planet's biodiversity and absorbs an estimated 5 percent of global carbon emissions, has been hit with a record number of fires and unprecedented deforestation.
Microsoft's main campus in Redmond, Washington on May 12, 2017. GLENN CHAPMAN / AFP via Getty Images
Microsoft announced ambitious new plans to become carbon negative by 2030 and then go one step further and remove by 2050 all the carbon it has emitted since the company was founded in 1975, according to a company press release.