This website uses cookies to ensure you get the best experience while browsing it. By clicking 'Got It' you're accepting these terms.
Trump Cannot Derail Paris Climate Deal
May. 21, 2016 10:13AM EST
Climate
Donald Trump's statement that he would want to renegotiate the Paris agreement on climate change if he is elected U.S. president is "meaningless" one seasoned British climate expert said.
"Donald Trump doesn't appear to know much about anything except headlines," Tom Burke told the Climate News Network. "He knows less than most of the political leaders I've dealt with in the last 40 years. This is meaningless posturing."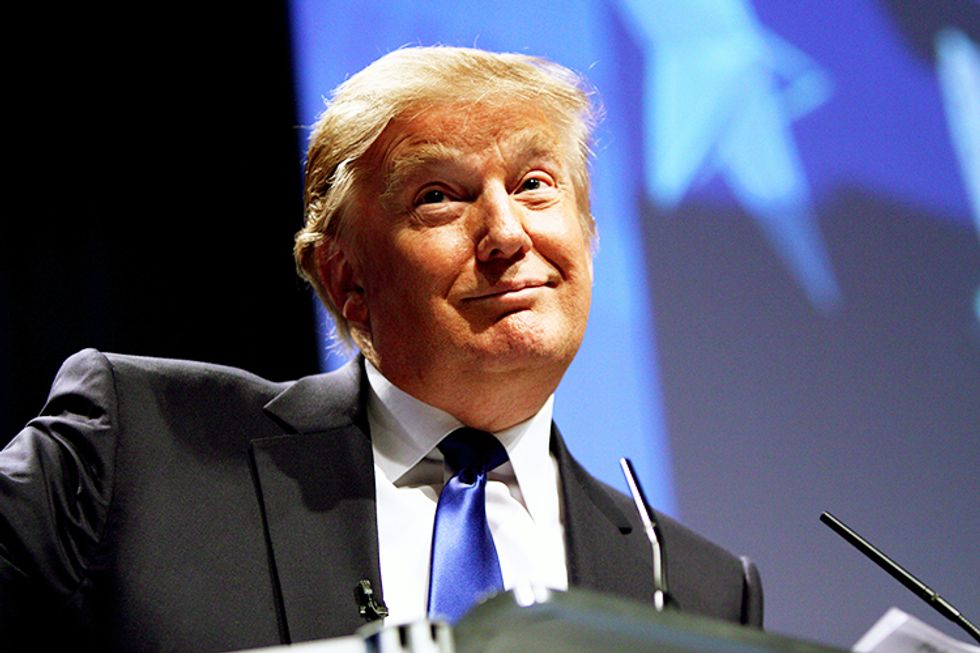 Burke, a former head of Friends of the Earth UK, is chairman of E3G, a group which works to accelerate the transition to a low-carbon economy.
In an interview with Reuters news agency Trump said he was "not a big fan" of the Paris climate accord, which provides for reductions in carbon emissions by more than 170 countries. He said he would want to renegotiate the deal because, in his view, it treats the U.S. unfairly and gives favorable treatment to countries like China.
"I will be looking at that very, very seriously and at a minimum I will be renegotiating those agreements, at a minimum. And at a maximum I may do something else," the Republican frontrunner told Reuters.
Vacuous
There are concerns that any such renegotiation of the deal would be a significant setback for the first truly global climate accord, which commits both rich and poor nations to tackling the rise in the greenhouse gas emissions that are warming the planet.
France's former foreign minister, Laurent Fabius, one of the chief architects of the Paris agreement, said recently: "Think about the impact of the coming U.S. presidential elections. If a climate change denier was to be elected, it would threaten dramatically global action against climate disruption."
But Burke scorns the idea that Trump—if he means what he says about renegotiation and if he wins the presidency—could do serious damage to the agreement.
"This is a vacuous piece of posturing, a message to his potential supporters on the political right," he said. "If the media interrogated Trump rigorously, people would recognise him as a soap bubble."
"Who would he renegotiate the agreement with? He can't renegotiate on his own and the rest of the world is moving on," Burke added.
"Trump can do what George W Bush did when he was president: he can withdraw the U.S. from its obligations, as Bush did with the Kyoto Protocol. But it made no difference," he explained.
"Trump can repudiate the agreement, but it won't make a scrap of difference to the rest of the world. The drive towards a low-carbon economy is being propelled, not by law, not by constraints, but by opportunity. China and the U.S. reached a deal in Paris because it was in their interests to do so. What Trump cannot do is renegotiate the agreement," Burke said.
What Trump's own supporters will think of his statement is anyone's guess. A recent survey found that more than half of them believe global warming is happening. Although almost all those surveyed blamed natural causes, nearly half thought the U.S. should reduce its own greenhouse gas emissions, regardless of what other countries did.
Burke thinks many people have not yet recognized how little Trump really knows. "All this sends a very negative signal to the rest of the world, that he'd be a very ignorant president," he said.
"And of course it sends a clear signal to people who have property in Florida: sell now while sea levels still leave you something to sell," he added.
YOU MIGHT ALSO LIKE
13 House Reps Sent Letters to 17 Attorneys General and 8 NGOs Defending Exxon
Al Gore's Groundbreaking Film … 10 Years Later
If President, Trump Would 'Renegotiate' Climate Deal
Historic Victory: 4 Teenagers Win in Massachusetts Climate Change Lawsuit
EcoWatch Daily Newsletter
The Opera House is seen with smoke haze which enveloped Sydney Harbor on Dec. 10 in Sydney, Australia. Smoke haze hangs over the city as the New South Wales fire danger risk is raised from 'very high' to 'severe'. James D. Morgan / Getty Images
The brushfires raging through New South Wales have shrouded Australia's largest city in a blanket of smoke that pushed the air quality index 12 times worse than the hazardous threshold, according to the Australia Broadcast Corporation (ABC).
People walk across the bridge near Little Raven Court in downtown Denver. Younger Americans increasingly prefer to live in walkable neighborhoods. Helen H. Richardson / The Denver Post via Getty Images
By David B. Goldstein
Energy efficiency is the cornerstone of any country's plan to fight the climate crisis. It is the cheapest option available, and one that as often as not comes along with other benefits, such as job creation, comfort and compatibility with other key solutions such as renewable energy. This has been recognized by the International Energy Agency (IEA) for at least a decade.
Activists from Extinction Rebellion New York City engaged in nonviolent direct action to confront climate change outside City Hall on April 17, 2019. Erik McGregor / Pacific Press / LightRocket via Getty Images
By Andrea Germanos

Over 500 groups on Monday rolled out an an action plan for the next president's first days of office to address the climate emergency and set the nation on a transformative path towards zero emissions and a just transition in their first days in office.

The Ladakh region of India, pictured above, is a part of the Himalayan mountain region of the upper Indus Valley which is the most vulnerable water tower, according to researchers. Suttipong Sutiratanachai / Moment / Getty Images
Jet stream triggered heat waves could threaten food production in several important breadbaskets, including central North America.
Carl Wycoff /
CC BY 2.0
Researchers have pinpointed a previously underexamined threat to global food production, and they warn it will only get worse as the climate crisis intensifies.