This website uses cookies to ensure you get the best experience while browsing it. By clicking 'Got It' you're accepting these terms.


The best of EcoWatch, right in your inbox. Sign up for our email newsletter!
The Dead Sea is Shrinking at Alarming Rate, a Record Low-Point for Earth
Jun. 23, 2016 10:50AM EST
No the Dead Sea is not dying; it's drying. Well, more like shrinking, by 3 feet each year.
The Dead Sea—the lowest point on Earth at roughly 1,300 feet below sea level—is known for its high salt and mineral content and allowing swimmers to float effortlessly on the surface. The amount of space available for easy floating is shrinking.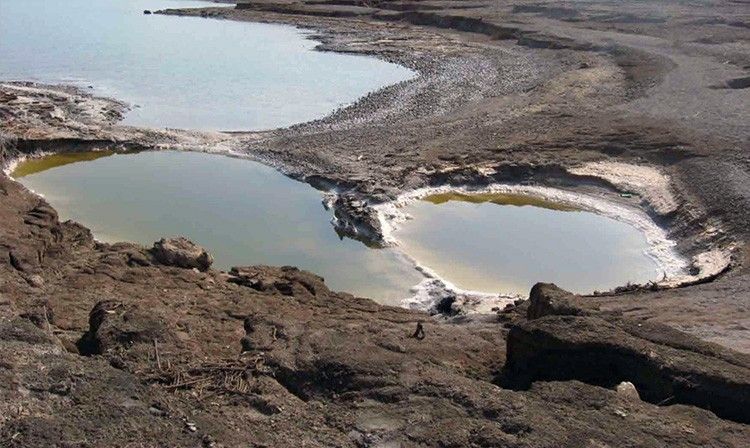 The good news is it will probably never dry up completely, the BBC said. As the water level drops, the sea's density and saltiness rise. Eventually the rate of evaporation will reach a kind of equilibrium and it will stop shrinking.
Just because the Dead Sea is not going to disappear entirely, though, doesn't mean its shrinking isn't a concern.
During World War I, according to the BBC, British engineers scratched initials on a rock to mark the sea's level of water. Now, those marks are on a bone-dry towering rock. BBC's Kevin Connolly explains where the water level is now compared to back then:
To reach the current water level you must climb down the rocks, cross a busy main road, make your way through a thicket of marshy plants and trek across a yawning mud flat. It's about 2km (1.25 miles) in all.
Local resorts are feeling the effects, too. At the tourist resort of Ein Gedi, when the main building was constructed, the water from the sea would lap against the walls. Now, the BBC said, the resort has to use a special train pulled by a tractor to take tourists to the water's edge, roughly a 1.25-mile journey.
"The sea was right here when I was 18 years old, so it's not like we're talking about 500 or a 1,000 years ago," Nir Vanger, who runs the business side of Ein Gedi's tourist operations, said. "The Dead Sea was here and now it's 2km away, and with the tractor and the gasoline and the staff it costs us $500,000 a year to chase the sea."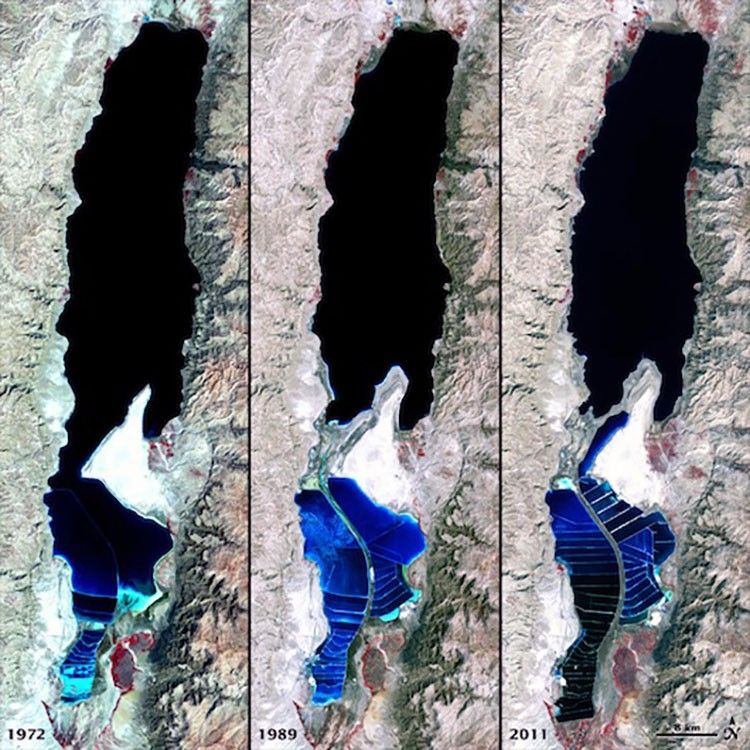 The farmers are affected, as well. But instead of retreating water lines, sinkholes are their foe. Sinkholes form when underground salt deposits are left behind by the shrinking Dead Sea. The land either collapses or dissolves when fresh water seeps under those spots, the BBC reported. But farmers, who grow tomatoes, bananas and watermelons, refuse to leave the land.
"We'll never leave," Salim al-Huwemel, a farmer on the Jordan side of the Dead Sea, said. "Even if the Dead Sea were to rise up and sweep us into a sinkhole. We will always be here."
Some sinkholes can be 100 meters (328 feet) across and 50 meters (164 feet) deep. Their numbers now top 5,500 around the Dead Sea's shoreline. Forty years ago, the BBC reported, there were none.
Each year, the number of sinkholes is increasing, and not in a predictable way.
"The number's not linear," Gidi Baer, Geological Survey of Israel, told the BBC. "It's growing and accelerating. This year, for example, about 700 sinkholes formed, but in previous years the number was lower. In the 1990s it was a few dozen, now it's hundreds."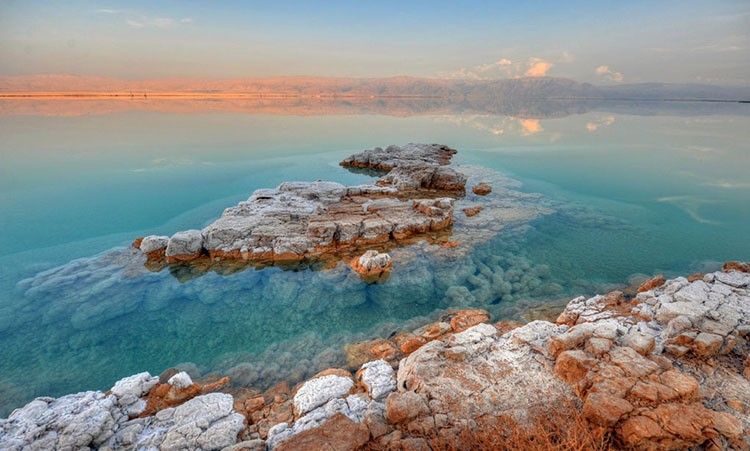 The decision to take action and what type of action has been a scientific and political debate for a long time.
Activists want to see something happen.
"We are not talking about saving the Dead Sea because it's nice or not nice," Salem Abdel Rahman, a Jordanian activist for the Ecopeace Middle East environmental group, told the BBC. "We think that the Dead Sea is a symptom of sickness in the management of water resources. The saving of the Dead Sea will be a good indication that we moved away from sickness to a healthy environment."
For now, though, the Dead Sea will just keep shrinking.
YOU MIGHT ALSO LIKE:
NOAA: World's Worst Coral Bleaching Event to Continue 'With No Signs of Stopping'
Methane Emissions From Onshore Oil and Gas Equivalent to 14 Coal Plants Powered for One Year
185 Environmental Activists Across 16 Countries Were Killed in 2015
EcoWatch Daily Newsletter
Climate change activists gather in front of the stage at the Extinction Rebellion group's environmental protest camp at Marble Arch in London on April 22, on the eighth day of the group's protest calling for political change to combat climate change. TOLGA AKMEN / AFP / Getty Images
Pexels
By Alina Petre, MS, RD (CA)
Veganism refers to a way of living that attempts to minimize animal exploitation and cruelty. For this reason, vegans aim to exclude all foods containing meat, poultry, fish, eggs, dairy and honey from their diet (1).
American farmers use chlorpyrifos, a pesticide tied to brain and nervous system issues, on crops such as apples, broccoli, corn and strawberries. Stephanie Chapman / Flickr / CC BY 2.0
By Jessica Corbett
In a ruling welcomed by public health advocates, a federal court on Friday ordered the Trump administration to stop stalling a potential ban on a pesticide linked to brain damage in children, giving regulators until mid-July to make a final decision.
fstop123 / iStock / Getty Images Plus
At EcoWatch, our team knows that changing personal habits and taking actions that contribute to a better planet is an ongoing journey. Earth Day, happening on April 22, is a great reminder for all of us to learn more about the environmental costs of our behaviors like food waste or fast fashion.
To offer readers some inspiration this Earth Day, our team rounded up their top picks for films to watch. So, sit back and take in one of these documentary films this Earth Day. Maybe it will spark a small change you can make in your own life.
NASA
By Shuchi Talati
Solar geoengineering describes a set of approaches that would reflect sunlight to cool the planet. The most prevalent of these approaches entails mimicking volcanic eruptions by releasing aerosols (tiny particles) into the upper atmosphere to reduce global temperatures — a method that comes with immense uncertainty and risk. We don't yet know how it will affect regional weather patterns, and in turn its geopolitical consequences. One way we can attempt to understand potential outcomes is through models.
Maria Gunnoe Flight, courtesy of southwings.org
By Julia Conley
Green groups on Saturday celebrated the latest federal ruling aimed at preventing President Donald Trump from rolling back environmental regulations that were put in place by his predecessor.
NASA scientists flew over the Kuskokwim river in southwest Alaska in 2017 to investigate how water levels in the Arctic landscape change as permafrost thaws. Peter Griffith, NASA
Youtube screenshot
A woman has been caught on camera dumping a bag of puppies near a dumpster in Coachella, California, CNN reported Sunday.