This website uses cookies to ensure you get the best experience while browsing it. By clicking 'Got It' you're accepting these terms.
By Jennifer Weeks
The Trump administration has announced rule changes that alter how it will enforce the 1973 Endangered Species Act, which protects threatened and endangered species and their habitats. Among these changes, officials can now consider potential costs in deciding whether to list a species. The new policies will make it easier to delist species, and are likely to shrink areas set aside as critical habitat to help species recover.
Researchers are calling for urgent action following the death of a sixth North Atlantic right whale in Canada's Gulf of St. Lawrence this year.
EcoWatch Daily Newsletter
EgNo 4180 and her 2019 calf photographed by the CCS aerial survey team in Cape Cod Bay on April 11. CCS image, NOAA permit 19315-1
One of the rarest species of whale in the world is experiencing a mini-baby boom off the coast of New England, lending hope to the survival of the once-imperiled population.
Right whale Catalog
#2791
and her calf sighted 10 nautical miles off Fernandina Beach, Florida January 6.
Florida Fish and Wildlife Conservation Commission
Whale watchers and researchers are rejoicing after a third North Atlantic right whale calf was documented this winter, especially after the previous calving season resulted in no confirmed births.
A whale mother known as 1204 and the newborn were seen off Florida's northeast coast last week.
A gloved hand pulls a lobster from a tank. WoodysPhotos
By Sam Schipani
Last year was not a good one for the North Atlantic right whale. Seventeen of them were discovered to have died, about 4 percent of a total population of 455. Numbers have been low for decades—the species was declared endangered in 1973—but if the current trend continues, the North Atlantic right whale, one of the most endangered marine mammals in the world, could go extinct by 2040.
Starboard, a female right whale, died this summer after getting wrapped up in fishing gear. "Ropeless" crab and lobster traps could end entanglement deaths, experts say. NOAA / NEFSC / Peter Duley
By Allison Guy
Centuries ago, naturalists believed that the animals of the sea mirrored the animals of the land. Elephants were matched by sea-elephants, chickens by sea-chickens. The clergy even got paired with sea-bishops and sea-monks. In 2017, land and sea mirrored each other in a less literal way. As humanity reeled from hurricanes, wildfires, earthquakes and shootings, a rare whale endured its own year of horrors.
An endangered North Atlantic right whale near a ship off the East Coast. Florida Fish and Wildlife Conservation Commission/NOAA
A North Atlantic right whale that a team of state and federal biologists assisted in disentangling on Dec. 30, 2010, off the coast of Daytona, Florida. Florida Fish and Wildlife Conservation Commission
The population of endangered North Atlantic right whales is under threat due to entanglement in fishing gear and a resulting drop in birth rates, according to a study published by the journal Frontiers in Marine Science.
Even though North Atlantic rightwhales numbers have modestly increased from 295 individuals in 1992 to 500 individuals in 2015, the rate of baby right whales born annually have dropped by nearly 40 percent since 2010, the study states.
Due to these low calving rates, the study implies that the whale's already-precarious population faces a grim future.
This morning, together with our colleagues at National Wildlife Federation and Conservation Law Foundation, Natural Resources Defense Council announced an agreement with Deepwater Wind, a major offshore wind developer, to safeguard North Atlantic right whales during the initial phases of development off southern New England. The agreement provides more protection than the administration has required thus far, and right whales are very much in need of protection.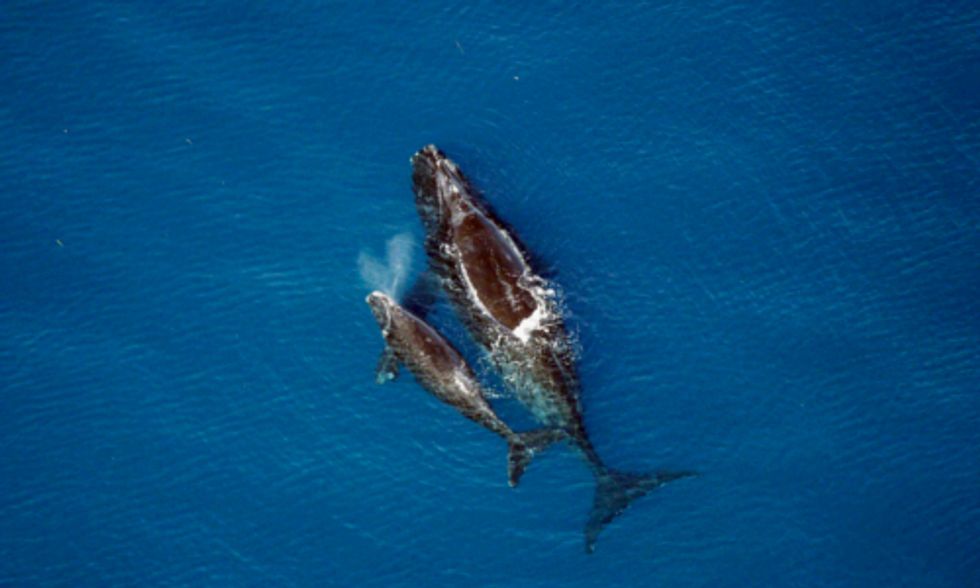 Right whales got their name because they were deemed the "right whale" to hunt, and they were driven to near-extinction by whaling. It's been almost eighty years since they were legally killed, but they remain critically endangered in the Atlantic. They haven't recovered because of a number of other threats they face.
For one, right whales whales are highly vulnerable to collision with ships, as they often feed on copepods just below the water's surface, where they can be struck but not seen. They also have a terrible history of entanglement in fishing gear. Underwater noise from shipping and industrial activity is a serious threat: it disrupts their behavior and is destroying their ability to communicate. And pollution is degrading their habitat. 
So it's clear that we have to do more to protect right whales—to preserve them from extinction and give them a chance to recover.
The wind development areas off Rhode Island and Massachusetts are right whale habitat. Some whales migrate through these waters en route to their winter calving grounds off Florida, Georgia and South Carolina; and, while they primarily forage further north in the Gulf of Maine, they're known to feed down below Cape Cod as well, particularly in late winter and early spring. Indeed, the largest right whale feeding aggregations ever seen have occurred in Rhode Island Sound—more than 100 animals, which is remarkable for this species.
In entering today's agreement, we intend to protect right whales during the initial phases of wind farm development: during pile driving, which may be needed to install meteorological towers, and during sub-bottom profiling, a process that uses loud sound to survey areas just below the seafloor. Without effective mitigation, these activities could injure the whales through vessel collisions or noise exposure, or disrupt their migration or feeding. 
At the heart of the agreement is a traffic-light system of red, yellow and green periods. Pile-driving and sub-bottom profiling are prohibited during the red period, when right whales are most likely to be in the area; and additional mitigation applies during the yellow months, when right whales are less likely to occur. Additionally, some measures would run throughout the year, when the light is green but right whale occurrence remains a possibility. The agreement includes:
Restrictions on pile-driving and sub-bottom profiling during the winter and early spring months. We believe that separating these activities from the whales is the most effective way of reducing risk.
A 10-knot speed limit for all project vessels from Nov. 1 through May 15, to reduce risk of ship-strikes. The measure in our agreement goes beyond the government's speed regulation, extending the speed limit across the entire development area and the transits ships make to get there, and applying it to all project vessels regardless of length. 
Use of the best commercially available technologies to reduce pile-driving noise during the yellow period. Noise-reduction and attenuation technologies have been developed in Europe, which is several years ahead of us in offshore wind production, and this measure begins to put them in use here.
Better surveillance to spot right whales, to reduce risk of injury and disruption of foraging from noise exposure. These monitoring measures include requirements for expert ship-based observers; restrictions on operations at night and in low-visibility conditions; and use of aerial surveillance and/or passive listening devices to detect whales during the yellow period. The government requires operators to temporarily halt operations when whales are discovered within a small safety radius; our agreement enlarges the size of this safety margin for some activities.
Today's agreement will help conserve one of the most endangered marine mammal species off our shores.
--------
YOU MIGHT ALSO LIKE
15 Weird and Wonderful Facts About Whales
International Court Rules Japan's 'Research' Whaling Illegal in Landmark Case
Study Finds Proximity to Offshore Oil and Gas Drilling Rigs Threaten Humpback Whales
--------