Amsterdam's floating neighborhood of Schoonschip is home to 105 residents who live in 46 homes on 30 water plots. Schoonschip / Isabel Nabuurs
By Victoria Masterson
Living on water is a reality for more than 100 people in Amsterdam's Schoonschip neighborhood.
It has 46 sustainable homes across 30 water plots.
Population density and climate change is increasing interest in alternative accommodation options, including opening up underground spaces.
With cities running out of space and rising sea levels predicted to put 800 million city dwellers at risk by 2050, more of us may have to get used to living on water.
One nation adapting to this challenge is the Netherlands, where more than a quarter of the country already lies below sea level.
In Amsterdam, the capital city, residents and architects have created a visionary floating neighborhood called Schoonschip — Dutch for "clean ship."
This is what the floating houses look like. Schoonschip / Isabel Nabuurs
"Since urban areas struggle with high density, we should make better use of the space on the water," says project architect, Space&Matter.
"With Schoonschip we want to set the example, and show how living on water can be a great and better alternative for people and our planet."
Schoonschip / Isabel Nabuurs
The project is small in size — just more than 100 residents live in 46 homes on 30 arks floating — but it's also designed to be self-sufficient, with minimal impact on nature.
Solar panels and heat pumps provide heating. Wastewater from toilets and showers is converted back into energy and many residents also have a green roof, where they can grow their own food.
The floating Dutch community of Schoonschip is designed to be self-sustaining, including generating its own energy. Schoonschip / Metabolic
Life on Water
Floating communities aren't new — they've been around for generations in some parts of the world. Examples include the Uros people, who live on floating reed islands in Lake Titicaca, Peru, and the Bajau people of Southeast Asia, who live on small houseboats off the coasts of Indonesia, Malaysia and the Philippines.
In more recent times, interest in water living has grown as the world seeks solutions to the twin pressures of population density and climate change causing sea levels to rise.
Schoonschip / Isabel Nabuurs
Projects elsewhere in the world include modular water dwellings being developed by British architect firm Grimshaw and Dutch manufacturer Concrete Valley.
These sit on a floating pontoon structure that rises with the water level to keep the home safe in the event of a tidal surge or flooding.
"With a growing global population and an increase of people living in cities, high land values are causing a shortage of affordable housing in urban areas," the designers say.
While in Denmark, end-of-life shipping containers have been used to create floating student accommodation in a design by architect firm Urban Rigger.
Twin Challenges
More than 570 low-lying coastal cities will be threatened by sea-level rises of at least half a meter, by 2050, according to C40 Cities, a network dedicated to finding climate change solutions.
But the problem extends far beyond cities, to island nations, including Kiribati in the Pacific, where 81% of households had been affected by sea-level rise in the decade between 2006 and 2016. Here, migration is considered the main solution.
As people move to cities to live and work, almost 70% of the world's population is expected to be living in urban areas by 2050, up from 55% currently.
Many cities are looking underground to find more space. For example, Finland's capital Helsinki has created a host of underground facilities including sports venues and an emergency shelter, while Montreal in Canada has an 'underground city' including shops and hotels beneath its streets.
UN-Habitat, the United Nations program for human settlements and sustainable urban development, estimates that by 2030, three billion people, about 40% of the world's population, will need access to adequate housing. This translates into a demand for 96,000 new affordable and accessible housing units every day.
Building homes on the water and underground could be part of the solution.
Reposted with permission from the World Economic Forum.
From Your Site Articles
Related Articles Around the Web
EcoWatch Daily Newsletter
Dutch Prime Minister Mark Rutte commuting by bicycle. Evert-Jan Daniels / AFP / Getty Images
By Kate Whiting, David Knowles
With its sweeping views over the sparkling Hofvijver pond, the Binnenhof — the Gothic castle in the heart of The Hague that houses the States General of the Netherlands — is quite something.
It's little wonder Dutch Prime Minister Mark Rutte enjoys commuting to his office there. And recently he's made the journey by bike as often as possible.
"I didn't cycle a lot for 10 years. But for the past two years, I've had my own bike again and, when the weather allows, I travel into the office that way," he told the World Economic Forum.
waterlust.com / @tulasendlesssummer_sierra .
Each product featured here has been independently selected by the writer. If you make a purchase using the links included, we may earn commission.
The bright patterns and recognizable designs of Waterlust's activewear aren't just for show. In fact, they're meant to promote the conversation around sustainability and give back to the ocean science and conservation community.
Each design is paired with a research lab, nonprofit, or education organization that has high intellectual merit and the potential to move the needle in its respective field. For each product sold, Waterlust donates 10% of profits to these conservation partners.
Eye-Catching Designs Made from Recycled Plastic Bottles
waterlust.com / @abamabam
The company sells a range of eco-friendly items like leggings, rash guards, and board shorts that are made using recycled post-consumer plastic bottles. There are currently 16 causes represented by distinct marine-life patterns, from whale shark research and invasive lionfish removal to sockeye salmon monitoring and abalone restoration.

One such organization is Get Inspired, a nonprofit that specializes in ocean restoration and environmental education. Get Inspired founder, marine biologist Nancy Caruso, says supporting on-the-ground efforts is one thing that sets Waterlust apart, like their apparel line that supports Get Inspired abalone restoration programs.
"All of us [conservation partners] are doing something," Caruso said. "We're not putting up exhibits and talking about it — although that is important — we're in the field."
Waterlust not only helps its conservation partners financially so they can continue their important work. It also helps them get the word out about what they're doing, whether that's through social media spotlights, photo and video projects, or the informative note card that comes with each piece of apparel.
"They're doing their part for sure, pushing the information out across all of their channels, and I think that's what makes them so interesting," Caruso said.
And then there are the clothes, which speak for themselves.
Advocate Apparel to Start Conversations About Conservation
waterlust.com / @oceanraysphotography
Waterlust's concept of "advocate apparel" encourages people to see getting dressed every day as an opportunity to not only express their individuality and style, but also to advance the conversation around marine science. By infusing science into clothing, people can visually represent species and ecosystems in need of advocacy — something that, more often than not, leads to a teaching moment.

"When people wear Waterlust gear, it's just a matter of time before somebody asks them about the bright, funky designs," said Waterlust's CEO, Patrick Rynne. "That moment is incredibly special, because it creates an intimate opportunity for the wearer to share what they've learned with another."
The idea for the company came to Rynne when he was a Ph.D. student in marine science.
"I was surrounded by incredible people that were discovering fascinating things but noticed that often their work wasn't reaching the general public in creative and engaging ways," he said. "That seemed like a missed opportunity with big implications."
Waterlust initially focused on conventional media, like film and photography, to promote ocean science, but the team quickly realized engagement on social media didn't translate to action or even knowledge sharing offscreen.
Rynne also saw the "in one ear, out the other" issue in the classroom — if students didn't repeatedly engage with the topics they learned, they'd quickly forget them.
"We decided that if we truly wanted to achieve our goal of bringing science into people's lives and have it stick, it would need to be through a process that is frequently repeated, fun, and functional," Rynne said. "That's when we thought about clothing."
Support Marine Research and Sustainability in Style
To date, Waterlust has sold tens of thousands of pieces of apparel in over 100 countries, and the interactions its products have sparked have had clear implications for furthering science communication.
For Caruso alone, it's led to opportunities to share her abalone restoration methods with communities far and wide.
"It moves my small little world of what I'm doing here in Orange County, California, across the entire globe," she said. "That's one of the beautiful things about our partnership."
Check out all of the different eco-conscious apparel options available from Waterlust to help promote ocean conservation.
Melissa Smith is an avid writer, scuba diver, backpacker, and all-around outdoor enthusiast. She graduated from the University of Florida with degrees in journalism and sustainable studies. Before joining EcoWatch, Melissa worked as the managing editor of Scuba Diving magazine and the communications manager of The Ocean Agency, a non-profit that's featured in the Emmy award-winning documentary Chasing Coral.
Miami is investing hundreds of millions of dollars to raise roads in response to rising sea levels.
Matthew Hurst / CC BY-SA 2.0
By Mikhail Chester, Braden Allenby and Samuel Markolf
The most recent international report on climate change paints a picture of disruption to society unless there are drastic and rapid cuts in greenhouse gas emissions.
Although it's early days, some cities and municipalities are starting to recognize that past conditions can no longer serve as reasonable proxies for the future.
This is particularly true for the country's infrastructure. Highways, water treatment facilities and the power grid are at increasing risk to extreme weather events and other effects of a changing climate.
The problem is that most infrastructure projects, including the Trump administration's infrastructure revitalization plan, typically ignore the risks of climate change.
In our work researching sustainability and infrastructure, we encourage and are starting to shift toward designing man-made infrastructure systems with adaptability in mind.
Designing for the Past
Infrastructure systems are the front line of defense against flooding, heat, wildfires, hurricanes and other disasters. City planners and citizens often assume that what is built today will continue to function in the face of these hazards, allowing services to continue and to protect us as they have done so in the past. But these systems are designed based on histories of extreme events.
Pumps, for example, are sized based on historical precipitation events. Transmission lines are designed within limits of how much power they can move while maintaining safe operating conditions relative to air temperatures. Bridges are designed to be able to withstand certain flow rates in the rivers they cross. Infrastructure and the environment are intimately connected.
I-10 flooding gives a new meaning to car pool! #azwx #monsoon http://t.co/QaGFvUvs8f

— Michael Chow (@Michael Chow)1410186689.0
Now, however, the country is more frequently exceeding these historical conditions and is expected to see more frequent and intense extreme weather events. Said another way, because of climate change, natural systems are now changing faster than infrastructure.
How can infrastructure systems adapt? First let's consider the reasons infrastructure systems fail at extremes:
The hazard exceeds design tolerances. This was the case of Interstate 10 flooding in Phoenix in fall 2014, where the intensity of the rainfall exceeded design conditions.
During these times there is less extra capacity across the system: When something goes wrong there are fewer options for managing the stressor, such as rerouting flows, whether it's water, electricity or even traffic.
We often demand the most from our infrastructure during extreme events, pushing systems at a time when there is little extra capacity.
Gradual change also presents serious problems, partly because there is no distinguishing event that spurs a call to action. This type of situation can be especially troublesome in the context of maintenance backlogs and budget shortfalls which currently plague many infrastructure systems. Will cities and towns be lulled into complacency only to find that their long-lifetime infrastructure systems are no longer operating like they should?
Currently the default seems to be securing funding to build more of what we've had for the past century. But infrastructure managers should take a step back and ask what our infrastructure systems need to do for us into the future.
Agile and Flexible by Design
Fundamentally new approaches are needed to meet the challenges not only of a changing climate, but also of disruptive technologies.
These include increasing integration of information and communication technologies, which raises the risk of cyberattacks. Other emerging technologies include autonomous vehicles and drones as well as intermittent renewable energy and battery storage in the place of conventional power systems. Also, digitally connected technologies fundamentally alter individuals' cognition of the world around us: Consider how our mobile devices can now reroute us in ways that we don't fully understand based on our own travel behavior and traffic across a region.
Yet our current infrastructure design paradigms emphasize large centralized systems intended to last for decades and that can withstand environmental hazards to a preselected level of risk. The problem is that the level of risk is now uncertain because the climate is changing, sometimes in ways that are not very well-understood. As such, extreme events forecasts may be a little or a lot worse.
Given this uncertainty, agility and flexibility should be central to our infrastructure design. In our research, we've seen how a number of cities have adopted principles to advance these goals already, and the benefits they provide.
A "smart" tunnel in Kuala Lumpur is designed to supplement the city's stormwater drainage system. David Boey, CC BY-SA 4.0
In Kuala Lampur, traffic tunnels are able to transition to stormwater management during intense precipitation events, an example of multifunctionality.

Across the U.S., citizen-based smartphone technologies are beginning to provide real-time insights. For instance, the CrowdHydrology project uses flooding data submitted by citizens that the limited conventional sensors cannot collect.
Infrastructure designers and managers in a number of U.S. locations, including New York, Portland, Miami and Southeast Florida, and Chicago are now required to plan for this uncertain future—a process called roadmapping. For example, Miami has developed a $500 million plan to upgrade infrastructure, including installing new pumping capacity and raising roads to protect at-risk oceanfront property.
These competencies align with resilience-based thinking and move the country away from our default approaches of simply building bigger, stronger or more redundant.
Planning for Uncertainty
Because there is now more uncertainty with regard to hazards, resilience instead of risk should be central to infrastructure design and operation in the future. Resilience means systems can withstand extreme weather events and come back into operation quickly.
Microgrid technology allows individual buildings to operate in the event of a broader power outage and is one way to make the electricity system more resilient. Amy Vaughn / U.S. Department of Energy
This means infrastructure planners cannot simply change their design parameter—for example, building to withstand a 1,000-year event instead of a 100-year event. Even if we could accurately predict what these new risk levels should be for the coming century, is it technically, financially or politically feasible to build these more robust systems?

This is why resilience-based approaches are needed that emphasize the capacity to adapt. Conventional approaches emphasize robustness, such as building a levee that is able to withstand a certain amount of sea level rise. These approaches are necessary but given the uncertainty in risk we need other strategies in our arsenal.
For example, providing infrastructure services through alternative means when our primary infrastructure fails, such as deploying microgrids ahead of hurricanes. Or, planners can design infrastructure systems such that when they fail, the consequences to human life and the economy are minimized.
The Netherlands has changed its system of dykes and flood management in certain areas to better sustain flooding.
This is a practice recently implemented in the Netherlands, where the Rhine delta rivers are allowed to flood but people are not allowed to live in the flood plain and farmers are compensated when their crops are lost.

Uncertainty is the new normal, and reliability hinges on positioning infrastructure to operate in and adapt to this uncertainty. If the country continues to commit to building last century's infrastructure, we can continue to expect failures of these critical systems and the losses that come along with them.
As Trump Neglects Climate Threats, Cities Move Forward https://t.co/YnPifJBSp0 #ClimateChange @NRDC @UCSUSA… https://t.co/VfFc2cMVIc

— EcoWatch (@EcoWatch)1519142429.0
Reposted with permission from our media associate The Conversation.

From Your Site Articles
Related Articles Around the Web
A flood barrier in the Netherlands, a low-lying country vulnerable to climate change. Mischa Keijser / Cultura / Getty Images
A Dutch appeals court upheld a historic climate liability ruling Tuesday, affirming that the Dutch government has to reduce greenhouse gas emissions by 25 percent by 2020 compared with 1990 levels, The Associated Press reported.
The original ruling, decided in June 2015, was the first time a court found that governments had a legal obligation to their citizens to protect them from climate change, The Guardian reported at the time.
The appeal ruling comes as a new report from the Intergovernmental Panel on Climate Change (IPCC) has emphasized the need for urgent action to limit global warming to 1.5 degrees Celsius above pre-industrial levels.
"Considering the great dangers that are likely to occur, more ambitious measures have to be taken in the short term to reduce greenhouse gas emissions in order to protect the life and family life of citizens in the Netherlands," the court said in a statement reported by The Associated Press.
The original case was brought by the environmental group Urgenda, representing 900 Dutch citizens. The Netherlands' liberal government, lead by Mark Rutte, plans to reduce emissions 17 percent by 2020, The Guardian reported, but now two courts have agreed with Urgenda that that is not enough.
"The special report of the IPCC emphasizes that we need to reduce emissions with much greater urgency. The Dutch government knows that as a low-lying country, we are on the frontline of climate change. Our own government agencies recently concluded that in the worst case scenario sea levels might rise by 2.5 to three meters (approximately eight to 10 feet) by the end of the century. The court of appeal's decision puts all governments on notice. They must act now, or they will be held to account," Urgenda Director Marjan Minnesma told The Guardian.
The ruling could have consequences for similar cases around the world, in countries as widely distributed as New Zealand, Norway, Uganda and the UK.
"Governments can no longer make promises they don't fulfill. Countries have an obligation to protect their citizens against climate change. That makes this trial relevant for all other countries," Dutch Green leader Jesse Klaver told The Guardian.
In the U.S., the Trump administration is attempting to stall the climate liability case Juliana v. United States, being brought by Our Children's Trust on behalf of 21 young people who assert their constitutional rights have been violated by the federal government, which is aware of the dangers of climate change but continues to promote the use of fossil fuels.
The case is scheduled to go to trial Oct. 29, but the federal government filed a motion requesting a stay Friday until the Supreme Court can review the case, The Register-Guard reported.
Both the 9th Circuit and Supreme Court ruled in July the case could proceed to trial, so lawyers for the plaintiffs think it is unlikely the government's delays will succeed, despite this weekend's confirmation of Brett Kavanaugh to the Supreme Court.
Attorney Philip Gregory told the Register-Guard Monday that a different decision was "doubtful" "given the fact that Justice (Anthony) Kennedy and the rest of the court, less than three months ago, determined the case should proceed forward to trial."
Back in the Netherlands, the Dutch government issued a statement Tuesday saying it would review the ruling for grounds for a further appeal, but also said that it would comply with the court's order and that a 25 percent emissions reduction by 2020 was "within reach," The Associated Press reported.
Minnesma recommended the government shut down coal-fired plants and reduce maximum speeds on some highways.
Shell Faces Historic Legal Action in Netherlands for Failure to Act on Climate Change https://t.co/xCFAAQNxjh @BusinessGreen @CSRint

— EcoWatch (@EcoWatch)1522927508.0
From Your Site Articles
Related Articles Around the Web
iStock
By Olga Mecking, Commentary
Recently, National Geographic published an article called This Tiny Country Feeds the World, where the author extolled the innovations of a small European country that has managed to become a global powerhouse in agriculture and technology—the Netherlands. Now the second biggest exporter in value of agricultural products after the U.S., the country has managed to cut down carbon emissions and its use of fertilizer and pesticides while implementing cutting-edge technology and increasing yields.
The article opens with a vivid description of a farm close to the Belgian border where a farmer is overseeing drones from the cabin of his state-of-the-art harvester. He is the symbol of the new Dutch approach to food production: "Twice as much food using half as many resources."
The author blithely points out what we already know: There will be 9 billion people living on Earth by 2050 and the demand for food will increase accordingly.
On the surface, it sounds impressive: A tiny, densely populated country has developed the capacity to feed the world, a feat worthy of admiration. And yet this raises other, more critical questions: Is the Netherlands' technology-dependent, high-capital model actually appropriate for other countries? Is it even necessary? And what gets lost when we focus solely on increasing food efficiency?
You may not hear many Dutch people complaining about their own food, but for everyone else, it lacks quality and taste. This is best symbolized by the tomato. A German once told me, "Dutch tomatoes are best for playing tennis with." And yet the Netherlands is the third biggest exporter of tomatoes in the European Union. The given reason is always economics; the Dutch were paid the lowest price per kilo out of all EU countries.
While some good tomatoes are produced for both export and for domestic consumption, "the taste is not always good," explained Leo Marcelis, a professor of horticulture at Wageningen University and Research. "It's more the choice of the grower. Many growers go for more kilograms because then the net profit is higher."
But the problem isn't with Dutch production, but rather with Dutch choice. "The originality or creativity of the food culture—you won't find it here," said Pinar Coskun, a sociologist at Sustainable Food Lab, an Erasmus University of Rotterdam project aimed at encouraging more varied, sustainable, and plant-based diets. A country can become an agricultural powerhouse without having a rich food culture, but the focus on price, efficiency and practicality has undermined how the Dutch both consume and produce their food.
"For the Netherlands, it doesn't matter what you are importing or exporting, whether it's raw materials, or food ingredients. It has more to do with economy, distribution, logistics than getting into food culture. So that's also a little bit of rational thinking," explained Coskun.
Dutch food has a reputation for being bland, uninspired and boring, which is astounding given the country's rich history of seafaring and trading. But the Dutch were once adventurous eaters, experimenting with new ingredients and mixing them up in novel ways. Cookbooks such as De Verstandige Kok (or The Reasonable Chef), which was published in 1669, are proof that the Dutch had taken great interest in what was on their plates. They experimented with spices such as saffron and others. A recipe featured roasted goose with turmeric and quince paste cookies. Many people grew fruits and vegetables in their own gardens.
But in the 19th century, when the Dutch Golden Age of exploration and colonization was over, the Netherlands lost many of its territories to England, and frugality became fashionable. At the end of the 19th century and at the beginning of the 20th, girls were sent to special housekeeping schools, where they learned to cook simply, cheaply and quickly. Experimenting with tastes, ingredients and cooking methods was seen as frivolous, therefore was frowned upon. As a result, Dutch culinary culture lost much of its early adventurousness and became known for the bland and mashed concoctions we find today.
But this is, yet again, changing. Among others, a new collective of chefs called Dutch Cuisine is devoted to raising the profile of Dutch food in the nation and around the world.
It's underexposed, said Marjan Pijnenburg, one of Dutch Cuisine's founders, but she disagrees with the notion that the Netherlands lacks a food culture. "We have fantastic food, traditions, and products," she said. "That is something we can be proud of."
There are some benefits to a simple approach to food. For one, while the country's high-tech food industry grows the same crops year-round (for example, tomatoes), the Dutch diet relies heavily on seasonal produce from small, local, family-owned farms. Some dishes, such as stamppot (mashed potatoes with leafy green vegetables and smoked sausage) or snert (also known as erwtensoep, green split pea soup), are only eaten in wintertime. There is a growing interest in rediscovering long-forgotten fruits and vegetables, such as Jerusalem artichokes, parsnips or medlars, now sold in many health food stores. Weekly farmers markets, which offer a wide variety of fresh produce, have a long tradition in the Netherlands. And, for food purists who love knowing exactly what they are eating, the Dutch minimalistic approach seems perfect because most dishes don't require a miles-long list of ingredients.
Moreover, the culture is slowly and steadily changing, following the global trend toward healthier food. In 2014, the Netherlands topped the list of countries with the most available, healthy, nutritious and affordable food. The Dutch also increasingly buy organic food, especially when it comes to staples like eggs, milk and fish. However, not all trends are positive. The Dutch still consume large amounts of sugar and fat. The time used for food preparation and shopping has decreased in recent years, with a trend toward ready-made or take-out dishes. But the shift toward healthier and tastier cuisine can't be dismissed.
The world definitely has a lot to learn from Dutch innovations in farming, especially when it comes to reducing the use of water, pesticides and carbon emissions. But before we get overly excited about the Netherlands, let's remember that the Dutch have their own lessons to learn. In Coskun's words, "before we feed the world, we should feed ourselves."
Reposted with permission from our media associate YES! Magazine.
From Your Site Articles
Related Articles Around the Web
The Netherlands, famous for its iconic windmills, is planning to build the largest offshore wind farm on Earth by 2027.
The vision is so massive that the developers will have to construct a 2.3-square-mile artificial island in the North Sea to support the 10,000-turbine complex.
The proposed wind farm, spearheaded by Dutch electric grid operator, TenneT, could produce 30 gigawatts of power—or enough electricity to power a city of 20 million people. That's more than twice the amount of offshore wind power installed across Europe today.
To compare, the London Array, currently the largest offshore wind farm in the world, has a 630-megawatt capacity, or enough to power about half a million homes.
Once built, TenneT's giant wind farm will eventually send power over a long-distance cable to the UK and Netherlands, and possibly later to Belgium, Germany, and Denmark, the Guardian reported. The facility will be located in Dogger Bank, a windy and shallow site about 80 miles off the East Yorkshire coast, which is also within ideal reach to the five countries.
So why build a wind farm offshore? Well, space is major problem for many onshore wind projects.
"The big challenge we are facing towards 2030 and 2050 is onshore wind is hampered by local opposition and nearshore is nearly full," Rob van der Hage, TenneT's program manager, told the Guardian. "It's logical we are looking at areas further offshore."
While the $1.8 billion project seems expensive, the developers tout that their project is actually cost-effective compared to traditional wind farms.
Business Insider explained:
"Offshore wind farms typically use expensive underwater cables that convert the turbines' electric current into a type that electricity grids can use. TenneT's island, however, would house equipment that would perform this conversion on-site, thereby allowing the farm to send electricity directly to the UK and Netherlands via less pricey cables.
"…Putting additional equipment on the island would also allow the team to operate more turbines at a lower cost—and thus generate more power—than a traditional offshore wind farm."
Netherlands Launches Landmark Zero-Subsidy Wind Power Auction https://t.co/zmWD9xhQdz @GreenpeaceUK @globalactplan

— EcoWatch (@EcoWatch)1513515305.0
Related Articles Around the Web
The price of offshore wind energy has dropped significantly in recent years. Wikimedia Commons
The Netherlands has launched the world's first "zero subsidy" tender on Friday to build 700 megawatts of offshore wind. Shortly after the announcement, the country already found its first bidder.
Zero subsidy tenders have been labeled as a "game-changer" for the sector because it means that potential bidders would rely solely on wholesale electricity prices without financial aid from the government.
The Netherlands is seeking an estimated $2.7 billion to install two 350-megawatt projects in the North Sea. Only companies that require no support at all can participate, as Reuters reported.
The landmark Dutch tender comes after wind farm auctions in Germany earlier this year, where developers grabbed some slots to build offshore wind farms without subsidies.
"The zero subsidy bid is a breakthrough for the cost competitiveness of offshore wind and it demonstrates the technology's massive global growth potential as a cornerstone in the economically viable shift to green energy systems," Samuel Leupold, the head of Denmark Dong Energy's wind power unit, one of the winning bidders, told Financial Times.
Reuters explained that Dutch subsidies have dropped due to plummeting offshore wind costs:
"At the Netherlands' two previous auctions for offshore wind power last year, subsidies granted fell by a quarter, as a combination of surging demand for wind energy, low interest rates, technological progress and competition among turbine makers made it considerably cheaper to build wind farms."
Although a Dutch official acknowledged that the subsidy-free tender could be a risk, Swedish energy group Vattenfall has already confirmed itself as a bidder on Friday.
"It is a major milestone for Vattenfall and would be an important step to become fossil free within one generation," the company announced. "Vattenfall is firmly committed to the green transition of Northern Europe, investing more than EUR 2 billion in renewable energy between 2017-2018," adding that it sees the new project "as a significant milestone for both the green transition of the Netherlands and Vattenfall."
According to Recharge, "Other potential contenders such as sector leader Orsted and Germany's EnBW—the two successful zero-bidders in Germany—have not said whether they are taking part, although the latter has set up a Dutch subsidiary that would allow it to do so."
Vattenfall participates in offshore tender wind tender in the Dutch part of the North Sea. It is a major milestone… https://t.co/ffLwIBBeV4

— Vattenfall Group (@Vattenfall Group)1513337018.0
Paris smog. Damián Bakarcic / Flickr
The movement to ban the internal combustion engine is growing.
The European cities of Paris, Oxford, as well as the whole of the Netherlands, have recently announced separate proposals to phase out cars powered by fossil fuels.
France and Britain already have plans to ban diesel- and gasoline-powered cars by 2040, but cities within the countries have speedier goals.
"Transport is one of the main greenhouse gas producers ... so we are planning an exit from combustion engine vehicles, or fossil-energy vehicles, by 2030," Christophe Najdovski, an official responsible for transport policy at the office of Paris mayor Anne Hidalgo, said.
Air pollution is notoriously high in the French capital, which has been forced to issue bans on half the number of cars on the road in an effort to improve air quality.
The university city of Oxford, England has an even more aggressive goal than Paris. City officials announced a "Zero Emission Zone" that bans emitting vehicles from entering part of Oxford city center from 2020. This move could establish the world's first zero-emissions zone.
"Toxic and illegal air pollution in the city centre is damaging the health of Oxford's residents. A step change is urgently needed; the zero emissions zone is that step change," Councillor John Tanner of Oxford city council said.
"All of us who drive or use petrol or diesel vehicles through Oxford are contributing to the city's toxic air. Everyone needs to do their bit, from national government and local authorities, to businesses and residents, to end this public health emergency."
According to Reuters, starting in 2020, taxis, cars, light commercial vehicles and buses which are non zero-emission, will be banned from six streets in the city center. The zone will widen to include more streets and more vehicles until 2035 when all emitting vehicles will be blocked from entering the center.
Madrid, Mexico City and Athens also intend to ban diesel vehicles from their city centers. Earlier this week, Copenhagen's mayor proposed a ban on new diesel cars entering the city's environmental zone, a low-emission area that basically covers the whole of the capital, as early as 2019.
Finally, Electrek reported that the Dutch government presented a plan that all new cars in the Netherlands must be emission-free by 2030, basically phasing out gas-guzzlers in favor of battery-powered vehicles.
Electrek noted that the ban would only apply to brand new cars produced and sold after 2030.
It's not just Europe that's taking this leap. The Netherlands joins other countries such as India and China that are planning to ditch emitting cars. Over in the U.S., California Gov. Jerry Brown floated a similar idea.
cu2030.nl
In the Netherlands, where there are 1.3 bikes per person, finding a parking space for a two-wheeler can be daunting.
To amend the situation, the country is building a massive, three-story bike parking garage beneath Utrecht's central train station. The first phase of the project will be able to hold 6,000 bikes, then another 6,500 spots will be added by the end of 2018.
Once construction of the 184,000-square-foot space is complete, the bike parking garage be the world's largest, taking the title from the 9,400-spot Kasai underground station in Tokyo.
But as the Guardian reports, leave it up to the bike-loving Dutch to comment that 12,500 parking spots aren't enough.
"They have been talking about updating the city since 1989," said Martijn van Es, spokesman for the Dutch cycling organization Fietsersbond. "The infrastructure hasn't changed enough. And there are a lot more cyclists today than there were, [and much of the infrastructure] was built in the 1980s."
Bicycling has sharply risen in Dutch cities in recent years, with 40 percent of those arriving to Utrech station coming by bike.
Tatjana Stenfert, project manager at Utrecht station's square, told the Guardian that planners are trying to add even more stalls.
"We will have 12,500 places by the end of 2018. But then we will have to do some research and find more places for the bikes," Stenfert said. "It never stops. I look around and everyone is trying hard to find spaces—trying hard and fast."
The Netherlands, aka Windmill Country, is now operating 100 percent of its electric trains with wind energy.
As of Jan. 1, 600,000 daily train passengers have been traveling completely carbon neutral, according to an announcement from the Netherlands' principal passenger railway operator, NS.
Netherlands take e-mobility to next level: 100% of country's trains are powered by #wind: https://t.co/U1oDry30ll https://t.co/c0vrXxrDZl

— UN Climate Change (@UN Climate Change)1484034143.0
Dutch electric trains are running on 1.2 billion kilowatt-hours of wind energy supplied by sustainable energy supplier, Eneco. As Brightvibes noted, a "decreasing and relatively small number" of Dutch trains are still running on diesel.
NS and Eneco first announced their plan of a wind-powered railway in 2015 in order to drastically slash train ride emissions. Their original goal was to transition the trains to 100 percent renewable energy by 2018, but that target was moved up after reaching 75 percent in 2016. Impressively, this means their initial goal was met one whole year ahead of schedule.

According to Eneco, the power used by the carriers comes from newly built wind farms in the Netherlands, Scandinavia and Belgium. By tapping into both domestic and foreign sources of wind power, it "[ensures] that there is always sufficient green power available on the grid for rail companies, even if the wind is not blowing," the company explained.
As Eneco's account manager Michel Kerkhof pointed out, the "key objective is to avoid procuring energy from the limited existing number of sustainable energy projects in the Netherlands, thus promoting renewable growth both domestically and Europe-wide."
"This partnership ensures that new investments can be made in even newer wind farms, which will increase the share of renewable energy," Kerkhof continued. "In this way, the Dutch railways aim to reduce the greatest negative environmental impact caused by CO2 in such a way that its demand actually contributes to the sustainable power generation in the Netherlands and Europe."
Railway Gazette reports that NS records about 1.2 million passenger-journeys per day, with an annual energy requirement for 1.2 billion kWh. The company aims to further reduce consumption by 2 percent a year with an energy efficiency program, with total consumption already reduced by 30 percent since 2005. The company is also looking for a "dramatic" reduction in greenhouse gas emissions.
In this video, NS CEO Roger van Boxtel is humorously strapped to a windmill blade as he touts his company's latest renewable energy achievement. The clip is in Dutch so set the captions to "translate" if you do not speak the language.

Wind farms—both onshore and offshore—are regarded as a key component in renewable energy policy and an important tool in mitigating the risks of climate change.
The Netherlands currently has a total of 2,200 wind turbines across the country, according to DutchNews.nl. The turbines supply enough energy to power 2.4 million households.

The Dutch government is looking to ramp up the nation's share of renewable energy from 4 percent in 2014 to 16 percent in 2023. This year the country is due to start operating a 600-megawatt offshore wind farm, called Gemini.
As President Obama's signature Clean Power Plan heads to court, the Dutch parliament voted Thursday to shut down its entire coal industry. The move is needed in order for the country to meet its 2030 goal to reduce carbon emissions by 55 percent.
Dutch parliament building in The Hague.Markus Bernet, Wikimedia
The action would put the Netherlands in position to achieve the goals of the Paris climate agreement. The 77 to 72 vote, while non-binding, comes on the heels of a recent confidential study, leaked to the Dutch newspaper Trouw, that one or more plants would have to be closed. The country has five coal plants currently in operation, including three that just came online last year. A recent five percent increase in emissions has been linked to its newest plants.

An overwhelmed Urgenda lawyer Cox after winning the historic Dutch climate case.Urgenda / Chantal Bekker
In June, 2015, a court in The Hague ordered the Dutch government to cut its emissions by 25 percent within five years. The unprecedented ruling came in a case brought by the Dutch Urgenda Foundation. In a transcript from the reading of the verdict, the court said: "The state must do more to avert the imminent danger caused by climate change, also in view of its duty of care to protect and improve the living environment." The government has appealed the ruling.

In the leaked document, the consulting firm CE Delft said that the Dutch government would need to quickly close one or two power plants to meet the court's order. They concluded that closing the plants would impose lower costs to society than other alternatives to achieve the court-imposed emissions target. The report estimated that the average household would save 80 Euros ($90 at current exchange rates) a year, against costs of 30 Euros ($34). The Dutch economic ministry estimated that the cost of closing all the country's coal plants by 2020 would total 7 billion Euros ($7.9 billion).
Last year, five older coal-fired plants were decommissioned. Some environmentalists think that a coalition agreement could keep some or all of the three newer plants open. The issue has been contentious and is likely to affect next year's Dutch elections. The right-wing, populist Freedom Party, which may block the parliament's plan, currently leads many opinion polls.
Inhabitat
In the U.S., 94 coal plants were shut down last year, with another 41 expected to the shuttered in 2016. Aging plants and cheap natural gas are driving the transition from coal, even as 26 states are suing the federal government to overturn the Clean Power Plan. The U.S. Court of Appeals for the DC Circuit will hear oral arguments Sept. 27.

Even if the Clean Power Plan survives this challenge, a study published today in Nature Climate Change says that the U.S. will miss its 2025 carbon emissions target by a wide amount, as much as 1.5 billion metric tons per year. Nevertheless, "The study underscores the importance of EPA's Clean Power Plan for meeting the climate change promises," wrote Science this morning.
This week the Netherlands announced that would join the U.S., United Kingdom and others in ending support for public financing for new coal-fired power plants is a good sign for the growing fossil fuel divestment movement.
"This is another sign that the coal industry is on its last legs," said Tim Ratcliffe, of 350.org, which is helping coordinate the global movement to divest from the fossil fuel industry. "There's a growing consensus that coal has no place in a carbon constrained world. Coal isn't just bad news for the climate, it's increasingly bad news for any financial portfolio. Institutional investors should read the writing on the wall and divest."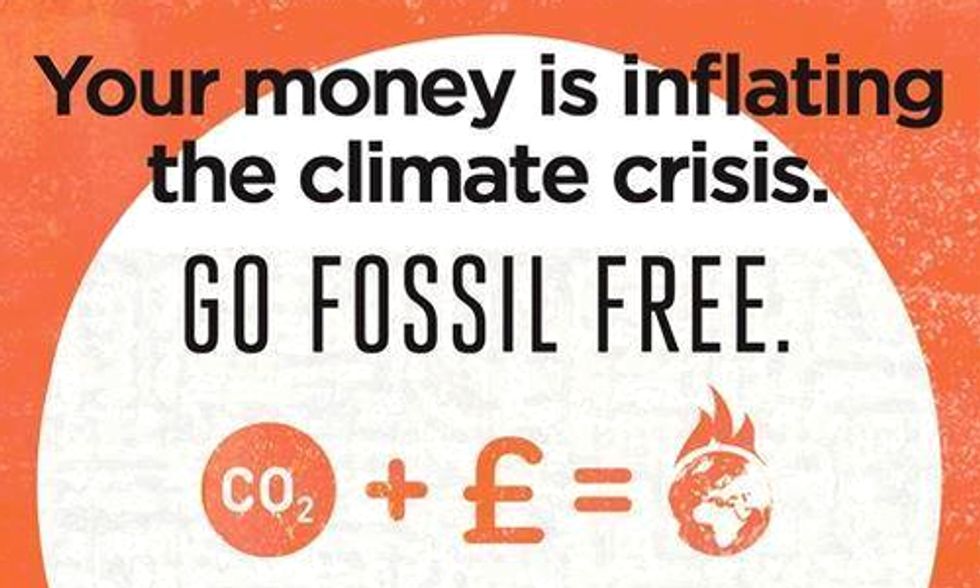 In their joint announcement, the U.S. and Netherlands stated, "We emphasize that our work to scale up climate-friendly investments in developing countries is most effective when combined with reducing public incentives for high-carbon infrastructure."
"We need to redirect the flow of capital away from carbon-intensive investments and into climate solutions," said Ratcliffe. "As value-driven institutions, universities, churches and pension funds should be leaders in helping speed up this transition."
Dutch campaigners call on the Dutch pension fund ABP, one of the largest pension funds in the world, to divest from fossil fuels. ABP's large exposure to high-carbon assets, puts the Netherlands at risk, according to a recent study by the Greens/ European Free Alliance. The largest part of ABP's investments in commodities worth €10 billion is related to oil and gas that risk turning into stranded assets.
"ABP is entrusted with our money to secure our future, not to finance an industry whose business model is based on wrecking our future," said Liset Meddens, coordinator of Fossil Free NL with 350.org. "ABP needs to recognize the financial and environmental risks of fossil fuel assets and start phasing out their investments in this dirty industry."
The Dutch pension fund would thereby follow Norway's lead. Norway has set up an expert group to see if its $840 billion oil fund (the world's largest sovereign wealth fund) should stop investing in fossil fuel companies.
Tuesday's announcement will also place a new level of scrutiny on the U.S., Netherlands, World Bank and other large investors to make sure that they are living up to their commitment to stop supporting high-carbon infrastructure. Analysis by the group Oil Change International, for example, has shown that despite its climate commitments, the World Bank actually increased its funding for fossil fuel projects between 2012 and 2013. Meanwhile, the Obama Administration is currently deliberating on whether or not approve a permit for the carbon-intensive Keystone XL pipeline.
"It would be completely hypocritical for the Obama Administration to say that it wants to reduce public support for high-carbon infrastructure and then approve the Keystone XL pipeline, which is a fuse to the largest carbon bomb on the planet, the Canadian tar sands," said Jamie Henn, 350.org strategy and communications director. "If the U.S. wants its climate commitments to be taken seriously by the international community, it needs to reject Keystone XL."
Related Content:
U.S. Coal Exports Nearly Triple Over Last Decade
Why Investing in Dirty Fuels is a Bad Idea