A warming climate can lead to lake stratification, including toxic algal blooms. UpdogDesigns / Getty Images
By Ayesha Tandon
New research shows that lake "stratification periods" – a seasonal separation of water into layers – will last longer in a warmer climate.
These longer periods of stratification could have "far-reaching implications" for lake ecosystems, the paper says, and can drive toxic algal blooms, fish die-offs and increased methane emissions.
The study, published in Nature Communications, finds that the average seasonal lake stratification period in the northern hemisphere could last almost two weeks longer by the end of the century, even under a low emission scenario. It finds that stratification could last over a month longer if emissions are extremely high.
If stratification periods continue to lengthen, "we can expect catastrophic changes to some lake ecosystems, which may have irreversible impacts on ecological communities," the lead author of the study tells Carbon Brief.
The study also finds that larger lakes will see more notable changes. For example, the North American Great Lakes, which house "irreplaceable biodiversity" and represent some of the world's largest freshwater ecosystems, are already experiencing "rapid changes" in their stratification periods, according to the study.
'Fatal Consequences'
As temperatures rise in the spring, many lakes begin the process of "stratification." Warm air heats the surface of the lake, heating the top layer of water, which separates out from the cooler layers of water beneath.
The stratified layers do not mix easily and the greater the temperature difference between the layers, the less mixing there is. Lakes generally stratify between spring and autumn, when hot weather maintains the temperature gradient between warm surface water and colder water deeper down.
Dr Richard Woolway from the European Space Agency is the lead author of the paper, which finds that climate change is driving stratification to begin earlier and end later. He tells Carbon Brief that the impacts of stratification are "widespread and extensive," and that longer periods of stratification could have "irreversible impacts" on ecosystems.
For example, Dr Dominic Vachon – a postdoctoral fellow from the Climate Impacts Research Centre at Umea University, who was not involved in the study – explains that stratification can create a "physical barrier" that makes it harder for dissolved gases and particles to move between the layers of water.
This can prevent the oxygen from the surface of the water from sinking deeper into the lake and can lead to "deoxygenation" in the depths of the water, where oxygen levels are lower and respiration becomes more difficult.
Oxygen depletion can have "fatal consequences for living organisms," according to Dr Bertram Boehrer, a researcher at the Helmholtz Centre for Environmental Research, who was not involved in the study.
Lead author Woolway tells Carbon Brief that the decrease in oxygen levels at deeper depths traps fish in the warmer surface waters:
"Fish often migrate to deeper waters during the summer to escape warmer conditions at the surface – for example during a lake heatwave. A decrease in oxygen at depth will mean that fish will have no thermal refuge, as they often can't survive when oxygen concentrations are too low."

This can be very harmful for lake life and can even increase "fish die-off events" the study notes.
However, the impacts of stratification are not limited to fish. The study notes that a shift to earlier stratification in spring can also encourage communities of phytoplankton – a type of algae – to grow sooner, and can put them out of sync with the species that rely on them for food. This is called a "trophic mismatch."
Prof Catherine O'Reilly, a professor of geography, geology and the environment at Illinois State University, who was not involved in the study, adds that longer stratified periods could also "increase the likelihood of harmful algae blooms."
The impact of climate change on lakes also extends beyond ecosystems. Low oxygen levels in lakes can enhance the production of methane, which is "produced in and emitted from lakes at globally significant rates," according to the study.
Woolway explains that higher levels of warming could therefore create a positive climate feedback in lakes, where rising temperatures mean larger planet-warming emissions:
"Low oxygen levels at depth also promotes methane production in lake sediments, which can then be released to the surface either via bubbles or by diffusion, resulting in a positive feedback to climate change."

Onset and Breakup
In the study, the authors determine historical changes in lake stratification periods using long-term observational data from some of the "best-monitored lakes in the world" and daily simulations from a collection of lake models.
They also run simulations of future changes in lake stratification period under three different emission scenarios, to determine how the process could change in the future. The study focuses on lakes in the northern hemisphere.
The figure below shows the average change in lake stratification days between 1900 and 2099, compared to the 1970-1999 average. The plot shows historical measurements (black), and the low emission RCP2.6 (blue), mid emissions RCP6.0 (yellow) and extremely high emissions RCP8.5 (red) scenarios.
Change in lake stratification duration compared to the 1970-1999 average, for historical measurements (black), the low emission RCP2.6 (blue) moderate emissions RCP6.0 (yellow) and extremely high emissions RCP8.5 (red). Credit: Woolway et al (2021).
The plot shows that the average lake stratification period has already lengthened. However, the study adds that some lakes are seeing more significant impacts than others.
For example, Blelham Tarn – the most well-monitored lake in the English Lake District – is now stratifying 24 days earlier and maintaining its stratification for an extra 18 days compared to its 1963-1972 averages, the study finds. Woolway tells Carbon Brief that as a result, the lake is already showing signs of oxygen depletion.
Climate change is increasing average stratification duration in lakes, the findings show, by moving the onset of stratification earlier and pushing the stratification "breakup" later. The table below shows projected changes in the onset, breakup and overall length of lake stratification under different emission scenarios, compared to a 1970-1999 baseline.
The table shows that even under the low emission scenario, the lake stratification period is expected to be 13 days longer by the end of the century. However, in the extremely high emissions scenario, it could be 33 days longer.
The table also shows that stratification onset has changed more significantly than stratification breakup. The reasons why are revealed by looking at the drivers of stratification more closely.
Warmer Weather and Weaker Winds
The timing of stratification onset and breakup in lakes is driven by two main factors – temperature and wind speed.
The impact of temperature on lake stratification is based on the fact that warm water is less dense than cool water, Woolway tells Carbon Brief:
"Warming of the water's surface by increasing air temperature causes the density of water to decrease and likewise results in distinct thermal layers within a lake to form – cooler, denser water settles to the bottom of the lake, while warmer, lighter water forms a layer on top."

This means that, as climate change causes temperatures to rise, lakes will begin to stratify earlier and remain stratified for longer. Lakes in higher altitudes are also likely to see greater changes in stratification, Woolway tells Carbon Brief, because "the prolonging of summer is very apparent in high latitude regions."
The figure below shows the expected increase in stratification duration from lakes in the northern hemisphere under the low (left), mid (center), and high (right) emission scenarios. Deeper colors indicate a larger increase in stratification period.
Expected increase in stratification duration in lakes in the northern hemisphere under the low (left), mid (centre) and high (right) emissions scenarios. Credit: Woolway et al (2021).
The figure shows that the expected impact of climate change on stratification duration becomes more pronounced at more northerly high latitudes.
The second factor is wind speed, Woolway explains:
"Wind speed also affects the timing of stratification onset and breakdown, with stronger winds acting to mix the water column, thus acting against the stratifying effect of increasing air temperature."

According to the study, wind speed is expected to decrease slightly as the planet warms. The authors note that the expected changes in near-surface wind speed are "relatively minor" compared to the likely temperature increase, but they add that it may still cause "substantial" changes in stratification.
The study finds that air temperature is the most important factor behind when a lake will begin to stratify. However, when looking at stratification breakup, it finds that wind speed is a more important driver.
Meanwhile, Vachon says that wind speeds also have implications for methane emissions from lakes. He notes that stratification prevents the methane produced on the bottom of the lake from rising and that, when the stratification period ends, methane is allowed to rise to the surface. However, according to Vachon, the speed of stratification breakup will affect how much methane is released into the atmosphere:
"My work has suggested that the amount of accumulated methane in bottom waters that will be finally emitted is related to how quickly the stratification break-up occurs. For example, a slow and progressive stratification break-up will most likely allow water oxygenation and allow the bacteria to oxidise methane into carbon dioxide. However, a stratification break-up that occurs rapidly – for example after storm events with high wind speed – will allow the accumulated methane to be emitted to the atmosphere more efficiently."

Finally, the study finds that large lakes take longer to stratify in spring and typically remain stratified for longer in the autumn – due to their higher volume of water. For example, the authors highlight the North American Great Lakes, which house "irreplaceable biodiversity" and represent some of the world's largest freshwater ecosystems.
These lakes have been stratifying 3.5 days earlier every decade since 1980, the authors find, and their stratification onset can vary by up to 48 days between some extreme years.
O'Reilly tells Carbon Brief that "it's clear that these changes will be moving lakes into uncharted territory" and adds that the paper "provides a framework for thinking about how much lakes will change under future climate scenarios."
Reposted with permission from Carbon Brief.
EcoWatch Daily Newsletter
A view of Lake Powell from Romana Mesa, Utah, on Sept. 8, 2018. DEA / S. AMANTINI / Contributor / Getty Images
By Robert Glennon
Interstate water disputes are as American as apple pie. States often think a neighboring state is using more than its fair share from a river, lake or aquifer that crosses borders.
Robert Glennon is a Regents Professor and Morris K. Udall Professor of Law & Public Policy, University of Arizona.

Disclosure statement: Robert Glennon received funding from the National Science Foundation in the 1990s and 2000s.
Reposted with permission from The Conversation.
waterlust.com / @tulasendlesssummer_sierra .
Each product featured here has been independently selected by the writer. If you make a purchase using the links included, we may earn commission.
The bright patterns and recognizable designs of Waterlust's activewear aren't just for show. In fact, they're meant to promote the conversation around sustainability and give back to the ocean science and conservation community.
Each design is paired with a research lab, nonprofit, or education organization that has high intellectual merit and the potential to move the needle in its respective field. For each product sold, Waterlust donates 10% of profits to these conservation partners.
Eye-Catching Designs Made from Recycled Plastic Bottles
waterlust.com / @abamabam
The company sells a range of eco-friendly items like leggings, rash guards, and board shorts that are made using recycled post-consumer plastic bottles. There are currently 16 causes represented by distinct marine-life patterns, from whale shark research and invasive lionfish removal to sockeye salmon monitoring and abalone restoration.

One such organization is Get Inspired, a nonprofit that specializes in ocean restoration and environmental education. Get Inspired founder, marine biologist Nancy Caruso, says supporting on-the-ground efforts is one thing that sets Waterlust apart, like their apparel line that supports Get Inspired abalone restoration programs.
"All of us [conservation partners] are doing something," Caruso said. "We're not putting up exhibits and talking about it — although that is important — we're in the field."
Waterlust not only helps its conservation partners financially so they can continue their important work. It also helps them get the word out about what they're doing, whether that's through social media spotlights, photo and video projects, or the informative note card that comes with each piece of apparel.
"They're doing their part for sure, pushing the information out across all of their channels, and I think that's what makes them so interesting," Caruso said.
And then there are the clothes, which speak for themselves.
Advocate Apparel to Start Conversations About Conservation
waterlust.com / @oceanraysphotography
Waterlust's concept of "advocate apparel" encourages people to see getting dressed every day as an opportunity to not only express their individuality and style, but also to advance the conversation around marine science. By infusing science into clothing, people can visually represent species and ecosystems in need of advocacy — something that, more often than not, leads to a teaching moment.

"When people wear Waterlust gear, it's just a matter of time before somebody asks them about the bright, funky designs," said Waterlust's CEO, Patrick Rynne. "That moment is incredibly special, because it creates an intimate opportunity for the wearer to share what they've learned with another."
The idea for the company came to Rynne when he was a Ph.D. student in marine science.
"I was surrounded by incredible people that were discovering fascinating things but noticed that often their work wasn't reaching the general public in creative and engaging ways," he said. "That seemed like a missed opportunity with big implications."
Waterlust initially focused on conventional media, like film and photography, to promote ocean science, but the team quickly realized engagement on social media didn't translate to action or even knowledge sharing offscreen.
Rynne also saw the "in one ear, out the other" issue in the classroom — if students didn't repeatedly engage with the topics they learned, they'd quickly forget them.
"We decided that if we truly wanted to achieve our goal of bringing science into people's lives and have it stick, it would need to be through a process that is frequently repeated, fun, and functional," Rynne said. "That's when we thought about clothing."
Support Marine Research and Sustainability in Style
To date, Waterlust has sold tens of thousands of pieces of apparel in over 100 countries, and the interactions its products have sparked have had clear implications for furthering science communication.
For Caruso alone, it's led to opportunities to share her abalone restoration methods with communities far and wide.
"It moves my small little world of what I'm doing here in Orange County, California, across the entire globe," she said. "That's one of the beautiful things about our partnership."
Check out all of the different eco-conscious apparel options available from Waterlust to help promote ocean conservation.
Melissa Smith is an avid writer, scuba diver, backpacker, and all-around outdoor enthusiast. She graduated from the University of Florida with degrees in journalism and sustainable studies. Before joining EcoWatch, Melissa worked as the managing editor of Scuba Diving magazine and the communications manager of The Ocean Agency, a non-profit that's featured in the Emmy award-winning documentary Chasing Coral.
The numbers of migratory freshwater fish such as salmon have declined 76 percent since 1970. Mike Bons / 500px / Getty Images
The latest warning of the Earth's mounting extinction crisis is coming from its lakes and rivers.
A new report from a coalition of 16 conservation groups warns that almost a third of freshwater fish species face extinction because of human activity.
"Nowhere is the world's nature crisis more acute than in our rivers, lakes and wetlands, and the clearest indicator of the damage we are doing is the rapid decline in freshwater fish populations. They are the aquatic version of the canary in the coal mine, and we must heed the warning," Stuart Orr, WWF global freshwater lead, said in a statement Tuesday announcing the report.
WWF is one of the many organizations behind the report, along with the Alliance for Freshwater Life, Conservation International and The Nature Conservancy, to name a few. Together, the groups emphasized the incredible diversity of the world's freshwater fish and their importance for human wellbeing.
There are a total of 18,075 freshwater fish species in the world, accounting for 51 percent of all fish species and 25 percent of all vertebrates. They are an important food source for 200 million people and provide work for 60 million. But their numbers are in decline. The IUCN Red List of Threatened Species has declared 80 to be extinct, 16 of those in 2020 alone. The numbers of migratory freshwater fish such as salmon have declined 76 percent since 1970, while mega-fish such as beluga sturgeon have fallen by 94 percent in the same time period. In fact, freshwater biodiversity is plummeting at twice the rate of biodiversity in the oceans and forests.
Despite this, freshwater fish get much less attention than their saltwater counterparts, the report authors say. Titled "The World's Forgotten Fishes," it argues that policy makers rarely consider river wildlife when making decisions.
The main threats to freshwater fish include building dams, syphoning river water for irrigation, releasing wastewater and draining wetlands. Other factors include overfishing, introducing invasive species and the climate crisis.
"As we look to adapt to climate change and we start to think about all the discussions that governments are going to have on biodiversity, it's really a time for us to shine a light back on freshwater," Orr told NBC News.
To protect these forgotten fishes, the report authors outlined a six-point plan:
1. Let rivers flow more naturally;
2. Improve water quality in freshwater ecosystems;
3. Protect and restore critical habitats;
4. End overfishing and unsustainable sand mining in rivers and lakes;
5. Prevent and control invasions by non-native species; and
6. Protect free-flowing rivers and remove obsolete dams.
They also called on world leaders to include freshwater ecosystems in an ambitious biodiversity agreement at the upcoming UN Convention on Biological Diversity conference in Kunming, China.
But the solution will require more than just government action.
"It's now more urgent than ever that we find the collective political will and effective collaboration with private sector, governments, NGOs and communities, to implement nature-based solutions that protect freshwater species, while also ensuring human needs are met," Carmen Revenga of The Nature Conservancy told BBC News.
The Great Lakes, including Lake Michigan, experienced some of their warmest temperatures on record in the summer of 2020. Ken Ilio / Moment / Getty Images
Heatwaves are not just distinct to the land. A recent study found lakes are susceptible to temperature rise too, causing "lake heatwaves," The Independent reported.
For the first time, researchers showed how lakes experience heatwaves and are sensitive to variations in the climate, lead author Dr. Iestyn Woolway, a research fellow at the European Space Agency's Climate Office in the UK, told The Independent.
Published on Wednesday in Nature, the study analyzed how hundreds of lake temperatures changed across the world, from the period between 1901 to 2099. If greenhouse gas emissions continue to rise, lakes will experience hotter and longer heatwaves, researchers found.
Woolway and his team studied lake temperatures during heatwaves under two scenarios: high greenhouse gas emissions and low greenhouse gas emissions. Compared to data from the period between 1970-1999, the average temperature of global lakes could increase to about 1.7°C during heatwaves by the end of the century in a high greenhouse gas emission future, The Independent reported.
But high greenhouse gas emissions could increase more than just a lake's temperature during a heatwave. The average length of a heatwave could also increase from eight days to 95 days by the end of the century, The Independent reported.
"As lakes warm during the twenty-first century, their heatwaves will begin to extend across multiple seasons, with some lakes reaching a permanent heatwave state," the study noted.
Over the summer, the Great Lakes experienced some of their warmest temperatures on record. Surface water temperature in all the Great Lakes, except for Lake Superior, experienced temperatures in the 70s, The Washington Post reported in July. Lake Erie even reported temperatures in the 80s, similar to that of Virginia Beach.
"Ultimately, lake temperatures follow the temperatures of the atmosphere," Dr. Woolway told The Independent.
The Great Lakes water temperatures were six to eleven degrees warmer than normal this past summer, responding to air temperatures in the region that were some of the warmest ever reported, The Washington Post reported.
"Last year was really cold and there was a lot of rain. This year there hasn't been as much rain, and it's been persistently hot," Andrea Vander Woude, manager of the Great Lakes CoastWatch program at NOAA, told The Washington Post.
Some locals in the Great Lake region had nothing to complain about. "I'm loving this," Whitney Miller, a Michigan-based swim instructor, told the Record-Eagle, a newspaper in the region, according to The Washington Post. "Last year I was in a wetsuit up through the 15th of July ... I was a popsicle." However, high temperatures in lakes pose a serious threat to the survival of natural ecosystems, the study found.
Serving as more than just a recreational hotspot, the Great Lakes are an important source for clean water and economic livelihood. Nearly 90 percent of the freshwater in the United States and approximately 20 percent of the world's fresh water supply comes from the Great Lakes, according to NOAA. Millions of pounds of fish are also extracted out of the lakes each year.
Increases in water temperature will reduce habitat for coldwater fish, making the lakes more suitable habitats for invasive species and susceptible to dangerous algal blooms, The National Wildlife Federation reported.
But meeting the Paris agreement's goal of limiting global warming below 2°C compared to pre-industrial levels could slow temperature increases and reduce heatwave length in lakes, the study found.
Relative to the period between 1970 and 1999, lake temperatures during heatwaves could be limited to just a 0.3°C increase by the end of the century if this goal is met. A lake's heatwave duration could also be limited, increasing by only 27 days, rather than 95 days in a high emissions future, according to the study.
To avoid major changes to lake ecosystems, action must be taken now, the researchers stress. "Reducing greenhouse gas emissions must remain at the forefront of our agenda," Dr. Woolway told The Independent.
A local fisherman paddles a traditional raft made from reeds past one of the submerged buildings of the Soi Lodge on the shores of Lake Baringo, where rising water levels have seen the lake surface area expand to occupy elevated ground surrounding it's shores displacing entire villages and inundating farmland and crops as well as building and infrastructure, near Marigat, Baringo county on the Kenyan Rift Valley, on October 6, 2020. TONY KARUMBA / AFP / Getty Images
By Wesley Langat
Over the years, the Rift Valley lakes in Eastern Africa have been vital in supporting livelihoods of local communities who depend on fishing, farming and livestock keeping. Apart from being a UNESCO world heritage site, the lakes are also a major tourist attraction destination with rich flora and fauna.

But recent rising levels of water in the lakes have become disastrous, displacing thousands of people. One of those displaced individuals is 60-year-old David Maragoli, a father of three. Maragoli invested his savings into buying a piece of land and building a brick house for his family in the Borut village in Nakuru, 165 kilometers west of Nairobi – Kenya's capital city.
"I'm not employed anywhere, but all my savings from the hawking business, amounting to over 2 million KSh (USD 2,000), was lost here," he said.
Climate change is one of the present day global challenges that is continuously exposing millions of people to persistent accumulation of vulnerabilities and risks such as flooding, droughts and land slides among other natural disasters.
The 2019 Global Report on Internal Displacement shows that Sub Saharan Africa recorded 2.6 million people were negatively impacted by weather-related disasters, more than any other region and accounting for 36% of all displacements worldwide.
A few months ago, the shore line of the lake was almost one kilometer away from Maragoli's house, but in recent weeks waters have been submerging houses and farms at an alarming rate near his home. Maragoli said that drivable gravel roads in the village are no longer useful. People are now having to travel by boat as a new means of transportation to collect the remains of their homes, such as bricks, iron sheets and other building materials.
"It's so sad, some weeks ago, I could load my belongings into a truck just in the compound, but now it is not accessible anymore – only by boat," he added.
Even though the entire region of the Rift Valley is not experiencing heavy rain, several other lakes including Baringo, Naivasha, Bogoria, and Turkana among others are recording high levels of water, overflowing into the nearby settlements and displacing people, flooding farms, and destroying property.
John Hauwory, an independent consultant and geologist based in Nakuru, attributed these issues to the rapidly changing climate preceded by erratic rains, droughts and increased human activities in the watershed catchment areas.
"The anthropogenic activities coupled with meteorological activity in the Lake Nakuru basin and geological activities dispose the lake to flooding," said Hauwory. He added that the impact of human activities in the lake's catchment area has had a profound effect on the flooding risk.
Dickson Ritan, the assistant director of the Central Rift conservation area based in the Nakuru Kenya Wildlife Service Office (KWS) – a government agency, said that this year Lakes Nakuru and Baringo have recorded the highest levels of waters. He noted that the flooding in the lakes has not only affected livelihoods but also wildlife and tourism, most of the hotels have been closed down and the wildlife displaced.
"In almost all the Rift Valley's lakes, water level has risen considerably, engulfing riparian areas which were previously pasture spaces for wildlife like hippos and buffalos," Ritan explained.
He added that flooding is causing a serious impact on wildlife as most of them have been displaced. In Baringo and Nakuru, for instance, Ritan said that his organization is continuously monitoring the situation and has relocated the affected wildlife to flood free zones.
Reports indicate that floods in Lake Baringo have left more than 5,000 people homeless. The Kenya's National Climate Change Action Plan indicates that the economic cost of floods and droughts in Kenya is estimated to create a long-term fiscal liability equivalent to between 2% and 2.8% of the country's GDP every year. The costs of floods are estimated to be about 5.5% of GDP every seven years, while droughts account for 8% of GDP every five years.
Experts and geologists described the East Africa Rift System as the biggest rift on Earth. Its formation was as a result of hot volcanic magma separating the two tectonic plates creating Eastern Rift Valley and Western (Albertine) Rift Valley. Additionally, the formation of the great lakes of Eastern Africa is due to massive volcanic activities and depressions.
According to Hauwory, the Great Rift Valley lakes have diverse biodiversity that supports millions of people and wildlife. However, due to the fertile soil in the upper catchment areas, a large percentage of lands adjacent to these lakes experience intensive and unsustainable land use such as agriculture, infrastructure developments, deforestation and urbanization. Therefore, these becomes the source of erosion leading to massive uncontrollable sedimentation in the lakes.
"The soil has high porosity, permeability and loose structure, therefore, highly susceptible to erosion, land subsidence and fractures during or after heavy rain," he noted. He further pointed out that widespread sediment deposition storage in these lakes end up occupying a lot of space, forcing water overflow like in the case of Lake Nakuru which is shallow.
"Due to high gradient in the catchment area, such as the Mau Forest Complex, the rate at which sedimentation takes place is too high, considering that most of these lakes do not have outlets, so the underground seepage is gradually filled with silt," he said.
The International Union for Conservation of Nature shows that the Kenya Lake System is a habitat for endangered and threatened species. In addition, due to its alkalinity, Lakes Nakuru, Elementaita and Bogoria, enable the growth of food for wildlife. The biodiversity created supports approximately 75% of the global population of flamingos.
Ritan also revealed that the current rising level of water is a threat to aquatic life, like flamingos. In Lake Nakuru, water has already covered a 30 kilometer square area of land destabilizing the composition of biodiversity in the lakes.
"The water salinity has affected the growth of algae, mainly the red algae, which is the main food for flamingos," Ritan said.
"When these food resources are threatened, this means aquatic animals are also affected. In particular, flamingos will be forced to migrate."
He commented that his agency is doing continuous surveillance, as well as, sensitizing the public to tame human-wildlife conflict as a result of displaced animals. On the other hand, Hawoury pointed out their need for educating the public on sustainable land management, soil erosion prevention, and building flood controls in the lakes.
According to government officials, the government of Kenya has formed a multi-agency technical team to deliberate on the root cause of the problem. The team also will assess the environmental, social, and economic impact of the rising level of water in the region. In addition, they seek possible mitigation measures and a possible solution.
Wesley Langat is a freelance journalist passionately covering environment, climate change and agricultural reporting around East Africa and Horn of Africa. He is currently writing for various international media outlets including Thomson Reuters Foundation, Climate Home News, News Deeply and InsideOver among others.

Matteo Farinella
Art by Matteo Farinella, written by Jeremy Deaton
Algal blooms are killing wildlife and making people sick. Here's how we aided their reign of terror.
Matteo Farinella is a neuroscientist-turned-cartoonist who uses comics to explain science. You can follow him @matteofarinella. Jeremy Deaton writes for Nexus Media, a nonprofit climate change news service. You can follow him @deaton_jeremy.
Reposted with permission from Nexus Media.
CBS New York / Screenshot
Less than a week after the official start of summer, New Jersey's largest lake was shut down by state officials due to a harmful algae bloom. Now, well into the heart of summer, Lake Hopatcong remains closed. And, several other lakes that have seen their waters turn green due to a rise in cyanobacteria have also been shut down, including Budd Lake and parts of Greenwood Lake.
Summer economies have been shattered by New Jersey's Department of Environmental Protection warnings about the blue-green algae. Lakeside rentals, swimming instructors, sailing teachers, boat rental operators, mini-golf clerks, ice cream vendors and many others who depend on a seasonal income have seen their bottom line decimated by the beach closures, according to the New York Times.
In fact, Lake Hopatcong, which is usually buzzing with activity, is so empty that a black bear recently took a swim across it, as News12 NJ tweeted.
The warning for Greenwood Lake was issued in mid-July, but triggered the cancellation of the lake's annual powerboat race during the last weekend in August.
"Although you would think our boat racers would not directly be affected, there is still potential for exposure to our competitors and emergency crews," the American Powerboat Association said in an official statement, as reported by Northjersey.com. "This bacteria is reported to potentially cause skin rashes, sickness or worse and our insurance is not prepared to take on the added liability."
Cyanobacteria, DEP officials warn, produce toxins that can cause skin irritation, stomach cramps, vomiting, nausea, diarrhea, fever, sore throat, headache, muscle and joint pain, blisters of the mouth and liver damage, as the Morristown Daily Record reported.
This summer has seen an unusually intense wave of algae blooms that have shutdown lakes in the Pacific Northwest and every beach on the Mississippi Gulf coast. Scientists say the climate crisis is probably a factor in the increase of cyanobacteria, which can grow in dense clusters and produce toxic substances. An increase in the frequency and intensity of rainstorms has pushed fertilizer runoff into waterways. Add to that hot, sunny days and the conditions are set for a harmful algae bloom, which are appearing more frequently and earlier in the season, according to the New York Times.
"With climate change, we've got more precipitation, we've got sea-level rise and all this aging infrastructure," said Chris Sturm, managing director for policy and water at New Jersey Future, a group pushing for better-planned development, as the New York Times reported.
Without swift political action and cooperation from all the towns around Lake Hopatcong, the lake may very well see more summers ruined by harmful algae blooms. The counties around Lake Hopatcong have older sewer and drainage systems that have worn down and been overwhelmed by increasingly intense storms. Pollution streams into the lake from diffuse sources — a couple of towns around the lake have sewers, while another started a sewer project but was not able to finish it. A fourth town only has septic systems, which have to be pumped out every three years, according to the New York Times.
From Your Site Articles
Related Articles Around the Web
Algae blooms in Lake Erie. NASA
By Anne Schechinger
Over the Fourth of July holiday, many of us love to beat the heat in a favorite lake, pond or river. But this year, vacationers from coast to coast will have to look out for a potentially record-breaking number of algae blooms.

So far this year there have been news stories about 107 algae outbreaks, compared to just 63 this time last year. That's a 70 percent increase. EWG's interactive map tracks news reports of blue-green algae blooms across the country since 2010, and this year is on track to have the most so far.
Recreating in or near water stricken by an algae bloom can lead to serious health consequences. Short-term exposure — whether through skin contact or ingestion — to the toxins sometimes produced by algae outbreaks has been linked to sore throat, nausea, vomiting, diarrhea and liver damage.
These outbreaks don't just affect peoples' health, they also hurt their wallets. Algae keeps people away from businesses near affected lakes, such as marinas and restaurants.
Lake Hopatcong, in New Jersey, is currently suffering the biggest bloom ever recorded in the state. Hopatcong Mayor Mike Francis says it could have devastating impacts on the health of residents and his town's economy.
In many cases, algae outbreaks are preventable. Reducing the amount of chemicals that run off farm fields can greatly reduce the number and severity of blooms in agricultural areas.
Lake Macbride, in Iowa, is an example of a lake surrounded by farmland that has algae bloom and E. coli problems. Mandated agricultural conservation practices could go a long way toward cleaning up water bodies like Lake Macbride.
If you plan a lake outing this holiday, it's vital to know what to look for to figure out whether a toxic blue-green algae bloom is present in the water. Before your next trip to a lake, check out our new video to find out.
DWalker44 / Getty Images
According to recent estimates, more than 8 million tons of plastic enter the oceans every year. Using that study's calculations of how much plastic pollution per person enters the water in coastal regions, one of us (Matthew Hoffman) has estimated that around 10,000 tons of plastic enter the Great Lakes annually. Now we are analyzing where it accumulates and how it may affect aquatic life.
No Garbage Patches, but Lots of Scrap on Beaches
Plastic enters the Great Lakes in many ways. People on the shore and on boats throw litter in the water. Microplastic pollution also comes from wastewater treatment plants, stormwater and agricultural runoff. Some plastic fibers become airborne—possibly from clothing or building materials weathering outdoors—and are probably deposited into the lakes directly from the air.
Sampling natural water bodies for plastic particles is time-consuming and can be done on only a small fraction of any given river or lake. To augment actual sampling, researchers can use computational models to map how plastic pollution will move once it enters the water. In the ocean, these models show how plastic accumulates in particular locations around the globe, including the Arctic.
When plastic pollution was initially found in the Great Lakes, many observers feared that it could accumulate in large floating garbage patches, like those created by ocean currents. However, when we used our computational models to predict how plastic pollution would move around in the surface waters of Lake Erie, we found that temporary accumulation regions formed but did not persist as they do in the ocean. In Lake Erie and the other Great Lakes, strong winds break up the accumulation regions.
Subsequent simulations have also found no evidence for a Great Lakes garbage patch. Initially this seems like good news. But we know that a lot of plastic is entering the lakes. If it is not accumulating at their centers, where is it?

Using our models, we created maps that predict the average surface distribution of Great Lakes plastic pollution. They show that most of it ends up closer to shore. This helps to explain why so much plastic is found on Great Lakes beaches: In 2017 alone, volunteers with the Alliance for the Great Lakes collected more than 16 tons of plastic at beach cleanups. If more plastic is ending up near shore, where more wildlife is located and where we obtain our drinking water, is that really a better outcome than a garbage patch?
Average density of simulated particles in the Great Lakes from 2009-2014. Notice that there are no patches in the middle of the Lakes, but more of the particles are concentrated near the shores. Matthew Hoffman / CC BY-NC-ND
Searching for Missing Plastic
We estimate that over four tons of microplastic are floating in Lake Erie. This figure is only a small fraction of the approximately 2,500 tons of plastic that we estimate enter the Lake each year. Similarly, researchers have found that their estimates of how much plastic is floating at the ocean's surface account for only around 1 percent of estimated input. Plastic pollution has adverse effects on many organisms, and to predict which ecosystems and organisms are most affected, it is essential to understand where it is going.
We have begun using more advanced computer models to map the three-dimensional distribution of plastic pollution in the Great Lakes. Assuming that plastic simply moves with currents, we see that a large proportion of it is predicted to sink to lake bottoms. Mapping plastic pollution this way begins to shed light on exposure risks for different species, based on where in the lake they live.
According to our initial simulations, much of the plastic is expected to sink. This prediction is supported by sediment samples collected from the bottom of the Great Lakes, which can contain high concentrations of plastic.
In a real lake, plastic does not just move with the current. It also can float or sink, based on its size and density. As a particle floats and is "weathered" by sun and waves, breaks into smaller particles, and becomes colonized by bacteria and other microorganisms, its ability to sink will change.

Better understanding of the processes that affect plastic transport will enable us to generate more accurate models of how it moves through the water. In addition, we know little so far about how plastic is removed from the water as it lands on the bottom or the beach, or is ingested by organisms.
Prediction Informs Prevention
Developing a complete picture of how plastic pollution travels through waterways, and which habitats are most at risk, is crucial for conceiving and testing possible solutions. If we can accurately track different types of plastic pollution after they enter the water, we can focus on the types that end up in sensitive habitats and predict their ultimate fate.
Of course, preventing plastic from entering our waterways in the first place is the best way to eliminate the problem. But by determining which plastics are more toxic and also more likely to come into contact with sensitive organisms, or end up in our water supply, we can target the "worst of the worst." With this information, government agencies and conservation groups can develop specific community education programs, target cleanup efforts and work with industries to develop alternatives to products that contain these materials.
Reposted with permission from our media associate The Conversation.
Shutterstock
By Kennedy Bucci and Chelsea Rochman
When you think of microplastic pollution, plastic debris less than five millimeters in size, you likely envision the ocean—probably because ocean gyres gained notoriety for being a microplastic soup.
But what about our lakes, rivers, forests and fields? They can be just as contaminated with microplastic debris as the oceans.
Until recently, these environments were described as conduits—ways for plastics to get to the oceans. But now we're seeing rivers, lakes and soil in a different light, as reservoirs for plastic particles.
We now know that agricultural land, surface waters, freshwater lakes and river sediments are also contaminated.
In the past five years, researchers have started to study the sources, fates and effects of microplastics in freshwater and terrestrial ecosystems, but only a handful of studies have been done so far.
Microplastics in Our Great Lakes
Here in North America, when we think of freshwater, we often think of the Laurentian Great Lakes. They hold more than one fifth of the world's freshwater, are the basis of billions of dollars in economic activity and are a point of pride for those living on their shorelines.
For the Indigenous peoples of Canada, the Great Lakes hold even more importance. There are more than 75 First Nations communities in the Great Lakes watershed, all of whom fish the waters for food or sport.
It is no secret, however, that the Great Lakes have had their share of ecological problems. Most have been caused by us, including the ongoing issues of nutrient-loading, invasive species like zebra and quagga mussels, tributary dams and reduced ice cover.
Recent research now shows the Great Lakes also contain microplastic pollution, with the highest concentrations in heavily urbanized areas, like Toronto and Detroit.
Plastic debris washed up on the shore of Lake Ontario, near TorontoKennedy Bucci, author provided
Another study found that a liter of sediment from the St. Lawrence River contained up to 1,000 spherical microplastics—on par with the world's most polluted marine sediments.

Microplastics are now globally distributed in freshwater lakes and rivers. They've been found in North America, Europe and Asia.
Contaminated Habitats, Contaminated Wildlife
Microplastics fill the digestive tracts of the wildlife that inhabit freshwater ecosystems.
In a Texas river basin, for example, 45 percent of captured sunfish had reportedly consumed microplastics. Another study found that 12 percent of gudgeons, a small bottom-dwelling fish, caught in a French stream had microplastics in their guts.
Closer to home, our lab has found that fish from the Great Lakes can have up to 40 microplastics in their digestive tracts. Many of these are microfibers—small strands of synthetic textiles, some of which come from our clothing.
In marine animals, microplastics can alter gene expression, cause inflammation in tissues and affect reproductive success. But we know much less about the effects in freshwater wildlife, which may be different from marine animals. For example, marine fish drink water, whereas freshwater fish absorb water through their gills and skin; this may lead to different exposure concentrations of microplastics.
Although some studies have examined population- and community-level effects, most have focused on the effects on individual animals. As a result, evidence regarding the effects of microplastics on populations of animals are scarce. We need to ask how these pollutants affect survival, reproduction and the interactions between species in a community.
Our lab is beginning to do just that. For example, an ongoing study is comparing the effects of a range of microplastics found in Lake Ontario, and measuring their effects on freshwater fish survival, development and reproduction.
Calling All Scientists
The oceans cover more than 70 percent of our globe. Still, the biodiversity on land and in freshwater is more than five times that in the oceans. In addition, the global population relies on freshwater and terrestrial ecosystems for food, water and recreation. As such, microplastic research must include all ecosystems.
We are using plastic products at an unprecedented rate, and have already generated an estimated 6,300 metric tons of plastic waste. Although some of this is recycled, about 79 percent is accumulating in landfills or the environment.
Moving forward, we must invest in gathering more scientific evidence about the sources, fate and effects of microplastics in terrestrial and freshwater ecosystems. At the same time, we know enough about plastic pollution to act.
As Canada takes presidency of the G7 this year, we applaud our government, which has committed to take leadership in preventing further contamination of the planet by plastic pollution.
Microplastics Pose Major Problems for Ocean Giants https://t.co/lcBWdD434h #Microplastics @PlasticPollutes @Oceana… https://t.co/wKuncYvPUJ

— EcoWatch (@EcoWatch)1517853475.0
Kennedy Bucci is a graduate student at the University of Toronto. Chelsea Rochman is an assistant professor of ecology and evolutionary biology at the University of Toronto.

Reposted with permission from our media associate The Conversation.

From Your Site Articles
Related Articles Around the Web
www.youtube.com
By Marlene Cimons
When the conversation turns to sources of clean renewable energy, evaporation usually isn't the first thing to come up, if at all.
Yet scientists think evaporation from U.S. lakes and reservoirs could generate almost 70 percent of the power the nation produces now. Even better, it could meet demand both day and night, solving the intermittency problems posed by solar and wind.
"Evaporation occurs day and night, all year round," said Ahmet-Hamdi Cavusoglu, a graduate student at Columbia University and lead author of a new study published in the journal Nature Communications that calculated the possible future impact of evaporation as a renewable energy source. "By controlling evaporation, we can store and control the power output, allowing us to potentially provide reliable energy on demand without needing batteries and other energy storage methods."
The evaporation engine sits on a shallow pool of blue water. When water on the surface below evaporates, it drives the flaps to move back and forth. When connected to a generator, that motion produces electricity. Xi Chen
Ozgur Sahin, a biophysicist at Columbia and the paper's senior author, has developed technology that uses spores from the harmless soil-dwelling bacterium B. subtilis to absorb and release water when the relative humidity of the surrounding air changes. At high humidity, the spores take in water and expand, and at low humidity they release water and contract. "In this process, they act like a muscle," he said. "They are highly effective muscles, and it is possible to assemble spores into larger materials that move and generate force when humidity levels change."
The machine, developed by Sahin's lab, controls humidity with shutters that open and close, prompting the spore-coated plastic strips to expand and contract. "When the shutters are closed, evaporation from the water surface raises the humidity level below the shutters, causing spore-coated strips to elongate," he explained. "The movement of the strip opens the shutters, which reduces humidity levels by letting moisture out. The cycle reaches completion when spore-coated strips shorten and close the shutters. Because the process is cyclical, the spore-coated strips repeatedly elongate and shorten."
The moving end of the strips is connected to a generator, which produces the electricity. "We have the technology to harness energy from wind, water and the sun, but evaporation is just as powerful," Sahin said. "We can now put a number on its potential."
The evaporation engine sits on a shallow pool of blue-colored water. When water on the surface below evaporates, it drives the flaps to move back and forth. When connected to a generator, that motion produces electricity. Sahin Laboratory
The technology also has the potential to save water. The study estimated that half of the water that evaporates naturally from lakes and reservoirs into the atmosphere could be conserved during the process, amounting to around 25 trillion gallons annually, or about a fifth of the water Americans consume.
Sahin added that conserving that much water would have little impact on weather patterns. Even if it were deployed at a large scale, his technology would not meaningfully reduce atmospheric moisture that later results in heavy rain because "precipitation and moisture is mostly imposed by the ocean," he said.
Klaus Lackner, an Arizona State University physicist not involved in the study, is developing artificial trees that draw carbon dioxide from the air, in part by using evaporation. "Evaporation has the potential to do a lot of work," Lackner said. "It's nice to see that drying and wetting cycles can also be used to collect mechanical energy."
In computing the potential output of evaporation, the authors confined their calculations to the U.S., where weather station data are readily available, and excluded areas such as farmland, rivers, the Great Lakes and coastlines to avoid errors associated with modeling more complex interactions.
To be sure, the researchers' work is still experimental and confined to the lab. However, "if the technology can be made efficient and scaled to the size of a football field, then widespread use of evaporation as an energy source could be possible," Sahin said. "There are many such bodies of water used by farmers, municipalities and water management agencies," which could provide sources of evaporation in addition to natural bodies of water. Moreover, since many of the materials used are biological and can be easily grown, the machinery likely would not be very expensive, he added.
One of its major advantages is the ability to produce power only when needed. Solar and wind, on the other hand, require backup batteries when the sun isn't shining or the wind isn't blowing. Moreover, batteries aren't cheap, and they often are made of toxic materials.
Harvesting energy from evaporation can cut the amount of water lost to natural evaporation in half, researchers say. Water-strapped cities with growing populations and energy needs could benefit most, including Phoenix, which is served by the reservoir pictured above.Central Arizona Project
"Human electricity demand varies seasonally and daily," Cavusoglu said. "We use more energy during the summer, and we use more energy in the early evening when people get home from work. However, the availability of wind and solar power does not match our demand. This need for energy on demand is important for our daily life, from keeping the lights on in hospitals to letting us stream Netflix at home."
Since evaporation packs more energy in warm and dry weather, drought-prone states like California, Nevada and Arizona could benefit greatly from the technology. "Interestingly, many dry-air areas do have some lakes or large bodies of water," Sahin said. "For example, the Colorado River and the large lakes formed by dams, such as Lake Mead, Lake Mohave, Lake Powell and Lake Havusu."
Still, "if there are no water bodies or other wet surfaces, evaporation will be negligible and this concept will not work," he added. "However, even in that situation, daily variations in relative humidity could be harnessed to generate power."
This turbine engine rotates as water evaporates from the wet paper lining the walls of the engine.Sahin Laboratory
Several years ago, Sahin's lab also developed an evaporation-fueled piston-driven engine that generates electricity causing a light to flash, and a rotary engine that drives a miniature car. The scientists now are working on improving the energy efficiency of their materials, and plan to test their concept on a lake, reservoir, or greenhouse where the technology could both conserve water and create power.
"Today, further expansion of renewable energy technologies faces many technical and non-technical challenges," Sahin said. "A renewable energy technology based on evaporation could nicely complement the existing ones by offering an alternative that might be more suitable in a particular location, or generate power when the other renewable energy technologies can't."
Reposted with permission from our media associate Nexus Media.
The first outreach effort from the Brewers for Clean Water campaign calls on America's most visible home brewer—President Obama—to move forward long-delayed safeguards under the Clean Water Act. The campaign is a partnership between the Natural Resources Defense Council (NRDC) and some of the nation's most respected craft brewers aimed at protecting and bolstering America's bedrock water protection law. Twenty brewers signed onto a letter sent to the White House today in favor of protecting American streams, wetlands and headwaters.
"You can't keep our biggest sources of water, and beer, clean if polluters are allowed to dump into the streams and wetlands that that our larger waterways depend on," said NRDC Water Program Senior Policy Analyst Karen Hobbs. "But that's what has been allowed to happen since the Bush Administration. The brewers are telling President Obama that they need their number one ingredient protected to maintain their business and slake the American thirst for tasty brews."
The brewers' letter calls upon the administration to release Clean Water Act policy updates that have been delayed for more than a year.
Few small businesses depend on clean water as much as craft brewers. While hops and malt can be sourced elsewhere, breweries are reliant on their local water supplies. Whether drawn from lakes, rivers, groundwater or a local water system, breweries rely on the protections of the Clean Water Act to ensure the quality of their main ingredient. Beer is 90 percent water. Small streams and wetlands help ensure a safe and sufficient water supply, but they've been vulnerable to pollution and destruction since the Bush Administration.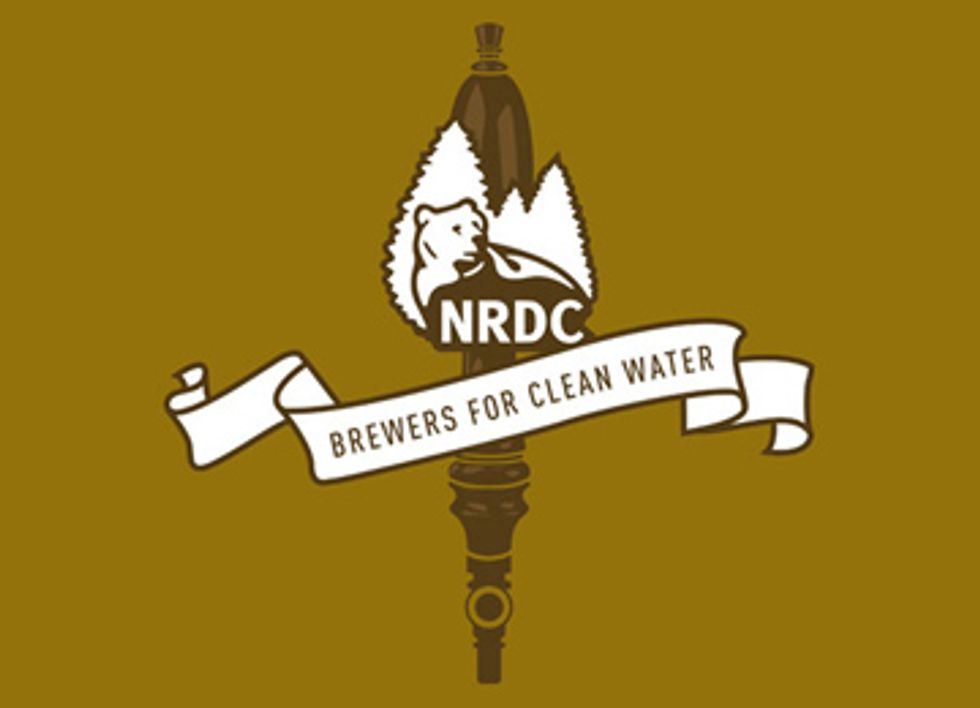 In April, NRDC announced the Brewers for Clean Water partnership to leverage the compelling business voice of nearly two dozen of the nation's most respected craft beer makers in advocacy around water protections. In their first public messaging outreach on behalf of the Clean Water Act under the campaign, the following breweries signed on to the White House letter:
The letter focuses on White House delays in clarifying which water bodies are covered by the Clean Water Act. Supreme Court decisions in 2001 and 2006 created uncertainty about what types of waters are protected by the law. Agency "guidance" issued under former president George W. Bush further limited the ability of pollution control officials to protect waters, making implementation of the law difficult, time consuming and expensive. As a consequence, it became unclear whether the law protected a variety of waters, especially those that are geographically isolated from others, or that lack permanent flow. More than 117 million Americans depend on these water bodies for their drinking water. The U.S. Environmental Protection Agency and the U.S. Army Corps of Engineers released draft guidance in 2011; they received more than 230,000 comments, the vast majority of which were positive. 
Following are quotes from brewers signed onto the letter:
"By protecting our nation's waterways, we are protecting our beer," said Jenn Vervier, director of strategy and sustainability at New Belgium Brewing Company, Fort Collins, CO. "America's waterways are critical to our environment, our economy and our health. Not only does the great-tasting beer we brew depend on it, but so do the communities in which we operate."
"Chicago is a big beer town, so the President should know what's at stake," said Josh Deth, head brewer and "Chairman of the Party" at Revolution Brewing, one of the most beloved breweries in President Obama's hometown. "Chicagoans rely on Lake Michigan for more than source water for our beer—it's where our drinking water comes from and where our kids swim. There's far more than beer at stake."
"As breweries, we have a voice that can be heard by thousands. As citizens, we have a responsibility to use that voice to improve the world around us. And, as Michiganders, we must do whatever we can to protect our pristine rivers, streams and lakes," said Russell Springsteen, owner of Right Brain Brewery, Traverse City, MI.
"Every living being has a right to a clean and abundant source of water. Brewers are no exception, and across the country they rely on clean water to create the libations enjoyed by so many. Protecting our waterways from pollution protects a growing American economy and the health of our communities," said Cheri Chastain, sustainability coordinator at Sierra Nevada Brewing Company, Chico, CA.
"Water is our most precious natural resource, nationally and especially in New York, the only state that touches two Great Lakes and the Atlantic Ocean. Whether New Yorkers swim in Lake Erie, kayak in the East River or draw their drinking water from the Catskill Mountains, they understand the importance of protecting our water resources vigorously," said Kelly Taylor, co-owner of KelSo Beer Company in Brooklyn, NY.
"Breweries have always been a key public meeting place in our communities and we wouldn't exist without the support of our patrons. Because of this, we feel it's of utmost importance to do what we can to give back to our community. Our support of the Clean Water Act is an important component of this desire to be a responsible business," said Kris Spaulding, sustainability director and owner of Brewery Vivant, Grand Rapids, MI.
"Wisconsin residents have a special relationship to our water resources, which our state constitution holds in trust for all. By moving forward with this long-delayed action to protect headwaters and wetlands under the Clean Water Act, the administration will help protect Wisconsin's water resources, as well as our economy. About 10 percent of our beer is currently exported and this guidance will help ensure the highest quality of our products here and for export," said Russ Klisch, owner of Lakefront Brewery, Milwaukee, WI.
"Our mission is improving the quality of life for our neighbors. In order to continue that mission, the nation's waterways, including Lake Michigan, must be protected," said Greg Shuff, owner of DryHop Brewers, Chicago, IL. "Clean water is critical for the wellness of communities across the country, in addition to the quality of the beer we brew for our neighbors in Chicago." 
"In Northern Michigan, we are surrounded by water. That fact has shaped our beer and brewing philosophy. We recognize the urgent need to clean and sustain our water resources, not just for our beer, but for our way of life," said Joe Short, owner of Short's Brewery, Elk Rapids, MI.
"Beer is an excellent megaphone, which is why we're calling on our nation's most visible home brewer, President Obama, to release this important guidance," said Ian Hughes, environmental and safety coordinator for Goose Island Beer Company. "No one can afford to take clean water for granted, even those of us who live in the Great Lakes watershed and use its great water for brewing."
Visit EcoWatch's WATER page for more related news on this topic.
——–