This website uses cookies to ensure you get the best experience while browsing it. By clicking 'Got It' you're accepting these terms.


The best of EcoWatch, right in your inbox. Sign up for our email newsletter!
Andrew Caballero-Reynolds / AFP / Getty Images
President Trump signed an order greenlighting the construction of the Keystone XL pipeline Friday, a move that circumvents a court's decision to block a previous federal permit on the long-delayed project.
Demonstrators march to the Federal Building in protest against U.S. President Donald Trump's executive order fast-tracking the Keystone XL and Dakota Access oil pipelines, in Los Angeles on Feb. 5, 2017. MARK RALSTON / AFP / Getty Images
Of the many Obama-era environmental decisions that President Donald Trump reversed once he took office, one of the most painful was his move to re-approve the Keystone XL pipeline, which would transport 830,000 barrels of oil a day from Alberta's tar sands through Montana to Nebraska, where it would connect with existing pipelines leading to the Gulf Coast.
EcoWatch Daily Newsletter
An activist adjusts his hat while protesting the Keystone XL Pipeline during the Native Nations Rise protest on March 10, 2017 in Washington, DC. The KXL has been at the center of a contentious fight for a decade. Brendan Smialowski / AFP / Getty Images
Construction on the long-delayed Keystone XL (KXL) pipeline is planned for 2019, developer TransCanada said Monday.
"Keystone XL has undergone years of extensive environmental review by federal and state regulators," TransCanada spokesman Matthew John told Omaha World-Herald. "All of these evaluations show that Keystone XL can be built safely and with minimal impact to the environment."
The Keystone XL pipeline would pass through Montana as it transports crude oil from Alberta to the Gulf of Mexico. Andrew Burton / Getty Images News / Getty Images
350.org's No KeyStone XL Washington, DC march.
John Duffy / Flickr / CC BY-NC-SA 2.0
Environmentalists spoke out against President Donald Trump's State Department after it found "no significant environmental impacts" in its review of TransCanada's long-gestating Keystone XL (KXL) pipeline.
The alternative route approved by Nebraska regulators in November would have "minor to moderate" impacts from its construction and operation, according to the 300-page draft report released Monday. It said the route would not have a major impact on the state's water resources, soils or wildlife. It may cause minor impacts on cultural resources such as Native American graves.
By Jake Johnson
Shortly following the Nebraska Public Service Commission's "shortsighted and dangerous" vote to green-light TransCanada's Keystone XL (KXL) pipeline, a coalition comprised of Indigenous peoples, farmers and ranchers living along the oil project's proposed route published a letter on Monday urging the public to join them in protecting sacred land from corporate exploitation.
Endorsed by Native tribes, green groups and high-profile environmentalists, the "Promise to Protect" call to action argues that making "a concerted stand" against TransCanada's $8 billion dirty energy project "will make other fossil fuel companies think that much harder about their own expansion plans."
Residents of Mayflower, AR who were victims of Exxon's Good Friday tar sands spill that coated their neighborhood in toxic tar sands traveled to DC to hand-deliver a letter to Secretary Kerry asking that he reject Keystone XL. The members of the Remember Mayflower Coalition stood in front of the State Department to appeal to Secretary Kerry, urging him to consider the recent spill—and the subsequent devastation—and listen to the Vice President's opinion on the pipeline as he makes his final analysis of Keystone XL.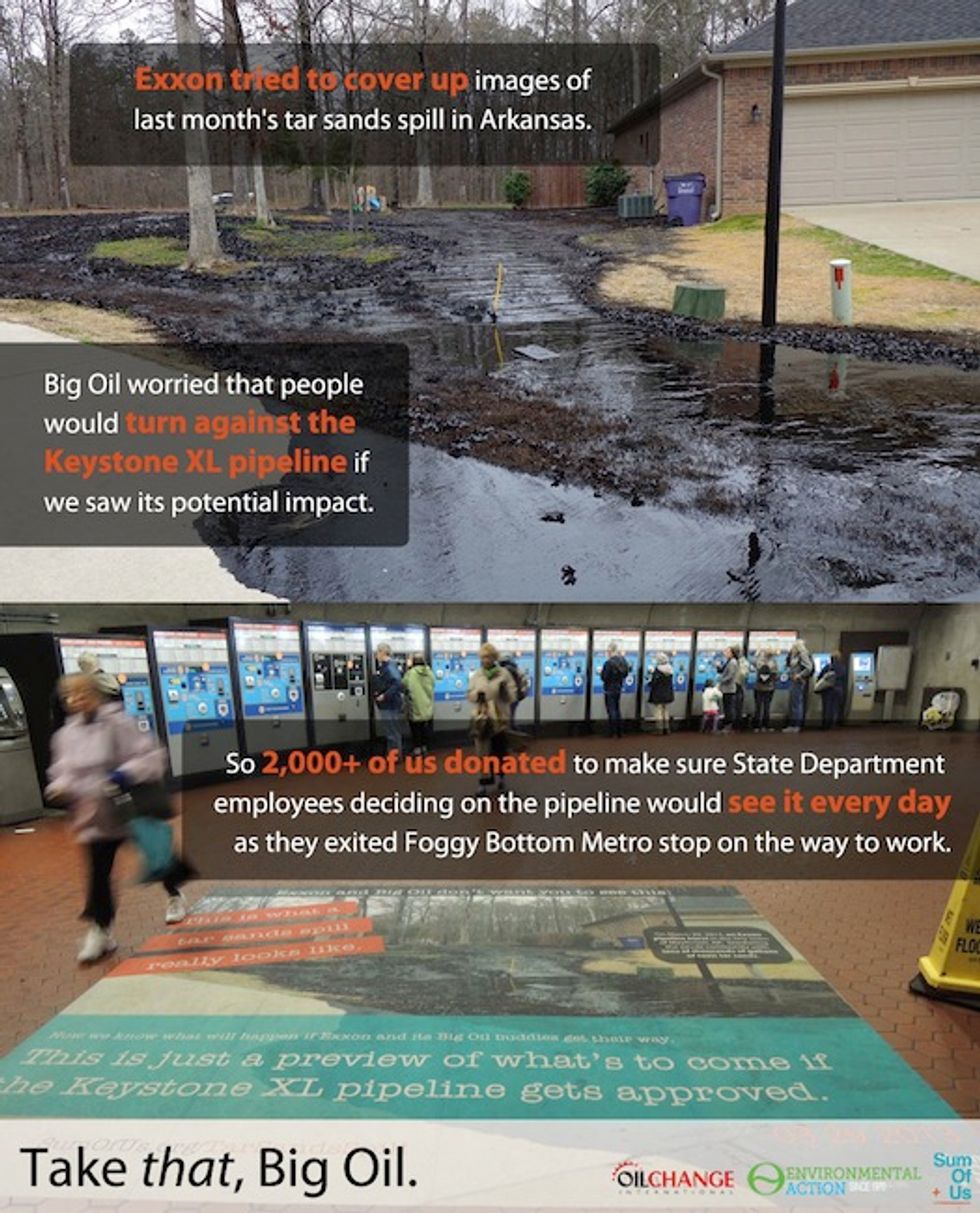 The residents appealed to Secretary Kerry to accompany his staff on a fact-finding trip to Mayflower. From the letter:
Before you issue your final evaluation of Keystone XL, we ask that you and your staff come to Mayflower to see what happens when a tar sands pipeline ruptures in your backyard. We ask that you observe the remnants of black tar, smell the toxic chemicals that are polluting our air and ask yourselves whether you can in good conscience inflict this same devastation on families along Keystone XL's route.
"Bold Nebraska has invited President Obama to Nebraska and now Secretary Kerry has an open invitation to visit Arkansas," said Jane Kleeb, executive director of Bold Nebraska and member of the All Risk, No Reward Coalition. "They have got to look our families in the eyes before they do this to us."
"My four children and I have grown up on this lake, but it's no longer safe to be here or to breathe the air," said Mayflower resident Genieve Long. "Other families shouldn't have to take on these risks or worry about their health and safety. This already happened to my family—I want to make sure it doesn't happen to anyone along the Keystone XL route."
"I'm not a tree-hugger and I'm not an activist, but I am a concerned, single dad of 15-month old boy. One day my son will inherit my property along with 400 linear feet of pipeline. There are enough things to think about as a landowner, let alone when there's a possibility of another tar sands rupture," said Mayflower resident Damien Byers. "These pipelines are too risky for me and my son and they're too risky for families in Nebraska. We need to shut down Pegasus and stop Keystone XL. The All Risk, No Reward Coalition and the Remember Mayflower Coalition are teaming together to help people like me."
The Remember Mayflower Coalition announced that they would be joining the "All Risk, No Reward" Coalition to stop Keystone XL.
Here's the letter submitted today:
May 9, 2013
Secretary John Kerry
U.S. Department of State
2201 C Street NW
Washington, DC 20037
Dear Secretary Kerry,
We are writing on behalf of all affected families in Mayflower, Arkansas—the 22 families who were evacuated from their homes, the dozens of people living in surrounding areas who have been exposed to toxic chemicals, and the hundreds of thousands of Arkansans who get their water from the Lake Maumelle watershed—to ask that you remember Mayflower as you continue to evaluate the permit for Keystone XL.
After witnessing the devastation in our community following the Good Friday tar sands spill, we cannot in good conscience sit by and watch as other communities suffer the same fate. ExxonMobil has demonstrated that tar sands pipelines spill. Their Pegasus tar sands pipeline spilled first in Arkansas—and then one month later across the border in Missouri. And when these tar sands spill, they threaten our water, our health, and our homes.
We are working with elected officials to move Exxon's Pegasus pipeline away from the Lake Maumelle watershed, which provides drinking water for hundreds of thousands of Arkansans. We have overwhelming support from community leaders and politicians, and will do everything we can to protect our water.
But the people of Nebraska aren't as lucky. The Ogallala Aquifer provides irrigation and drinking water for millions of Americans in Nebraska and across the country, and their water is at risk if Keystone XL is constructed. But they don't have the same advocates we have. You and President Obama are their only hope to protect their water, land, and health.
There is still so much we don't know about tar sands—about the economic risks of them spilling in communities, about how they impact important water sources, and about how they effect our health. We don't know enough to say "yes" to a massive tar sands pipeline through the country's heartland.
Before you issue your final evaluation of Keystone XL, we ask that you and your staff come to Mayflower to see what happens when a tar sands pipeline ruptures in your backyard. We ask that you observe the remnants of black tar, smell the toxic chemicals that are polluting our air, and ask yourselves whether you can in good conscience inflict this same devastation on families along Keystone XL's route.
We will open our doors to you and your staff—and promise home-cooked Southern meals to accompany our accounts of the spill.
Sincerely,
Renae Adkins
Warren Andrews
Joeseph Bradley
Danielle and Kevin Brown
Travis Brown
Jasmine Byers
Damien Byers
Bill Coleman
Amanda and Joseph Dorset
Katherine Green
Emily Harris
Dawn Hickman
April Lane
Emily Lane
Genieve Long
Sammy Morris
Everett Oden
Michelle Sertilo
Dallas Williams
Visit EcoWatch's KEYSTONE XL page for more related news on this topic.
——-
By Andy Rowell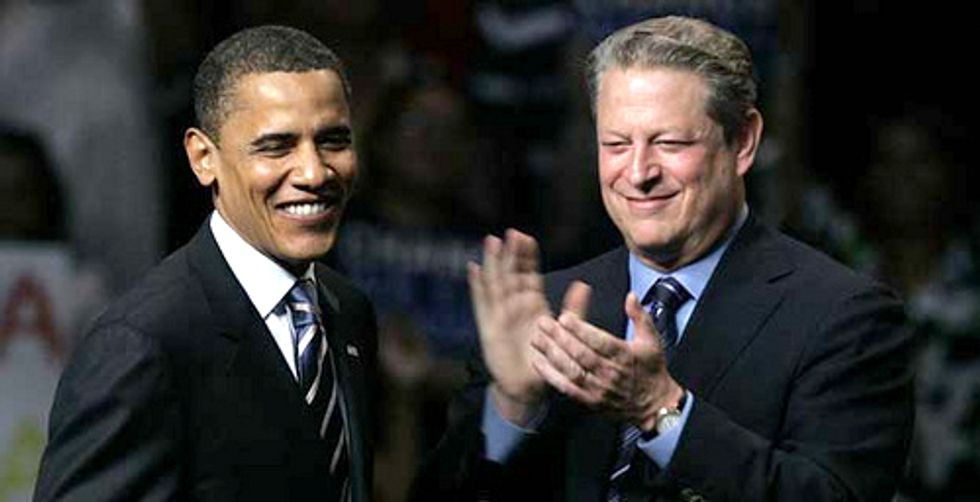 Love him or loath him, you can certainly say one thing about Al Gore: he is winding the Canadians up into a right-old rage.
Yesterday, I blogged how he called the tar sands an "open sewer."
Gore then gave a public interview with The Globe and Mail, saying he wished that President Obama would cancel the controversial Keystone XL pipeline.
He added that he did not know what Obama would do on Keystone XL, but regarding Obama and his climate policies he said, "I still hold out hope that he will be as positively surprising in his policy initiatives this year as he was in his speeches."
He also dismissed the Canadian's long-term public relations campaign to dress up the dirty tar sands as somehow being "ethical oil" compared to oil from the Middle East.
"There's no such thing as ethical oil," he said. "There's only dirty oil and dirtier oil."
And the tar sands is among the dirtiest of them all.
Gore's "open sewer" comments have certainly stirred up a hornets' nest back in Canada. It is worth looking at Gore's comments in context. He was asked:
"Have the oil-sands boom and pipeline debates affected Canadian-U.S. relations?"
To that he replied:
"Yes, and I think that ultimately it hurts Canada. The so-called resource curse is most often understood in the context of small nations whose revenue streams are dominated by the exploitation of a single resource."
Gore continued:
"It's a bit more complex than that with Canada, but the resource curse has multiple dimensions and [including] damage to some extremely beautiful landscapes, not to mention the core issue of adding to the reckless spewing of pollution into the Earth's atmosphere as if it's an open sewer.
"We will come to our senses, but I had hoped that Canada, like Australia, would point us in the right direction and added to the chances for the world as a whole to make a moral and courageous decision sooner rather than later."
Many people would see these sentiments as wholly rational, and a continuation of what Gore has been saying for a while. But not in Canada. A columnist for the Edmonton Journal called Gore's comments both "insulting" and "untrue."
Joe Oliver, Canada's Natural Resources Minister, who is in Europe, has also been widely quoted as complaining about the remarks. He is on yet another lobby tour of Europe, trying to bully the Europeans into submission on their climate legislation, as I blogged about yesterday.
But Al Gore's comments have had a favorable response from some Canadian politicians.
"If it's a choice between Al Gore and Joe Oliver on climate change, I think that we should be listening to Al Gore," the New Democrat leader Thomas Mulcair told reporters. "Al Gore is simply calling it the way everybody else who's looked at the science of climate change is calling it," he added.
Mulcair then called Oliver "an embarrassment to all of us."
Many people in Europe would agree with Mulcair on that one.
Visit EcoWatch's KEYSTONE XL page for more related news on this topic.
——-
By Lauren Berlekamp
New reports of tar sands oil-related disasters continue to reinforce that the Keystone XL pipeline is too risky for American families. 
Despite a "massive cleanup effort," ExxonMobil has recovered only 2,000 of the total 5,000 barrels of spilled Canadian tar sands crude in Mayflower, AR, according to the accident incident report from last month's Pegasus pipeline disaster. The report was released by the Department of Transportation's Pipeline and Hazardous Materials Safety Administration (PHMSA) through a Freedom of Information Act request filed by the Sierra Club.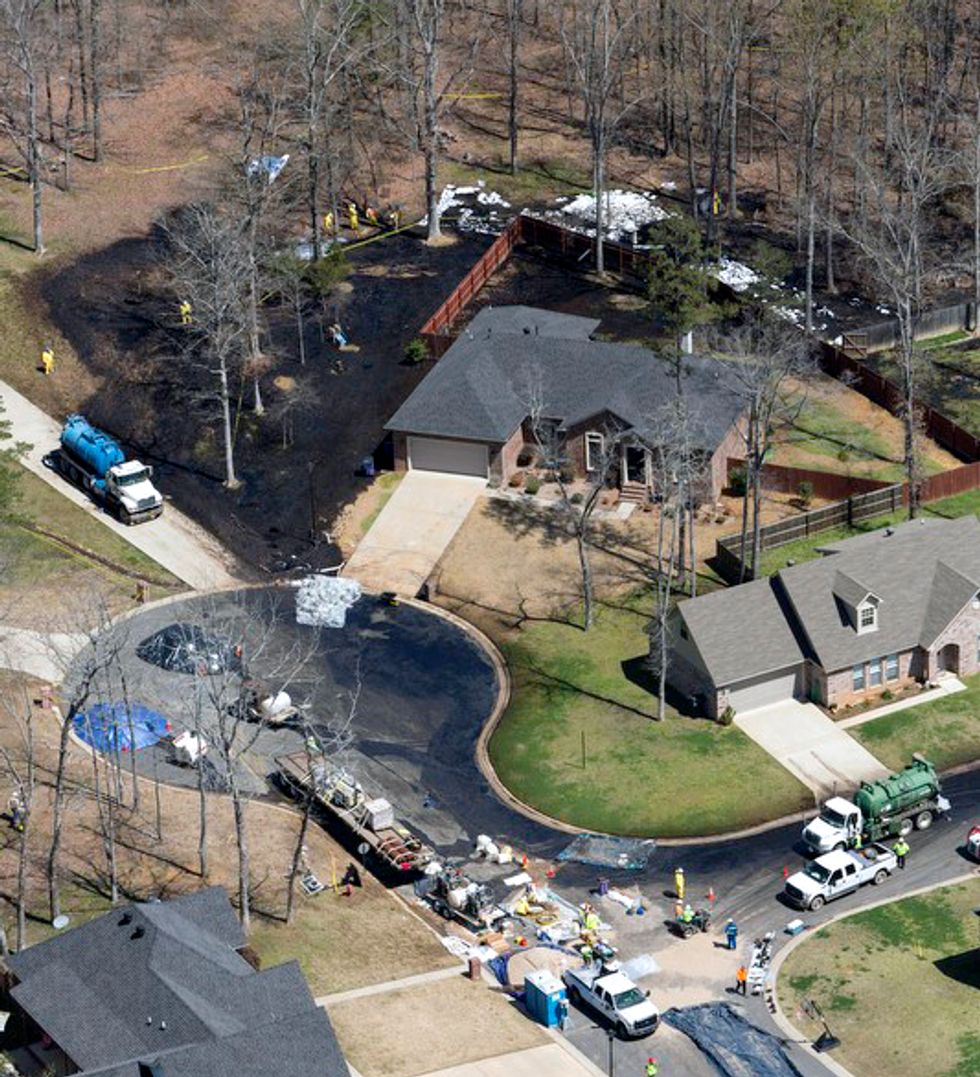 "After its Pegasus pipeline ruptured more than a month ago, ExxonMobil sent an army of 600 workers into Mayflower in an attempt to clean up and contain more than 200,000 gallons of dirty tar sands," said Glen Hooks, Sierra Club senior campaign representative. "ExxonMobil has torn up yards and streets, evacuated families from their homes, sucked up wetlands and culverts, chased away media, and intimidated residents and elected officials.
"What ExxonMobil hasn't done in the past month, according to the accident incident report, is recover even half of the tar sands that it spilled in Mayflower. More than 3,000 spilled barrels—that's 126,000 gallons—of toxic tar sands are unaccounted for. Mayflower deserves better. ExxonMobil needs to find the missing tar sands, clean up its mess and make Mayflower whole again."
Just one month after the Pegasus pipeline spewed toxic tar sands oil in Mayflower, where 83 people were evacuated from their homes and 2,000 barrels reached local waterways, the same pipeline spilled in a residential neighborhood of Ripley County, MO, last Tuesday.
"Two tar sands spills in one month is devastating no matter where it happens, but it is particularly alarming that Keystone XL would run through one of our country's largest sources of freshwater that provides irrigation and drinking water for millions of Americans," said Randy Thompson of All Risk, No Reward Coalition.
"The images from the Arkansas community were awful. Just imagine those same photos from the Ogallala Aquifer, and the financial damage that would cause. America cannot afford this kind of risk."
According to the All Risk, No Reward Coalition, TransCanada, who would own and operate the proposed Keystone XL tar sands pipeline, already has an atrocious safety record. While TransCanada pledged that its original Keystone pipeline would "meet or exceed world-class safety and environmental standards" in 2010, the pipeline experienced 12 separate spills in the U.S. in the first year of operation—nearly one every month. 
According to a report by Cornell University's Global Labor Institute, the original Keystone pipeline had "over 30 spills" during its first year in the U.S. and Canada combined, with one of those spills releasing 21,000 gallons of dirty tar sands oil. The original Keystone pipeline has been shut down multiple times since then. Even the PHMSA shut down the pipeline under a Corrective Action Order, saying that continued operation would be "hazardous to life, property and the environment." It had only been operational for one year at the time, making it the newest pipeline to ever be shut down by PHMSA for being a threat to public safety.
The Keystone XL tar sands pipeline, which will be nine times larger than the Pegasus pipeline, will not benefit the U.S. The pipeline will create only 35 permanent jobs, based on the State Department's Environmental Impact Statement, and fail to reduce dependence on Mideast oil since Keystone XL products will likely be exported overseas, including to China and Venezuela, according to the All Risk, No Reward Coalition.
American communities are not only at risk from spills, but also explosions.
On April 27, a massive explosion occurred at the Marathon Detroit Refinery, which processes more than 100,000 barrels of Canadian tar sands oil every day. As a large plume of thick, black smoke from one of the refinery's smaller tanks darkened the sky, residents had to be evacuated from the Detroit suburb of Melvindale, located in Michigan's most heavily polluted zip code, according to the Detroit Free Press.
Visit EcoWatch's KEYSTONE XL page for more related news on this topic.
——-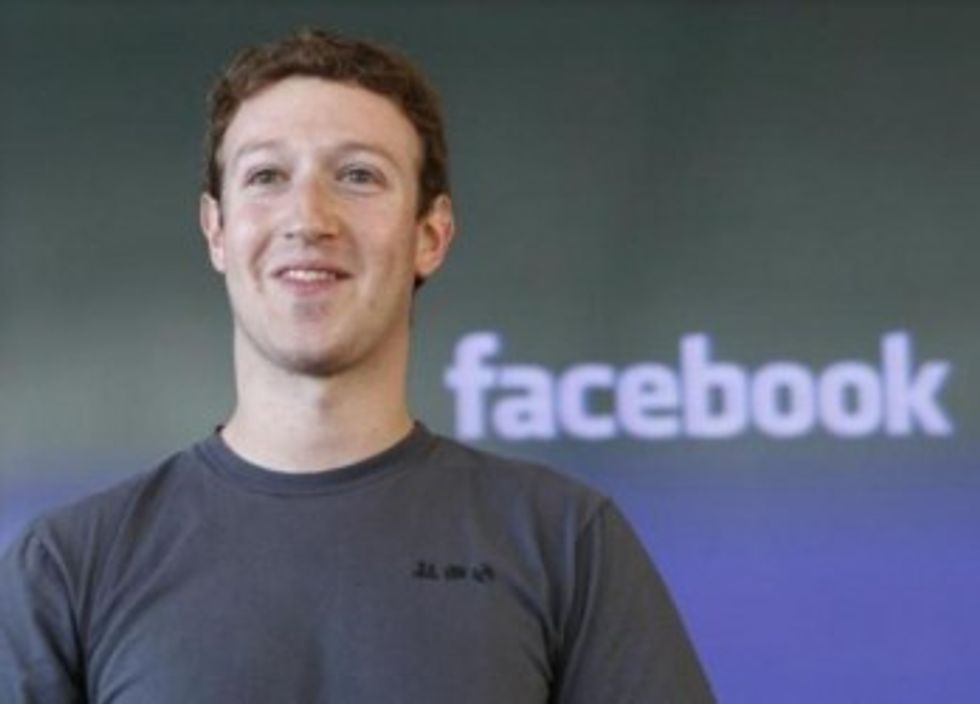 Mark Zuckerberg has not yet issued any response to public criticism that his political action group, FWD.us, is funding advertisements supporting construction of the Keystone XL tar sands pipeline, and oil drilling in the Arctic National Wildlife Refuge and the Gulf of Mexico. FWD.us, co-founded by Zuckerberg with additional donations from a host of his fellow Silicon Valley superstars, has right-wing and left-wing subsidiaries working on parallel tracks to pass bipartisan immigration legislation.
Those subsidiaries run advertisements for vulnerable Republicans and Democrats pledged to support that legislation. The ads generally don't mention immigration reform—which is politically unpopular among conservatives—and some of them include ringing endorsements for Big Oil's pet projects including Keystone XL. While immigration reform is an important cause, many Americans, particularly those of my generation, are uneasy with a strategy that seems to advocate sacrificing our planet's future as an iffy wager for the bill's passage.
Mr. Zuckerberg—a hero to many young people—has in the past been eloquent in his support for transitioning from fossil fuels to knowledge-powered and new energy economies. Now that his financial ties to the pro-tar sands advertisements are public knowledge, many of us who want a brighter, cleaner future for America and who admire his other accomplishments hope Mr. Zuckerberg will disassociate himself from their dubious content.
There are already enough billionaires advocating for Keystone XL and Big Oil's other criminal enterprises. Anti-Keystone XL activists have written a million letters to President Obama, appeared 40,000 strong to demonstrate against Keystone XL in Washington, D.C. and engaged in peaceful civil disobedience by the thousands in locales from Texas to the White House gate. It's disheartening to see all the billionaires, including leaders of my own generation, lined up against us.
It's our great and only hope that President Obama will listen to the voice of democracy and—acting as a trustee for future generations—kill the pipeline. He promised in his rousing inaugural address, to make the battle to save the planet from climate chaos the centerpiece of his second administration. The Keystone XL decision is one of the few climate change issues solely under his control. To plug Keystone, President Obama needn't genuflect to a Congress awash in democracy polluting oil money. He can do it while sitting alone in the Oval Office. The concern is that President Obama, instead, will simply count the fat cats and weigh their furor—or their indifference—rather than reading his mail.
Americans who want to stop the Keystone XL pipeline may outnumber those who favor the pipeline but we will never out-money them—particularly when Mr. Zuckerberg and his legions of 21st century technology moguls take the side of Big Oil's 19th century robber barons. Without some disavowed, young clean energy advocates who regard Mr. Zuckerberg as an iconic leader of our generation are apt to view his investment in the opposition to be not only disheartening, but treacherous.
Visit EcoWatch's KEYSTONE XL page for more related news on this topic.
By Andy Rowell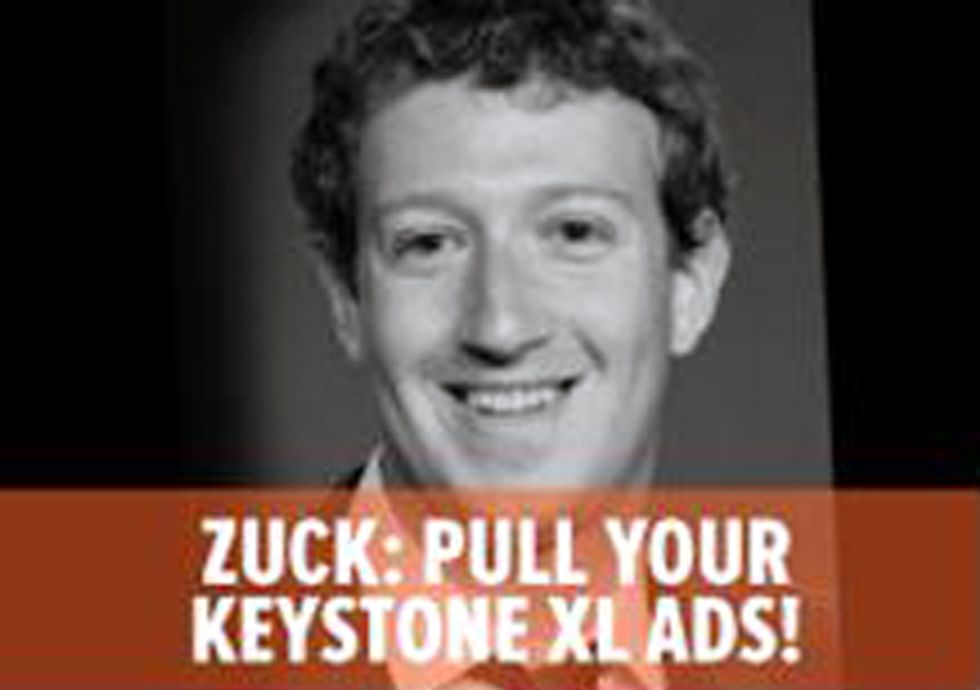 Here's a question for you. What have one of the world's richest companies and one of the world's richest men have in common?
The answer: They have both censored adverting criticizing their actions on climate-related issues.
So Facebook's Mark Zuckerberg joins Exxon in those accused of cynical censorship of free speech.
As we have pointed out, Exxon has repeatedly tried to ban adverting by Oil Change International and others.
But yesterday it emerged that Facebook has rejected an advertisement by CREDO Mobile criticizing the actions of Fwd.us, the political group started by Zuckerberg and others in the tech industry.
Fwd.us is funding political advertisements that endorse the Keystone XL and expanded oil drilling, via their support for a group led by Sen. Lindsey Graham (R-SC), called Americans for a Conservative Direction.
Another group receiving Fwd.us support is the Council for American Job Growth which is working to open the Arctic National Wildlife Refuge to drilling.
CREDO Mobile, which has been an ardent critic of the Keystone XL pipeline, launched a campaign on Facebook to protest against the ads, but Facebook has banned them, supposedly because it uses Zuckerberg's image.
However ThinkProgress has pointed out that the image used was fully licensed for creative commons use, although Facebook maintains that any images of Zuckerberg are not allowed as he is part of the Facebook brand.
Not surprisingly, CREDO Mobile thinks Facebook's position is untenable. Their political director Becky Bond told the Washington Post "you can't use Facebook ads to talk about what Mark Zuckerberg is doing."
The problem for Zuckerberg is that censorship, which is often the weapon used by the rich and powerful, often backfires.
As the Chinese contemporary artist Ai Weiwei has said: "Censorship is saying: 'I'm the one who says the last sentence. Whatever you say, the conclusion is mine.' But the internet is like a tree that is growing. The people will always have the last word—even if someone has a very weak, quiet voice. Such power will collapse because of a whisper."
And people are whispering now, Mr Zuckerberg, even on Facebook.
Visit EcoWatch's KEYSTONE XL page for more related news on this topic.
——-