This website uses cookies to ensure you get the best experience while browsing it. By clicking 'Got It' you're accepting these terms.
35,000+ March at Forward on Climate Rally
Feb. 17, 2013 03:30PM EST
Climate
Today, during President's Day weekend, more than 35,000 people marched to the President's doorstep to support immediate action to contain climate change. People from more than 30 states across the country whose land, homes and health is being threatened by the climate crisis, as well as students, scientists, indigenous community members and many others are participating in this largest climate rally in U.S. history.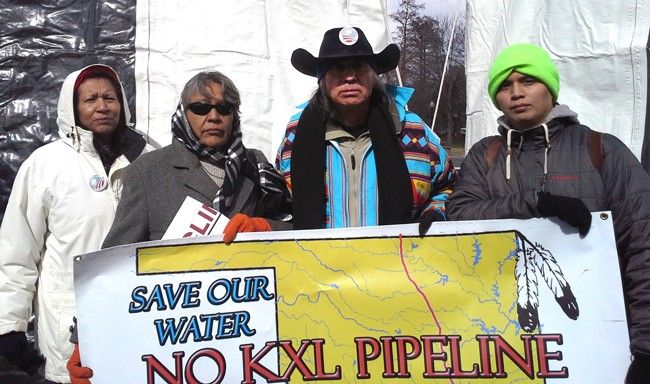 "For 25 years our government has basically ignored the climate crisis: now people in large numbers are finally demanding they get to work. We shouldn't have to be here—science should have decided our course long ago. But it takes a movement to stand up to all that money," said 350.org founder Bill McKibben.
Rally participants are calling on President Obama to reject the Keystone XL tar sands pipeline and put limits on dangerous carbon pollution from the nation's dirtiest power plants. Much of President Obama's legacy will rest squarely on his response, resolve and leadership in fighting the climate crisis. Rally participants are looking for him move forward on his recent State of the Union address declaration when he said, "For the sake of our children and our future, we must do more to combat climate change."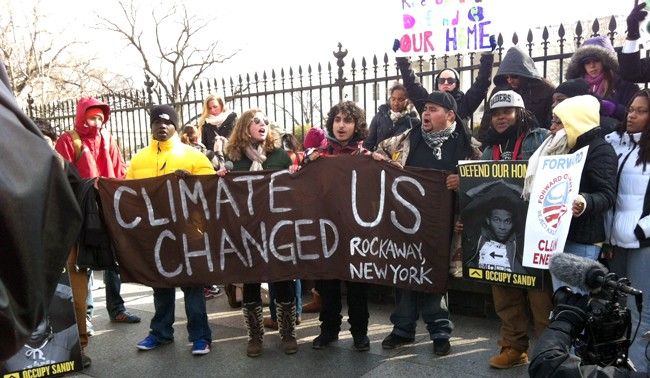 "Twenty years from now on President's Day, people will want to know what the president did in the face of rising sea levels, record droughts and furious storms brought on by climate disruption," said Michael Brune, executive director of the Sierra Club. "President Obama holds in his hand a pen and the power to deliver on his promise of hope for our children. Today, we are asking him to use that pen to to reject the Keystone XL tar sands pipeline, and ensure that this dirty, dangerous, export pipeline will never be built."
The Keystone XL tar sands project would pipe some of the dirtiest oil on the planet through the breadbasket of America to be shipped overseas through the Gulf of Mexico. It would be a disaster for our climate, producing tar sands crude that kicks out two or three times as much carbon pollution as producing conventional crude oil.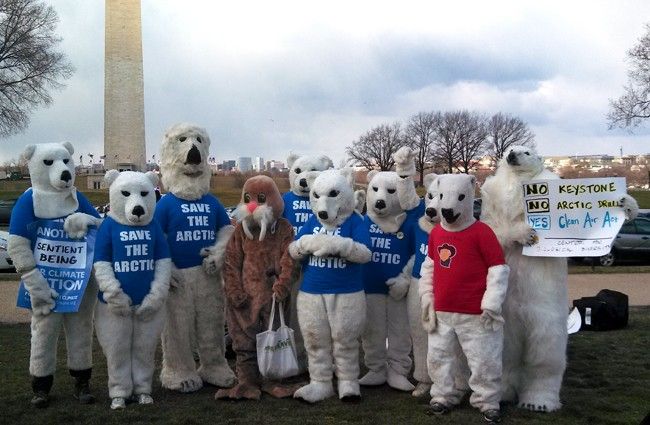 "The Yinka Dene Alliance of British Columbia is seeing the harm from climate change to our peoples and our waters," said Chief Jacqueline Thomas, immediate past Chief of the Saik'uz First Nation in British Columbia and co-founder Yinka Dene Alliance ("People of the Earth"). "We see the threat of taking tar sands out of the Earth and bringing it through our territories and over our rivers. The harm being done to people in the tar sands region can no longer be Canada's dirty secret. We don't have the billions of dollars that industry has. But we do have  our faith that people will do the right thing to protect Mother Earth. The Forward on Climate Rally shows that we are not alone in the fight to stop tar sands expansion and tackle climate change."
In addition, right now, the president has the authority and responsibility under the Clean Air Act to cut the amount of dangerous carbon pollution emitted from dirty power plants. These power plants are the biggest contributors to climate disruption, but are currently allowed to pollute without limits.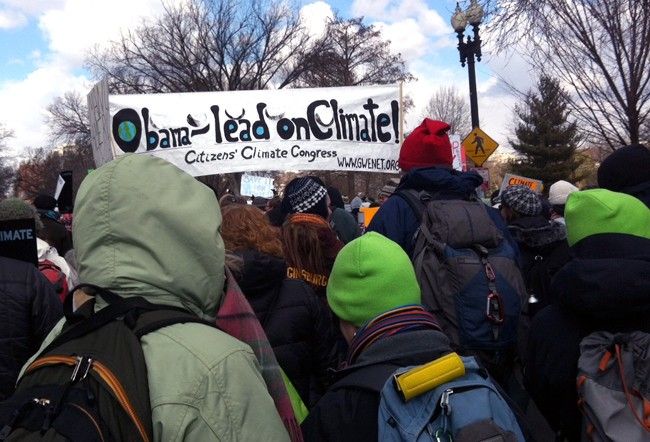 "This President has the power to achieve the single biggest carbon reduction ever, by holding our biggest carbon polluters—dirty power plants—accountable for what they dump into the air, said Van Jones, Natural Resources Defense Council trustee and president Rebuild the Dream. "Cleaning up this pollution and using more clean energy will provide jobs to thousands of Americans, save families real money when it comes to electricity bills and, most important, will make a real difference in our health and the health of our children."
Today's historic rally to call for climate leadership reflects Americans' recognition of the threats of climate change and their support for meaningful action now. Study after study has shown strong public support for climate solutions, including polling conducted by Public Policy Polling (PPP) immediately after the President's State of the Union address. That PPP poll found that 65 percent of Americans think that climate change is a serious problem and a substantial majority of Americans support President Obama using his authority to reduce its main cause, dangerous carbon pollution.
EcoWatch Daily Newsletter
Artist's conception of solar islands in the open ocean. PNAS
Millions of solar panels clustered together to form an island could convert carbon dioxide in seawater into methanol, which can fuel airplanes and trucks, according to new research from Norway and Switzerland and published in the Proceedings of the National Academy of Sciences journal, PNAS, as NBC News reported. The floating islands could drastically reduce greenhouse gas emissions and dependence on fossil fuels.
Marcos Alves / Moment Open / Getty Images
More than 40 percent of insects could go extinct globally in the next few decades. So why did the U.S. Environmental Protection Agency (EPA) last week ok the 'emergency' use of the bee-killing pesticide sulfoxaflor on 13.9 million acres?
EcoWatch teamed up with Center for Biological Diversity via EcoWatch Live on Facebook to find out why. Environmental Health Director and Senior Attorney Lori Ann Burd explained how there is a loophole in the The Federal Insecticide, Fungicide, and Rodenticide Act under section 18, "that allows for entities and states to request emergency exemptions to spraying pesticides where they otherwise wouldn't be allowed to spray."
Simple swaps that cut down on kitchen trash.
Sponsored
By Kayla Robbins
Along with the bathroom, the kitchen is one of the most daunting areas to try and make zero waste.
View of downtown Miami, Florida from Hobie Island on Feb. 2, 2019.
Michael Muraz / Flickr
The Democratic candidates for president descended upon Miami for a two-night debate on Wednesday and Thursday. Any candidate hoping to carry the state will have to make the climate crisis central to their campaign, as The New York Times reported.
By Sharon Kelly
On Monday, the Wall Street Journal featured a profile of Scott Sheffield, CEO of Pioneer Natural Resources, whose company is known among investors for its emphasis on drawing oil and gas from the Permian basin in Texas using horizontal drilling and hydraulic fracturing, or fracking.
Pexels
By Craig K. Chandler
The federal government has available to it, should it choose to use them, a wide range of potential climate change management tools, going well beyond the traditional pollution control regulatory options. And, in some cases (not all), without new legislative authorization.
Denis Poroy / Getty Images
By Dan Gray
Processed foods, in their many delicious forms, are an American favorite.
But new research shows that despite increasing evidence on just how unhealthy processed foods are, Americans have continued to eat the products at the same rate.
By Sarah Steffen
With a profound understanding of their environmental surroundings, indigenous communities around the world are often cited as being pivotal to tackling climate change.