This website uses cookies to ensure you get the best experience while browsing it. By clicking 'Got It' you're accepting these terms.


The best of EcoWatch, right in your inbox. Sign up for our email newsletter!
35,000+ March at Forward on Climate Rally
Feb. 17, 2013 03:30PM EST
Climate
Today, during President's Day weekend, more than 35,000 people marched to the President's doorstep to support immediate action to contain climate change. People from more than 30 states across the country whose land, homes and health is being threatened by the climate crisis, as well as students, scientists, indigenous community members and many others are participating in this largest climate rally in U.S. history.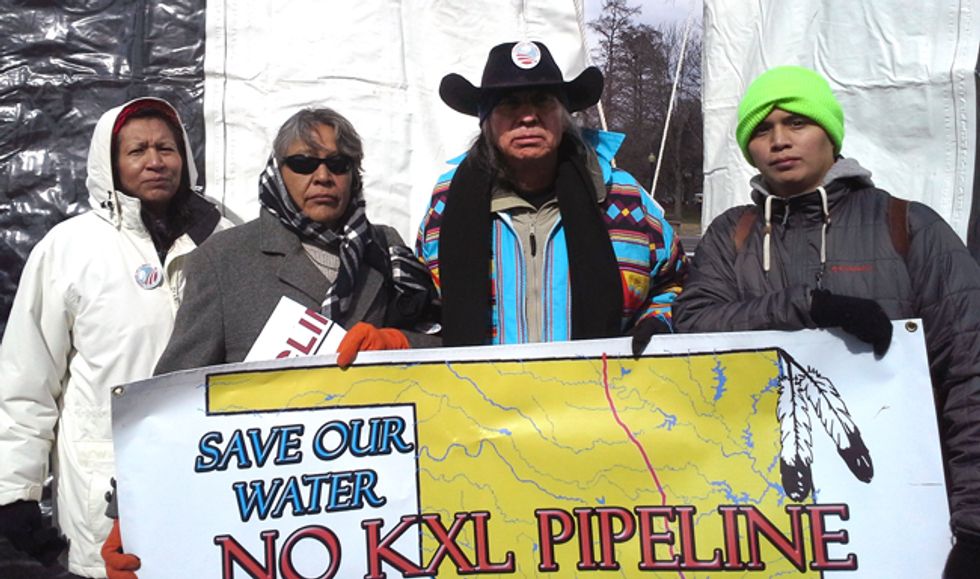 "For 25 years our government has basically ignored the climate crisis: now people in large numbers are finally demanding they get to work. We shouldn't have to be here—science should have decided our course long ago. But it takes a movement to stand up to all that money," said 350.org founder Bill McKibben.
Rally participants are calling on President Obama to reject the Keystone XL tar sands pipeline and put limits on dangerous carbon pollution from the nation's dirtiest power plants. Much of President Obama's legacy will rest squarely on his response, resolve and leadership in fighting the climate crisis. Rally participants are looking for him move forward on his recent State of the Union address declaration when he said, "For the sake of our children and our future, we must do more to combat climate change."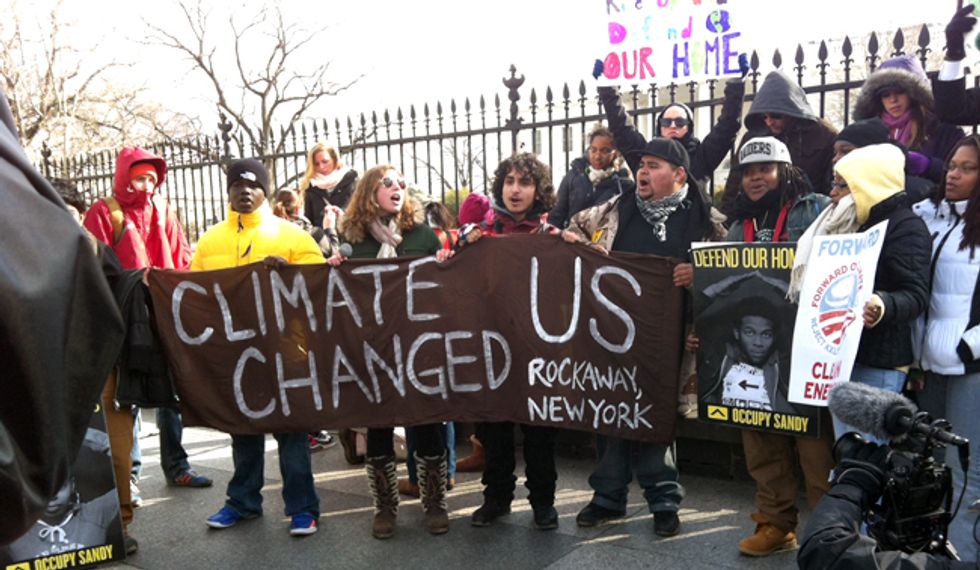 "Twenty years from now on President's Day, people will want to know what the president did in the face of rising sea levels, record droughts and furious storms brought on by climate disruption," said Michael Brune, executive director of the Sierra Club. "President Obama holds in his hand a pen and the power to deliver on his promise of hope for our children. Today, we are asking him to use that pen to to reject the Keystone XL tar sands pipeline, and ensure that this dirty, dangerous, export pipeline will never be built."
The Keystone XL tar sands project would pipe some of the dirtiest oil on the planet through the breadbasket of America to be shipped overseas through the Gulf of Mexico. It would be a disaster for our climate, producing tar sands crude that kicks out two or three times as much carbon pollution as producing conventional crude oil.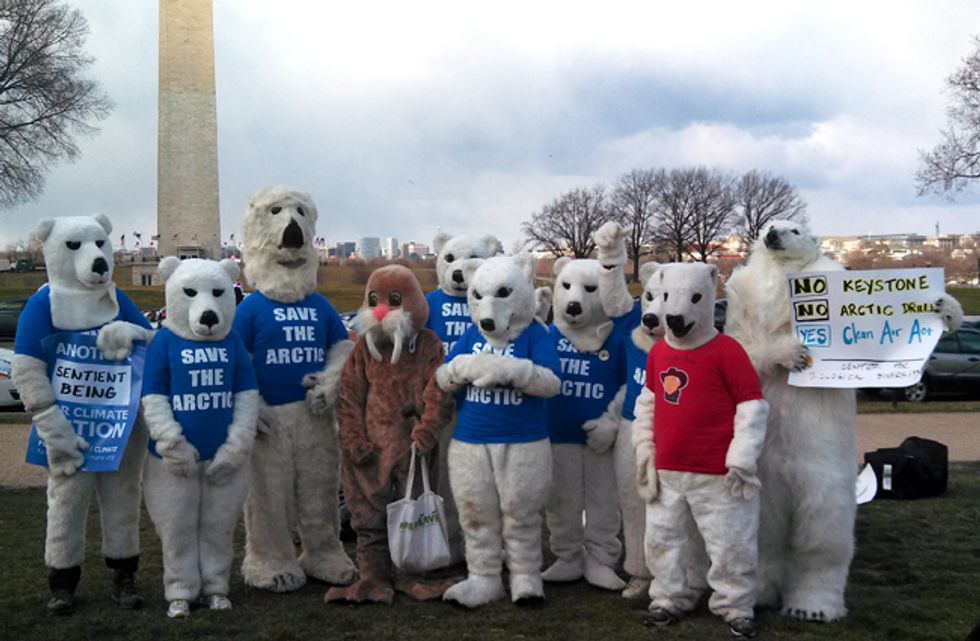 "The Yinka Dene Alliance of British Columbia is seeing the harm from climate change to our peoples and our waters," said Chief Jacqueline Thomas, immediate past Chief of the Saik'uz First Nation in British Columbia and co-founder Yinka Dene Alliance ("People of the Earth"). "We see the threat of taking tar sands out of the Earth and bringing it through our territories and over our rivers. The harm being done to people in the tar sands region can no longer be Canada's dirty secret. We don't have the billions of dollars that industry has. But we do have  our faith that people will do the right thing to protect Mother Earth. The Forward on Climate Rally shows that we are not alone in the fight to stop tar sands expansion and tackle climate change."
In addition, right now, the president has the authority and responsibility under the Clean Air Act to cut the amount of dangerous carbon pollution emitted from dirty power plants. These power plants are the biggest contributors to climate disruption, but are currently allowed to pollute without limits.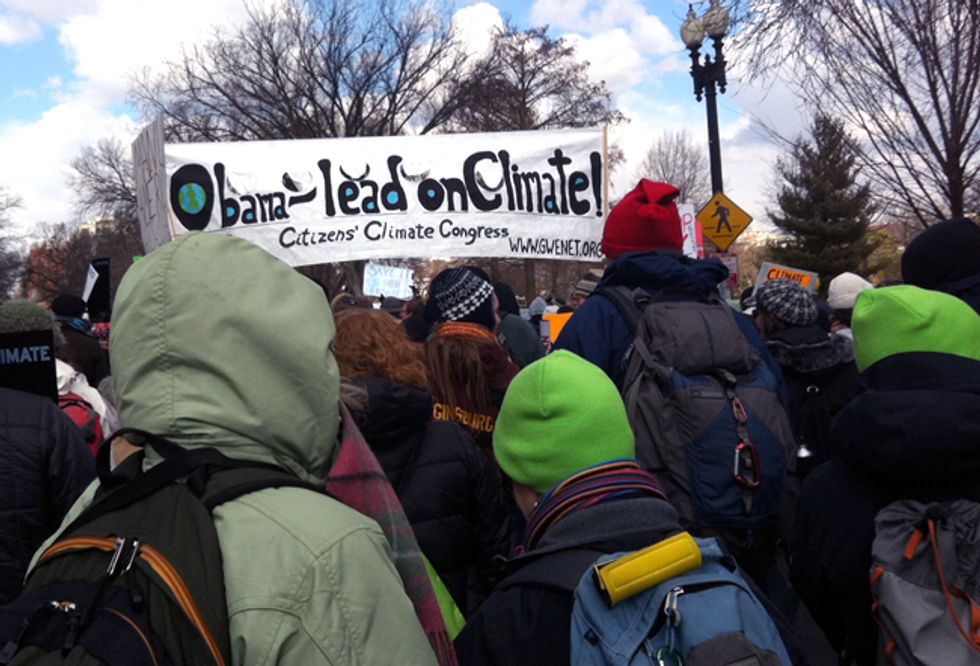 "This President has the power to achieve the single biggest carbon reduction ever, by holding our biggest carbon polluters—dirty power plants—accountable for what they dump into the air, said Van Jones, Natural Resources Defense Council trustee and president Rebuild the Dream. "Cleaning up this pollution and using more clean energy will provide jobs to thousands of Americans, save families real money when it comes to electricity bills and, most important, will make a real difference in our health and the health of our children."
Today's historic rally to call for climate leadership reflects Americans' recognition of the threats of climate change and their support for meaningful action now. Study after study has shown strong public support for climate solutions, including polling conducted by Public Policy Polling (PPP) immediately after the President's State of the Union address. That PPP poll found that 65 percent of Americans think that climate change is a serious problem and a substantial majority of Americans support President Obama using his authority to reduce its main cause, dangerous carbon pollution.
EcoWatch Daily Newsletter
Pexels
By Danielle Nierenberg and Katherine Walla
As the holiday season ramps up for many across the world, Food Tank is highlighting 15 children's books that will introduce young eaters, growers and innovators to the world of food and agriculture. Authors and organizations are working to show children the importance — and fun — of eating healthy, nutritious and delicious food, growing their own produce, and giving food to others in need.
Pixabay
Purple cabbage, also referred to as red cabbage, belongs to the Brassica genus of plants. This group includes nutrient-dense vegetables, such as broccoli, Brussels sprouts, and kale.
Pexels
By Lauren Wolahan
For the first time ever, the UN is building out a roadmap for curbing carbon pollution from agriculture. To take part in that process, a coalition of U.S. farmers traveled to the UN climate conference in Madrid, Spain this month to make the case for the role that large-scale farming operations, long criticized for their outsized emissions, can play in addressing climate change.
Pexels
In recent years, acai bowls have become one of the most hyped-up health foods on the market.
They're prepared from puréed acai berries — which are fruits grown in Central and South America — and served as a smoothie in a bowl or glass, topped with fruit, nuts, seeds, or granola.
Investing in grid infrastructure would enable utilities to incorporate modern technology, making the grid more resilient and flexible. STRATMAN2 / FLICKR
By Elliott Negin
The Royal Swedish Academy of Sciences' recent decision to award the 2019 Nobel Prize in Chemistry to scientists who developed rechargeable lithium-ion batteries reminded the world just how transformative they have been. Without them, we wouldn't have smartphones or electric cars. But it's their potential to store electricity generated by the sun and the wind at their peak that promises to be even more revolutionary, reducing our dependence on fossil fuels and protecting the planet from the worst consequences of climate change.