This website uses cookies to ensure you get the best experience while browsing it. By clicking 'Got It' you're accepting these terms.
A man photographing a landscape in Brazil, where environmental journalism is under pressure. Cesar Okada / iStock / Getty Images Plus
By Kaamil Ahmed
A pair of "French spies" had infiltrated India by sea to commit a "treasonous conspiracy," an Indian minister claimed in late November. In reality, they were two visiting journalists, and their mission was an investigation into allegations of illegal sand mining in the southern state of Tamil Nadu. They had merely tried and failed to visit the site of a major mining company through legal means.
Their presence set off alarm bells among some connected to the industry, and the fallout has been significant. It's included a police investigation, a politically fueled propaganda campaign and the arrests of two local translators who had been working for them.
EcoWatch Daily Newsletter
A cargo train carrying 250,000 liters (66,000 gallons) of super petroleum, or unleaded gasoline, derailed off its tracks after taking a sharp turn along Kenya's eastern coast, forcing the closure of a major highway over the weekend, according to local reports.
The accident occurred early Sunday in Kibarani in Mombasa County, and prompted authorities to completely close off Makupa Causeway, the main link between the mainland and Mombasa Island, fearing a fire would break out after spillage of the highly flammable liquid, The Star, Kenya reported.
www.youtube.com
Kenya is taking its new plastic bag ban very seriously. Starting Monday, anyone who manufactures, sells or even carries a plastic bag in the East African country could be slapped with a fine of up to $38,000 or get sent to jail for up to four years.
It took the Kenyan government three attempts over the past 10 years to finally pass the ban, which is considered as the world's toughest, according to Reuters.
Photo credit: EPA / Mike Nelson
Kenya just became the latest country to ban plastic bags. According to Environment Cabinet Secretary Judi Wakhungu, "The ministry has banned the use, manufacture and importation of all plastic bags used for commercial and household packaging."
By Nicole D'Alessandro
Worldwide, a trillion single-use plastic bags are used each year, nearly 2 million each minute. Usage varies widely among countries, from more than 400 a year for many East Europeans, to just four a year for people in Denmark and Finland. Plastic bags, made of depletable natural gas or petroleum resources, are often used only for a matter of minutes. Yet they last in the environment for hundreds of years, shredding into ever-smaller pieces but never fully breaking down.

By J. Matthew Roney
Even amid policy uncertainty in major wind power markets, wind developers still managed to set a new record for installations in 2012, with 44,000 megawatts of new wind capacity worldwide. With total capacity exceeding 280,000 megawatts, wind farms generate carbon-free electricity in more than 80 countries, 24 of which have at least 1,000 megawatts. At the European level of consumption, the world's operating wind turbines could satisfy the residential electricity needs of 450 million people.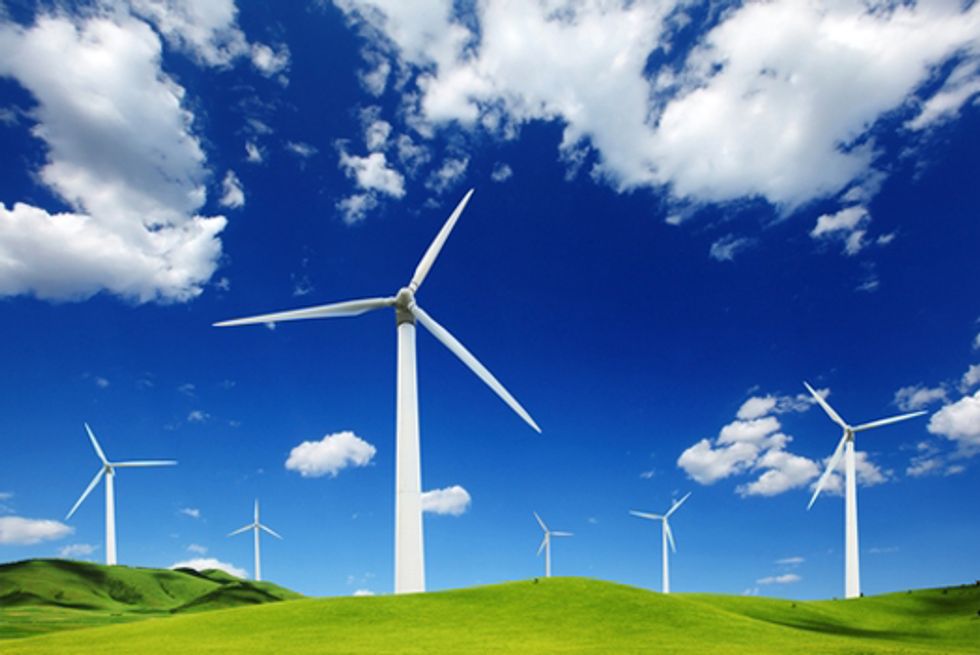 Photo courtesy of Shutterstock
China installed some 13,000 megawatts of wind in 2012, according to the Global Wind Energy Council (GWEC). This was a marked slowdown from the previous two years, when new installations averaged 18,000 megawatts annually. Reasons for the drop-off include concerns about project quality and inadequate electricity transmission and grid infrastructure, which prompted the government to approve fewer projects and to restrict lending. Still, all told, China leads the world with 75,000 megawatts of wind capacity: more than a quarter of the world total.
In a country more readily associated with coal-fired electricity and nuclear power ambitions, wind reached some impressive milestones in China's energy mix in 2012. Wind-generated electricity increased more than coal-fired electricity did for the first time. Even more remarkable, the electricity produced by wind farms over the course of the year exceeded that produced by nuclear power plants. And this is just the beginning: with massive wind projects under development across its northern and eastern provinces, and 19 ultra-high-voltage transmission projects connecting windy rural areas to population centers (all to be completed by 2014), more milestones lie ahead in China. Consulting firms GTM Research and Azure International project that China will reach 140,000 megawatts of wind by 2015 and nearly 250,000 megawatts by 2020.
The U.S. wind industry made headlines too. More new wind electricity generating capacity was added in 2012 than any other generation technology, including natural gas—a record 13,100 megawatts. An incredible 5,200 megawatts, spread among 59 wind farms, came online in December alone as developers raced to qualify for the federal production tax credit before it was set to expire at the end of the year. The U.S. remains second only to China, with 60,000 total megawatts of wind capacity—enough to power more than 14 million U.S. homes.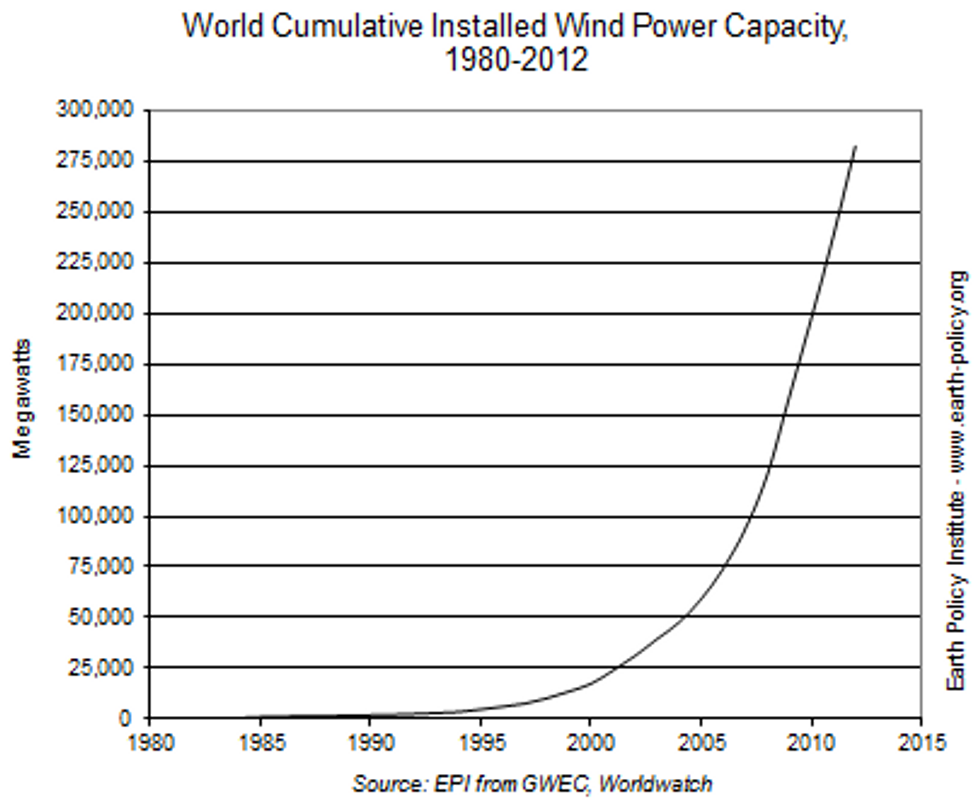 Several U.S. states have more installed wind capacity than most countries do. The 12,200 megawatts in Texas and the 5,500 megawatts in California, for example, would rank them sixth and eleventh, respectively, on the world wind power list. In Texas, a further 21,000 megawatts of wind projects are under consideration, much of which could be accommodated by the "Competitive Renewable Energy Zones" high-voltage transmission projects scheduled for completion by the end of 2013. These new lines will connect wind-rich West Texas and the panhandle with high-demand markets to the east. (See data).
Wind farms generated at least 10 percent of the electricity produced in nine states in 2012, up from five states the year before. Iowa and South Dakota got nearly a quarter of their electricity from wind. Oregon's 845-megawatt Shepherd's Flat wind farm, commissioned in 2012, is North America's largest. But in Carbon County, Wyoming, a project of up to 3,000 megawatts is under development.
To the north, Canada's 6,500 megawatts of wind power are sufficient to meet the electricity needs of nearly 2 million households. As Ontario, the country's most populous province, works to phase out coal-fired power by 2014, its wind generation is growing—in fact, Ontario's wires carried more electricity from wind than from coal for the first time in 2012.
The European Union (EU) added more megawatts of wind in 2012 than it did natural gas, coal, or nuclear, even as fiscal austerity measures cut renewable energy incentives. Several EU member states lead the world in the share of electricity they get from wind farms. Spain and Portugal typically have a 16 percent wind share. In Germany, whose 30,000 megawatts of wind capacity are the third highest in the world, the national wind share is 11 percent. Four of Germany's northern states now get roughly half of their electricity from wind.
But it is Denmark that sets the bar for wind's role in electricity production. The Danish Wind Industry Association reports that wind farms generated 30 percent of Denmark's electricity in 2012, up from 28 percent in 2011. The government pledged in late 2011 to boost this share to 50 percent by 2020.
Looking eastward, Romania and Poland each added roughly 900 megawatts of wind in 2012, reaching 2,500 and 1,900 megawatts, respectively. Turkey's goal is to reach 20,000 megawatts of wind in the next 10 years, nearly 10 times its current capacity.
Aside from China, India is the other big Asian wind market. With more than 18,000 megawatts installed, India ranks fifth worldwide in wind capacity. The government plans to spend roughly $8 billion on grid and transmission upgrades by 2017 through its "green energy corridors" plan. This is sorely needed in a country where nearly 300 million people do not have access to electricity.
Latin America, Africa, the Middle East and Oceania have enormous wind potential but little actual development thus far. Activity in each of these regions, however, indicates seriousness about harnessing the wind. In Latin America, Mexico more than doubled its wind capacity to almost 1,400 megawatts in 2012. Brazil, where wind installations grew 75 percent in 2012, could add another 1,500 megawatts in 2013 to reach 4,000 megawatts total.
Just 100 megawatts of wind were installed in all of Africa in 2012, split between Ethiopia and Tunisia. Kenya's long-awaited 310-megawatt Lake Turkana wind farm, which could generate more than 10 percent of national electricity, has suffered multiple setbacks but may begin construction in 2013. No new wind projects came online in the Middle East. Jordan is looking to grow its currently negligible wind power to 1,200 megawatts by 2020, however, and plans are also under way in Israel and Saudi Arabia.
In Australia, the goal is to get 20 percent of electricity from renewable sources by 2020. Half of the country's current 2,600 megawatts of wind is in the state of South Australia, where wind farms generated 24 percent of all electricity in 2012. The January 2013 commissioning of the 420-megawatt Macarthur wind farm in the state of Victoria gets the country halfway to its expected 30 percent wind growth for the year.
Most of the world's installed wind capacity is land-based; just 2 percent—roughly 5,400 megawatts—has been built offshore. Recently, however, offshore development has accelerated, more than tripling over the last five years. Ten of the 12 countries with offshore wind farms are European. The United Kingdom hosts more than half of the world's offshore capacity and aims for 18,000 megawatts of offshore wind by 2020; its offshore wind resources are actually estimated to be 16 times larger than its electricity consumption. In Denmark, some 15 percent of electricity is expected to come from offshore wind farms by 2014.
China and Japan are the only offshore wind producers outside of Europe, hosting 390 megawatts and 25 megawatts, respectively. With 130 megawatts installed in 2012 alone, China has quickly amassed the world's third largest offshore capacity figure; the country's near-term offshore targets are 5,000 megawatts by 2015 and 30,000 by 2020. In the wake of the 2011 disaster at the Fukushima nuclear power plant, Japan is looking to harness more of its offshore wind, a resource plentiful enough to meet national electricity needs nearly three times over. And in South Korea, numerous offshore projects are under way, as the country's wind industry aims to reach 23,000 megawatts of wind power by 2030.
According to Navigant Research, new wind installations worldwide will fall to some 40,000 megawatts in 2013. This would be the first instance in at least 17 years when annual additions did not increase year-to-year. Much of this deceleration will likely be the result of a slowdown in U.S. development. Still, the annual market is expected to rebound in 2014 as costs continue to fall, as major players recover, and as newcomers in Africa, the Middle East and the Baltic region begin to realize their wind ambitions. GWEC and Greenpeace International project at least 425,000 megawatts of wind capacity worldwide by 2015—enough to generate electricity for all of Central and South America. The world is starting to realize that wind's potential is almost without limit.
Visit EcoWatch's RENEWABLES page for more related news on this topic.
——–
Click here to tell Congress to Expedite Renewable Energy.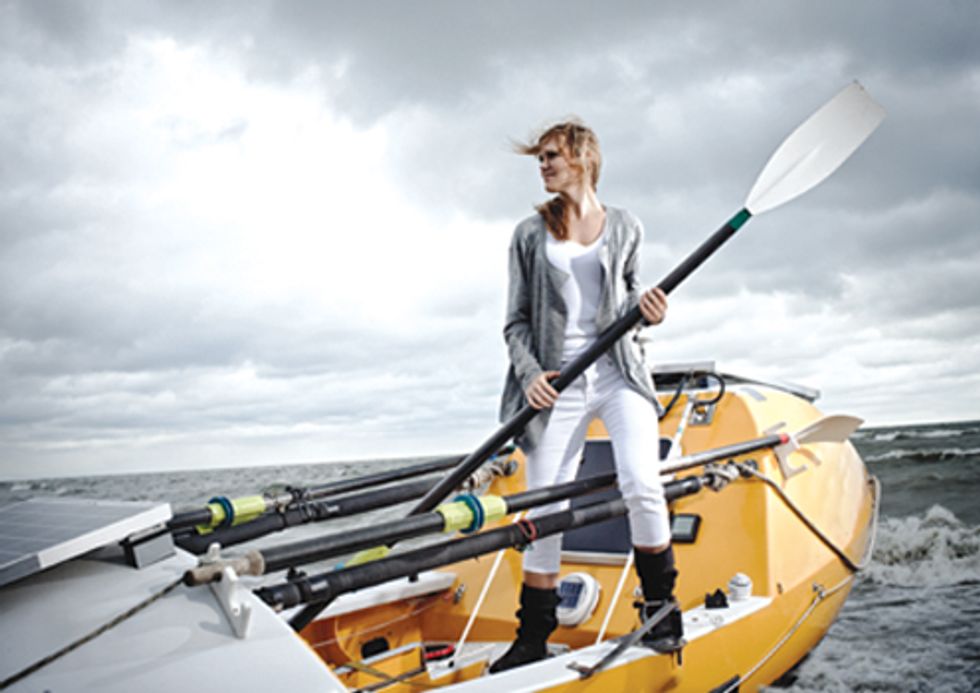 by Betty Weibel
This fall, Katie Spotz, who set a world record in March 2010 as the youngest person to row solo across the Atlantic Ocean in 70 days, embarked on another adventure to Kenya. Named one of Glamour magazine's Women of the Year in 2010, Spotz raised more than $150,000 and increased global awareness of the lack of clean drinking water for millions of people during her 3,038-mile Atlantic Ocean row and a team bicycle race across America in June 2011.
On her journey to Kisii, Kenya, she'll see firsthand how funds she raised are helping to provide safe drinking water to 5,000 individuals and families in that rural community. During the month-long trip, the Mentor, Ohio native will spend time with Aqua Clara International (ACI), a nonprofit organization that provides the technology and training to help provide safe, affordable drinking water for families and individuals who subsist on less than $2 per day.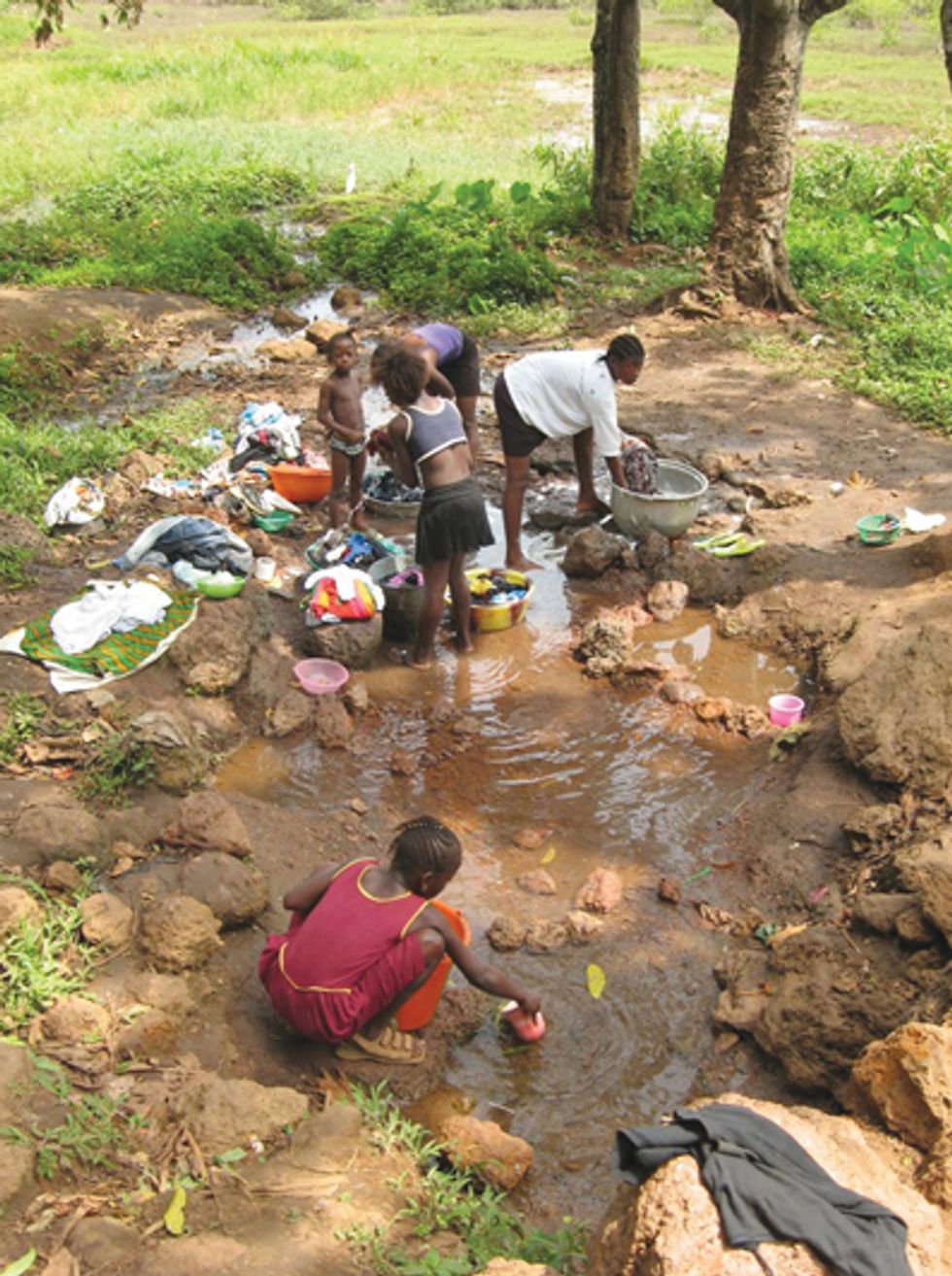 Spotz will participate in constructing Aqua Clara's first community-sized water treatment system alongside local people and ACI staff. During her visit she will also assist in building a rainwater tank for a local school. The Kenya trip will also include visiting households that have purchased locally constructed water filters. In addition to providing access to safe drinking water, Spotz will see how rain water harvesting, school based water and hygiene clubs, and innovative ecological sanitation solutions are making a difference to the health of school children and communities in Kenya.
"I want to see for myself, and ultimately, be able to share with contributors, how the donations are making a difference in people's lives," Spotz said. "For every $30 donated, there's someone who will be able to enjoy safe drinking water for life. That's a pretty amazing return on investment."
During her visit, Spotz will see local students participate in Aqua Clara Water and Hygiene Club activities. Students from local schools will participate in competitions and put on short dramas, sing songs and receive prizes to promote topics such as hand washing and water treatment. These simple messages can make a huge improvement in the health of surrounding communities.
For more information, visit www.aquaclara.org.