This website uses cookies to ensure you get the best experience while browsing it. By clicking 'Got It' you're accepting these terms.
Production of hemp was banned in the United States in 1937 under the Marihuana Tax Act.
A strain of Cannabis sativa, its low concentrations of tetrahydrocannabinol (THC) mean it won't get you high. The internet is abuzz, though, with claims that it's a green fix for a host of environmental ills.
jessicahyde / iStock / Getty Images
By Dan Nosowitz
Senate majority leader Mitch McConnell has, perhaps unexpectedly to those who find themselves agreeing with only this one position of his, been a major force for legalizing industrial hemp. Industrial hemp differs from marijuana in that it's bred specifically to have extremely low concentrations of THC, the primary psychoactive chemical in marijuana; smoke industrial hemp all you want, it'll just give you sore lungs.
EcoWatch Daily Newsletter
Studio023 / iStock / Getty Images Plus
With low grain prices and the loss of the soybean exports to China because of a trade war, Iowa's farmers face dark times. But one Iowa farmer sees a light of hope with a crop that fell out of favor, but may be poised for a big comeback. Ethan Vorhes, a farmer in Charles City, Iowa sees great potential for growing industrial hemp.
f2.8 / shutterstock.com
By Dan Nosowitz
The legalization of hemp as a crop may sound minor, even quaintly of the 1990s, in the wake of the massive economic, environmental and political ramifications of the next farm bill. But it deserves a look.
By Bibi Farber
We have a whole world of plastic that needs to be replaced with other biodegradable materials. We have come to rely on this indestructible modern material for every single facet of daily life.
The food you ate today was probably sold in plastic packaging, the vehicle you transport yourself in has plastic components, be that a car, bus, bike, train, plane, boat, kayak ... the computer you are reading this article on, even the charger and the wall socket protector … just look around.
Ocean plastic has reached the northernmost ends of the earth. The remote and icy waters of the Arctic Ocean are also being inundated by this form of non-biodegradable pollution.

"Dr. Hyman, you often talk about superfoods and their benefits," writes this week's house call. "Can you share some of your favorites?"
I realize "superfood" carries a certain hype, but some foods do earn that status. Food is medicine. And some foods are more powerful medicines than others! Food is the most powerful tool to create optimal health. Food is the first and most powerful drug in my arsenal to treat patients.
I've discussed numerous superfoods and you how to get them into your diet in The 10- Day Detox, Eat Fat, Get Thin and my other programs.
Here, I share five superfoods I frequently enjoy that you should also incorporate into your eating plan.
1. Seeds
My three favorite seeds are chia, hemp and flaxseeds. You can add all three super seeds to smoothies, puddings or on top of coconut yogurt with berries. Let's look at their benefits.
Chia seeds provide an excellent source of anti-inflammatory omega-3 fatty acids that have numerous benefits, including glowing skin and mental clarity. Just one ounce of chia seeds packs a whopping 10 grams of fiber. Its insoluble fiber acts as a prebiotic that feeds friendly gut bacteria and ferments into short-chain fatty acids to support gut health. Chia seeds also contain more protein than most plant foods. And they contain more calcium than milk.
Hemp seeds provide healthy omega-3 fats, protein, B vitamins, magnesium, zinc and iron.
Flaxseeds are another great source of omega-3 fats, dietary fiber and essential vitamins and minerals. Flaxseeds have powerful, anti-cancer, hormone-balancing phytonutrients called lignans. Freshly ground flaxseed sprinkled into a smoothie is an excellent way to ease constipation.
2. MCT Oil
Medium-chain triglycerides or MCTs are a special type of fatty acid derived from coconut oil. You can get them in coconut oil or as a stand-alone oil. I've written about how studies show MCT oil can help with weight loss, cognitive ability and much more. This super fuel becomes an instant-energy source because MCTs get rapidly burned and metabolized very efficiently, absorbing directly into the gut and then liver, so MCTs don't get stored as fat. You can add MCT oil to smoothies, coffee or veggies. MCTs also provide powerful antioxidant support to strengthen the immune system. Animal studies show MCTs also benefit liver and gut function.
3. Glucomannan
Fiber is vital for so many reasons, including feeding friendly gut bacteria. Studies show fiber can prevent obesity, reduce risk for chronic diseases and decrease aging. That's because fiber slows the rate food enters your bloodstream and increases the speed of food exiting through the digestive tract. Dietary fiber also helps balance blood sugar and cholesterol levels, aids in quick release of toxins from your gutand curbs your appetite. Glucomannan is a soluble, fermentable and highly viscous dietary fiber from the root of the elephant yam, also known as konjac. The konjac tuber has been used for centuries as an herbal remedy and to make traditional foods like konjac jelly, tofu and noodles. You can find glucomannan as a supplement called PGX. It mixes easily into water for an easy, effective fiber source.
4. Mushrooms
While visiting China, I discovered folks there knew more about food's medicinal properties than I did even after many years of research. Medicinal foods are a part of their everyday diet, and mushrooms play a huge role within Chinese medicine. Reishi, shiitake and cordyceps contain powerful healing properties that boost your immune system and support healthy hormone production. Mushrooms are anti-viral and anti-inflammatory to support healthy liver function, optimized cholesterol levels and anti-cancer benefits. I use them often: I make a reishi tea, cook with shiitake mushrooms and make mushroom soup.
5. Plant Foods
The vast, colorful array of vegetables represents more than 25,000 beneficial chemicals. Research shows the synergistic balance of these chemicals provides numerous health benefits. I recommend adiverse diet with numerous colorful whole foods. Our hunter-gatherer ancestors ate well more than 800 varieties of plant foods. Today, we don't consume anywhere near this amount. Make that extra effort to include as many varieties of these colorful superfoods as you can. Eat from the rainbow: Every fruit and vegetable color represents a different family of healing compounds. Red foods (like tomatoes) contain the carotenoid lycopene, which helps eliminate free radicals that damage our genes. Green foods contain the chemicals sulforaphane and isocyanate, as well as indoles that inhibit carcinogens to protect against cancer. Simply put: The more color you incorporate, the more health benefits you'll receive.
The tremendous power at the end of our forks becomes far more powerful than anything we find in a pill bottle. Functional Medicine ultimately rests on one central principle: Taking out the bad and putting in the good.
Vote Hemp and Kentucky-based Growing Warriors have partnered to organize a planting of industrial hemp in Mount Vernon, KY, on May 16, as part of the nationwide grassroots education effort Hemp History Week. The certified industrial hemp seed provided by the Kentucky Department of Agriculture will be grown as part of a research and development program in conjunction with the Kentucky State University, and marks an historic moment in the Bluegrass State after decades of federal prohibition of industrial hemp.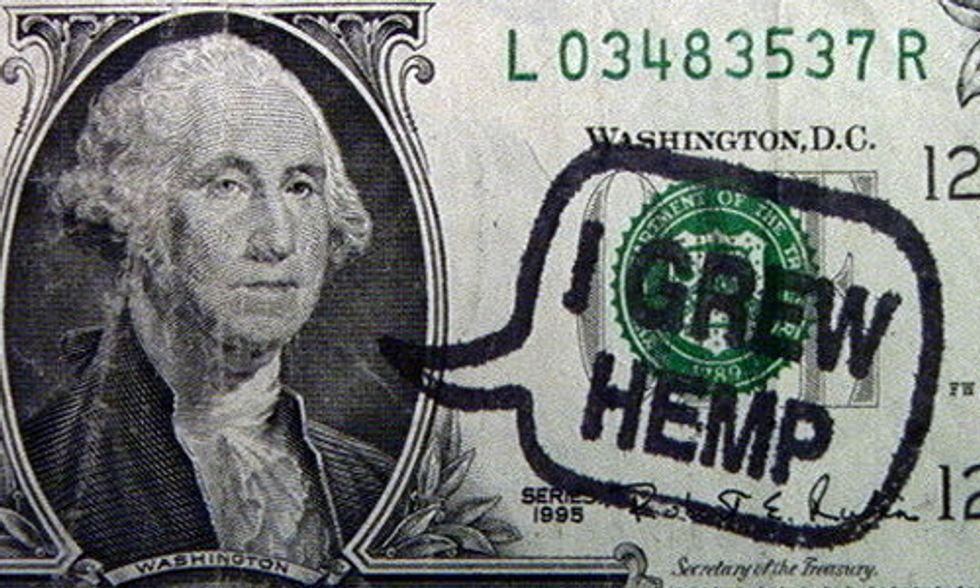 "Kentucky is leading the country toward a revitalized, lucrative and sustainable hemp industry," says Eric Steenstra, president of Vote Hemp. "Kentucky farmers, legislators and manufacturers have joined together to bring back hemp farming to the Kentucky landscape, knowing that hemp will bring job creation, among many other economic and environmental benefits."
Grown for its versatile fiber and oilseed, which can be used to make rope, paper, building materials, bio-fuels, cosmetics, healthy food, body care products, textiles, plastic composites and much more, hemp was once a paramount crop of Kentucky cultivated in the state as recently as the 1950's, but was permanently banned in 1970 as a Schedule 1 drug under the Controlled Substances Act. The return of hemp to Kentucky's farmland and mills is lauded by many political, agriculture and industry leaders in the state and beyond who view the burgeoning industrial hemp market as a step toward job growth and sustained economic stability in the commonwealth.
The hemp will be sown by war veterans who have partnered with Growing Warriors to learn agriculture and farming skills and work toward creating local community food systems. A reception will follow the hemp planting, to include refreshments and speeches by a number of notable leaders in the movement to legalize industrial hemp, including Agriculture Commissioner James Comer, Mike Lewis, executive director of Growing Warriors, Kentucky legislators, and other notable figures in the grassroots movement to legalize industrial hemp.
"The farming and production of industrial hemp in America just makes sense," said Lewis. "The important thing to note is that a hemp industry must be built from the ground up, and if done properly and responsibly it will restore some vibrancy to our communities. Fighting alongside my fellow Veterans for this crop has already made me a wealthier man as I witnessed the grit and determination that built this country play out daily and now I will be afforded the opportunity to plant this historic crop with true patriots."
"We took on this fight at the state legislature a year ago, and who would have ever dreamed we would change Kentucky law—change federal law—and have hemp in the ground today?" Comer said. "This is an historic moment for Kentucky farmers, and my hope is that industrial hemp can again be a thriving industry that presents new opportunities in agriculture and manufacturing for years to come."
To date, thirty-three states have introduced pro-hemp legislation and twenty-two have passed pro-hemp legislation. Thirteen states (California, Colorado, Indiana, Kentucky, Maine, Montana, Nebraska, North Dakota, Oregon, Vermont, Washington and West Virginia) have defined industrial hemp as distinct and removed barriers to its production. However, despite state authorization to grow hemp, farmers in those states risk raids by federal agents if they plant the crop outside the parameters of Section 7606 of the recent Farm Bill, due to failure of federal policy to distinguish oilseed and fiber varieties of Cannabis (i.e. industrial hemp) from psychoactive varieties (i.e. marihuana.)
In 2013, both the federal Senate and House introduced versions of the Industrial Hemp Farming Act, S. 359 and H.R. 525 respectively. So far in the 2014 legislative session, industrial hemp legislation has been introduced or carried over in Puerto Rico and twenty-five states: Alabama, Arizona, Colorado, Connecticut, Hawaii, Illinois (carried over from 2013), Indiana, Kentucky, Maryland, Michigan, Minnesota, Mississippi, Missouri, Nebraska, New Hampshire (carried over from 2013), New Jersey (carried over from 2013), New York, Oklahoma, South Carolina, South Dakota, Tennessee, Utah, Washington (two bills were carried over from 2013), West Virginia, and Wisconsin. 
--------
YOU MIGHT ALSO LIKE
Doug Fine: Hemp Will Be the Next Billion-Dollar Cash Crop
The New Superfood: Dr. Oz, Dietitians Tout Hemp's High Nutritional Value
President Obama Signs Farm Bill Legalizing Industrial Hemp
--------
It was while studying about the discarded stalks of the cannabis plant that journalist-author-goat farmer Doug Fine realized that industrial cannabis was likely to be a more valuable crop than even psychoactive cannabis. After researching the hemp industry worldwide for two years, he wrote his fourth book, Hemp Bound, which was published one month after the U.S. Congress re-legalized hemp after 77 years. Hemp, Fine says, is a game changing plant that's going to feed the world and free us from fossil fuels while putting small farmers back to work. The good news, he says, is that the roadblocks to industrial hemp cultivation are collapsing the way Communism did with the Berlin Wall.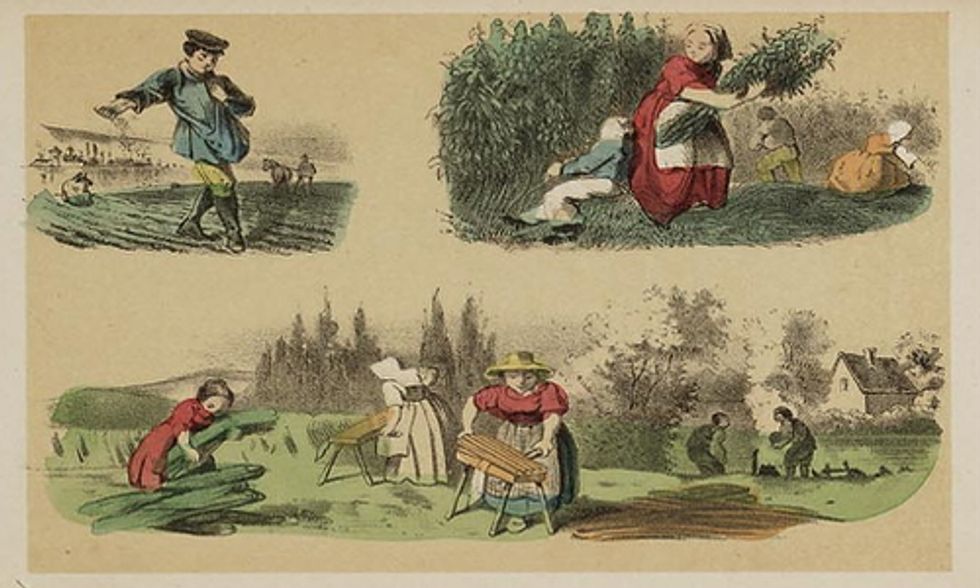 Earth Island Journal: In Hemp Bound you call hemp's economic potential bigger than psychoactive (smokable) cannabis, which is already one of the world's most profitable crops. How big is hemp's economic potential, and how soon can it take root, now that legalization has arrived federally, in Colorado, and in 10 other states, and appears imminent elsewhere?
Doug Fine: Canada's hemp economy is already worth a billion dollars annually, and it's growing 30 percent per year. They can't keep up with demand (especially American demand) in the field or the processors that render the profitable seed oil. Hemp is on. North Dakota, Kentucky, Colorado and California and six other states legalized hemp cultivation in anticipation of this year's incredibly important legalization of hemp in the federal Farm Bill. The founder of Canada's biggest hemp oil processor told me during his third expansion in ten years that he will parachute processors into places like Kentucky, North Dakota, Colorado and Hawaii the "moment" hemp is fully legalized domestically, putting thousands of farmers back to work on a crop that earns ten times what wheat does. Hemp will start having a real economic impact this year, thanks to its legalization in the Farm Bill. By the way, hemp's value was no mystery even during the years of its prohibition: in a 1994 executive order, President Bill Clinton included hemp among "the essential agricultural products that should be stocked for defense preparedness purposes."
EIJ: Hemp is a highly versatile plant that can be used in a wide variety of applications. What is the most important hemp use that you came across in your two years of across-the-globe hemp research?
DF: The use that addresses the two biggest problems: declining fossil fuel supply and climate change. In Hemp Bound I discuss a community-focused, hemp-based food and energy grid that pieces together the food side of hemp the Canadians have perfected with biomass energy from farm waste—a carbon-friendly technique that is making parts of Europe energy independent. Integrated as a soil-enriching rotation crop, hemp can truly help economically struggling communities while liberating all of us from fossil fuels. And on the food side, I researched university nutrition studies and found that hemp really is amazing super food, high in omegas, proteins and key minerals like selenium. Plus it restores soil health when cultivated as a rotational crop. Forget win-win: hemp is win-win-win-win.
EIJ: What is the most fun use that you encountered?
DF: There are two hemp apps that make me smile any time I think about them and make me want to see, do, and use them again as soon as possible. They are the hemp-powered limo ride I took, and the tractor—and the actual tractor body—I saw made entirely from hemp fiber. Already hemp is in commercial models of BMW and Mercedes.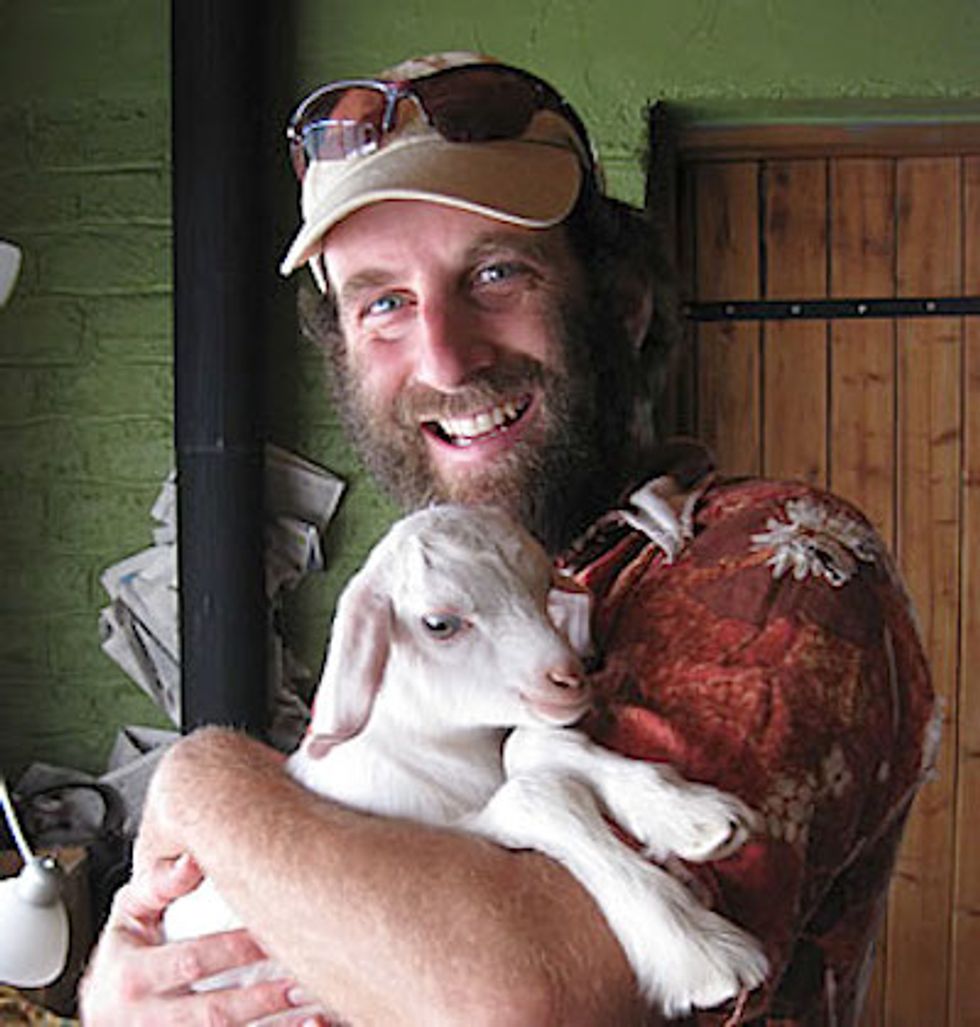 Hemp Bound
. Photo credit: Amanda Gorski via Earth Island Journal
EIJ: What are the roadblocks, if any, to the realization of the hemp economy you write about in Hemp Bound? Can people invest in hemp, or any part of the cannabis plant, legally today?
DF: The roadblocks are collapsing the way Communism did with the Berlin Wall. There was very little opposition to hemp's federal re-legalization this year, with good reason: it's a vital crop for America to cultivate with great dispatch. China realizes it, as does most of the world. In fact, it's cultivated in 30 countries. A slight roadblock is that hemp has so far only been legalized for university study in the U.S. This is still a valuable step because during the 77 years that hemp was banned, we lost the best hemp genetics in the world. We need to rediscover which varieties work best in American soil. We also need to pass legislation that permits widespread commercial cultivation of the plant, as they've done in Canada. As for investment, what I'd like to see is local entrepreneurs betting on their communities by building the regional hemp food processing and energy producing models I describe in Hemp Bound.
EIJ: You have digerati like Mark Frauenfelder, academics from Rice University, and farmers like Joel Salatin—not to mention the Willie Nelson—praising Hemp Bound. What do you make of the diversity of interest in hemp?
DF: There will come a time when history looks at the 77 years that hemp was illegal in the U.S.—essentially because of a typo—as more ridiculous than legal DDT. We will scratch our heads wondering how, after 12,000 years of widespread human use of this plant, we mistakenly stopped for three quarters of a century.
Today, 80 percent of Americans support hemp, and it has Republicans like Mitch McConnell of Kentucky teaming up with Democrats like Pat Leahy of Vermont. It is an across-the-aisle issue that is bringing Americans closer together in a very patriotic way.
The reason is that legalizing hemp will have a direct impact on America's struggling heartland farmers. First off, we're down to one percent of Americans who are farming, and one of the big reasons for that is monoculture has damaged soil and reduced farm profits. Hemp solves this immediately and we will see a major agricultural and entrepreneurial resurgence stateside as we've seen happening in recent years in Canada.
EIJ: Why do you say in Hemp Bound that "your roommate with the lava lamp was right about hemp?"
DF: After 22 years in journalism, I'm supposed to be cynical. Yet after studying what's coming with the hemp economy, I'm suddenly very optimistic about our food, energy and climate future. Because of my experience reporting on hard issues like Rwanda's war and Burma's democracy movement, I know when I'm opening myself up to Pollyanna accusations. Really? This one plant is going to revitalize the economy, farming and wean us from fossil fuels? Um, yes. It can, which is different from "it will." I can only report what I saw from several continents' research into the plant on which the Declaration of Independence was written—from a plan to localize energy production from farm waste biomass to an actual tractor made of hemp fiber, it is being done somewhere today. In other words, the lava lamp-sporting roommate's view on hemp was right: it represents a food, farming and energy revolution.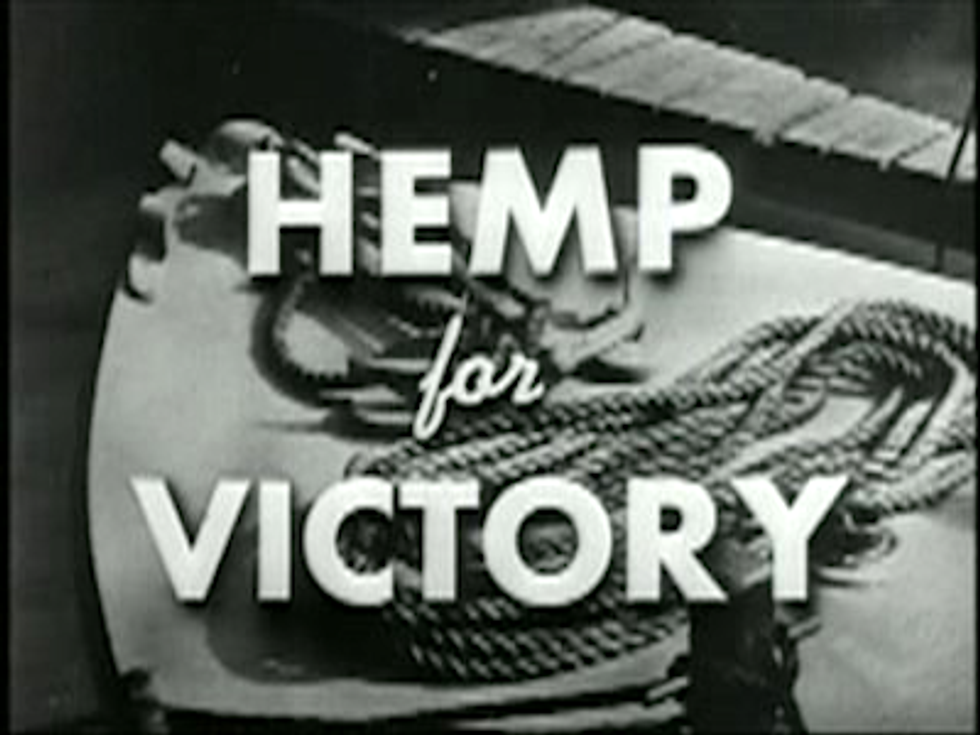 Hemp for Victory
was a 1942 film made by the U.S. government during World War II, explaining the uses of hemp and encouraging farmers to grow the crop.
EIJ: You refer to yourself as a "Neo-Rugged Individualist" and on your Funky Butte Ranch in New Mexico you milk goats, live on solar power, drive on vegetable oil, homeschool your kids and your sweetheart makes many of your clothes, usually out of hemp. How will the legalization of hemp directly affect your life?
DF: The day hemp becomes legal is the day I begin cultivating ten acres of the plant so that my sweetheart no longer has to import from China the material she uses to make the shirts I wear. In a cynical age, we can use one less irony. Also, we as a family already use about $4,000 in hemp products annually, including hemp seed oil in our morning shake and hemp diapers for our kids that hold up best to brutal New Mexico line drying. I want to see those purchases become domestic and local, for price and environmental reasons.
In 1942, the US Department of Agriculture made a wartime propaganda film called Hemp For Victory—hemp for victory, indeed. The promise of this plant and its industrial offshoots are revitalizing my patriotism as well as my optimism about my own kids' future. Both my human and my goat kids, by the way: hemp seed makes superlatively excellent animal feed. In fact, I'm off to milk my goats now.
 --------
YOU MIGHT ALSO LIKE
The New Superfood: Dr. Oz, Dietitians Tout Hemp's High Nutritional Value
President Obama Signs Farm Bill Legalizing Industrial Hemp
Industrial Hemp: The Answer for a Greener Future
--------
High in protein and healthy fats, and low in cholesterol and sodium, hemp truly is a superfood. No other single plant source has the essential amino acids in such an easily digestible form, nor has the essential fatty acids in as perfect a ratio to meet human nutritional needs.
Hemp also is a good source of zinc, and a very good source of magnesium.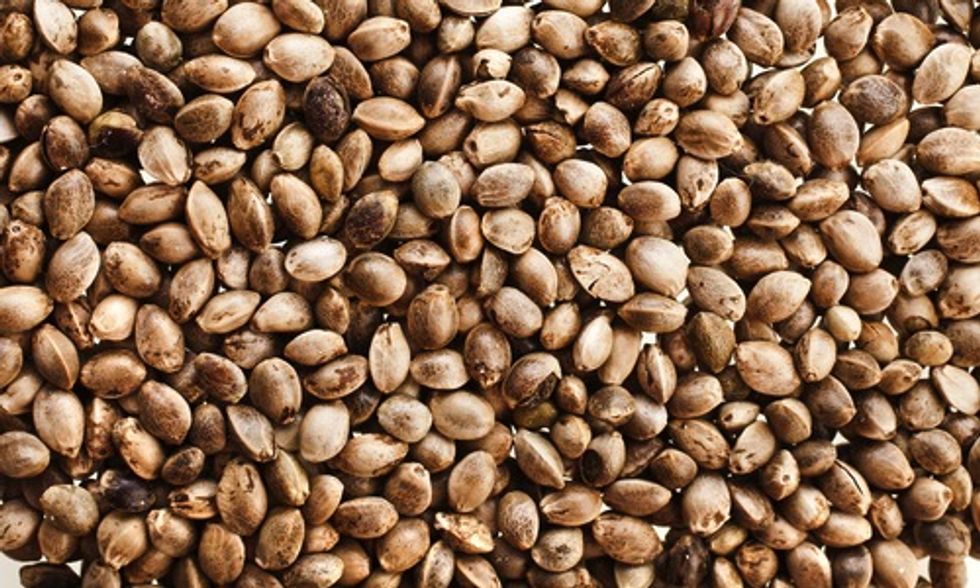 Shutterstock
Adding more hemp to your diet can help create more demand for this sustainable crop, which requires no fertilizers or pesticides. The hemp plant is one of the earliest-known cultivated crops, and has many uses, including textiles, fiber, wood, plastic and fuel alternatives. And no, it won't get you high or make you test positive for drugs.
Available in concentrated protein, shelled seeds or oil, there are unlimited ways to include hemp in your everyday diet. Here, courtesy of Care2, are five foods in which you can eat hemp:
1. Salad—Adding raw organic hemp seeds to a salad gives your dish a nutritional lift as well as flavor boost. Consider switching your salad oil to hemp oil.
2. Smoothies—Hemp is a prime plant-based protein alternative to whey, which can acidify the body and create extra strain on your kidneys. You can use concentrated hemp protein, or for a creamier smoothie, use shelled hemp seeds.
3. Breakfast—Many people start their day with a bowl of heart-healthy oatmeal. Sprinkle in a couple tablespoons of hemp seeds to up the nutritional value even more, and to add a subtle nutty taste. You can also sprinkle hemp seeds in yogurt or any other breakfast cereal.
4. Dairy substitute/ice cream/milk—Skip the store brands that have the added carrageenan, and make your own by blending 2 to 3 tablespoons of raw organic hemp seeds with 4 to 8 ounces of water. The water-to-seeds ratio can vary, depending on whether you prefer a thinner milk or a thicker cream. A good rule of thumb to make a quart of milk is 1 cup hemp seeds to 4 parts water. Try adding a sprinkle of cinnamon and a few drops of liquid stevia and vanilla. Blend the mixture on high for 45 seconds to a minute, preferably with a high-speed blender. To remove lumps, strain through cheese cloth or a nut milk bag. Store in a mason jar and shake before pouring. Use within a few days.
5. Pesto—Try this recipe for a pesto for pasta, pizza, or as a spread on flax crackers.