This website uses cookies to ensure you get the best experience while browsing it. By clicking 'Got It' you're accepting these terms.
Firefighters search for bodies Sunday following a deadly iron ore mining dam collapse in Brazil. DOUGLAS MAGNO / AFP / Getty Images
Brazil endured one of the deadliest mining disasters in its history when a mining dam collapsed Friday in the southeastern city of Brumadinho, The New York Times reported.
Glen Canyon Dam. Tim Severn / Getty Images
EcoWatch Daily Newsletter
Far-right congressman Jair Bolsonaro, whose hostile campaign rhetoric has earned him comparisons to U.S. President Donald Trump, won Brazil's presidential election Sunday, a development that has raised concerns about the future of human rights and environmental action in the world's sixth-largest greenhouse gas emitter, CNN reported.
Like Trump, Bolsonaro has made homophobic, sexist and racist statements and emboldened right wing groups who share his views.
Bloede Dam removal in process. Maryland Department of Natural Resources Fishing and Boating Services / YouTube
By Tara Lohan
For much of the 20th century humans got really good at dam building. Dams—embraced for their flood protection, water storage and electricity generation—drove industry, built cities and helped turn deserts into farms. The United States alone has now amassed more than 90,000 dams, half of which are 25 feet tall or greater.
Renowned Inuk artist Billy Gauthier has not eaten since Oct. 13. He is on a hunger strike against the proposed flooding of the Muskrat Falls hydroelectric project reservoir.
The Muskrat Falls project, part of the $8.6 billion Lower Churchill hydroelectric project in Labrador, Canada, will flood the Lake Melville river valley, which has cultural and spiritual significance for the Innu and Inuit peoples.
Indigenous people have come to this section of the Churchill River, located directly above Muskrat Falls, for thousands of years. Archeological evidence shows it was a common resting spot. When the dam goes online, this area will be flooded. Ossie Michelin
Construction of the Muskrat Falls Generation Facility began in 2013 and sources say flooding will begin in the next 36 hours.

Opposition to this project has been long-standing. Ossie Michelin, a freelance journalist living in Labrador, has been documenting the fight against the dam. He shared how the hydroelectric project "will cut through the unceded territory of the NunatuKavut Inuit, the only group of Inuit in Canada with an outstanding land claim," and "destroy hundreds of kilometers of forest and contaminate fish and seal stocks with methylmercury."

Roberta Benefiel of Grand Riverkeeper in Labrador, shared that, "There are many other issues with this project that Grand Riverkeeper Labrador has been vocal about over the years. Right now we are standing with the entire community on the methylmercury issue because that is the issue that has galvanized all of us, aboriginal and non-aboriginal alike. They absolutely must clear the Reservoir of soil, vegetation and trees before they begin to fill it. Nothing short of the full clearing will satisfy us."

According to Emerald Nash, an activist and acquaintance of Gauthier:
If they flood this reservoir without first clearing vegetation and topsoil, waters downstream will be poisoned with methylmercury. The people living there will not only face serious health risks but will also lose their source of food and a large part of their cultural identity. Contamination will undoubtedly threaten the traditions of the Innu and Inuit communities there. In Labrador hunting and fishing is a way of life, and for many it is a means of survival.
Despite pleas from the Nunatsiavut government and warnings from researchers at Harvard University, provincial energy company, Nalcor, has chosen to move forward with its plans to flood Lake Melville without any effort to remove the materials that will lead to contamination.
In a final push to try and stop the flooding of the river valley until the debris is removed, a blockade has been ongoing since Oct. 15. Land protectors have come out in force to block the gate to the Nalcor facility at Muskrat Falls.
At first, the demonstrators were not allowing anyone into or out of the main gate. Busloads of Laborers were being turned away. At one point, they would not even allow an emergency vehicle to pick up an injured worker. A compromise was made and the Nalcor employee was allowed to be taken to hospital.
On Oct. 16, there were nine arrests. A "Nurse-In" was also held where nursing mothers and babies came out to demonstrate. They held signs that read: "Don't poison our breast milk."
There are currently more than 200 standing guard at the blockade. Approximately 40 people have broken through the main gate and are occupying the work site.
On Sunday, Gauthier, along with fellow hunger strikers Delilah Saunders and Jerry Kohlmeister, attended the "Make Muskrat Right" demonstration in Ottawa. They called on the government to prevent the leaching of methylmercury into the water source by fully clearing the reservoir before flooding begins. Labradorians are afraid that methylmercury will contaminate fish and game stocks, bringing an end to their traditional lifestyles.

"Nalcor and our own provincial government are ignoring our needs and refusing to protect us," Gauthier said. "I feel we have to go to the federal government and ask for their protection."
According to Gary Wockner, Waterkeeper Alliance board member and international river advocate, "These kinds of fights are escalating across the planet as hydropower is being rammed down the throats of citizens, all under the guise of 'clean energy.' It's not clean energy if it causes methane emissions that make climate change worse, floods and poisons the homelands of local people, and destroys fisheries. We are seeing the same conflicts across the globe in Central America, Latin America, Asia, Europe and here in Canada. Hydropower is dirty energy and dirty business."

The embarrassment continues for Duke Energy who is dealing with the breach of a 1.2-billion-gallon cooling pond dam at its H.F. Lee plant due to flooding from Hurricane Matthew.
It all began Wednesday morning when Duke Energy issued a statement claiming that the "ash basin and cooling pond dams across the state continue to operate safely," but then helicopter footage from Raleigh's local television station WRAL showed that one of the dams had been breached.
In the statement, Duke Energy also attacked Waterkeeper Alliance for raising what Duke considered inaccurate and inappropriate concerns about the safety of coal ash ponds in the wake of Matthew.
On Thursday, Duke spokeswoman Erin Culbert confirmed to the Charlotte Business Journal that the company found out about the breach after WRAL contacted Duke about a half-hour after their statement came out and shared its video. Culbert said a Duke inspection crew had flown over the area earlier in the morning and, at the time, the dam was intact and showed no signs of stress. After they saw the video, the company put out an update acknowledging the damage at the dam.
The breach at the main cooling pond is visible on the right of the photo and is releasing to the Neuse River, which is outside of the frame on the left.Duke Energy
"We are really grateful for their good timing which allowed us to respond and put our emergency protocols into effect," Culbert said.

Donna Lisenby of Waterkeeper Alliance said this incident proves Duke Energy was "asleep at the switch when it was supposed to be monitoring the safety of dams at the H.F. Lee facility during record setting floods."

"They weren't aware of a 50-foot wide breach in the cooling pond dam until notified by a TV crew. How is it possible for a company with helicopters actively flying over dams and hundreds of engineers to miss a 50-foot-wide breach? Apparently, one small WRAL news crew is more competent and better at monitoring the safety and integrity of Duke Energy dams than all the hundreds of Duke Energy employees and contractors combined," Lisenby exclaimed.

Duke Energy said the 545-acre man-made reservoir that was breached does not contain coal ash and supplies cooling water to power plants at the site. It said the active ash basins are not affected by this incident and continue to operate safely.

"We are giving this our fullest attention," said Regis Repko, senior vice president of Fossil-Hydro Operations. "We are assessing what resources we need and will position repair materials so we can respond quickly once conditions are safe to do so."
Waterkeeper Alliance said they remain very concerned about the integrity of Duke Energy's ash pond dams as the river recedes over the next week.
"This failure likely happened because the river has begun to recede, which is when structural problems often develop," Pete Harrison, staff attorney at Waterkeeper Alliance, and Matthew Starr, Upper Neuse Riverkeeper, said Wednesday. "Like so many of Duke Energy's coal ash ponds across the state, the cooling pond at Lee has a long history of structural problems—these are disasters waiting to happen."

In addition to concerns at Duke Energy's coal ash ponds, environmentalists are keeping an eye on floodwaters that have washed over factory farms in eastern North Carolina following the storm.
Millions of chickens are feared dead after at least a half-dozen poultry houses were found completely flooded and tens of thousands of carcasses were seen floating the water in Cumberland and Robinson counties.
[This breaking news is an update to a post earlier today on EcoWatch: Millions of Chickens Feared Dead at Factory Farms in Wake of Hurricane Matthew]
Waterkeeper Alliance and Upper Neuse Riverkeeper are responding to and documenting the breach of a 1.2-billion-gallon cooling pond dam at Duke Energy's H.F. Lee plant.
The breach occurred today just minutes after Duke Energy issued a statement claiming that the "Ash basin and cooling pond dams across the state continue to operate safely; in fact, we've been pleased with their good performance during the historic flooding Hurricane Matthew brought to eastern North Carolina."
Pete Harrison, staff attorney at Waterkeeper Alliance, and Matthew Starr, Upper Neuse Riverkeeper, released the following statement:
"When families are being threatened by some of the worst flooding in North Carolina's history, they should not also have to worry about Duke Energy's dams collapsing.
"This failure likely happened because the river has begun to recede, which is when structural problems often develop. Like so many of Duke Energy's coal ash ponds across the state, the cooling pond at Lee has a long history of structural problems—these are disasters waiting to happen.
"Minutes before the dam collapsed on the cooling pond, Duke Energy issued a statement declaring it was operating safely. Duke continues to claim the dam of a 120-acre coal ash pond at Lee is operating safely, even though the river has only begun to recede. The same ash pond suffered extensive damage after flooding caused by Hurricane Floyd in 1999. We remain very concerned about the integrity of the ash pond dams at Lee as the river recedes over the next week.
"It has been more than two years since the Dan River disaster, and Duke's coal ash continues to sit behind rickety dams on the banks of flood-prone rivers all across the state. Three ash ponds at the Lee plant, totaling 160 acres, have been completely submerged since Sunday."
In response to Waterkeeper Alliances breaking news, Greenpeace organizer Caroline Hansley said:
"Duke Energy can attack environmental groups all it wants, but the fact remains that it is misleading the public and the people of North Carolina about the safety of its dams, and Governor McCrory is letting the company get away with it- again. As the flood waters from the devastating Hurricane Matthew recede, we need a Governor who will put people's safety and access to clean drinking water before the interests of his previous employer, Duke Energy.
"Duke Energy has a terrible track record when it comes to protecting the safety of North Carolina's waterways and drinking water. In the two years since the Dan River coal ash disaster, Duke Energy has fought efforts to clean up leaking coal ash pits which threaten the health and safety of nearby communities. Instead of cleaning up its hazardous messes, Duke uses its political influence with its previous employee, Governor McCrory, allowing the company to leave 70 percent of its toxic coal ash leaking across the state.
"Hurricane Matthew proves again that Governor McCrory will always put corporate interests before the people of North Carolina."
A battle is heating up between Stanford University and environmentalists over the increasingly controversial Searsville Dam.
This 65-foot, 122-year-old structure, owned and operated by the university, is located on Stanford's Jasper Ridge Biological Preserve, an area that provides "a refuge to native plants and animals." Yet, the dam blocks the migration of threatened native steelhead trout that are protected under the Endangered Species Act. Earlier this year, the national river conservation group, American Rivers, named the downstream portion of San Francisquito Creek the "fifth most endangered river in the United States," citing Searsville Dam as the culprit. Learn more in the following American Rivers video:
Stanford touts itself as being a leader in global sustainability, yet they have regularly diverted water from this endangered species habitat to water their golf course and other campus landscaping, and often run afoul of environmental regulatory agencies regarding their habitat protection efforts. And despite a temporary halt in diversions from Searsville Dam due to historically low water levels, the university's land and buildings department has plans to expand its use of water from local creeks to irrigate the lawns of faculty housing.
Searsville Dam and its downstream water diversions, exacerbated by the extreme drought conditions, have dramatically reduced flows in San Francisquito Creek and its tributaries, harming fish by impeding upstream migration, reducing habitat area, causing excessive warming of the creek waters and blocking the flow of gravels and natural woody debris needed to create steelhead habitat. During this year's rainy season, the creek below Searsville Dam was bone dry because the reservoir never reached its spillover capacity, which represents a potentially catastrophic situation for the migrating fish.
Right now there are two pending lawsuits related to the environmental impact of Searsville Dam on the creek and its tributaries. The first, in the discovery phase, was filed against Stanford in January 2013 by two Northern California-based environmental organizations, Our Children's Earth and the Ecological Rights Foundation. The suit alleges that the dam prevents steelhead from migrating up San Francisquito Creek, while Stanford's use of water from the reservoir degrades habitat downstream by reducing water levels. The plaintiffs want Stanford to curb its use of water and implement a plan to allow the fish to get past the dam, either by creating a bypass or removing the structure altogether.
The second lawsuit was filed in March by the same plaintiffs, this time against the National Marine Fisheries Service for failing to enforce the Endangered Species Act. According to Christopher Sproul, the lead attorney in the case, "Stanford should no longer be authorized to take water out of these two diversions, particularly in the face of the worst drought in California's history. The critical ecological function of steelhead habitat for a quarter-mile below the dam has been crushed, and habitat farther down the creek degraded, placing the local population of steelhead at great risk."
Increasing evidence of Stanford's violations is surfacing, as more information related to the lawsuits comes to light. A timeline demonstrating the university's lack of reporting to the Army Corps of Engineers, the National Marine Fisheries Service and the California State Water Resources Control Board can be found here.
In the meantime, a coalition of environmental groups and a growing group of Stanford alumni are calling for the university to remove Searsville Dam as soon as possible, while addressing other obsolete fish barriers and infrastructure in order to restore critical habitat and reclaim miles of historic spawning ground for threatened steelhead trout.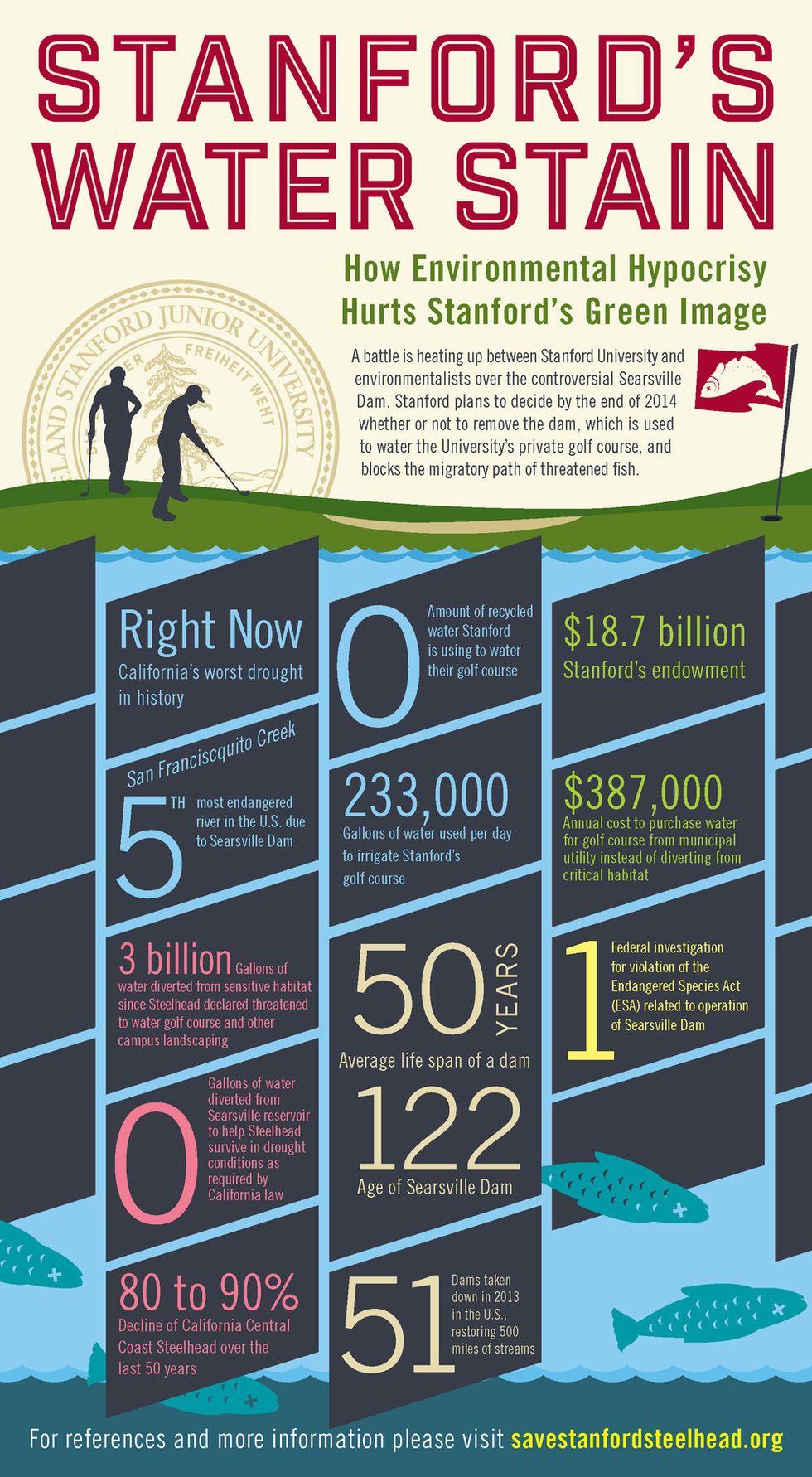 The university is currently conducting a study to assess its management options, and plans to make a decision on the removal of Searsville Dam sometime later this year.
In the end, that choice will offer a clear lens on what Stanford values.
Protecting threatened steelhead?
Or green lawns?