This website uses cookies to ensure you get the best experience while browsing it. By clicking 'Got It' you're accepting these terms.
Despite fierce opposition from local homeowners, a section of the SUNOCO Mariner II East Pipeline cuts through a residential neighborhood of Exton, PA. Erik McGregor / LightRocket / Getty Images
By Jeff Turrentine
To celebrate the 50th birthday of one of America's most important environmental laws, President Trump has decided to make a mockery out of it.
Donald Trump speaks during a campaign event held on Jan. 03 in Miami, Florida. Joe Raedle / Getty Images
The Trump administration will continue its assault on the environment when it unveils new regulations on Wednesday that will limit the types of projects that require environmental review and it will no longer require federal agencies to consider impacts on the climate crisis in new infrastructure projects, as Reuters reported.
EcoWatch Daily Newsletter
Semi trucks travel along I94 on June 21 near Lake forest, Illinois. Scott Olson / Getty Images
The Trump administration pushed through an exemption to clean air rules, effectively freeing heavy polluting, super-cargo trucks from following clean air rules. It rushed the rule without conducting a federally mandated study on how it would impact public health, especially children, said the Environmental Protection Agency (EPA) Inspector General Charles J. Sheehan in a report released yesterday, as the AP reported.
Traffic leaves and enters Bristol, which could become the UK's first city to ban diesel vehicles to boost air quality. Ben Birchall / PA Images / Getty Images
Bristol moved one step closer Tuesday to becoming the first city in the UK to ban diesel cars from its city center in an effort to tackle deadly air pollution, BBC News reported.
The Paradise Fossil Plant in Kentucky. Coal-fired power plants are a major source of air pollution.
TVA / GPA Photo Archive / Flickr /
CC BY 2.0
Tweeting that the U.S. has the cleanest air in the world does not make it so. Not only do we rank 10th, but a new study says that after steady improvement during the Obama-era, air pollution has gotten worse while Donald Trump has been president.
By Don Anair
The Trump administration has been on a collision course with California, and it appears that collision is imminent. An administrative action to undermine the authority granted to the state by the Clean Air Act to protect its citizens from vehicle pollution appears to be imminent. This illegal attack is not just harmful for the nation's most populous state—it is an attack on the 13 states and the District of Columbia that follow California's lead and, ultimately, the entire country. The American auto industry and the American public will be worse off as a result.
eflon / Flickr
The U.S. Environmental Protection Agency (EPA) is withdrawing the "once-in always-in" policy for the classification of major sources of hazardous air pollutants under the Clean Air Act.
As Reuters pointed out, the move on Thursday is "part of President Donald Trump's effort to roll back federal regulations and was sought by utilities, the petroleum industry and others."
This Sunday marks the first anniversary of the Women's March that happened on the day after Donald Trump's inauguration—the largest protest march in our nation's history. The Sierra Club was there that day, and we'll be there this year, too—at a significant moment for women's rights and justice.
An estimated 6 percent of lung cancer deaths in the U.S. and the United Kingdom—11,000 deaths per year—may be due to diesel exhaust, according to a new study.
While emission standards for diesel engines have become more stringent in recent years, their exhaust still plays a significant role in lung cancer deaths among truckers, miners and railroad workers, the study says. In addition, diesel exhaust still poses a major cancer threat for people who live in dense cities or near highways, the study says.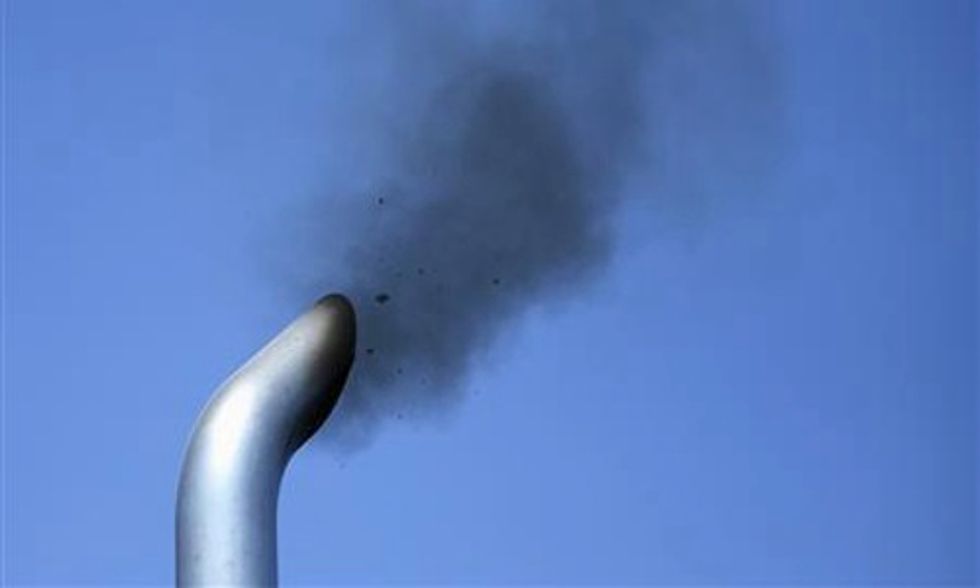 Truckers and miners exposed during their careers to diesel exhaust face a risk of deadly lung cancer that is almost 70 times higher than the risk considered acceptable under U.S. occupational standards. The scientists calculated the lifetime risk for these workers at up to 689 extra lung cancer deaths per 10,000 workers exposed. In comparison, one cancer death per 1,000 workers is used to set federal workplace standards.
In addition, people in urban areas face a lifetime risk of lung cancer that is 10 times higher than the acceptable risk used in U.S. health standards, according to the study. An estimated 21 per 10,000 people exposed to the amount of diesel exhaust commonly found near U.S. highways would be at risk of dying of lung cancer over their lifetime. That compares to the risk of one death per 100,000 people that is used to set air-quality standards.
The researchers, from Emory University and several other U.S. and European institutions, used data from three previous studies of workers—two of truckers and one of non-metal miners—as well as national death statistics for the U.S. and United Kingdom.
They estimated 4.8 percent of lung cancer deaths in the U.S. and 1.3 percent in the United Kingdom were due to environmental and occupational exposure to diesel exhaust.
"With millions of workers currently exposed to such levels, and likely higher levels in the past, the impact on the current and future lung cancer burden could be substantial," the authors wrote.
The researchers said their estimates "are far from precise and depend on broad assumptions." But they said their findings are "generally consistent" with past findings. Other factors, such as smoking, were not taken into account. They used the assumption that smoking does not modify effects of diesel exhaust.
The World Health Organization concluded last year, after reviewing health data for workers, that diesel exhaust is carcinogenic.
Diesel emissions have declined substantially over the past few years in the U.S. and Europe since new engine standards were initiated. More than 50,000 high-polluting diesel engines were cleaned up or removed from U.S. roads between 2008 and 2010, according to a U.S. Environmental Protection Agency report. About 230,000 tons of soot and smog-causing pollutants were eliminated, the report said.
While buses and trucks have largely adopted cleaner technology, it's taken longer for off-road engines, such as farm and construction vehicles.
Visit EcoWatch's HEALTH page for more related news on this topic. 

Greenpeace USA Executive Director Phil Radford announced a campaign on Feb. 14 to make Duke Energy the clean energy company that North Carolina and the U.S. deserve. The announcement follows a protest and demonstration Feb. 13 in which 16 Greenpeace activists were arrested at a Progress Energy coal plant in Asheville, N.C. after unfurling a huge banner atop a smoke stack that read "Duke Energy: the climate needs real Progress." Duke Energy and Progress Energy are seeking a merger which would create the largest utility company in the U.S.
From Phil Radford's announcement: (For the full announcement, click here.)
"Today, I'm officially announcing our campaign to make Duke Energy the clean energy company that North Carolina and the United States deserve.
"We must shine a light on Duke's activities in 2012 because this is a make or break year for the climate, and Duke is at the center of it. The merger alone is enough to warrant an extra level of scrutiny—and has in fact been delayed this far by FERC (The Federal Energy Regulatory Commission) because of concerns about the company holding an energy monopoly in North Carolina. North Carolina ratepayers don't have a choice about where they get their energy. Despite a committed local movement opposing the most recent rate hike, they're seeing a 7.2 percent increase on their electricity bills in March, not to pay for an investment in renewable energy, but to invest more in new coal projects like the Cliffside plant. Enough is enough—Duke ratepayers have said loudly and clearly that they don't want to pay for more investments in dirty energy.
"And Duke Energy also holds a unique position in energy politics right now. It is currently the third largest emitter of CO2 in the U.S.—and that's before it takes on Progress Energy's dirty fleet. CEO Jim Rogers has spoken openly about the threat of climate change and pollution controls for coal plants, and yet Duke holds a membership in the industry group ERCC (Electric Reliability Coordinating Council), a group that was aggressively lobbying against the recently passed Mercury Rule.  It's no secret that Duke's money and influence—$6.5 million in lobbying dollars in 2010—could have a significant impact in U.S. energy policy. To top it all off, this year, Rogers has been the lead fundraiser for the Democratic National Convention, to be held in Charlotte where Duke Energy is based, lending the Democrats $10 million dollars to pay for the convention.
"On 60 Minutes in 2009, Jim Rogers said, "I remember the first time I took a helicopter to look down at a power plant like this, I was 41 years old, and I said, 'Oh my goodness, I'm responsible for that?'" He is. As long as Rogers guides the decisions of Duke Energy, he's responsible for dozens of polluting plants around the country that compromise our children's health and the health of our climate, and the mountains that are blown up to mine the coal he burns in these plants. He's responsible for the 15,714 asthma attacks, 1,447 heart attack, and 951 premature deaths Duke's coal plants cause every year. And Duke is soon to be responsible for Progress's fleet and the pollution that comes with it.
"We're asking Duke Energy to:
Not renew a single new contract for mountaintop removal coal
Deliver at least a third of Duke's energy from renewable sources by 2020.
Quit coal altogether by 2030.
"Our communities and our climate can't wait any longer for real action on the climate."
For more information, click here.