This website uses cookies to ensure you get the best experience while browsing it. By clicking 'Got It' you're accepting these terms.
U.S. EPA Sued for Failure to Issue Air Pollution Standards
Feb. 14, 2012 08:40AM EST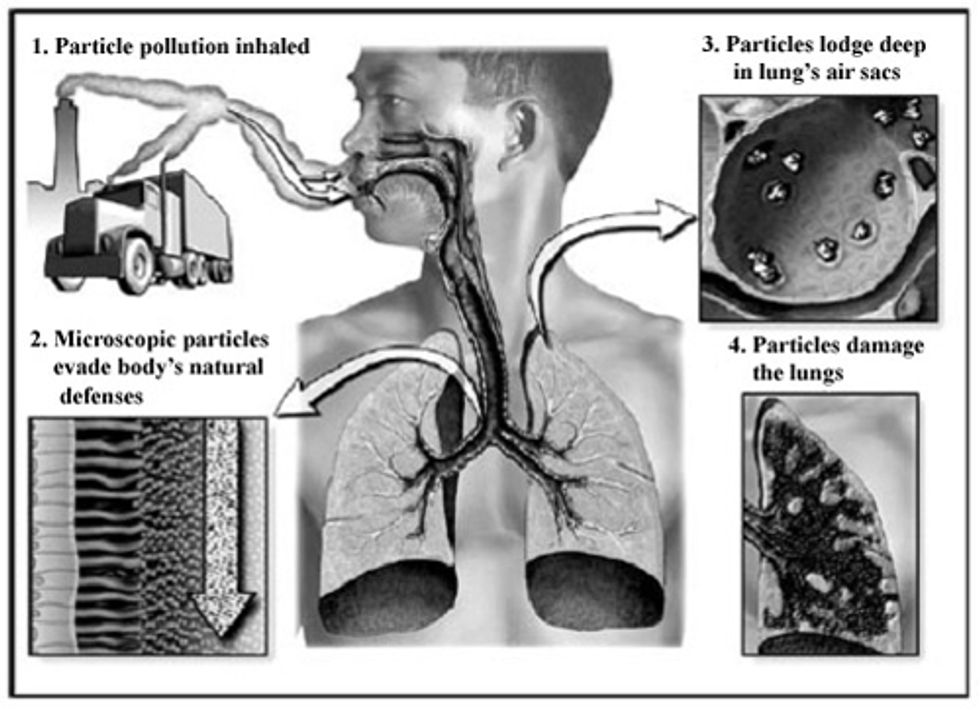 The American Lung Association and the National Parks Conservation Association filed a federal lawsuit on Feb. 14 to force the U.S. Environmental Protection Agency (EPA) to complete the required review of the need for stronger limits on the amount of soot, smoke and other airborne particles that endanger public health.
Airborne particulate matter is comprised of tiny particles of smoke, soot, metals and other chemical compounds emitted from sources like power plants, factories, and diesel trucks. Scientists say particulate matter, which can penetrate deep into our lungs, is one of the most toxic forms of air pollution.
The Clean Air Act requires EPA to review the science and update the National Ambient Air Quality standards every five years to ensure the public is protected by the best available science. The agency failed to meet the deadline in October 2011. EPA's failure to update these standards nationwide means that outdated limits remain in place even though they fail to protect public health. Those particularly hard hit by particulate pollution include children, seniors, people with lung disease, heart disease and diabetes, and low income communities. Without updated standards, millions of Americans will face continued risk from unhealthy levels of particle pollution. Stronger standards would drive cleanup measures nationwide that could prevent thousands of premature deaths annually, according to an analysis published in 2011.
The lawsuit, filed by the public interest law firm Earthjustice on behalf of both national, nonprofit organizations, asks the U.S. District Court for the District of Columbia to impose a deadline of October 2012 for EPA to complete its review of the National Ambient Air Quality Standards.
In a companion lawsuit filed last week, nearly a dozen state attorneys general also sued the EPA over this ongoing violation of the federal Clean Air Act.
"EPA let this deadline come and go but did nothing to address a growing health crisis," said Earthjustice attorney Paul Cort. "Meanwhile, thousands more Americans are getting sick and dying from the air they breathe. EPA needs to act now, do its job, and obey the law."
The health risks caused by breathing particulate matter are outlined in a recent study published by Earthjustice, the American Lung Association, and the Clean Air Task Force. The report, Sick of Soot, details how a reduction of soot in the air can prevent more than 35,000 premature deaths each year, decrease cases of aggravated asthma by more than one million, and save at least $280 billion in health care costs.
"Since the last review, we've learned a lot about how dangerous these particles are. It makes no sense to continue to base public health protections on outdated science," said Janice Nolen, assistant vice president of National Policy and Advocacy for the American Lung Association. "A stronger particulate matter standard would provide more protection to people across the nation from dangerous particles. Strengthening the standards drives the action we can take to prevent thousands of premature deaths and hundreds of thousands of asthma attacks each year. EPA needs to finish its job."
In 2006, EPA overruled its science advisors, who called for stronger pollution protections, and instead adopted the current weak particulate matter standards. In 2009, as a result of a separate legal challenge brought by these same health and environmental groups, a federal appeals court ruled that these standards were deficient and sent them back to EPA for corrective action. Since then, EPA has failed to propose new standards for particulate matter.
Airborne particulate matter is comprised of tiny particles of smoke, soot, metals and other chemical compounds emitted from sources like power plants, factories, and diesel trucks. Scientists say particulate matter, which can penetrate deep into our lungs, is one of the most toxic forms of air pollution. Particulate matter is also responsible for much of the haze that clouds many of our cities and parklands.
"These particles of pollution are a hazard not only to our health but to our environment as well," said Mark Wenzler, vice president of Climate & Air Quality Programs at the National Parks Conservation Association. "The same soot we breathe is also degrading the views, plants, and wildlife in our national parks. For the sake of our parks and their neighboring communities that depend on clean, clear air, it's time for EPA to get to work and clear the air."
For more information, click here.
EcoWatch Daily Newsletter
New pine trees grow from the forest floor along the North Fork of the Flathead River on the western boundary of Glacier National Park on Sept. 16, 2019 near West Glacier, Montana. Chip Somodevilla / Getty Images
Household actions lead to changes in collective behavior and are an essential part of social movements. Pixabay /
Pexels
Talk is cheap, says the acting executive secretary of the United Nations Convention on Biological Diversity, who begged governments around the world to make sure that 2020 is not another year of conferences and empty promises, but instead is the year to take decisive action to stop the mass extinction of wildlife and the destruction of habitat-sustaining ecosystems, as The Guardian reported.
The people of Kiribati have been under pressure to relocate due to sea level rise. A young woman wades through the salty sea water that flooded her way home on Sept. 29, 2015. Jonas Gratzer / LightRocket via Getty Images
Refugees fleeing the impending effects of the climate crisis cannot be forced to return home, according to a new decision by the United Nations Human Rights Committee, as CNN reported. The new decision could open up a massive wave of legal claims by displaced people around the world.
The first day of the Strike WEF march on Davos on Jan. 18, 2020 near Davos, Switzerland. The activists want climate justice and think the WEF is for the world's richest and political elite only. Kristian Buus / In Pictures via Getty Images
By Ashutosh Pandey
Teenage climate activist Greta Thunberg is returning to the Swiss ski resort of Davos for the 2020 World Economic Forum with a strong and clear message: put an end to the fossil fuel "madness."