This website uses cookies to ensure you get the best experience while browsing it. By clicking 'Got It' you're accepting these terms.


The best of EcoWatch, right in your inbox. Sign up for our email newsletter!
Greenpeace / Roger Grace
By Rachel Hopkins
Tropical tuna species—skipjack, bigeye and yellowfin tunas—are important economic assets for coastal communities across the globe, and even far from the ocean they are a favorite on supermarket shelves and in sushi bars. These three species—together worth close to $40 billion annually at the final point of sale—prompted eight Pacific island countries to launch World Tuna Day on May 2, 2011. In 2016, the UN officially adopted the date to highlight the importance of sustainable tuna management.
In late April, President Trump issued an executive order promoting oil and gas drilling off America's coasts—and Thursday, in response, U.S. Department of the Interior Sec. Ryan Zinke plans to unveil a five-year leasing plan that opens our oceans to dangerous development.
EcoWatch Daily Newsletter
Christian Aslund / Greenpeace
The Trump administration issued Monday a draft Incidental Harassment Authorizations for seismic airgun blasting in the Atlantic Ocean, an extremely loud and dangerous process used to search for oil and gas deposits deep below the ocean's surface. By issuing these draft Incidental Harassment Authorizations for public comment, Oceana said the federal government is giving another gift to the oil industry—moving forward with the permitting process that gives geophysical companies permission to harm or disturb marine life in the pursuit of offshore oil.
A seismic survey vessel. CGG Veritas
The Interior Department announced it is moving forward with seismic surveys in the Atlantic Ocean following President Donald Trump's executive order last month to aggressively expand offshore drilling in protected areas off the Arctic and Atlantic oceans.
Photo credit: Fish & Wildlife Research Institute
By Claire Douglass
The Obama administration formally denied today all pending permits to conduct seismic airgun blasting in the Atlantic Ocean. Seismic airgun blasting, an extremely loud and dangerous process used to search for oil and gas deposits deep below the ocean's surface, was originally proposed in an area twice the size of California, stretching from Delaware to Florida.
The 120-day, 4,600-mile feat will take Chris Bertish from Morocco to Florida.
Popular
On Dec. 6, Chris Bertish and his solar-powered stand-up paddle (SUP) board took off from the Agadir Marina in Morocco for an adventure of a lifetime. Approximately 120 days later, the South African sailor and big-wave surfer will have paddled 4,500-miles to Miami, Florida, making him the first person on the planet to SUP across the Atlantic Ocean.
That is, if everything goes to plan.
Chris Bertish
"I've been hearing that I'm nuts all my life, and I wouldn't want it any other way," Bertish, 42, told the New York Times before setting off on his journey, which took him and his team four years to plan. "I've been proving people wrong all of my life. But I've always wanted to push the boundaries because that's where the magic happens."
Bertish's SUP, of course, isn't your typical board. The $120,000, Phil Morrison-designed craft is more like a stand-up boat that has a watertight compartment that allows him to completely sit upright and stretch out for sleep and rest. The vessel also contains weather forecasting equipment, locater and GPS systems, water storage bladders and anchors. Two sets of solar panels will juice on-board batteries and the electronics.
The design is meant to protect Bertish from capsizing, an unfortunate incident which happened to Frenchman Nicolas Jarossay, who was the previous person who tried to SUP across the Atlantic earlier this year. Jarossay's attempt ended only hours after taking off.
"A key reason for placing the main cabin forward is the that it helps the craft self-right faster, more effectively than any other production boat on the market. The natural shape of the craft on the waterline lends itself to being wider in the forward section of the hull," Bertish's team said about the craft. "As a result, this is where most of the volume exists and by placing a cabin here, it enhances buoyancy to produce a more effective self-righting moment. Moreover, forward placement protects you from headwinds with a superior aerodynamic profile as well as providing easier control downwind. A center plate to aid straight line tracking improves capability even further."
The designers say that the board has a zero percent carbon footprint, to boot.
Bertish is highly aware that the journey will be long, treacherous and a true test of mental and physical endurance. As the Times describes:
"The first five days, as he becomes accustomed to the paddleboard and fights to avoid being blown back to land, will be the hardest, he said—90 percent of the challenge, in fact, by his estimate.
"Once at sea, Bertish can expect to battle rough seas, sun exposure and tricky tides and currents, as well as unforeseen obstacles. He had been waiting weeks in Morocco for the perfect window of weather conditions to begin, and on Tuesday, he concluded that it had arrived.
"Hoping to use the tides and weather conditions to his benefit, Bertish plans to paddle about 30 miles a day—mostly at night, to avoid exposure to the sun—for more than 120 days. On a typical day, Bertish said, he will alternate between resting and paddling every two or three hours. He will continuously hydrate and will nourish himself with protein shakes, freeze-dried meals with endurance additives, and salty jerky to replenish the electrolytes he will lose through sweating."
For entertainment, Bertish has his guitar and an onboard music player to play favorites like Eddie Vedder, Creed, INXS and Johnny Clegg. He also has eight recordings from his mental coach when he needs the encouragement. And in case you're wondering, to relieve himself, "the ocean is a terrific sustainable toilet," he told the Times.
Bertish is already besting his predecessor. Forty-eight hours after taking off, he posted onto Facebook that he was already 60 miles in open waters.

"It was a pretty tough 36-48 hours and now I am out into the big blue," he wrote. "Not exactly the right weather conditions to get me down to the Canaries. We wanted to build enough sea room and a buffer from land so that getting shipwrecked on land was not an option. Last night I had to jump in the water to get my para-anchor off my rudder and it looks like it's doing the same right now. I was taking a break to check systems and there were a couple of glitches along the way that I needed to sort out, but we are doing it!"
Bertish's current whereabouts can be tracked live on his website and on social media. The journey will also raise funds for his selected charities—Signature of Hope Trust, The Lunchbox Fund and Operation Smile.
"This has been a 4-year project in the making and lifetime of preparation and I'm ready," he said in a release. "My specialized SUP craft is incredible, I have an amazing team behind me, supporting me from land and an unbelievable support from friends and people all around the world for this incredible journey, which is going to change the lives of millions of children in Africa, which is what will keep driving and inspiring me right till the end."
I couldn't, post-election, muster a plausibly big enough piece of good news to warrant a Thanksgiving blog—but then this morning one arrived. In an astonishingly short eight years, as a result of tougher emission rules on power plants and a declining use of coal, concentrations of mercury in Atlantic Bluefin tuna, the sushi sort, dropped by 19 percent.
There are similar findings for bluefish, but tuna are much longer lived, so the results are extremely surprising—concentrations of mercury in even much older tuna fell at the same or faster rate as mercury concentrations in sea water, suggesting that fisheries contamination can be reversed far more quickly than anyone had dreamed.
Bluefin tuna are still not healthy for women of child-bearing age—and most of the tuna which had led more than 10 percent of U.S. women having unhealthy mercury in their blood is not from the Atlantic ocean, which is healing, but from the Pacific, where coal consumption and mercury loading remains unabated.

Mercury contamination is a serious public health issue. In the U.S. alone, hundreds of thousands of newborns are at risk of lower IQ's from the mercury burden they are born with. Concentrations of mercury have been coming down as a result of broad public education and advisories on which fish to avoid. Overall, mercury emissions in the U.S. have declined sharply as a result of U.S. Environmental Protection Agency regulation.
Now the news from the North Atlantic suggests that globally the epidemic of mercury poisoning can be reversed far more rapidly than scientists had imagined. Requiring the clean up of coal power plant emissions in Asia, the globe's largest remaining source of mercury pollution, will begin to allow Pacific ocean fisheries to recover as well. It's important that countries considering the economics of building coal factor in the almost certain necessity to control for mercury—and when they do, they are likely to find that coal power is no longer economically competitive, so that not only will current plants reduce their emissions, but fewer new ones will make any kind of economic sense—which will be wonderful news for the communities where coal is mined and burned, as well as the climate.
More fundamentally, the North Atlantic story goes at the heart of the popular version of climate denialism—which is the initially plausible notion that the world is so large and each human so small, that it's just not likely that anything each of us does can really change the climate—or poison the oceans. And if we have, it's so terrifying that we really don't believe we can do anything about it. Isn't it too late?
What the declining mercury level in Bluefin tuna shows is that we can—and have—had enormous impacts on the natural world, but that we can, and are, reversing those impacts. Nature, if we stop abusing her, can heal herself not in centuries or even decades, but mere years—even the length of the U.S. president's term.
This is a good news story we need to tell everyone.
By Robert McSweeney
Rising sea surface temperatures in the North Atlantic are likely to be behind a recent surge in cases of diarrhoeal diseases from marine bacteria in northern Europe and the U.S. East Coast, a new study says.
In their analysis that goes back to 1958, the researchers show that levels of Vibrio bacteria—which can cause illness in humans and even death—have been increasing as sea surface temperatures rise.
Vibrio cholerae bacteria.James Cavallini / Science Photo Library
Further ocean warming as a result of climate change could exacerbate this spread of marine bacteria, the researchers say, potentially bringing more human infections in future.
Marine Bacteria
There are around 110 different types of Vibrio bacteria floating around in our oceans. They are typically found in warm, slightly salty coastal waters and river estuaries.
Some of these bacteria cause sickness in people and animals. Humans pick them up by consuming water or seafood that carries the bacteria or through cuts in the skin when swimming.
The most well-known Vibrio is cholera, a diarrhoeal disease that can cause severe dehydration and death if not treated.
This study considers other strains of Vibrio bacteria, such as Vibrio vulnificus and Vibrio parahaemolyticus, which cause similar, though usually less severe, symptoms. These types of illness are known collectively as "vibrosis," which can lead to complications, such as blood poisoning.
Previous research has linked outbreaks of Vibrio infections around the world to warm sea surface temperatures. Warmer conditions mean a longer summer window for Vibrio bacteria to grow and a greater chance of their survival. This conclusion has been reached in studies of Chile, Peru, Israel and the Baltic states.
The new study, just published in Proceedings of the National Academy of Sciences, says that a warming Atlantic Ocean is the main reason for an "unprecedented" number ofVibrio cases in North Atlantic countries in recent years. This includes a spate of cases contracted by swimmers during the European summer heat wave in 2006.
Plankton Sampling
One of the main limitations for scientists trying to work out how ocean warming is affecting Vibrio bacteria is the availability of data.
Bacteria are typically measured by microbiologists by collecting and analyzing water samples, said lead author Dr. Luigi Vezzulli, an associate professor in microbiology at the University of Genoa. However, as he explains to Carbon Brief, this isn't without difficulty:
"This approach is costly and time consuming and historical Vibrio data are generally lacking."
Vezzulli and his colleagues found a way round this problem by instead analyzing samples of tiny marine creatures called zooplankton, on which Vibrio bacteria tend to hitch a ride.
Scientists have been collecting samples of plankton in the North Atlantic since 1958 via the Continuous Plankton Recorder (CPR) survey. The CPR actually gets its name from the instrument that, when towed behind ships, collects plankton over huge areas of ocean.
Using the samples from nine locations—shown in the map below—the researchers analyzed the DNA of the preserved plankton to create a record of how Vibrio bacteria numbers have changed over the past six decades.
Vibrio sampling areas in the North Atlantic. Each red rectangle indicates where samples were collected over the period 1958-2011. The inset image shows the CPR instrument.Vezzulli et al. (2016)
The findings show that concentrations of the different Vibrio bacteria have increased in line with rising sea surface temperatures (SSTs) for eight of the nine North Atlantic locations.

The only exception was at Newfoundland. This is likely because, despite a warming ocean, SSTs in this region still average around 7C, the paper says, which is a bit cold for most Vibrio bacteria.
You can see how sea surface temperatures in the North Atlantic have changed over the 21st century in the map below. Coastal regions of western Europe and Canada have warmed the most—by as much as 1.5C in some places, as shown by the red shading. Vezzulli said it's clear that SSTs and Vibrio bacteria are linked:
"From long-term data it is apparent that the level of these pathogens is rising in the ocean as a result of global warming."
Change in North Atlantic sea surface temperatures, calculated as the difference between the averages over the years 1890-1958 and 2000-11. Red and orange shading indicate areas of particular warming. The black dots show the Vibrio sampling areas.Vezzulli et al. (2016)
Marine Bacteria in a Time of Climate Change

As the North Atlantic has warmed and concentrations of Vibrio bacteria have increased, the number of Vibrio infection cases in northern Europe and the U.S. Atlantic coast have also risen, the paper says.
There could be several reasons for this, the researchers note, such as people being more likely to go out swimming in warm conditions. But the data suggest that the number and spread of Vibrio bacteria in the water is a strong factor.
This means the rising SSTs could be leading to more Vibrio infections in humans, the paper says:
"The evidence is strong that ongoing climate change is influencing outbreaks of Vibrio infections on a worldwide scale."
Therefore, the continued rise in global SSTs in future years may exacerbate the growth and spread of Vibrio bacteria, the researchers conclude.
The study is a "stunning collaboration that integrates major disciplines, including climate, oceanography, microbiology and public health," said Prof. Drew Harvell, a professor in the department of ecology and evolutionary biology at Cornell University, who wasn't involved in the study. She tells Carbon Brief:
"The implications of these finding are that warming events will increase risk to human health from ocean-based Vibrio bacteria."
Another conclusion from the study is that better monitoring for Vibrio infections may be necessary, Vezzulli said:
"This is particularly true for Northern Europe where, despite the substantial increased in the number of Vibrio infections—including many fatalities—in recent years, vibrosis [except cholera] are not notifiable diseases."
This means that doctors and hospitals in European countries are not currently required to inform their government when they treat someone with a Vibrio infection. More comprehensive data collection on Vibrio cases would help scientists keep tabs on how these diseases are being affected by climate change, Vezzulli concludes.
This article was reposted with permission from our media associate Carbon Brief.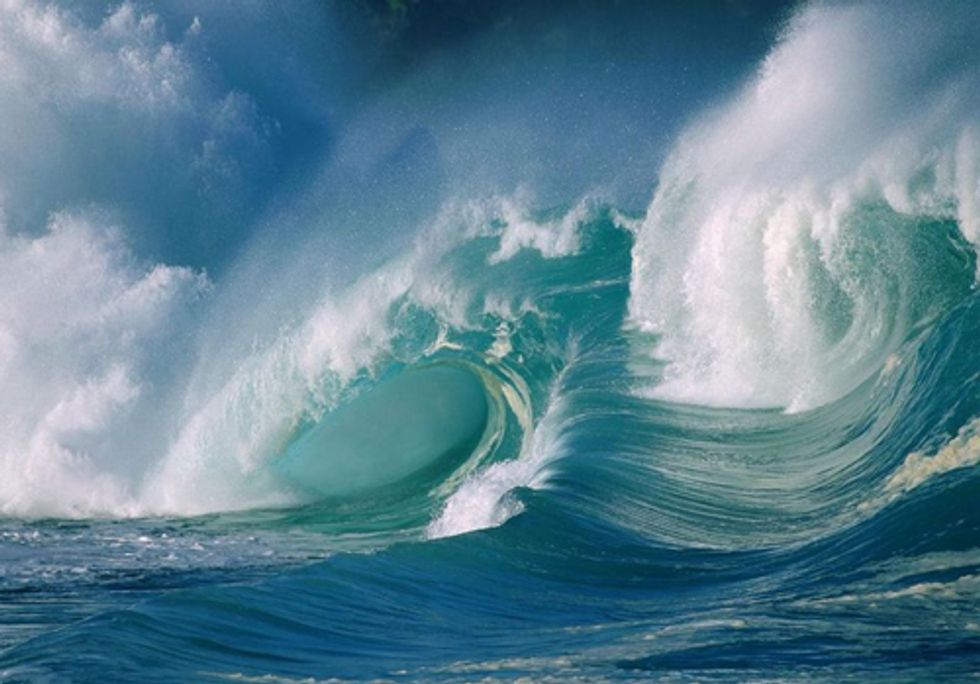 The Obama administration released a draft Implementation Plan on Jan. 12 for the National Ocean Policy. The draft provides strategic action plans for the policy's nine priority objectives. In response, Ocean Conservancy released the following statement from Emily Woglom, director of Government Affairs:
 
"We applaud the administration for following though on the landmark National Ocean Policy with the release of this draft Implementation Plan. We hope the draft plan will provide the direction and guidance needed to tackle some of the many challenges facing our ocean, including planning for offshore energy, protecting important marine habitat and addressing changes affecting the Arctic.
 
"With the plan's release, and momentum building, the administration should ensure the appropriate resources are provided to continue the much-needed work on comprehensive ocean-use planning. The next step, setting up regional planning bodies to help fight against haphazard use of ocean resources, will allow ocean uses to be coordinated and management decisions to be made on the regional level. This will be a win for all involved.
 
"Ocean Conservancy encourages everyone with a stake in the health of the ocean to participate in the comment period in order to make this process as public and transparent as possible. Input and engagement from all ocean users is vital for both this plan and future implementation of the National Ocean Policy to foster coordination for a healthier ocean. We look forward to providing detailed feedback on the plan and engaging with the National Ocean Council as the process moves ahead."
To read and submit comments on the draft Implementation Plan, see the National Ocean Council's full statement below:
National Ocean Policy Draft Implementation Plan
As part of President Obama's National Policy for the Stewardship of the Ocean, Our Coasts, and the Great Lakes, the National Ocean Council has released a draft National Ocean Policy Implementation Plan to address some of the most pressing challenges facing the ocean, our coasts, and the Great Lakes. The draft Implementation Plan describes more than 50 actions the Federal Government will take to improve the health of the ocean, coasts, and Great Lakes, which support tens of millions of jobs, contribute trillions of dollars a year to the national economy, and are essential to public health and national security.
The draft Implementation Plan will ensure the Federal Government targets limited resources more effectively to deliver demonstrable results for the American people, including predictability for users, more efficient and coordinated decision-making, and improved sharing of data and technology. For each action, the plan outlines key milestones, identifies responsible agencies, and indicates the expected timeframe for completion.
Click here to read the draft Implementation Plan.
We Want to Hear From You
Click here to provide comments on the draft Implementation Plan. The public comment period is open until midnight EST, Feb. 27, 2012.
We are relying on your input to inform development of the final Implementation Plan and help ensure the National Ocean Policy is working for our nation. We welcome your general input, and also pose the following questions:
Does the draft Implementation Plan reflect actions you see are needed to address the nine priorities for the ocean, coasts, and the Great Lakes?
What is the most effective way to measure outcomes and to detect whether a particular action in the Implementation Plan has achieved its intended outcome? Would a report card format be useful?
Comments received will be collated and posted on the National Ocean Council website. The National Ocean Council will review and incorporate comments before finalizing the plan in 2012. The plan will be reviewed annually and modified as needed based on new information or changing conditions. 
Comments may also be sent by fax to "Attn: National Ocean Council" at (202) 456-0753, or by mail to: National Ocean Council, 722 Jackson Place, NW, Washington, D.C. 20503. Allow at least 2-3 weeks additional time for mailed comments to arrive.
More on the Development of the draft Implementation Plan
The draft Implementation Plan was developed with significant input from national, regional, and local stakeholders and the general public. The National Ocean Council sought public comment from January through April 2011 and June through July 2011, and held 12 regional listening sessions around the country. In addition, the Governance Coordinating Committee, composed of state, Tribal, and local government officials, and the Ocean Research Advisory Panel, composed of expert representatives from a range of ocean sectors, provided input for the plan.
In mid-2011, the National Ocean Council released for public comment outlines for nine Strategic Action Plans that provided an initial view on how federal agencies might address the nine priority objectives highlighted in the National Ocean Policy. The outlines, by design, were draft products that served as an early and valuable point in the Implementation Plan development process for focusing public and stakeholder input.
During the public comment period that was open June 2—July 2, 2011, the National Ocean Council received more than 400 contributions from more than 200 individuals and groups. In addition, approximately 1000 individuals and groups participated in and provided comments at 12 regional listening sessions around the country. The National Ocean Council agencies evaluated more than 850 specific comments from stakeholders and the public, many representing multiple submissions of very similar comments. We considered all of the comments and accepted many, incorporating them into the draft Implementation Plan. 
Click here to read a summary of the most substantive and frequent public comments and how they are addressed in the draft Implementation Plan.
Click here to read past public comments and learn about the Strategic Action Plans.
For more information, click here.
—————
Ocean Conservancy is the world's foremost advocate for the oceans. Through science-based advocacy, research, and public education, we inform, inspire and empower people to speak and act for the oceans. Ocean Conservancy is headquartered in Washington, DC, and has offices in Florida, the Gulf of Mexico, and the Pacific, with support from more than half a million members and volunteers.