Stunning Photos Capture Devastating Worldwide E-Waste Problem
A lot has been written about electronic waste. In 2012, 50 million tons of e-waste was generated worldwide, and with the proliferation of smartphones, smart watches and other tech gear, that number will only increase. United Nations officials estimate that the volume of e-waste generated worldwide is expected to climb by 33 percent by 2017 to 65 million tons.
Those cold, hard numbers say a lot, but sometimes the pictures say much more.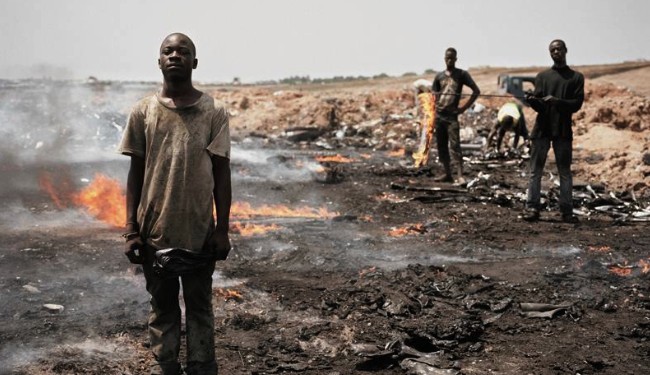 The Guardian
described the fumes as "head-pounding." Photo Credit: Bit Rot Project
If unused electronic goods aren't gathering dust in the garage, they are either recycled (about 30 percent of the time) or simply thrown away—out of sight, out of mind. But as you scroll through this post on your smartphone or computer, it's important to remember that modern luxuries have a price.
While e-waste in the U.S. only makes up 2 percent of the country's municipal solid waste stream, it's a much more prevalent and devastating problem to less affluent countries, as demonstrated by these haunting images from Italian photographer Valentino Bellini's ongoing Bit Rot Project.
"About 80 percent of the e-waste produced in developed countries (North America and Europe on the top of the list) is not disposed of in situ, but shipped, most of the time illegally, to developing countries on cargo ships, where it is illegally disposed of," Bit Rot said.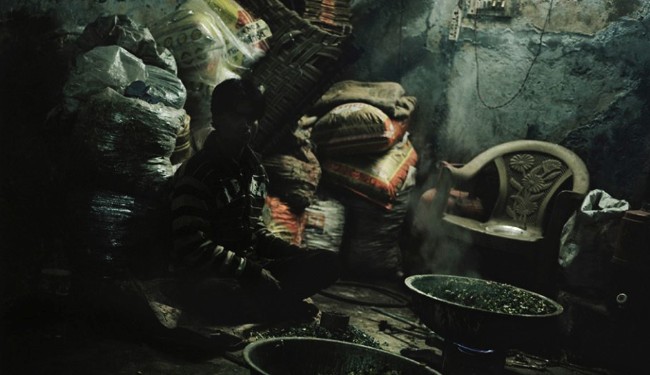 As the latest products come along and desktop computers, MP3 players and landlines become obsolete, this gadget-driven fervor has generated mountains of toxic trash that poison people and the planet. (And it's not just old Blackberrys and MacBooks, it's everything from old refrigerators, televisions, toys and more.)
"Especially in countries like India, China and some African regions where the technology industry is growing fast," Bit Rot said. "It is hazardous waste, containing dozens of substances dangerous to human health and the environment; it is hard to be sustainably disposed of and it needs a costly processing technique to make it recyclable."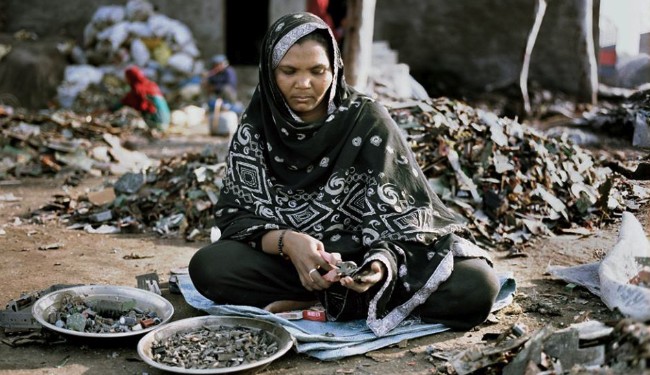 While illegal electronic waste dumping also occurs in the U.S., the appeal of sending e-waste overseas comes down to lower labor costs and fewer regulations. According to a 2013 United Nations report, China is "grappling with the reality of an estimated 20 percent annual rise in domestically generated e-waste combined with a role as one of the planet's primary dumping grounds for global e-waste—a massive environmental, social and economic burden."
The southeastern town of Guiyu, China is a major e-wastebasket. CNN reported that Guiyu workers burn or process tech gear with hydrochloric acid to recover valuable metals like copper and steel. In the process, it releases toxic heavy metals like lead, beryllium and cadmium into the environment. Hydrocarbon ashes have also polluted the air, water and soil.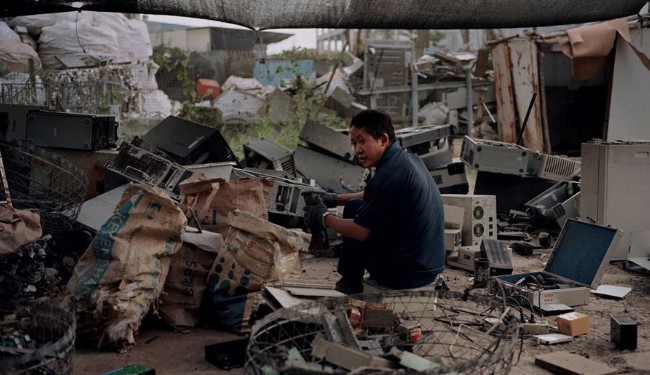 Where does all this salvaged tech junk go? Well, back into many homes. "We sell this plastic to Foxconn," a e-waste worker in Guiyu told CNN. As it turns out, Foxconn is a Taiwanese company that manufactures products for many global electronics companies such as Apple, Dell and Hewlett-Packard.
"The commercialization process and the capitalistic valorization created a true 'waste economy,'" Bit Rot observed. "This extends the logic behind profit and exploitation even to those scraps that it had produced, creating a never ending cycle that profits from its own death."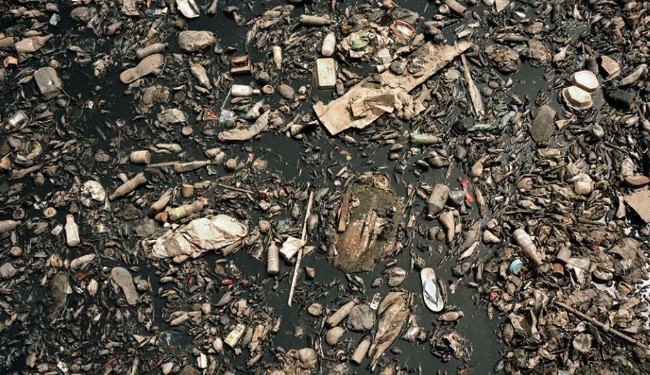 We can change our nasty modern habits, but it's very likely a long uphill battle. "Strengthening and enforcing insufficient international laws would thwart massive profits," Bit Rot wrote soberly. "Disposing of a PC by sending it to a dumpster in Africa costs $2, while it would cost $20 to sustainably recycle it."
So what can be done? The UN's Step initiative is tackling the world's behemoth e-waste crisis. The Obama administration also has "serious concerns about unsafe handling of used electronics, especially discarded electronics or e-waste, both domestically and overseas, that results in harm to human health and the environment," EPA spokeswoman Liz Purchia told U.S. News.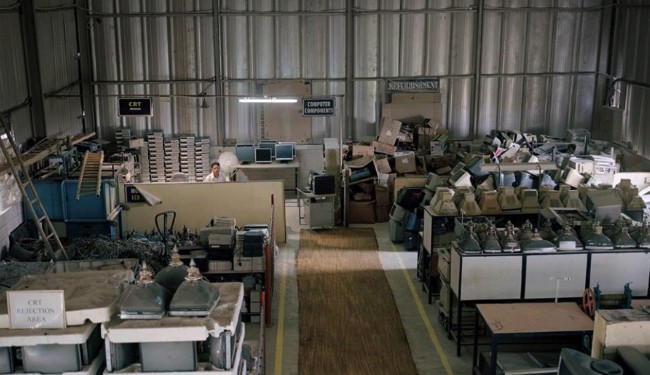 It also looks like Americans are becoming more conscious of their own e-waste footprint. Case in point, according to recent data from Recon Analytics, in 2014, the average American replaced their mobile phone every 26.5 months, a vast improvement from every 18 months in 2007.
If you'd like to responsibly dispose of your old tech gear, check out this link to find a e-cycling center near you.
YOU MIGHT ALSO LIKE
Every Time You Recycle a Can, You Strengthen the U.S. Economy
Secret Videos Expose Chevron's Corruption in Ecuadorian Oil Spill
Award-Winning Photographer Captures Waves Like You've Never Seen Them
Monsanto, the maker of the glyphosate-based herbicide Roundup, filed a motion June 16 in U.S. District Court, Northern District of California to reconsider the chemical's addition to California's Proposition 65 list of agents known to cause cancer.
The agrochemical giant made this move based on a June 14 Reuters investigation of Dr. Aaron Blair, a lead researcher on the World Health Organization's International Agency for Research on Cancer (IARC) committee, that classified glyphosate as a "2A probable human carcinogen" in March 2015.
Keep reading...
Show less
By Avery Friedman
Algae is often considered a nuisance, but for Sweden, the rapidly growing sea plant is now an asset.
As the Scandinavian country works to cut all of its greenhouse gas emissions by 2045, it's using algae to sop up the carbon emissions from cement.
Keep reading...
Show less
Jun. 24, 2017 01:35PM EST
By Itai Vardi
A recent intensification in protests against Williams Partners' planned Atlantic Sunrise pipeline in Pennsylvania prompted a state senator to propose legislation aimed at limiting demonstrations.
Last month, Pennsylvania Sen. Scott Martin (R-Norman) announced his intention to introduce legislation that would pass the costs of law enforcement responding to protests onto the demonstrators. Martin also helped introduce a different bill that would criminalize protests at natural gas facilities.
Keep reading...
Show less
Jun. 24, 2017 01:29PM EST
Black Shogun / iStock
The Federal Energy Regulatory Commission (FERC) released its Final Environmental Impact Statement Friday for the Mountain Valley Pipeline, a controversial 303-mile pipeline that would carry two billion cubic feet of fracked gas per day from West Virginia through Virginia.
Keep reading...
Show less
Jun. 24, 2017 01:46PM EST
Falcon PEV
The so-called "first and last mile" problem is one of the biggest hurdles with public transportation. How do you encourage more people to take Earth-friendlier commutes when their homes are miles away from the train or bus station?
One solution, as this Estonian electric scooter company proposes, is to simply take your commute with you—literally. Tallinn-based Stigo has developed a compact e-scooter that folds to the size of a rolling suitcase in about two seconds.
Keep reading...
Show less
Jun. 24, 2017 05:12PM EST
Connect4Climate
[Editor's note: I'm still in shock after hearing the news that Lucia Grenna passed away in her sleep last week. When we first met in April of 2014 at a Copenhagen hotel, I was immediately taken by here powerful presence. We spent the next couple days participating in a Sustainia climate change event where Lucia presented her audacious plans to connect people to the climate issue. I had the chance to partner with Lucia on several other projects throughout the years and work with her incredible Connect4Climate team. I was always in awe of her ability to "make the impossible possible." Her spirit will live on forever. — Stefanie Spear]
It is with a heavy heart that Connect4Climate announces the passing of its founder and leading light, Lucia Grenna. Lucia passed peacefully in her sleep on June 15, well before her time. We remember her for her leadership and extraordinary ability to motivate people to take on some of the greatest challenges of our time, not least climate change.
Keep reading...
Show less
Jun. 23, 2017 07:29PM EST
Wikimedia Commons
By Stacy Malkan
Neil deGrasse Tyson has inspired millions of people to care about science and imagine themselves as participants in the scientific process. What a hopeful sign it is to see young girls wearing t-shirts emblazoned with the words, "Forget princess, I want to be an astrophysicist."
Keep reading...
Show less
Jun. 23, 2017 01:57PM EST
www.youtube.com
By Andy Rowell
Any day now we will truly witness climate change in action. Within days at worst, maybe weeks at best, scientists predict that a huge section of the Larsen C ice shelf in Antarctica will break off into the ocean, in what is called a major "carving" event.
Keep reading...
Show less
Jun. 23, 2017 02:27PM EST
www.youtube.com
President Trump visited Cedar Rapids, Iowa on June 21 to speak to a large crowd in the U.S. Cellular Center at a political rally organized by his campaign.
As Trevor Noah noted during The Daily Show episode last night (starts at 2:25), the real reason Trump has these rallies is to "get back in front of his loyal crowds and feed of their energy." Noah believes that "Trump supporters are so on board with their dude he can say anything and they'll come along for the ride."
Keep reading...
Show less