This website uses cookies to ensure you get the best experience while browsing it. By clicking 'Got It' you're accepting these terms.
Study Finds Common Man-Made Nanoparticles Can Damage Plant DNA
Apr. 19, 2012 12:04PM EST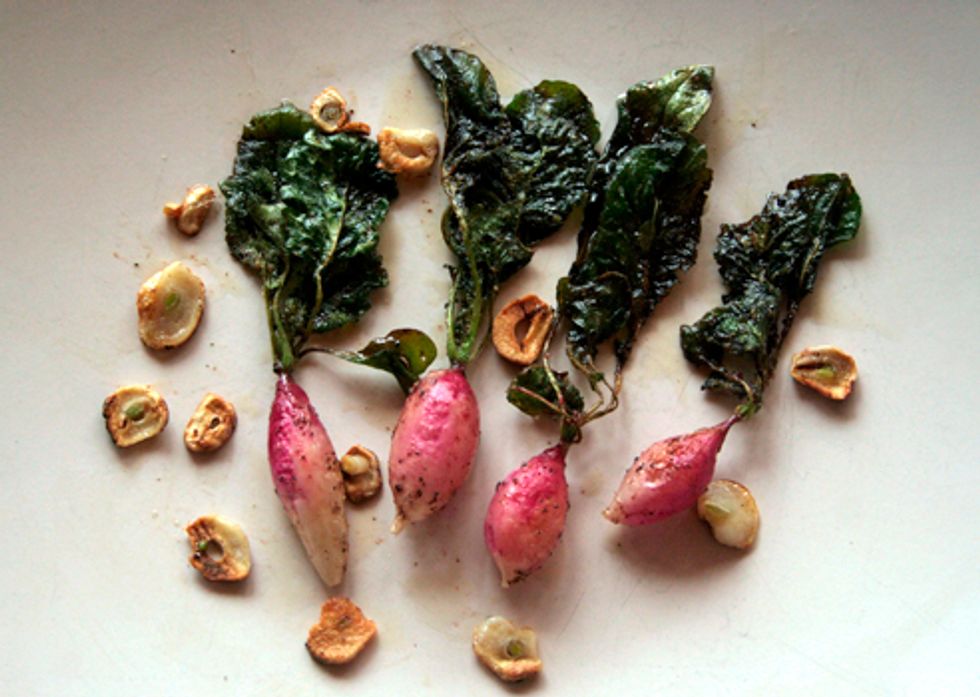 Researchers at the National Institute of Standards and Technology (NIST) and the University of Massachusetts Amherst (UMass) have provided the first evidence that engineered nanoparticles are able to accumulate within plants and damage their DNA. In a recent paper,1 the team led by NIST chemist Bryant C. Nelson showed that under laboratory conditions, cupric oxide nanoparticles have the capacity to enter plant root cells and generate many mutagenic DNA base lesions.
The team tested the man-made, ultrafine particles between 1 and 100 nanometers in size on a human food crop, the radish, and two species of common groundcovers used by grazing animals, perennial and annual ryegrass. This research is part of NIST's work to help characterize the potential environmental, health and safety (EHS) risks of nanomaterials, and develop methods for identifying and measuring them.
Cupric oxide (also known as copper (II) oxide or CuO) is a compound that has been used for many years as a pigment for coloring glass and ceramics, as a polish for optics, and as a catalyst in the manufacture of rayon. Cupric oxide also is a strong conductor of electric current, a property enhanced at the nanoscale level, which makes the nanoparticle form useful to semiconductor manufacturers.
Because cupric oxide is an oxidizing agent—a reactive chemical that removes electrons from other compounds—it may pose a risk. Oxidation caused by metal oxides has been shown to induce DNA damage in certain organisms. What Nelson and his colleagues wanted to learn was whether nanosizing cupric oxide made the generation and accumulation of DNA lesions more or less likely in plants. If the former, the researchers also wanted to find out if nanosizing had any substantial effects on plant growth and health.
To obtain the answers, the NIST/UMass researchers first exposed radishes and the two ryegrasses to both cupric oxide nanoparticles and larger sized cupric oxide particles (bigger than 100 nanometers) as well as to simple copper ions. They then used a pair of highly sensitive spectrographic techniques2 to evaluate the formation and accumulation of DNA base lesions and to determine if and how much copper was taken up by the plants.
For the radishes, twice as many lesions were induced in plants exposed to nanoparticles as were in those exposed to the larger particles. Additionally, the cellular uptake of copper from the nanoparticles was significantly greater than the uptake of copper from the larger particles. The DNA damage profiles for the ryegrasses differed from the radish profiles, indicating that nanoparticle-induced DNA damage is dependent on the plant species and on the nanoparticle concentration.
Finally, the researchers showed that cupric oxide nanoparticles had a significant effect on growth, stunting the development of both roots and shoots in all three plant species tested. The nanoparticle concentrations used in this study were higher than those likely to be encountered by plants under a typical soil exposure scenario.
"To our knowledge, this is first evidence that there could be a 'nano-based effect' for cupric oxide in the environment where size plays a role in the increased generation and accumulation of numerous mutagenic DNA lesions in plants," Nelson says.
Next up for Nelson and his colleagues is a similar study looking at the impact of titanium dioxide nanoparticles—such as those used in many sunscreens—on rice plants.
For more information, click here.
—————
1. D.H. Atha, H. Wang, E.J. Petersen, D. Cleveland, R.D. Holbrook, P. Jaruga, M. Dizdaroglu, B. Xing and B.C. Nelson. Copper oxide nanoparticle mediated DNA damage in terrestrial plant models. Environmental Science and Technology, Vol. 46 (3): pages 1819-1827 (2012), DOI: 10.1021/es202660k.
2. Gas chromatography–mass spectrometry (GC-MS) to detect base lesions and inductively coupled plasma mass spectrometry (ICP-MS) to measure copper uptake.
EcoWatch Daily Newsletter
A view of a washed out road near Utuado, Puerto Rico, after a Coast Guard Air Station Borinquen MH-65 Dolphin helicopter crew dropped relief supplies to residents Tuesday, Oct. 3, 2017. The locals were stranded after Hurricane Maria by washed out roads and mudslides. U.S. Coast Guard photo by Petty Officer 3rd Class Eric D. Woodall /
CC BY-NC-ND 2.0
By Coral Natalie Negrón Almodóvar
The Earth began to shake as Tamar Hernández drove to visit her mother in Yauco, Puerto Rico, on Dec. 28, 2019. She did not feel that first tremor — she felt only the ensuing aftershocks — but she worried because her mother had an ankle injury and could not walk. Then Hernández thought, "What if something worse is coming our way?"
Flooded battery park tunnel is seen after Hurricane Sandy in 2012.
CC BY 2.0
President Trump has long touted the efficacy of walls, funneling billions of Defense Department dollars to build a wall on the southern border. However, when the U.S. Army Corps of Engineers (USACE) released a study that included plans for a sea wall to protect New Yorkers from sea-level rise and catastrophic storms like Hurricane Sandy, Trump mocked it as ineffective and unsightly.
A general view of fire damaged country in the The Greater Blue Mountains World Heritage Area near the town of Blackheath on Feb. 21, 2020 in Blackheath, Australia. Brook Mitchell / Getty Images
In a post-mortem of the Australian bushfires, which raged for five months, scientists have concluded that their intensity and duration far surpassed what climate models had predicted, according to a study published yesterday in Nature Climate Change.
Sea level rise causes water to spill over from the Lafayette River onto Llewellyn Ave in Norfolk, Virginia just after high tide on Aug. 5, 2017. This road floods often, even when there is no rain.
Skyler Ballard / Chesapeake Bay Program
By Tim Radford
The Texan city of Houston is about to grow in unexpected ways, thanks to the rising tides. So will Dallas. Real estate agents in Atlanta, Georgia; Denver, Colorado; and Las Vegas, Nevada could expect to do roaring business.
Malala Yousafzai (left) and Greta Thunberg (right) met in Oxford University Tuesday. Wikimedia Commons /
CC BY 2.0
What happens when a famous school striker meets a renowned campaigner for education rights?