This website uses cookies to ensure you get the best experience while browsing it. By clicking 'Got It' you're accepting these terms.
Study Finds Common Man-Made Nanoparticles Can Damage Plant DNA
Apr. 19, 2012 12:04PM EST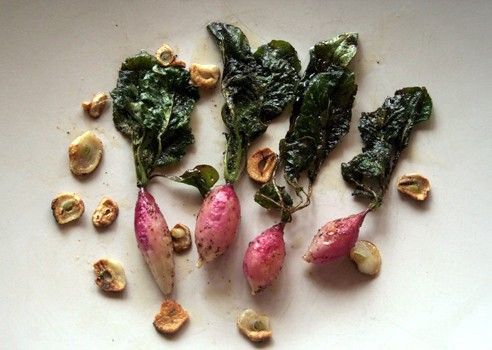 Researchers at the National Institute of Standards and Technology (NIST) and the University of Massachusetts Amherst (UMass) have provided the first evidence that engineered nanoparticles are able to accumulate within plants and damage their DNA. In a recent paper,1 the team led by NIST chemist Bryant C. Nelson showed that under laboratory conditions, cupric oxide nanoparticles have the capacity to enter plant root cells and generate many mutagenic DNA base lesions.
The team tested the man-made, ultrafine particles between 1 and 100 nanometers in size on a human food crop, the radish, and two species of common groundcovers used by grazing animals, perennial and annual ryegrass. This research is part of NIST's work to help characterize the potential environmental, health and safety (EHS) risks of nanomaterials, and develop methods for identifying and measuring them.
Cupric oxide (also known as copper (II) oxide or CuO) is a compound that has been used for many years as a pigment for coloring glass and ceramics, as a polish for optics, and as a catalyst in the manufacture of rayon. Cupric oxide also is a strong conductor of electric current, a property enhanced at the nanoscale level, which makes the nanoparticle form useful to semiconductor manufacturers.
Because cupric oxide is an oxidizing agent—a reactive chemical that removes electrons from other compounds—it may pose a risk. Oxidation caused by metal oxides has been shown to induce DNA damage in certain organisms. What Nelson and his colleagues wanted to learn was whether nanosizing cupric oxide made the generation and accumulation of DNA lesions more or less likely in plants. If the former, the researchers also wanted to find out if nanosizing had any substantial effects on plant growth and health.
To obtain the answers, the NIST/UMass researchers first exposed radishes and the two ryegrasses to both cupric oxide nanoparticles and larger sized cupric oxide particles (bigger than 100 nanometers) as well as to simple copper ions. They then used a pair of highly sensitive spectrographic techniques2 to evaluate the formation and accumulation of DNA base lesions and to determine if and how much copper was taken up by the plants.
For the radishes, twice as many lesions were induced in plants exposed to nanoparticles as were in those exposed to the larger particles. Additionally, the cellular uptake of copper from the nanoparticles was significantly greater than the uptake of copper from the larger particles. The DNA damage profiles for the ryegrasses differed from the radish profiles, indicating that nanoparticle-induced DNA damage is dependent on the plant species and on the nanoparticle concentration.
Finally, the researchers showed that cupric oxide nanoparticles had a significant effect on growth, stunting the development of both roots and shoots in all three plant species tested. The nanoparticle concentrations used in this study were higher than those likely to be encountered by plants under a typical soil exposure scenario.
"To our knowledge, this is first evidence that there could be a 'nano-based effect' for cupric oxide in the environment where size plays a role in the increased generation and accumulation of numerous mutagenic DNA lesions in plants," Nelson says.
Next up for Nelson and his colleagues is a similar study looking at the impact of titanium dioxide nanoparticles—such as those used in many sunscreens—on rice plants.
For more information, click here.
—————
1. D.H. Atha, H. Wang, E.J. Petersen, D. Cleveland, R.D. Holbrook, P. Jaruga, M. Dizdaroglu, B. Xing and B.C. Nelson. Copper oxide nanoparticle mediated DNA damage in terrestrial plant models. Environmental Science and Technology, Vol. 46 (3): pages 1819-1827 (2012), DOI: 10.1021/es202660k.
2. Gas chromatography–mass spectrometry (GC-MS) to detect base lesions and inductively coupled plasma mass spectrometry (ICP-MS) to measure copper uptake.
EcoWatch Daily Newsletter
People carry children on a flooded street in Almoradi, Spain on Sept. 13. JOSE JORDAN / AFP / Getty Images
Large food companies are following in the footsteps of fast-food restaurants such as Burger King and KFC by offering meat alternatives. Getty Images
By Elizabeth Pratt
Hormel, Kellogg's, and Kroger are among the large companies now planning to offer "fake meat" products at grocery stores.
Experts say the trend toward plant-based meats coincides with consumers' desires to eat less meat.
However, experts urge consumers to closely check package labels as a product isn't necessarily healthy just because it's described as plant-based.
In grocery stores and fast-food outlets around the U.S., a revolution is taking place.
Colombia rainforest. Marcel Oosterwijk / CC BY-SA 2.0
Many of us think of the Amazon as an untouched wilderness, but people have been thriving in these diverse environments for millennia. Due to this long history, the knowledge that Indigenous and forest communities pass between generations about plants, animals and forest ecology is incredibly rich and detailed and easily dwarfs that of any expert.
picture-alliance / Newscom / R. Ben Ari
By Wesley Rahn
Plastic byproducts were found in 97 percent of blood and urine samples from 2,500 children tested between 2014 and 2017, according to a study by the German Environment Ministry and the Robert Koch Institute.

Pexels
Medically reviewed by Daniel Bubnis, MS, NASM-CPT, NASE Level II-CSS
Hot yoga has become a popular exercise in recent years. It offers many of the same benefits as traditional yoga, such as stress reduction, improved strength, and flexibility.
Lara Hata / iStock / Getty Images
By SaVanna Shoemaker, MS, RDN, LD
Rice is a staple in many people's diets. It's filling, inexpensive, and a great mild-tasting addition to flavorful dishes.
An image of the trans-alaskan oil pipeline that carries oil from the northern part of Alaska all the way to valdez. This shot is right near the arctic national wildlife refuge. kyletperry / iStock / Getty Images Plus
The Trump administration has initialized the final steps to open up nearly 1.6 million acres of the protected Alaskan National Wildlife Refuge to allow oil and gas drilling.