This website uses cookies to ensure you get the best experience while browsing it. By clicking 'Got It' you're accepting these terms.
Scientists Find Answer to Why Thousands of Sea Lion Pups Are Starving
Mar. 02, 2016 01:46PM EST
Animals
Scientists finally have an explanation for why so many starving sea lions have been stranded along Southern California's coast in recent years. Their mothers are not getting enough nutritious food.
---
Last year, more than 3,000 sea lions were found stranded on Southern California beaches, a number higher than the previous five years combined. As of last week, there have been at least 375 sea lion strandings in 2016. Photo credit: NOAA Fisheries West Coast/Flickr
High-fat, high-calorie fish species—namely sardines and anchovies—that female sea lions prefer to feed on have become less abundant where the sea lions commonly hunt near the Channel Islands, National Oceanic and Atmospheric Administration (NOAA) researchers reported Tuesday in the journal Royal Society Open Science.
Instead, female sea lions have had to settle for less nourishing food sources, such as rockfish and market squid. According to the scientists, 81 percent of the change in sea lion pup weights between 2004 and 2013 could be attributed to the decline in sardines and anchovies.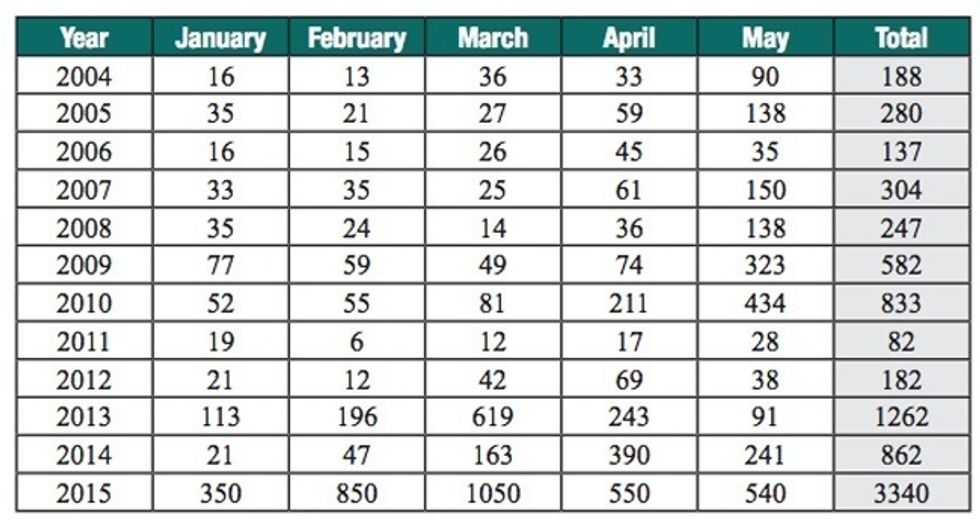 And while the researchers knew that anchovies and sardines become scarce in El Niño years, they wondered whether the effects were limited to only El Niño years.
The Los Angeles Times reported:
To find out, they needed to know where pregnant and nursing sea lions liked to hunt. They estimated a likely foraging range based on the movements of six female sea lions from San Miguel Island that were tagged by researchers in the 1990s. The data from those tags showed they liked to hunt off the California coast between Big Sur and Malibu.
Next they had to figure out what kinds of fish were available in those waters. For more than 30 years, researchers from NOAA's Southwest Fisheries Science Center have been taking a census of young rockfish and other fish species in central California. Data for the area they needed was available from 2004 to 2014.
Finally, they looked up the average weight of 14-week-old sea lion pups from San Miguel Island for each year between 2004 and 2011. During that period, the average weight ranged from 14.8 kilograms to 20.9 kg for female pups and from 17.5 kg to 23.6 kg for male pups.
The pattern they found was clear: When sardines and anchovies were abundant and rockfish and squid were scarce, sea lion pups weighed more. Conversely, when rockfish and squid were plentiful and sardines and anchovies were not, sea lion pups weighed less.
The scientists said they couldn't study "composition or quantity of mothers' milk," and therefore, couldn't make a direct link between the types of fish in the sea and the nutritional value of their milk. However, they said their results "offer compelling evidence" that the sea lion pups are starving because their mothers can't produce adequate amounts of milk.
"Our results refocus the debate on the causes of sea lion pup weight loss from episodic stresses associated with El Niño years to a longer-term trend of declining forage quality in the waters around the California Channel Island rookeries," the scientists concluded.
And the trend is likely to continue. "We expect repeated years with malnourished and starving sea lion pups," they said.
Last year, more than 3,000 sea lions were found stranded on Southern California beaches, a number higher than the previous five years combined. As of last week, there have been at least 375 sea lion strandings in 2016. That's above the average of 160 for the first two months of a typical year, according to NOAA data.
Marine conservation groups, such as Oceana, criticized NOAA for not recognizing the role overfishing has played in causing the sea lion crisis.
EcoWatch Daily Newsletter
The Opera House is seen with smoke haze which enveloped Sydney Harbor on Dec. 10 in Sydney, Australia. Smoke haze hangs over the city as the New South Wales fire danger risk is raised from 'very high' to 'severe'. James D. Morgan / Getty Images
The brushfires raging through New South Wales have shrouded Australia's largest city in a blanket of smoke that pushed the air quality index 12 times worse than the hazardous threshold, according to the Australia Broadcast Corporation (ABC).
People walk across the bridge near Little Raven Court in downtown Denver. Younger Americans increasingly prefer to live in walkable neighborhoods. Helen H. Richardson / The Denver Post via Getty Images
By David B. Goldstein
Energy efficiency is the cornerstone of any country's plan to fight the climate crisis. It is the cheapest option available, and one that as often as not comes along with other benefits, such as job creation, comfort and compatibility with other key solutions such as renewable energy. This has been recognized by the International Energy Agency (IEA) for at least a decade.
Activists from Extinction Rebellion New York City engaged in nonviolent direct action to confront climate change outside City Hall on April 17, 2019. Erik McGregor / Pacific Press / LightRocket via Getty Images
By Andrea Germanos

Over 500 groups on Monday rolled out an an action plan for the next president's first days of office to address the climate emergency and set the nation on a transformative path towards zero emissions and a just transition in their first days in office.

The Ladakh region of India, pictured above, is a part of the Himalayan mountain region of the upper Indus Valley which is the most vulnerable water tower, according to researchers. Suttipong Sutiratanachai / Moment / Getty Images
Jet stream triggered heat waves could threaten food production in several important breadbaskets, including central North America.
Carl Wycoff /
CC BY 2.0
Researchers have pinpointed a previously underexamined threat to global food production, and they warn it will only get worse as the climate crisis intensifies.