This website uses cookies to ensure you get the best experience while browsing it. By clicking 'Got It' you're accepting these terms.
Richard Branson Speaks Out Against Rhino Horn Trade
Jan. 14, 2016 03:38PM EST
Animals
By Richard Branson, Virgin.com
In recent years, few species have faced a greater threat from poaching and the illegal wildlife trade than the magnificent rhino. After wild populations in Africa enjoyed a few years of relative safety, the number of animals brutally murdered for their horns has increased dramatically lately. In 2014, more than 1,200 rhinos were killed in South Africa alone. First estimates for 2015 don't look much better.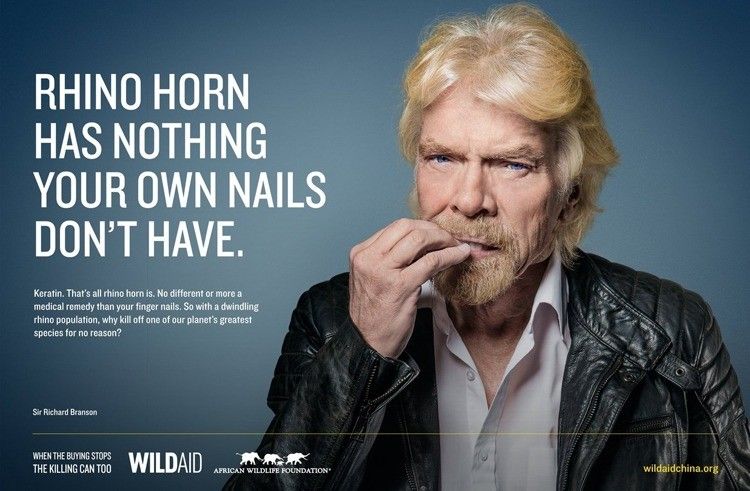 Most of this spike in wildlife crime is driven by increased consumer demand in China and Vietnam, where rhino horn is used primarily as a remedy for all sorts of ailments, even though it has long been shown that it doesn't have any medicinal properties whatsoever. It's a sad story of superstition and misinformation on one end of the chain that is responsible for mass slaughter and suffering on the other.
I've long argued that the illegal wildlife trade must be addressed along the entire supply chain. Strengthening the capabilities of those brave rangers fighting what looks like a losing battle in many of Africa's national parks is part of the solution, and it has to go hand in hand with better governance, greater accountability, and more effective law enforcement. Yet, supply reduction can only work when we tackle demand at the same time. In other words: only when the buying stops, the killing can, too.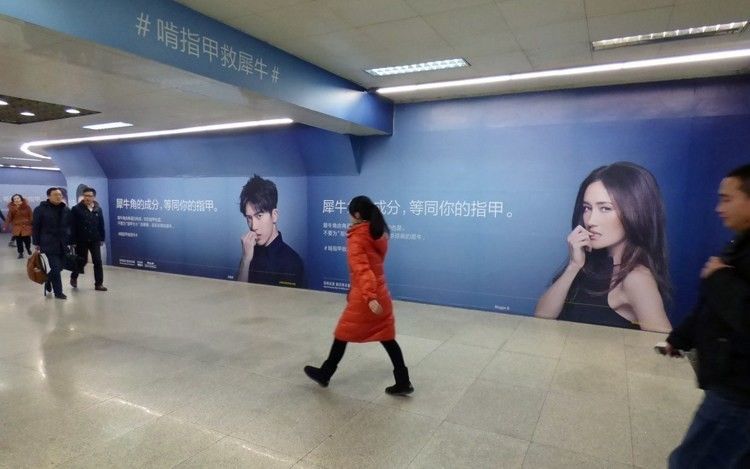 This is one of the reasons I went to visit Vietnam in September last year and met with local business leaders and other stakeholders. Our conversations about wildlife and the role of Vietnamese business in ending this madness were productive and fruitful. Over dinner, several dozen business leaders pledged to start a movement to end the use of rhino horn once and for all.
It's an uphill battle, for sure. But thankfully, people are beginning to understand that rhino horn is in essence nothing more than keratin, the same substance that human hair and nails are made from.
To illustrate the point, I joined forces with actress Maggie Q and a few others to support a new campaign by WildAid. Starting this week, you will see yours truly biting my finger nails on billboards all across East Asia. It's perhaps not the most flattering photo shoot I've ever participated in, but it certainly drives home the message: In other words, if you think that rhino horn is a magical substance that can cure disease, you may as well be chewing your toe nails.
Head over to www.wildaid.org to learn more about rhino horn the campaign to end its use.
Update: Great news from Hong Kong as the government has signaled the end to the domestic ivory trade. Congratulations to Hong Kong for their example to the rest of the world.
YOU MIGHT ALSO LIKE
Huge Victory for Elephants: Hong Kong Bans Ivory Trade
Elon Musk's Tesla Launches All-Vegan Car
Outraged Republican Senator Vows to Block Appointment of FDA Commissioner Over GMO Salmon
Federal Lawsuit Filed Over North Carolina Anti-Whistleblower Law
EcoWatch Daily Newsletter
Tuna auctions are a tourist spectacle in Tokyo. Outside the city's most famous fish market, long queues of visitors hoping for a glimpse of the action begin to form at 5 a.m. The attraction is so popular that last October the Tsukiji fish market, in operation since 1935, moved out from the city center to the district of Toyosu to cope with the crowds.

gmnicholas / E+ / Getty Images
Kristan Porter grew up in a fishing family in the fishing community of Cutler, Maine, where he says all roads lead to one career path: fishing. (Porter's father was the family's lone exception. He suffered from terrible seasickness, and so became a carpenter.) The 49-year-old, who has been working on boats since he was a kid and fishing on his own since 1991, says that the recent warming of Maine's cool coastal waters has yielded unprecedented lobster landings.
Nicole Greenfield is a writer at NRDC whose articles on religion, the environment, popular culture and social justice have appeared in many publications.
Aerial view of lava flows from the eruption of volcano Kilauea on Hawaii, May 2018. Frizi / iStock / Getty Images
Hawaii's Kilauea volcano could be gearing up for an eruption after a pond of water was discovered inside its summit crater for the first time in recorded history, according to the AP.
The Eqip Sermia Glacier is seen behind a moraine left exposed by the glacier's retreat during unseasonably warm weather on Aug. 1 at Eqip Sermia, Greenland. Sean Gallup / Getty Images
hadynyah / E+ / Getty Images
By Johnny Wood
The Ganges is a lifeline for the people of India, spiritually and economically. On its journey from the Himalayas to the Bay of Bengal, it supports fishermen, farmers and an abundance of wildlife.
The river and its tributaries touch the lives of roughly 500 million people. But having flowed for millennia, today it is reaching its capacity for human and industrial waste, while simultaneously being drained for agriculture and municipal use.
Here are some of the challenges the river faces.
Protesters gathered outside US Bank and Wells Fargo locations around the U.S. to protest investment in the Dakota Access Pipeline on Dec. 1, 2016. This photo is from a protest outside US Bank in south Minneapolis, Minnesota.
Fibonacci Blue / CC BY 2.0
By Jake Johnson
As a growing number of states move to pass laws that would criminalize pipeline protests and hit demonstrators with years in prison, an audio recording obtained by The Intercept showed a representative of a powerful oil and gas lobbying group bragging about the industry's success in crafting anti-protest legislation behind closed doors.
Reposted with permission from our media associate Common Dreams.

DESIREE MARTIN / AFP / Getty Images
Wildfires raging on Gran Canaria, the second most populous of Spain's Canary Islands, have forced around 9,000 people to evacuate.