This website uses cookies to ensure you get the best experience while browsing it. By clicking 'Got It' you're accepting these terms.
Conservationists are celebrating the birth of a Sumatran rhino, which has raised hope that this critically endangered species may yet recover.
The calf, who has yet to be named, was born at the Sumatran Rhino Sanctuary in Indonesia's Way Kambas National Park Thursday morning and is the second baby for her 14-year-old mother Ratu.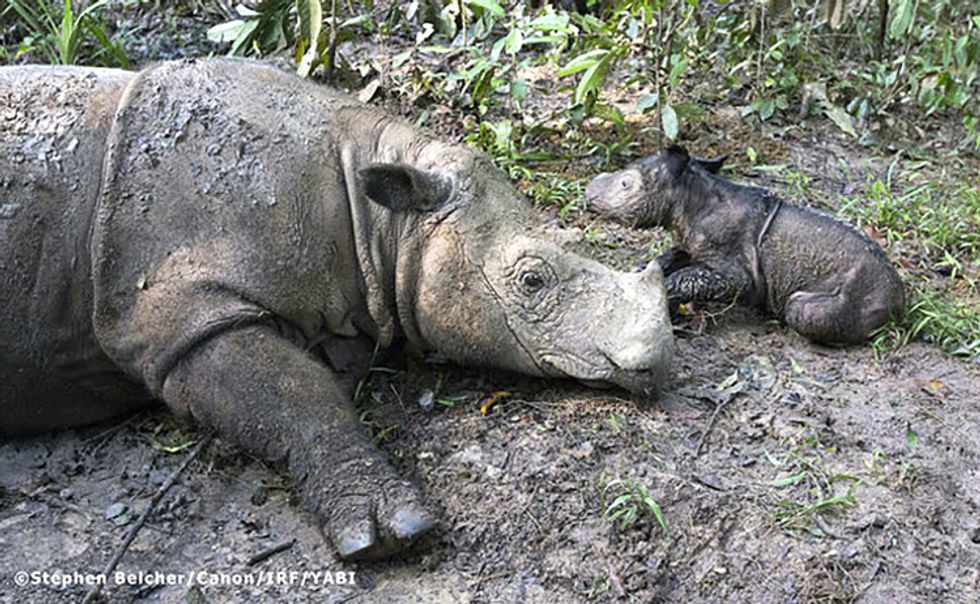 According to the International Rhino Foundation (IRF), the precious newcomer is healthy and active and began nursing shortly after she was born.
"Once again, Ratu is showing us that she is a very good mother," Dr. Zulfi Arsan, head veterinarian at the sanctuary, said.
With fewer than 100 Sumatran rhinos left in the world, the birth is a huge deal. Unfortunately, they've continued to face the ongoing threats of poaching and habitat loss, which have pushed them into small, fragmented populations that are on the brink of extinction.
According to the International Union for the Conservation of Nature, these rhinos have already disappeared from Bangladesh, Bhutan, Brunei Darussalam, Cambodia, India, Lao PDR, Myanmar, Thailand and Vietnam.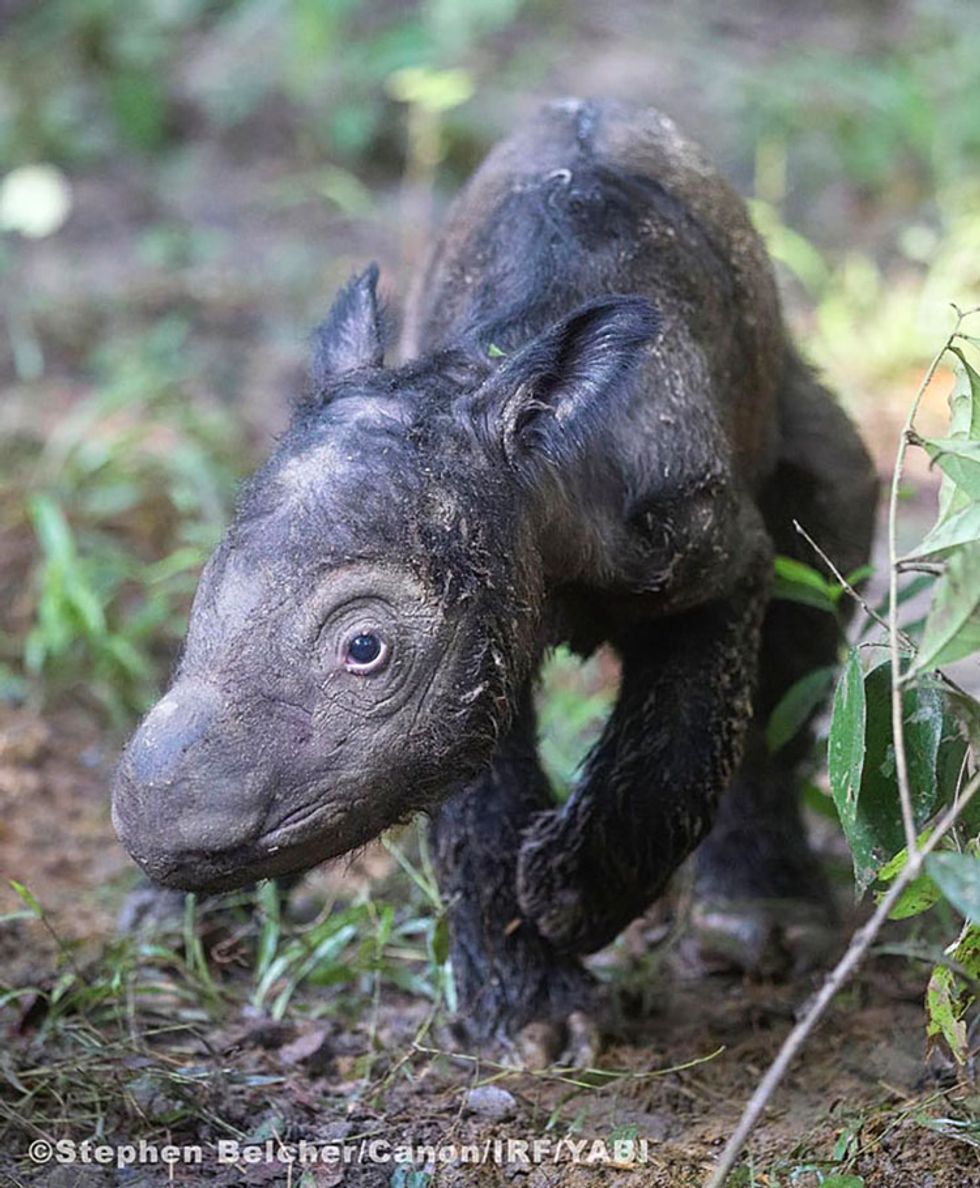 Last year they were declared extinct in Malaysia and scientists warned that the remaining few would likely disappear forever if immediate action wasn't taken.
Conservation efforts at the sanctuary and elsewhere are underway to help them make a comeback and the latest arrival has things looking up.
"We are overjoyed that Ratu delivered a healthy calf and are cautiously optimistic that the calf will continue to thrive," Dr. Susie Ellis, executive director of the IRF, said. "She's absolutely adorable and we haven't stopped smiling since the moment we were sure she was alive and healthy. While one birth does not save the species, it's one more Sumatran rhino on Earth."
The father of the new calf is believed to be Andalas, who was the first Sumatran rhino born in captivity in 112 years. He was born at the Cincinnati Zoo in 2001 and was moved to the Sumatran Rhino Sanctuary in 2007, where it was hoped he would breed and he has. So far he has successfully produced two calves with Ratu.
His brother, Harapan, also followed him from the Cincinnati Zoo to Indonesia last year in an effort to bring the last of these rhinos together. Hopefully he will also find a mate and more babies will be on their way. Meanwhile, we can cheer for this little baby girl who is bonding with her mother and getting her bearings.
Watch here:
YOU MIGHT ALSO LIKE
Will One of the World's Most Endangered Whales Be Saved Before It's Too Late?
5 Incredible Species That Glow in the Dark
Huge Win for the Oregon Spotted Frog
Jane Goodall Among 58 Scientists Urging Government to Halt Grizzly De-Listing
EcoWatch Daily Newsletter
A pedestrian wearing a mask walks in a residential area in Beijing on Jan. 21, 2020. The number of people in China infected by a new SARS-like virus jumped to 291, according to authorities. WANG ZHAO / AFP via Getty Images
New pine trees grow from the forest floor along the North Fork of the Flathead River on the western boundary of Glacier National Park on Sept. 16, 2019 near West Glacier, Montana. Chip Somodevilla / Getty Images
Household actions lead to changes in collective behavior and are an essential part of social movements. Pixabay /
Pexels
Talk is cheap, says the acting executive secretary of the United Nations Convention on Biological Diversity, who begged governments around the world to make sure that 2020 is not another year of conferences and empty promises, but instead is the year to take decisive action to stop the mass extinction of wildlife and the destruction of habitat-sustaining ecosystems, as The Guardian reported.
The people of Kiribati have been under pressure to relocate due to sea level rise. A young woman wades through the salty sea water that flooded her way home on Sept. 29, 2015. Jonas Gratzer / LightRocket via Getty Images
Refugees fleeing the impending effects of the climate crisis cannot be forced to return home, according to a new decision by the United Nations Human Rights Committee, as CNN reported. The new decision could open up a massive wave of legal claims by displaced people around the world.