This website uses cookies to ensure you get the best experience while browsing it. By clicking 'Got It' you're accepting these terms.
Presidential Candidate Martin O'Malley: We Can and Should Be 100% Powered by Renewable Energy by 2050
Jun. 18, 2015 02:24PM EST
Climate
While the Pope sucks up all the media attention with his climate encyclical today, Democratic presidential candidate Martin O'Malley has released a position paper on the environment that deserves more attention, even if he's not frontrunner Hillary Clinton or progressive idol Bernie Sanders. In the paper, the former Maryland governor burnished his credentials as a climate hawk, laying out his plan for addressing climate change. The paper revealed O'Malley's unequivocal opposition to the Keystone XL pipeline, offshore and Arctic drilling, and fracking, instead promoting a rapid transition to clean energy.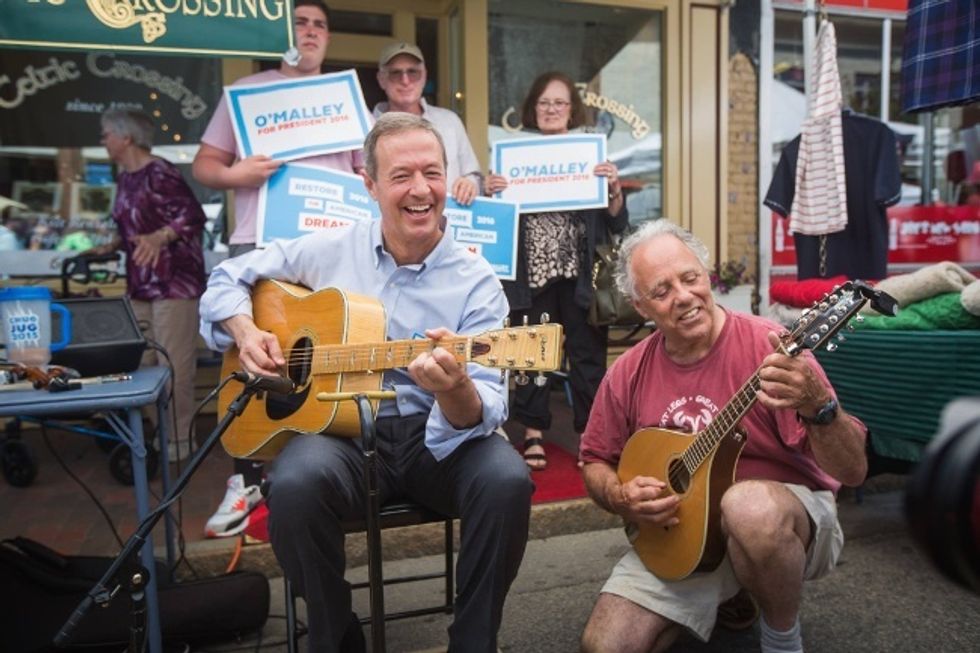 "Given the grave threat that climate change poses to human life on our planet, we have not only a business imperative but a moral obligation to future generations to act immediately and aggressively," said O'Malley. "This is why protecting the United States from the devastating impact of climate change—while capitalizing on the job creation opportunity of clean energy—is at the center of my campaign for president."
"Today, Pope Francis published his first encyclical—an official teaching document to all 1.2 billion Catholics—on the moral imperative of addressing climate change," O'Malley wrote in a USA Today editorial promoting the release of his paper. "He is not alone among leaders of world faiths making such a clarion call for action. We have come a long way as a nation in making ourselves more energy independent. Now is the time to take this progress to the next level—the future of our country and our planet depends on it."
O'Malley, who is Catholic, called for phasing out fossil fuels and transitioning to 100 percent clean energy by 2050.
Martin O'Malley: Zero out fossil fuels by 2050 http://t.co/PRpz9bOsoo via @USATOpinion

— USA TODAY Washington (@USATWashington) June 18, 2015
"New technologies have put a clean energy, energy independent future within reach—while the threat of climate change, and the urgent need for new middle-­class jobs, makes it imperative that we aggressively pursue it," he said.
Echoing a theme he's emphasized since he first announced his campaign in late May, O'Malley said that clean, renewable energy sources represent one of the biggest economic and job creation opportunities in a century as well as a more stable and secure world—a direct contrast to most of the Republican presidential candidates who have been promoting the idea that phasing out fossil fuels such as coal would cost jobs and be an economic anchor to the country.
O'Malley said that as president he would use his executive powers to make the transition to clean energy the top priority of the federal government. He proposed a series of specific actions such as a Clean Energy Job Corps to retrofit buildings for energy efficiency, create new green spaces, and restore and expand forests. He promised to bring all federal buildings up to the highest efficiency standards and set higher ones, and require all new buildings to be net-zero. He also vowed to require government vehicles to be low- or zero-emissions and to mandate that federally funded infrastructure projects meet climate resiliency standards.
He also said he would direct the U.S. Environmental Protection Agency (EPA) to take a zero-tolerance stance for methane leaks from existing fracking operations. And he would prioritize modernizing the grid in a way that encourages localized, renewable energy generation and reduces electricity waste.
Unlike Clinton, who has dodged the issue, O'Malley takes a position on the Keystone XL: he says he would kill the project. Drilling off the coasts and in the Arctic would be off the table too.
And he took a potshot at those, like President Obama, who have advocated for an "all of the above" energy policy that relies on natural gas—and fracking—to smooth the transition to clean energy sources.
"All of us can acknowledge that with an 'all of the above strategy,' President Obama has made the U.S. more energy independent in every category of fuels, including oil and gas," he said. "But America did not land a man on the moon with an 'all of the above strategy.' It was an engineering challenge. Making the transition to a clean energy future is also an engineering challenge."
"We can't meet the climate challenge with an all-of-­the‐above energy strategy, or from drilling off our coasts, or from building pipelines that bring oil from tar sands in Canada," he continued. "Meeting the climate challenge requires a commitment to one simple concept: a full transition to clean, renewable energy and an end to our reliance on fossil fuels altogether."
Environment leaders praised O'Malley's proposals.
"I particularly applaud presidential candidate Martin O'Malley for answering the Pope's call and laying out a bold plan to build a clean energy economy," said Tom Steyer, founder of NextGen Climate. "By calling for the rejection of the Keystone XL pipeline and a transition to 100 percent clean energy by 2050, Governor O'Malley is presenting real, concrete solutions to climate change that will secure our country's economic security—and break with the dirty energy politics of the past. This is exactly the type of leadership on climate change the Pope, military and business leaders are calling for—and that we need from our next president. I look forward to seeing candidates in both parties lay out their plans to take decisive action on this issue and build a more prosperous and sustainable future for our kids—and I hope they show the same boldness that Governor O'Malley did today."
"The Sierra Club applauds Governor O'Malley for driving the conversation toward the critically important goal of transitioning off of dirty fossil fuels to a healthy and just economy powered by 100 percent clean energy," said the group's executive director Michael Brune. "Polls make it clear that Americans want climate action and strongly prefer clean energy over fossil fuels. Meanwhile, leaders worldwide are committing to new steps to cut carbon pollution while the marketplace and public demand are ensuring clean energy solutions rapidly replace fossil fuels to create new jobs and new prosperity. We are pleased to see leaders like Governor O'Malley setting their sights on a prosperous and safe clean energy economy that works for all."
YOU MIGHT ALSO LIKE
Martin O'Malley Enters Presidential Race Calling Climate Change 'Greatest Business Opportunity to Come to Our Country in 100 Years'
Tom Steyer to Put GOP Presidential Climate Denier Candidates on 'The Hot Seat'
Ditching Fossil Fuels and Switching to 100% Renewables No Problem, Says Stanford Study
EcoWatch Daily Newsletter
The CDC has emphasized that washing hands with soap and water is one of the most effective ways to prevent the spread of COVID-19. Guido Mieth / Moment / Getty Images
The Centers for Disease Control has emphasized that washing hands with soap and water is one of the most effective measures we can take in preventing the spread of COVID-19. However, millions of Americans in some of the most vulnerable communities face the prospect of having their water shut off during the lockdowns, according to The Guardian.
A California newt (Taricha torosa) from Napa County, California, USA. Connor Long /
CC BY-SA 3.0
Aerial photos of the Sierra Nevada — the long mountain range stretching down the spine of California — showed rust-colored swathes following the state's record-breaking five-year drought that ended in 2016. The 100 million dead trees were one of the most visible examples of the ecological toll the drought had wrought.
Now, a few years later, we're starting to learn about how smaller, less noticeable species were affected.
Disinfectants and cleaners claiming to sanitize against the novel coronavirus have started to flood the market.
Natthawat / Moment / Getty Images
Disinfectants and cleaners claiming to sanitize against the novel coronavirus have started to flood the market, raising concerns for the U.S. Environmental Protection Agency (EPA), which threatened legal recourse against retailers selling unregistered products, according to The New York Times.
A customer packs groceries in reusable bags at a NYC supermarket on March 1, 2020. Eduardo Munoz Alvarez/Getty Images
The global coronavirus pandemic has thrown our daily routine into disarray. Billions are housebound, social contact is off-limits and an invisible virus makes up look at the outside world with suspicion. No surprise, then, that sustainability and the climate movement aren't exactly a priority for many these days.
Ingredients are displayed for the Old School Pinto Beans from the Decolonize Your Diet cookbook by Luz Calvo and Catriona Rueda Esquibel. Melissa Renwick / Toronto Star via Getty Images
By Molly Matthews Multedo
Livestock farming contributes to global warming, so eating less meat can be better for the climate.