This website uses cookies to ensure you get the best experience while browsing it. By clicking 'Got It' you're accepting these terms.
Pesticides to Blame for UK's Declining Turtle Dove Population
Dec. 13, 2013 01:57PM EST
Unless regulators take action, one of the gifts in the lyrics to "Twelve Days of Christmas," the turtle dove, may become extinct. The dove has experienced major population decline in England over the past 20 years, due in significant part to the destruction of turtle dove habitat and food sources from increasing herbicide use in English agriculture.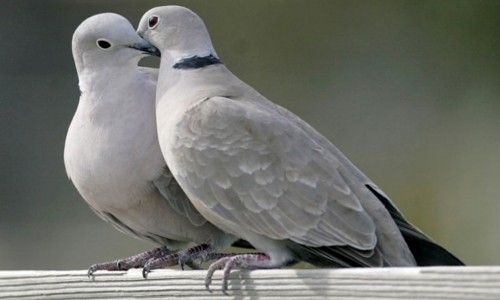 Other species, such as Monarch butterflies and other pollinators around the world, are also experiencing similar loses of habitat and food sources through an increase in herbicide use. These increasing rates of population decline in wild species underscore the problem that chemical-intensive agriculture plays in the degradation of natural habitats.
"The turtle dove is the fastest declining bird in the country [England] and within ten years we could lose this icon of the British countryside completely," said a spokesman for the Royal Society for the Protection of Birds.
Turtle doves in the United Kingdom are found in just a few areas of Southern England and migrate during the winter toward Africa. Turtle doves are obligate granivors, feeding predominantly on seeds of certain arable weeds form farm countryside, such as fumitory, clover and vetch. However, increased herbicide use in England has decimated vegetation (considered "weeds") that turtle doves have traditionally eaten.
In the 1960's, arable weeds, including fumitory and chickweed, made up more than 75 percent of the adult diet, but parents are now heavily reliant on cultivated wheat and oilseed corps. The number of breeding pairs in the UK is thought to have dropped this year to a record low of bellow 14,000, making an 84 percent drop since 1995. This problem is now compounded by the cold and damp summer of 2012 hampered the bird's efforts to feed their chicks as well as keeping them warm.
Serious losses in the Monarch butterfly population have been tied to the expansion of genetically engineered (GE) corn and soybeans production. Historically, for butterflies in the U.S., their key source of food, milkweed, was typically found in several key states where the butterfly feeds and breeds: Iowa, Minnesota, Wisconsin, Illinois, Indiana, parts of Ohio and the eastern Dakotas. But now fields have been planted with more than 120 million acres of corn and soybeans genetically engineered to be tolerant to glyphosate (Roundup), and many other herbicides, resulting in milkweed destruction in and around agricultural fields.
According to the researchers, the utilization of these GE crops has all but eliminated milkweeds from these fields, thus eliminating the butterfly's source of food. A rapid expansion of farmland—more than 25 million new acres in the U.S. since 2007—has eaten away grasslands and conservation reserves that supplied the Monarchs with milkweed. Milkweed was once widespread throughout the U.S., but is considered a nuisance weed by farmers throughout the Midwest.
Recently, The New York Times published an analysis of the decline and near absence of Monarch butterflies at their end migration destination in the mountains of Mexico this fall. This report highlights that the use of Roundup on GE herbicide-resistant crops has devastated Monarch habitat by nearly eliminating milkweed from rural agricultural landscapes.
A 2011 decision by the U.S. Department of Agriculture (USDA) to fully deregulate GE alfalfa seed will certainly have an impact on bee populations that are essential for the pollination of the alfalfa seed crop. This deregulation is also troubling because alfalfa seed crops is a pollinated crop and there is a high possibility of cross pollination between GE and organic production. Alfalfa is the key feedstock for the dairy industry. GE contamination will cause organic dairies to lose their source of organic feed, a requirement for organic dairy, including milk and yogurt products. Earlier in September, GE alfalfa was confirmed to have contaminated non-GE alfalfa in Washington State. 
According to the Organic Seed Alliance, "Although both the organic and biotechnology industries acknowledge that transgenic material is moving into fields and markets where it is not allowed or wanted, little has been done to address the problem through regulatory processes and enforcement. No new law has been created to address this novel technology."
GE alfalfa designed to be resistant to herbicides is unnecessary. USDA data shows that 90 percent of all the alfalfa planted by farmers in the U.S. was previously grown without the use of any herbicides, which the GE alfalfa is engineered to withstand.
Due to the planting of GE alfalfa, USDA estimates that up to 23 million more pounds of toxic herbicides will be released into the environment each year which could lead to the destruction of habitat for wildlife. In discussions with EPA, Beyond Pesticides has told the agency that because of the adverse impact that herbicides are expected to have on bees in GE alfalfa seed production, and given its extremely limited benefit to alfalfa productivity, it should prohibit herbicide use in GE alfalfa production. Beyond Pesticides has noted that EPA's failure to fully consider direct and secondary impacts of pesticides on bees and beneficial insect habitat, associated with increasing and  unnecessary herbicide use in genetically engineered alfalfa, is leading to escalating ecological destruction.
Beyond Pesticides, along with other environmental and farming organizations, filed a suit in March of 2011 challenging the agency's deregulation of the GE alfalfa. The suit, Center for Food Safety, et al., v. Vilsack, et al., argues that the agency's deregulation of Roundup Ready alfalfa is unlawful, and tried to prevent any further planting of the engineered crop. However, in 2012, a U.S. District Judge in San Francisco issued a ruling that USDA's decision to deregulate GE alfalfa was not unlawful.
The protection of  organic integrity and growth of uncontaminated organic production, which must become a national and international priority, is perhaps the central and most effective strategy for protecting threatened species like bees, butterflies, and birds, including turtle doves. Beyond Pesticides encourages consumers to think about the big picture, and support a wider shift toward organic practices through their purchases. Buying organic is a simple move that makes a big difference in preventing unnecessary contamination to themselves, the environment and the loss of wild habitat.
Visit EcoWatch's BIODIVERSITY page for more related news on this topic.

EcoWatch Daily Newsletter
Variety of fermented food korean traditional kimchi cabbage and radish salad. white and red sauerkraut in ceramic plates over grey spotted background. Natasha Breen / REDA&CO / Universal Images Group / Getty Image
Even if you've never taken probiotics, you've probably heard of them.
These supplements provide numerous benefits because they contain live microorganisms, such as bacteria or yeast, which support the healthy bacteria in your gut (1, 2, 3, 4).
Pexels
Singapore will become the first country in the world to place a ban on advertisements for carbonated drinks and juices with high sugar contents, its health ministry announced last week. The law is intended to curb sugar consumption since the country has some of the world's highest diabetes rates per capita, as Reuters reported.
A typical adult takes around 20,000 breaths per day. If you live in a megacity like Beijing, with many of those lungfuls you're likely to inhale a noxious mixture of chemicals and pollutants.
Fred Stone holds his brown swiss cow Lida Rose at his Arundel dairy farm on March 18 after a press conference where he spoke about PFAS chemical contamination in his fields. Gregory Rec / Portland Portland Press Herald via Getty Images
By Susan Cosier
First there was Fred Stone, the third-generation dairy farmer in Maine who discovered that the milk from his cows contained harmful chemicals. Then came Art Schaap, a second-generation dairy farmer in New Mexico, who had to dump 15,000 gallons of contaminated milk a day.
Protesters attend the 32nd annual Fur-Free Friday demonstration on Nov. 23, 2018 in Beverly Hills, California. Ella DeGea / Getty Images
California Governor Gavin Newsom signed into law a bill that that bans the sale and manufacture of fur products in the state. The fur ban, which he signed into law on Saturday, prohibits Californians from selling or making clothing, shoes or handbags with fur starting in 2023, according to the AP.
By Simon Evans
During the three months of July, August and September, renewables generated an estimated total of 29.5 terawatt hours (TWh), compared with just 29.1TWh from fossil fuels, the analysis shows.
A demonstrator waves an Ecuadorian flag during protests against the end of subsidies to gasoline and diesel on Oct. 9 in Quito, Ecuador. Jorge Ivan Castaneira Jaramillo / Getty Images
Protesters block the road outside Mansion House in London during an XR climate change protest. Gareth Fuller / PA Images via Getty Images