This website uses cookies to ensure you get the best experience while browsing it. By clicking 'Got It' you're accepting these terms.
Payback Time: Boycott the Organic and 'Natural' Brands that Helped Kill Consumers' Right to Know
Nov. 15, 2012 12:53PM EST
GMO
They stomped on our right to know. Now it's time to get even.
Prop 37, the California Right to Know Genetically Modified Organism (GMO) labeling initiative, was narrowly defeated last week thanks to a relentless, deceitful $46 million advertising blitz. Among the largest bankrollers of the NO on 37 campaign were huge multinational food and beverage companies whose subsidiaries make billions selling some of your favorite organic and "natural" brands. Brands like—Kashi, Honest Tea, Naked Juice, Muir Glen, Horizon, Silk and Morningstar Farms.
It's time to boycott the companies and brands whose dirty money confused and scared millions of California voters into voting No on Prop 37. It's time to plaster their facebook pages with this message:
We won't support you until you support us.
It's time to call their consumer hotlines, complain to the store managers where you buy your organic and natural products. It's time to tarnish their holy organic and natural images, to expose their hypocrisy and greed.
It's time to raise a little hell. If we raise enough hell, maybe their parent companies will come to their senses and stop carrying the water for Monsanto and the biotech industry. Maybe they'll stay neutral in the upcoming labeling battles in Washington state and Vermont.
The OCA is calling on consumers to boycott these organic and "natural" traitor brands:
• PepsiCo (Donated $2.5M): Naked Juice, Tostito's Organic, Tropicana Organic
• Kraft (Donated $2M): Boca Burgers and Back to Nature
• Safeway (Member of Grocery Manufacturers Association, which donated $2M):"O" Organics
• Coca-Cola (Donated $1.7M): Honest Tea, Odwalla
• General Mills (Donated $1.2M):  Muir Glen, Cascadian Farm, Larabar
• Con-Agra (Donated $1.2M): Orville Redenbacher's Organic, Hunt's Organic, Lightlife, Alexia
• Kellogg's (Donated $791k): Kashi, Bear Naked, Morningstar Farms, Gardenburger
• Smucker's (Donated $555k ): R.W. Knudsen, Santa Cruz Organic
• Unilever (Donated $467k): Ben & Jerry's
• Dean Foods (Donated $254k): Horizon, Silk, White Wave
Tell these companies that if they want your loyalty—and your grocery dollars±they must do two things:
1. Speak out publicly in favor of the pending GMO Labeling Ballot Initiative (I-522) in Washington State in 2013, as well as the pending GMO labeling bills coming up in Vermont and other states.
2. Contribute as much or more money to the Yes on I-522 Campaign in Washington than their parent corporations spent to defeat Prop 37 in California.
Prop 37 was narrowly defeated, by dirty money and dirty tricks. But it spawned a huge, national consumer movement that is fired up and more determined than ever to fight this battle until we win the right to know if our food has been genetically modified. We're already collecting signatures in Washington State, talking to legislators in Vermont and Connecticut. A 30-state coalition is formulating a plan to collaborate on GMO-labeling laws and initiatives.
You are a part of this movement, and today we're calling on you—on the millions of consumers who were outraged by the NO on 37's dirty campaign—to send a clear message to the traitor brands who helped kill Prop 37, in the only language they understand—lost profits.
See which brands helped defeat Prop 37
Visit EcoWatch's GENETICALLY MODIFIED ORGANISM page for more related news on this topic.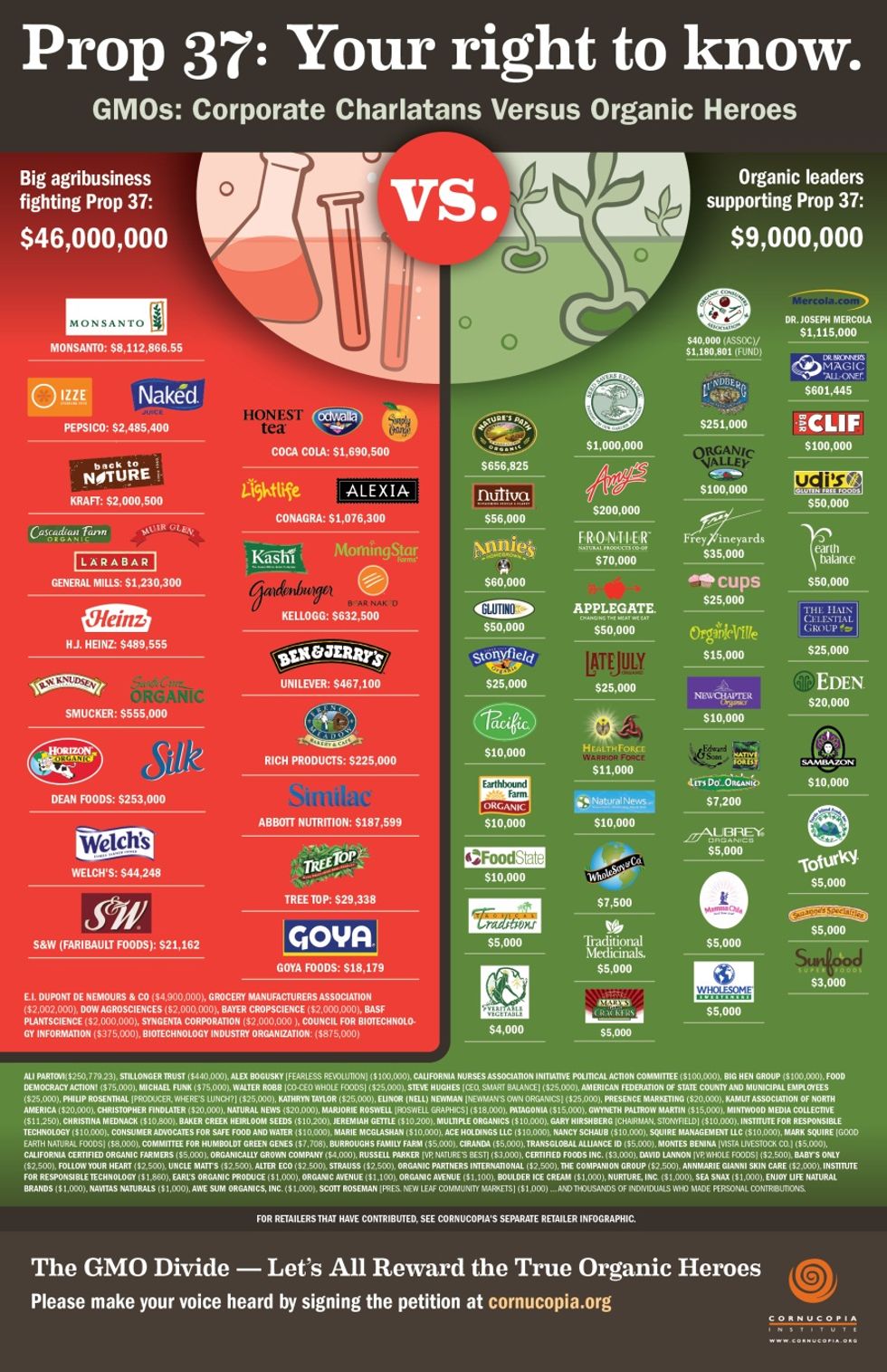 Click here to see a larger view
EcoWatch Daily Newsletter
The CDC has emphasized that washing hands with soap and water is one of the most effective ways to prevent the spread of COVID-19. Guido Mieth / Moment / Getty Images
The Centers for Disease Control has emphasized that washing hands with soap and water is one of the most effective measures we can take in preventing the spread of COVID-19. However, millions of Americans in some of the most vulnerable communities face the prospect of having their water shut off during the lockdowns, according to The Guardian.
A California newt (Taricha torosa) from Napa County, California, USA. Connor Long /
CC BY-SA 3.0
Aerial photos of the Sierra Nevada — the long mountain range stretching down the spine of California — showed rust-colored swathes following the state's record-breaking five-year drought that ended in 2016. The 100 million dead trees were one of the most visible examples of the ecological toll the drought had wrought.
Now, a few years later, we're starting to learn about how smaller, less noticeable species were affected.
Disinfectants and cleaners claiming to sanitize against the novel coronavirus have started to flood the market.
Natthawat / Moment / Getty Images
Disinfectants and cleaners claiming to sanitize against the novel coronavirus have started to flood the market, raising concerns for the U.S. Environmental Protection Agency (EPA), which threatened legal recourse against retailers selling unregistered products, according to The New York Times.
A customer packs groceries in reusable bags at a NYC supermarket on March 1, 2020. Eduardo Munoz Alvarez/Getty Images
The global coronavirus pandemic has thrown our daily routine into disarray. Billions are housebound, social contact is off-limits and an invisible virus makes up look at the outside world with suspicion. No surprise, then, that sustainability and the climate movement aren't exactly a priority for many these days.
Ingredients are displayed for the Old School Pinto Beans from the Decolonize Your Diet cookbook by Luz Calvo and Catriona Rueda Esquibel. Melissa Renwick / Toronto Star via Getty Images
By Molly Matthews Multedo
Livestock farming contributes to global warming, so eating less meat can be better for the climate.