Norway Kills More Whales Than Japan and Iceland Combined
By Animal Welfare Institute
Norway is now the world's leading whaling nation, killing more whales in the past two years than Japan and Iceland combined. A new report released Monday calls on the international community to respond to Norway's systematic efforts to weaken management rules and improve market conditions for its whalers.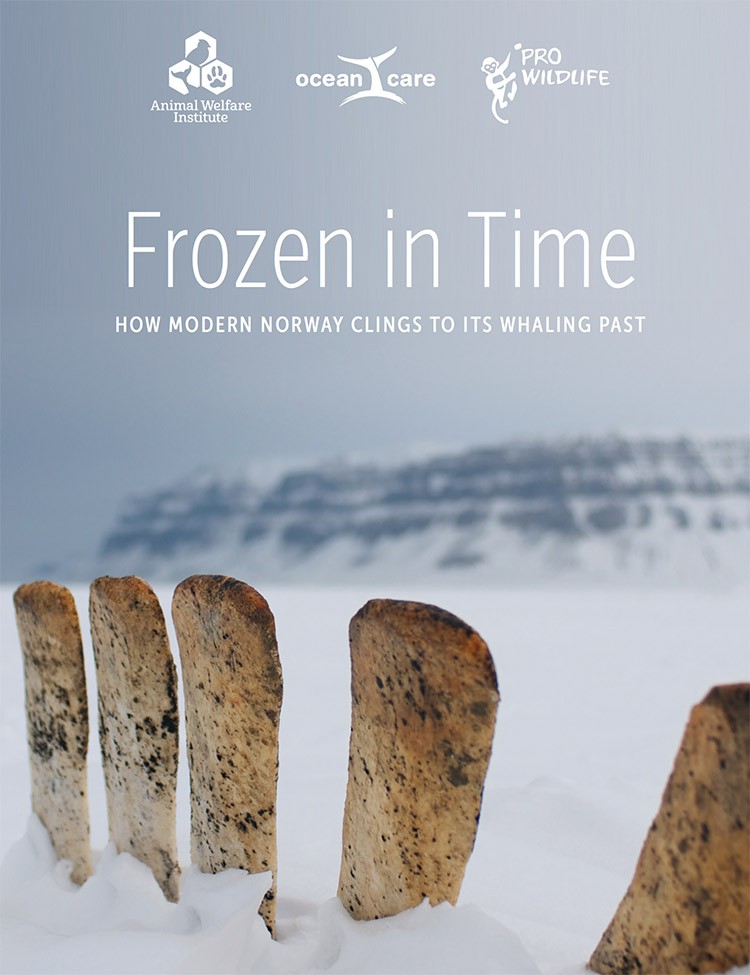 Frozen in Time: How Modern Norway Clings to Its Whaling Past, produced by the Animal Welfare Institute, OceanCare and Pro-Wildlife, details Norway's undermining of the International Whaling Commission (IWC) ban on commercial whaling and exposes the growth of its overseas trade in whale products. These shipments—some of which have transited European ports en route to Japan—play a key role in sustaining the Norwegian whaling industry.
"As one of the world's most modern and prosperous countries, Norway's whaling is an anachronism," Dr. Sandra Altherr, biologist with ProWildlife, said. "Slaughtering whales to eat and trade has no place in Norway and serves only to diminish the country's international reputation."
The Norwegian government is funding a number of projects, both to promote domestic sales of whale products and to develop alternative commercial products derived from whales, including dietary supplements, medicines and cosmetics. In 2015, the Myklebust Hvalprodukter company announced the launch of a series of new products derived from whale oil, including skin cream.
"We were stunned that a Norwegian whaling company is actively selling health and beauty products manufactured from whale oil," Susan Millward, Animal Welfare Institute executive director, said. "This is not the 1800s. It is incomprehensible that such a modern nation produces skin creams sourced from an inherently cruel industry."
While diplomatic pressure has been brought to bear on Iceland and international legal action has been taken against Japan for their whaling programs, the report underscores that Norway has largely been spared international attention and criticism.
"The IWC has not formally commented on Norway's whaling since 2001 and the international community has not presented a demarche to Norway since 2006," Sigrid Lüber, OceanCare president stated. "For as long as this remains the case, Norway will continue to let Iceland and Japan take the heat for whaling and maintain its business as usual."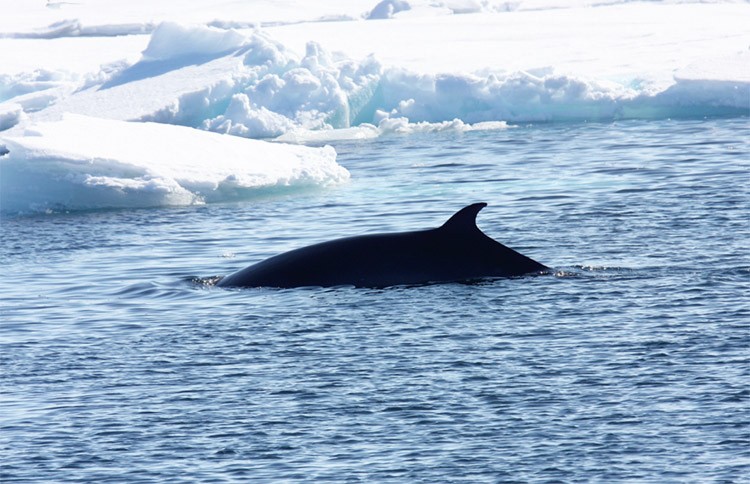 The report details the Norwegian whaling industry's efforts to open Japan's markets to its whale products and address quality concerns, as a number of Norwegian whale shipments have been rejected by Japan due to contamination. Inspectors from Kyodo Senpaku Kaisha (the company operating the Japanese whaling fleet) have overseen the processing of whale meat on board a number of Norwegian whaling trips as a result.
Frozen in Time concludes with recommended actions that should be taken by the IWC and its member governments to compel Norway to cease commercial whaling and trade in whale products.
YOU MIGHT ALSO LIKE
First Mammal Goes Extinct Due to Human-Caused Climate Change
Chile's Salmon Industry Using Record Levels of Antibiotics to Combat Bacterial Outbreak
World's First 'Spotty Dog' and Cow-Like Sheep Created Using Gene Editing
Is it Too Soon to Consider Removing Giant Pandas From the Endangered Species List?
The U.S. Fish and Wildlife Service removed grizzly bears in the Greater Yellowstone region on Thursday from the Endangered Species List. The decision comes despite serious concerns in the scientific community about a declining, isolated population with diminishing food resources and record-high mortalities, as well as strong opposition from an unprecedented number of Tribal Nations.
Keep reading...
Show less
ArborGen pine tree field test site in South Carolina. BJ McManama
By BJ McManama
ArborGen Corporation, a multinational conglomerate and leading supplier of seedlings for commercial forestry applications, has submitted an approval request to the U.S. Department of Agriculture, Animal and Plant Health Inspection Service to deregulate and widely distribute a eucalyptus tree genetically engineered (GE) to be freeze tolerant. This modification will allow this GE variety to be grown in the U.S. Southeast. The reason this non-native and highly invasive tree has been artificially created to grow outside of its tropical environment is to greatly expand production capacity for the highly controversial woody biomass industry.
Keep reading...
Show less
By Kari Hamerschlag
Many health conscious consumers are reducing their consumption of red meat in favor of chicken—especially products labeled and promoted as "100% natural"—believing they are a healthier option produced without routine antibiotics, artificial substances or other drugs.
Keep reading...
Show less
Stephen Hawking repeated his warning that humanity needs to leave Earth and colonize the moon, Mars or other planets in order for our species to survive the impending doom of climate change.
"We have given our planet the disastrous gift of climate change ... When we we have reached similar crises there has usually been somewhere else to colonize ... But there is no new world, no utopia around the corner," he said. "We are running out of space, and the only places to go to are other worlds."
Keep reading...
Show less
www.youtube.com
Keep reading...
Show less
It's so hot in the American Southwest that meteorologists are using unusual colors for their temperature maps.
As reported by MLive's Mark Torregrossa, with temperatures forecast to hit 120 degrees Fahrenheit in the Phoenix area, the folks at weatherbell.com had to use green for its Wednesday map because the other shades were already used.
Keep reading...
Show less
www.facebook.com
Former California Gov. Arnold Schwarzenegger has let the world know that Donald Trump does not represent America in his choice to drop out of the Paris climate agreement.
Despite the president's lack of support for the environment, the rest of America will continue to work towards a brighter and greener future, as Schwarzenegger makes clear in the video above.
An oil and gas drilling platform in Australian waters. CSIRO / Wikimedia Commons
By Paul Brown
Natural gas will have to be phased out along with coal if the world is to be kept safe from dangerous climate change. And that seems likely to have to happen far sooner than most official forecasts, according to a new report.
If countries want to reach their Paris climate agreement goals of limiting the long-term world temperature rise to 1.5°C, then many of the proposals to increase gas production and distribution will be unnecessary. New terminals and pipelines will never be fully used and will become stranded assets.
Keep reading...
Show less
The Dakota Access Pipeline being installed between farms in New Salem, North Dakota. Tony Webster /
Flickr
Keep reading...
Show less


Get EcoWatch in your inbox