Norway Kills More Whales Than Japan and Iceland Combined
By Animal Welfare Institute
Norway is now the world's leading whaling nation, killing more whales in the past two years than Japan and Iceland combined. A new report released Monday calls on the international community to respond to Norway's systematic efforts to weaken management rules and improve market conditions for its whalers.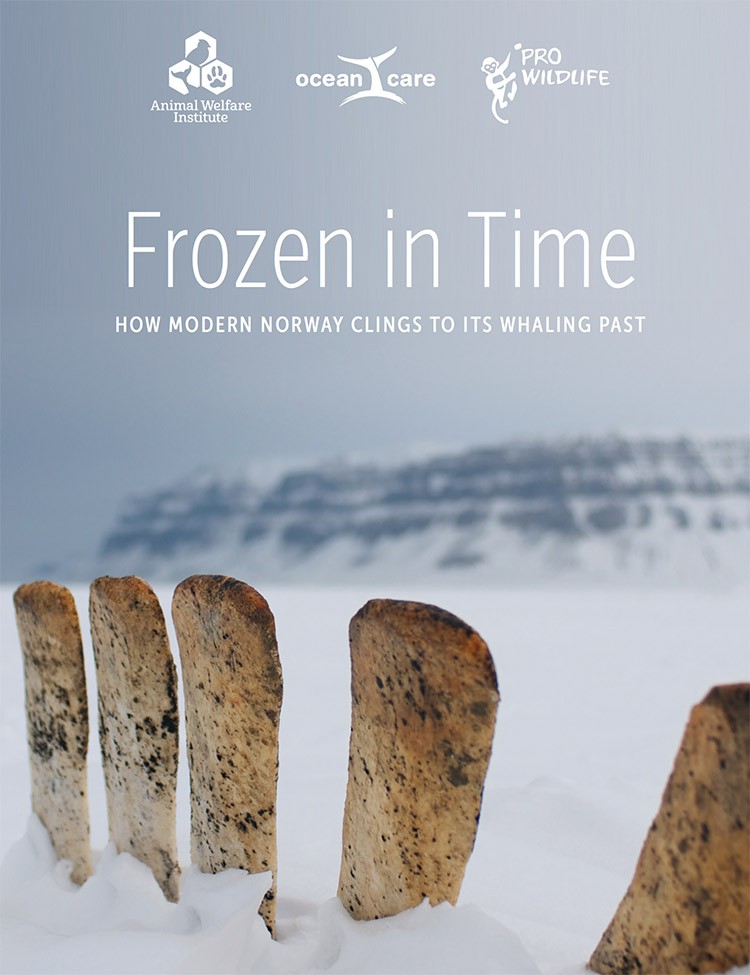 Frozen in Time: How Modern Norway Clings to Its Whaling Past, produced by the Animal Welfare Institute, OceanCare and Pro-Wildlife, details Norway's undermining of the International Whaling Commission (IWC) ban on commercial whaling and exposes the growth of its overseas trade in whale products. These shipments—some of which have transited European ports en route to Japan—play a key role in sustaining the Norwegian whaling industry.
"As one of the world's most modern and prosperous countries, Norway's whaling is an anachronism," Dr. Sandra Altherr, biologist with ProWildlife, said. "Slaughtering whales to eat and trade has no place in Norway and serves only to diminish the country's international reputation."
The Norwegian government is funding a number of projects, both to promote domestic sales of whale products and to develop alternative commercial products derived from whales, including dietary supplements, medicines and cosmetics. In 2015, the Myklebust Hvalprodukter company announced the launch of a series of new products derived from whale oil, including skin cream.
"We were stunned that a Norwegian whaling company is actively selling health and beauty products manufactured from whale oil," Susan Millward, Animal Welfare Institute executive director, said. "This is not the 1800s. It is incomprehensible that such a modern nation produces skin creams sourced from an inherently cruel industry."
While diplomatic pressure has been brought to bear on Iceland and international legal action has been taken against Japan for their whaling programs, the report underscores that Norway has largely been spared international attention and criticism.
"The IWC has not formally commented on Norway's whaling since 2001 and the international community has not presented a demarche to Norway since 2006," Sigrid Lüber, OceanCare president stated. "For as long as this remains the case, Norway will continue to let Iceland and Japan take the heat for whaling and maintain its business as usual."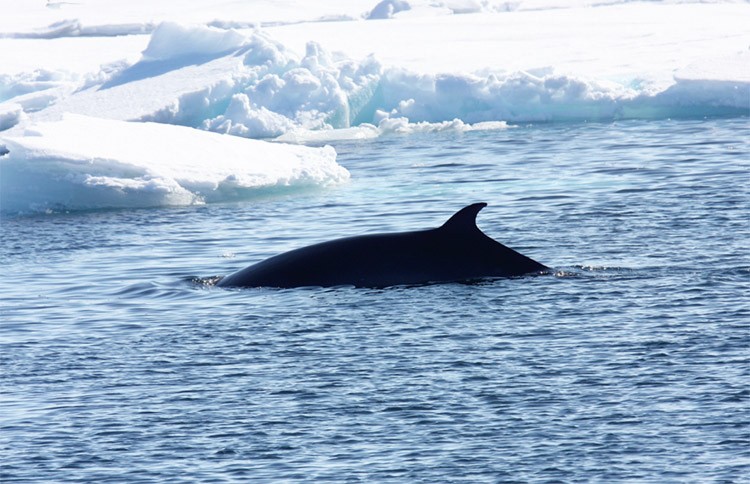 The report details the Norwegian whaling industry's efforts to open Japan's markets to its whale products and address quality concerns, as a number of Norwegian whale shipments have been rejected by Japan due to contamination. Inspectors from Kyodo Senpaku Kaisha (the company operating the Japanese whaling fleet) have overseen the processing of whale meat on board a number of Norwegian whaling trips as a result.
Frozen in Time concludes with recommended actions that should be taken by the IWC and its member governments to compel Norway to cease commercial whaling and trade in whale products.
YOU MIGHT ALSO LIKE
First Mammal Goes Extinct Due to Human-Caused Climate Change
Chile's Salmon Industry Using Record Levels of Antibiotics to Combat Bacterial Outbreak
World's First 'Spotty Dog' and Cow-Like Sheep Created Using Gene Editing
Is it Too Soon to Consider Removing Giant Pandas From the Endangered Species List?
Glyphosate, the main ingredient in Monsanto's widely used herbicide Roundup, will be added July 7 to California's list of chemicals known to the state to cause cancer, according to a Reuters report Tuesday. This news comes after the company's unsuccessful attempt to block the listing in trial court and requests for stay were denied by a state appellate court and California's Supreme Court.
California's Office of Environmental Health Hazard Assessment (OEHHA) announced the designation on Monday under the Safe Drinking Water and Toxic Enforcement Act of 1986, or Proposition 65.
Keep reading...
Show less
www.facebook.com
Keep reading...
Show less
Researchers from the Marine Animal Response Society examine one of the dead right whales. Marine Animal Response Society
Canadian government officials and marine biologists are investigating the mysterious deaths of six North American right whales. The endangered animals all turned up dead between June 6 and June 23 in the Gulf of St. Lawrence, off Canada's southeastern coast.
North Atlantic right whales are the rarest of all large whale species and among the rarest of all marine mammal species, with only about 450 right whales in the North Atlantic.
Keep reading...
Show less
Scott Pruitt testifies during his Senate confirmation hearing for EPA administrator, January 2017.
The U.S. Environmental Protection Agency's (EPA) chief of staff pressured the leader of its Board of Scientific Counselors to change her congressional testimony to downplay the impact of the agency's mass dismissal of scientists from the board, the New York Times reports.
Keep reading...
Show less
By Jason Mark
Sequoiadendron giganteum. That's the scientific name for the giant sequoia: the mammoth trees found in California's Sierra Nevada that are the largest organisms on Earth, and among the longest-lived. Biologists estimate that about half of all sequoias live in Giant Sequoia National Monument, a 328,000-acre preserve in the Southern Sierra Nevada established by President Clinton in 2000.
Now that national monument is in jeopardy.
Keep reading...
Show less
By Andy Rowell
Donald Trump this week is launching an "energy week," pushing the argument that the U.S. will become a net exporter of oil and gas.
The president and his cronies are talking about a new era of "U.S. energy dominance," which could stretch for decades to come. However, no one believes the president anymore.
Keep reading...
Show less
UN
By Colleen Curry
The United Nations has designated 23 new sites around the world to its World Network of Biosphere reserves—stunning natural landscapes that balance environmental and human concerns and strive for sustainability.
The forests, beaches and waterways were added to the list this year at the International Coordinating Council of the Man and the Biosphere Programme meeting in Paris earlier this month.
Keep reading...
Show less
Jun. 26, 2017 01:48PM EST
www.elysee.fr
By Andy Rowell
There is a growing feeling within European capitals that a quiet, but deeply positive, revolution is happening under Emmanuel Macron in France.
Macron's opinion poll rating is high, especially boosted in how the young French president has reacted to Donald Trump on the international stage.
Keep reading...
Show less
Jun. 26, 2017 12:32PM EST
www.facebook.com
Keep reading...
Show less