Leonardo DiCaprio Faces Deportation Threat After Criticizing Indonesia's Palm Oil Industry
Mar. 31, 2016 11:39AM EST
Animals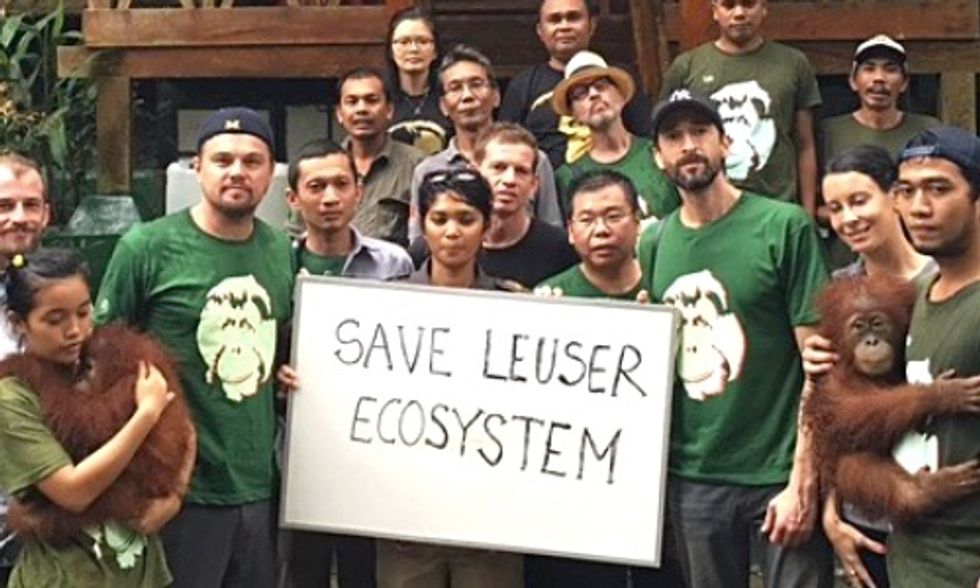 Leonardo DiCaprio has been threatened with deportation by officials from the Indonesian government after the actor's recent visit to the Leuser Ecosystem and his vocal stance against the area's industrial development for palm oil, according to several Indonesian publications.
Dianggap Diskreditkan Indonesia, DiCaprio Terancam Dideportasi https://t.co/blPMD8eI5R https://t.co/ahquI2DQ3P

— Media Indonesia (@Media Indonesia)1459422045.0
DiCaprio has been reportedly accused of running a "black campaign" to discredit the country's palm oil industry, as local English websites Coconuts Jakarta and Tempo reported via Indonesian news outlets.
"If there are statements that discredit the government and the interests of Indonesia, he could be deported," Director General of Immigration Ronny F. Sompie is quoted as saying in Jakarta today.
Since DiCaprio is on a tourist visa, if it can be proven that he's "creating public disturbances and harming the state's interest, the Immigration is ready to deport him," Ronny warned, adding that his department will be monitoring DiCaprio's activities in Indonesia.
According to Ronny, "the department has the authority to deport foreigners that violate their visa terms as stipulated in Law No. 6/2011 on Immigration."
Incidentally, DiCaprio's team confirmed to EcoWatch that he has already left the country, meaning any deportation threats would not apply.
DiCaprio and fellow actors Adrien Brody and Fisher Stevens toured Mount Leuser National Park on Sunday where they stopped by the park's research facility. The Oscar winner and prominent environmental activist posted photos of his visit on social media and warned in his posts that the expansion of palm oil plantations in Leuser are a major threat to Sumatra's iconic wildlife species. As DiCaprio noted, the rainforest is the last place on Earth where Sumatran orangutans, tigers, rhinos and elephants coexist in the wild.
Today, he posted a new Instagram photo of himself with a critically endangered Sumatran orangutan.
"If we don't stop this rampant destruction, the Leuser Ecosystem and the Sumatran orangutans that call it home could be lost forever," the caption says.
On his Twitter account, The Revenant star voiced his support of the Forest, Nature and Environment of Aceh (HAkA), a Sumatra-based NGO that works to protect and restore the priceless ecosystem as well as a link to a Change.org petition that urges Indonesian President Joko Widodo to cancel the Aceh provincial government's Spatial Land Use Plan, "which would open Leuser's forests up to clearing for logs, mining and oil palm," Mongabay reported.
According to Tempo, Asmar Arsyad, an Aceh-based palm oil businessman, has responded to DiCaprio's messages.
"He should be campaigning for environmental conservation in the Amazon jungle that is being depleted by soy oil plantations," Asmar said.
Firman Subagyo, House of Representatives' (DPR) Energy Commission, also reportedly accused DiCaprio of scrutinizing the industry.
"His goal is clear. He will definitely take a shot at oil palm plantations, and wrap it with environmental issues," he said, adding that DiCaprio's visit was facilitated by environmental NGOs.
"I'm urging the BIN [State Intelligence Agency] chief and the Police chief to take firm action against those groups. I'm also asking the Immigration to deport Leonardo if he is proven to be black-campaigning out oil palm industry," he added.
Let's work together to #SaveLeuserEcosystem, a biodiversity hotspot. Stand up at https://t.co/dWdlp1d81c https://t.co/LEZUU8Any8

— Leonardo DiCaprio (@Leonardo DiCaprio)1459268718.0
As EcoWatch mentioned previously, DiCaprio's support of Leuser coincides with his speech at the World Economic Forum in Davos earlier this year, where he announced his philanthropic foundation's $15 million commitment to environmental projects, including one that protects the Leuser Ecosystem from what DiCaprio described as the "invasive and destructive practices" of the palm oil industry.
The iconic Leuser Ecosystem, located in the provinces of Aceh and North Sumatra, consists of 6.5 million acres of tropical lowland rainforests, mountains and peatlands.
Leuser is not only a biodiversity hotspot, it provides more than 4 million people with water, clean air and disaster mitigation. The ecosystem is also critical in helping to regulate the Earth's climate by absorbing and storing carbon in its lowland rainforests and peatlands.
Local Aceh citizens have filed a class action lawsuit to protect the Leuser Ecosystem. Learn more about the movement to protect Leuser here:
YOU MIGHT ALSO LIKE 
Leonardo DiCaprio: We Must Save the Last Place on Earth Where Orangutans, Tigers, Rhinos and Elephants Coexist
Jeff Bridges: Plastic Is a Substance the Earth Cannot Digest
3 Vaquitas Found Dead: The Most Endangered Marine Mammal in the World
Car Engine Cover, Fishing Net and Plastic Bucket Found in Stomachs of Dead Sperm Whales
The saguaro cactus extracts carbon from the atmosphere. Thomas Roche / Getty Images
By Paul Brown
It may come as a surprise to realize that a plant struggling for survival in a harsh environment is also doing its bit to save the planet from the threats of the rapidly changing climate. But that's what Mexico's cactuses are managing to do.
Research published in the journal The Science of Nature shows that desert soils supporting a high density of cactus contain large quantities of stored bio-minerals (minerals produced by living organisms), formed by the action of the plants in extracting carbon dioxide from the atmosphere.
Not only that. Cactuses can also be harvested, processed and turned into a form of leather used to make fashion accessories like purses and wallets.
These two attributes have been turned into a successful business by a Mexican/American company, CACTO. It claims to be the first "carbon negative fashion company in the Americas" − in other words, its activities remove more carbon from the atmosphere than it creates in making and marketing its products.
No Animals Involved
This is a bold claim in an industry struggling with its poor environmental record. According to McKinsey and Co. the worldwide fashion industry emits about the same amount of greenhouse gases as France, Germany and the United Kingdom combined. But CACTO gives Mexico's cactuses special treatment.
CACTO's products are vegan and so allow a growing class of consumers to buy leather objects that are made without any animal products.
The research into the ability of cactus to extract carbon from the atmosphere and store it was carried out on one cactus species, the saguaro (Carnegiea gigantea), which can grow to 40 feet.
It is native to the Sonoran desert in Arizona and the Mexican state of Sonora, and shares with all other cactus varieties the same abilities for dealing with carbon. This has proved a bonus for CACTO because cactuses are the most numerous plants in Mexico.
CACTO's plantations are organic, fed by rainwater, free of herbicides and pesticides, and renewable, and after the ears, or leaves; of the cactus are harvested, the plant grows a replacement in six to eight months. This regeneration allows repeat harvesting. The leaves are then sun-dried to avoid using any electricity. The company's products (available only in green or black) are on sale in more than 100 countries.
CACTO was founded by Jesus Chavez, a climate campaigner, and was designed to have sustainability as a guiding principle at the core of its operation. The entire production cycle is closely monitored by its staff, from the sourcing of materials to production, packaging, distribution and shipping.
Through a partnership with a Swiss non-profit organisation, On a Mission, CACTO says its staff have measured and offset 150% of its CO2 emissions through sustainable reforestation worldwide.
The measurement and offsetting process will take place every six months for the next 10 years. Through several emergent partnerships, the company says it aims to offset at least 1000% of the emissions it generates by the end of 2021.
Engaging Entrepreneurs
Jesus Chavez said: "If we want to succeed in reaching net zero carbon emissions well before 2050 and avoid the worst consequences of climate change, we must all work in concert in whatever capacity we are able to.
"Industries across the board need to benefit from existing technology and offsetting programs to become carbon-negative, and to invest in new research and innovation to reach that goal faster. The decisions we make this decade will determine the fate of humanity for centuries to come. It is up to us now."
He said customers around the world wanted alternatives to materials that increased pollution and to unethical manufacturing processes.
CACTO hopes to inspire a new generation of entrepreneurs to make clear what has been evident to specialists for decades, that decoupling emissions from economic growth is not only feasible, but is the smartest, fastest and most responsible way to grow. Mexico's cactuses bear a heavy responsibility on their ears − or leaves − or branches.
Reposted with permission from Climate News Network.
EcoWatch Daily Newsletter
Lower Granite Dam is obstructing salmon along the Snake River in Washington. Greg Vaughn / VW PICS / Universal Images Group / Getty Images
Climate change, activities that contribute to it, and dams pose grave threats to America's rivers, according to American Rivers.
The annual report ranks the county's 10 rivers most endangered by human activity that also have a critical decision point coming in the next year that could change the river's fate.
Four dams are choking the Snake River — earning it the top spot in the report — obstructing salmon and posing an existential threat to Native American tribes in the region who depend on the fish for food, culture and their identities.
Advocates are calling on President Biden to remove the federal dams and revitalize the river and its ecosystem.
Toxic coal ash pollutes the Lower Missouri, which also is experiencing an increase in climate-driven flooding, putting it second on the list, while Iowa's Raccoon River, at number nine, faces threats from industrial agriculture.
Between them are rivers befouled by sewage, polluted or threatened by mining, and otherwise dammed or mismanaged.
"Rivers are among the most degraded ecosystems on the planet, and threats to rivers are threats to human health, safety and survival," American Rivers head Tom Kiernan said.
"If we want a future of clean water and healthy rivers everywhere, for everyone, we must prioritize environmental justice."
For a deeper dive:
The Guardian, USA Today, Mother Jones, Reuters, E&E
For more climate change and clean energy news, you can follow Climate Nexus on Twitter and Facebook, sign up for daily Hot News, and visit their news site, Nexus Media News.

Radiation-contaminated water tanks and damaged reactors at the Fukushima Daiichi nuclear power plant on Feb. 25, 2016 in Okuma, Japan. Christopher Furlong / Getty Images
Japan will release radioactive wastewater from the failed Fukushima nuclear plant into the Pacific Ocean, the government announced on Tuesday.
The water will be treated before release, and the International Atomic Energy Agency said the country's plans were in keeping with international practice, The New York Times reported. But the plan is opposed by the local fishing community, environmental groups and neighboring countries. Within hours of the announcement, protesters had gathered outside government offices in Tokyo and Fukushima, according to NPR.
"The Japanese government has once again failed the people of Fukushima," Greenpeace Japan Climate and Energy Campaigner Kazue Suzuki said in a statement. "The government has taken the wholly unjustified decision to deliberately contaminate the Pacific Ocean with radioactive wastes."
The dilemma of how to dispose of the water is one ten years in the making. In March 2011, an earthquake and tsunami in northeastern Japan killed more than 19,000 people and caused three of six reactors at the Fukushima Daiichi nuclear power plant to melt down, The New York Times explained. This resulted in the biggest nuclear disaster since Chernobyl, and the cleanup efforts persist more than a decade later.
To keep the damaged reactors from melting down, cool water is flushed through them and then filtered to remove all radioactive material except for tritium. Up until now, the wastewater has been stored on site, but the government says the facility will run out of storage room next year. Water builds up at 170 tons per day, and there are now around 1.25 million tons stored in more than 1,000 tanks.
The government now plans to begin releasing the water into the ocean in two years time, according to a decision approved by cabinet ministers Tuesday. The process is expected to take decades.
"On the premise of strict compliance with regulatory standards that have been established, we select oceanic release," the government said in a statement reported by NPR.
Opposition to the move partly involves a lack of trust around what is actually in the water, as NPR reported. Both the government and Tokyo Electric Power Co., which operates the plant, say that the water only contains tritium, which cannot be separated from hydrogen and is only dangerous to humans in large amounts.
"But it turned out that the water contains more radioactive materials. But they didn't disclose that information before," Friends of the Earth Japan campaigner Ayumi Fukakusa told NPR. "That kind of attitude is not honest to people. They are making distrust by themselves."
In February, for example, a rockfish shipment was stopped when a sample caught near Fukushima tested positive for unsafe levels of cesium.
This incident also illustrates why local fishing communities oppose the release. Fish catches are already only 17.5 percent of what they were before the disaster, and the community worries the release of the water will make it impossible for them to sell what they do catch. They also feel the government went against its promises by deciding to release the water.
"They told us that they wouldn't release the water into the sea without the support of fishermen," fishery cooperative leader Kanji Tachiya told national broadcaster NHK, as CBS News reported. "We can't back this move to break that promise and release the water into the sea unilaterally."
Japan's neighbors also questioned the move. China called it "extremely irresponsible," and South Korea asked for a meeting with the Japanese ambassador in Seoul in response.
The U.S. State Department, however, said that it trusted Japan's judgement.
"In this unique and challenging situation, Japan has weighed the options and effects, has been transparent about its decision, and appears to have adopted an approach in accordance with globally accepted nuclear safety standards," the department said in a statement reported by The New York Times.
But environmentalists argue that the government could have found a way to continue storing waste.
"Rather than using the best available technology to minimize radiation hazards by storing and processing the water over the long term, they have opted for the cheapest option, dumping the water into the Pacific Ocean," Greenpeace's Suzuki said.
From Your Site Articles
Related Articles Around the Web
Antarctica's Thwaites Glacier, aka the doomsday glacier, is seen here in 2014. NASA /
Wikimedia Commons
/ CC0
Scientists have maneuvered an underwater robot beneath Antarctica's "doomsday glacier" for the first time, and the resulting data is not reassuring.
Antarctica's Thwaites Glacier is referred to as the doomsday glacier because every year it contributes four percent to global sea level rise and acts as a stopper for the West Antarctic Ice Sheet. If the glacier were to collapse and take the sheet with it, that would raise global sea levels by around 10 feet. Now, a study published in Science Advances on April 9 warns that there is more warm water circling below the glacier than previously believed, making that collapse more likely.
"Our observations show warm water impinging from all sides on pinning points critical to ice-shelf stability, a scenario that may lead to unpinning and retreat," the study authors wrote. Pinning points are areas where the ice connects with the bedrock that provides stability, Earther explained.

The new paper is based on a 2019 expedition where an autonomous submarine named Ran explored the area beneath the glacier in order to measure the strength, salinity, oxygen content and temperature of the ocean currents that move beneath it, the International Thwaites Glacier Collaboration explained in a press release.
"These were the first measurements ever performed beneath the ice front of Thwaites glacier," Anna Wåhlin, lead author and University of Gothenburg oceanography professor, explained in the press release. "Global sea level is affected by how much ice there is on land, and the biggest uncertainty in the forecasts is the future evolution of the West Antarctic Ice Sheet."
This isn't the first instance revealing the presence of warm water beneath the glacier. In January 2020, researchers drilled a bore hole through the glacier and recorded temperature readings of more than two degrees Celsius above freezing, EcoWatch reported at the time.

However, Ran's measurements were taken earlier and allow scientists to understand the warmer water's movement in more detail. Scientists now know that water as warm as 1.05 degrees Celsius is circulating around the glacier's vulnerable pinning points.
"The worry is that this water is coming into direct contact with the underside of the ice shelf at the point where the ice tongue and shallow seafloor meet," Alastair Graham, study co-author and University of Southern Florida associate professor of geological oceanography, told Earther. "This is the last stronghold for Thwaites and once it unpins from the sea bed at its very front, there is nothing else for the ice shelf to hold onto. That warm water is also likely mixing in and around the grounding line, deep into the cavity, and that means the glacier is also being attacked at its feet where it is resting on solid rock."
While this sounds grim, the fact that researchers were able to obtain the data is crucial for understanding and predicting the impacts of the climate crisis.
"The good news is that we are now, for the first time, collecting data that will enable us to model the dynamics of Thwaite's glacier. This data will help us better calculate ice melting in the future. With the help of new technology, we can improve the models and reduce the great uncertainty that now prevails around global sea level variations," Wåhlin said in the press release.
From Your Site Articles
Related Articles Around the Web
Journalists film a protest by the environmental organization BUND at the Datteln coal-fired power plant in North Rhine-Westphalia, Germany on April 23, 2020. Bernd Thissen / picture alliance via Getty Images
By Jessica Corbett
Lead partners of a global consortium of news outlets that aims to improve reporting on the climate emergency released a statement on Monday urging journalists everywhere to treat their coverage of the rapidly heating planet with the same same level of urgency and intensity as they have the COVID-19 pandemic.