Jon Stewart Slams GOP for Criticizing Pope's 'Call for Environmental Consciousness'
Jun. 26, 2015 11:02AM EST
Climate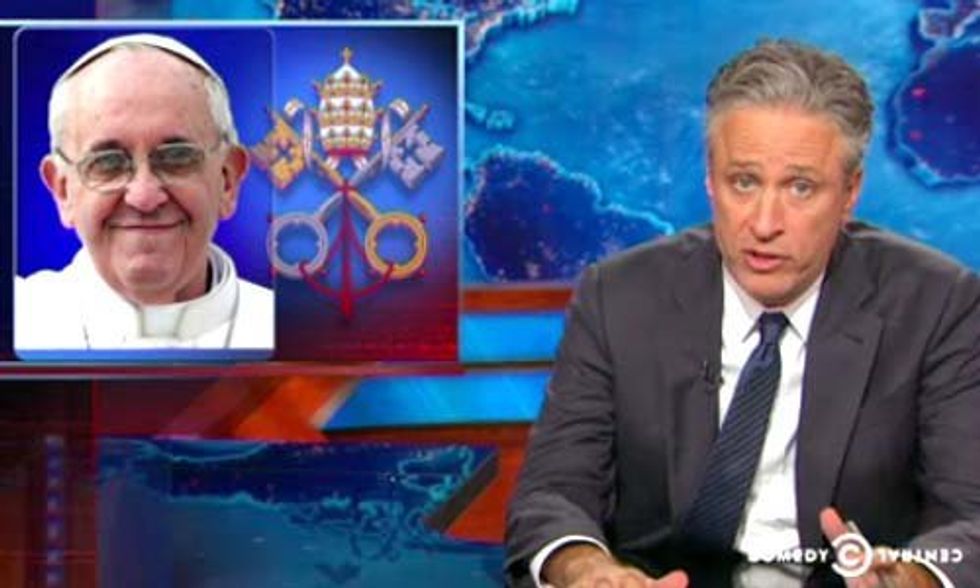 Pope Francis released his encyclical last week, urging swift action on climate change ahead of the Paris climate talks in December. And before the ink had even dried, many conservative American politicians were criticizing the Pope for speaking out about environmental issues.
The Pope "ought to stay with his job and let us stay with ours" said Sen. James Inhofe at the Heartland Institute's 10th International Conference on Climate Change. Jeb Bush also thought the Pope needed to butt out, saying "I don't get economic policy from my bishops or my cardinals or from my Pope." And Rick Santorum said, "leave science to the scientists," even though the Pope is a scientist.
Well, thankfully, Jon Stewart is here to perfectly sum up the stupidity of their statements. In response to Santorum, Stewart says, "By the way, what do the scientists, who have an overwhelming consensus about global warming, say about global warming."
And as for Bush, it was only last week that he was speaking about faith as "the moral foundation of our country" and how "this conscience should be respected when people of faith want to take a stand for traditional marriage."
"Oh, so there it's okay?," asks Stewart mockingly. "Perhaps people would be more for preventing global warming if we refer to it as taking a stand for preserving traditional sea levels."
But someone much more powerful than a handful of conservative politicians has been lobbying the Vatican over the Pope's climate change message: Exxon Mobil. "Ah, they've appealed to a higher authority than God," says Stewart. "And so, in the words of our Lord and savior Jesus Christ, drill, baby, drill."
Watch the full clip here:
YOU MIGHT ALSO LIKE
How Pope Francis's Climate Encyclical Is Disrupting American Politics
Pope Francis Slams GMOs and Pesticides for Destroying the Earth's 'Complex Web of Ecosystems'
Ryan Gosling: What Costco Doesn't Want You to Know About Their Eggs
EcoWatch Daily Newsletter
Related Articles from EcoWatch
Recent Stories from EcoWatch